Mountaintop Camping, Rescuing Dogs, Roan Highlands, and Side Quest to Trail Days
I'm constantly surprised by how much time begins to blend together after such a short time on trail. As I've continued to meet people who have been out here for much longer than me and spent some nights in barely-above-freezing temps, I'm grateful for my late start date.
I left Erwin and ascended the mountain to Beauty Spot, a gorgeous bald where I was to meet up with Tarzan and Sunshine to camp for the night. Hiked through rain for hours but it eventually let up, yielding gorgeous views as I approached the top of the climb. Found the two hikers with tents set up on the bald, and quickly set up as we watched a storm blow in. Rain pelted down and wind shook my tent as we huddled together streaming Game of Thrones on Tarzan's phone.
The morning was even worse: we spent the whole morning in a cloud, hoping that the weather would clear up so we could get packed up without getting soaked. It didn't. As soon as we got off the bald it eased up, leading me to the conclusion that camping on balds is not my favorite activity. We pushed on up over Unaka Mountain and its gorgeous spruce forests, a rarity at these lower latitudes.
That night we stayed at the lovely Greasy Creek hostel and pushed into Roan Highlands the next day, climbing up above 6,100 feet, the highest I've been so far on the East Coast. The views of the highlands and of the surrounding mountains were breathtaking in the late afternoon light. We stayed in the converted barn with a big crew of people and enjoyed a warm fire as the sun set and the temperature dropped. That night was somewhat sleepless as I struggled to keep myself warm in my 30-degree quilt.
Wednesday morning we were greeted with beautiful weather and some of the best scenery so far as we finished out the highlands, with plans of stopping at the 19E hostel for beer and food after a long, steep descent. Free shuttles and free beer made my day.
After a while, one of the girls in my group showed up with two dogs we had seen at the top of Hump Mountain and promptly earned the trail name Two Dogs. I didn't realize how bad of shape they were in upon passing by, but it was clear that they were abandoned hunting dogs and had not eaten in a long time.
After determining that we would be unable to find the owner, the female was taken by another hiker to a no-kill shelter in Asheville and the male joined us, with the plan of being picked up and adopted by another hiker's husband when we reached Hampton, TN. After a somewhat-inebriated romp through the woods, we reached our campsite for the night along the Elk River. Tarzan and Sunshine decided to stay at 19E due to Tarzan's ankle giving him trouble.
We pushed a 20-mile day over roller coaster terrain to reach Hampton, hitting Dennis Cove as the sun was setting and my feet were angry for the miles put on them. It was hard to fully appreciate this beautiful section of the trail as we dropped into a steep and narrow gorge, passing the beautiful Laurel Falls. Camped again by the river and woke up emboldened by the call of McDonald's breakfast and a ride to Trail Days at the end of a short hike into town.
I was picked up by a friend, and the rest of the crew piled into a rented U-Haul cargo van to drive the hour to Damascus. I spent my day checking out vendors, swapping out gear, meeting up with friends, and enjoying cheap/free beer. I went to a wine and cheese event hosted by Hike for Mental Health and celebrated reaching $4,000 on my fundraiser for opioid prevention! The night was spent around the drum circle in Tent City.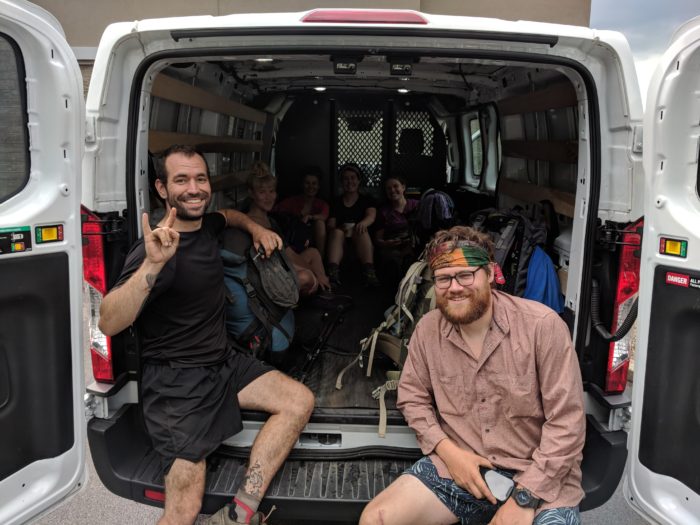 On Saturday morning, I signed up for free hair dying and am now sporting a purple mohawk.
Got my laundry done, showered, and ate great food, all for free thanks to the amazing people that show up to spoil the hikers. We all walked in the Hiker Parade and enjoyed water gun showers, then went swimming in the creek to cool off. My evening was spent learning to contra dance with none other than Warren Doyle before returning to Tent City for further shenanigans. Participated in the drum circle and stayed up until 4 a.m. talking around the Riff Raff bonfire before finally retiring.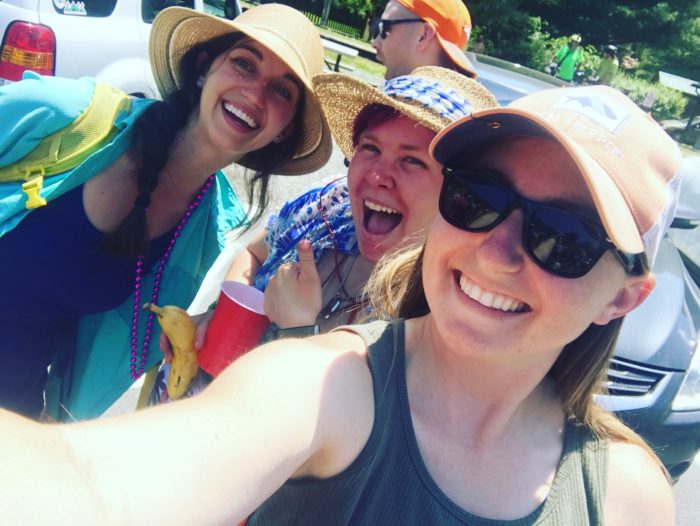 In the morning, we packed up and piled into the U-Haul for the ride back to Hampton, an exhausted bunch of hikers lounging on our packs as we took winding roads through the mountains. Back to the trail, back to this life of wandering. It's good to be back.
Affiliate Disclosure
This website contains affiliate links, which means The Trek may receive a percentage of any product or service you purchase using the links in the articles or advertisements. The buyer pays the same price as they would otherwise, and your purchase helps to support The Trek's ongoing goal to serve you quality backpacking advice and information. Thanks for your support!
To learn more, please visit the About This Site page.