Mt. Katahdin
Day 146
All of the day's magic came from things not going as planned. Our food drop was at 10 am on Jo-Mary Road, only four miles away. I hiked a short distance before stopping to filter water. Sitting there, I took in the sound of the water and the play of light on a mossy rock. Little things that I take for granted and will soon miss.
Initially I bounded along, filled with energy. However, it slowly declined until I felt tired and wished for coffee. Luckily, at Jo-Mary Road there was a sign for trail magic and it was amazing. A lovely couple named Chili P and Laurie with their dog Effie. They had coffee, corn on the cob, and grilled portobello mushrooms. It turned out our food drop was late so we hung out for two hours, chatting with our trail angels, Sir Elton, and Hypo. When the drop arrived, the driver gave me gluten free banana bread made by his wife. I was excited!

When we set off, my pack felt heavy, but my energy was renewed. Serendipity and I chatted about the excitement of finishing in three days, things we will miss, and our after trail plans. Many squirrels scurried around in the woods, knocking down pinecones. Along with Tracks and Hobble-It, we stopped on the sandy beach of Lower Jo-Mary Lake. We snacked and waded out into the cool water. Bumblebee appeared for the first time since Shaw's and joined us in the lake.
I hiked all afternoon with Serendipity and Hobble-It. At one point, a sign directed us to the shore of Pemadumcook Lake and we saw Katahdin in the distance. Then the trail wandered along the left side of a wide stream until we reached Nahmakanta Lake near dusk. Dinglebeary and Tracks were returning from a swim.
Our initial plan was to go 2.5 more miles, but the morning fun gave us a late start. In the end, the lake was a prettier spot to camp. I ate dinner in my tent to escape the mosquitos. Before going to sleep, I stood on the lake shore. The water was calm and in the sky the milky way and big dipper stood out.
Day 147
When I woke my legs were abnormally sore. I took my time eating breakfast and packing. Not yet ready to depart, I went to the lake shore to chat with Dinglebeary. His lakeside site came at the cost of tent condensation. Once on trail it took me awhile to catch my stride, though I enjoyed how the trail continued along the edge of the lake, twice dipping down to a gravel beach.
I hiked solo with the intent of treasuring my last long day in the woods, though with 22 miles ahead I worried that I would arrive after dark. That did not happen, the latter half of the day going faster than the first half. I leap frogged with Bumblebee as well as Sir Elton and Hypo.
The trail wound along many streams, ponds, and lakes. At one pond I filtered water and watched a large dragonfly flit amongst tall grass. Later I watched a chubby green caterpillar scrunch its way across a rock. I enjoyed the sound of waves lapping the shore of Rainbow Lake.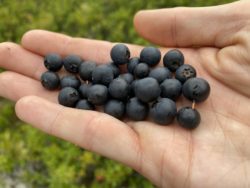 The final climb went up the Rainbow Ledges. At the top I discovered countless blueberry bushes and happily ate handfuls. The trail was mostly rock slab with dry moss along the edges. Then I descended though woods sprinkled with yellow and orange mushrooms. At Hurd Brook, Serendipity and Hobble-It were getting water. They led me to our campsite near a shallow pond. I ate dinner with the tramily then set up my tent.
Day 148
From my sleeping bag, I heard noise in the forest and excitedly unzipped and drew back my rain fly. Unfortunately it was squirrels dropping pinecones, not a moose. Sigh. After breakfast I sat with Serendipity at the edge of the pond. Again, no moose, but it was peaceful.
I spent my first 1-2 miles on trail chatting with Burnt Foot. He was bummed about finishing while I felt mostly excited. It didn't take long to reach the end of the 100 Mile Wilderness. While crossing Abol Bridge, Tracks, Serendipity, and I got a stunning view of Katahdin, the top wrapped in clouds. Then we got snacks at the Abol Campground Store and sat on the porch for a second breakfast, joined by Hobble-It, Dinglebeary, and Bumblebee.
Less than a mile of walking brought us to the Baxter State Park boundary. The six of us chatted with a helpful ranger and checked in at the hiker kiosk. There is a 12 person first come, first serve site for thru hikers, but we had two site reservations (made by Serendipity's friend Brian) at Katahdin Stream Campground. Very awesome of him, though also the reason for our push through the 100 Mile Wilderness. Once in the park the last 10 miles to the campground were easy. The mostly flat paths followed streams and offered views of scenic waterfalls. Four miles out it started to rain.
When we reached the campground, Brian made a surprise appearance, wanting to ensure a smooth check-in. I was so happy our site had a lean-to, no rainy tent set-up! The five of us stayed in it while Brian, Florida Man, Rawhide, and Bumblebee camped at the other site. I got chilly so it was nice to put on my puffy and eat a hot meal. Then I made tea for Serendipity and myself.
It continued to rain so Brian, Rawhide, and Florida Man came over to hang out. Then Bumblebee's dad, Russ, arrived with pizza and coffee and the two of them joined us. Tracks pulled the picnic table close for more seating. We chatted about trail adventures and summit plans. When we went to bed our five air mattresses just fit side-by-side.
Day 149
Summit day! I woke a couple hours early, excitement keeping me awake. I listened to the rushing creek and watched the sky lighten. When It got close to six I rose and ate breakfast while I sorted gear. Dinglebeary carried his full pack, but the rest of us carried what we needed for the day in our packs. My sister would be proud that I had excess snacks. Tracks's wife Barb arrived and we put our extra gear in her car.
The five of us, Brian, Barb, Bumblebee, and Russ made a large group. It was a gradual uphill for the first mile. Then it got steeper and even before treeline we were scrambling up boulders and using slender trees as handholds. Typical AT. Eventually Barb and Brian turned back. Above treeline the trail got fun. It felt like low-grade rock climbing, with lots of solid rock handholds and occasional metal rungs. There was one move where I grabbed a rung, shoved one shoe into a crack, lifted the other shoe to press against a small metal loop, and then hoisted myself up. The air was misty and we couldn't see far.
After 0.7 miles of scrambling, the trail flattened out and we resumed standard hiking. Soon we encountered thru hikers descending. I fist bumped congrats to Sir Elton, Hypo, and Burnt Foot. Near the top I congratulated Rawhide and Florida Man. Then I was at the end of the Appalachian Trail and on the highest summit in Maine. It felt a little unreal to be at the end of such an epic journey. Our first pictures had a grey background, yet as we took a snack break the clouds dissipated to reveal sunny blue sky. Katahdin rose above a sea of clouds, though here and there a gap showed lakes and trees. We got a second round of pictures.
I started April 11 and finished September 6, meeting my goal of finishing within five months.
Affiliate Disclosure
This website contains affiliate links, which means The Trek may receive a percentage of any product or service you purchase using the links in the articles or advertisements. The buyer pays the same price as they would otherwise, and your purchase helps to support The Trek's ongoing goal to serve you quality backpacking advice and information. Thanks for your support!
To learn more, please visit the About This Site page.