My Apprenticeship Week on the AT
"The best way of learning about anything is by doing."  -Richard Branson
I presented myself as a novitiate to the Appalachian Trail last week and came away much more aware of its delights and demands.
Friday, April 21:  a 7 hour drive from home to cute little Mt. Holly Springs, PA.  Leaving my car at a hotel, I was picked by a fellow who earns a living shuttling hikers from various Points A to B.
My point B was Harpers Ferry, WV, a 90 minute drive south.  My plan was to hike back to my car and the hotel during the next week.
The historic town of Harpers Ferry is situated at the confluence  of the Potomac and the Shenandoah rivers, where the U.S. states of Maryland, Virginia and West Virginia meet (no, really, I didn't take this off of Wikipedia.  It just happens to sound exactly like it.)
This also is the home of the headquarters of the Appalachian Trail Conservancy, which oversees all things AT.
My lodging for two nights was the comfortable Teahorse Hostel. The dozen or so other hikers there were chomping at the bit to get started with their flip flop hikes.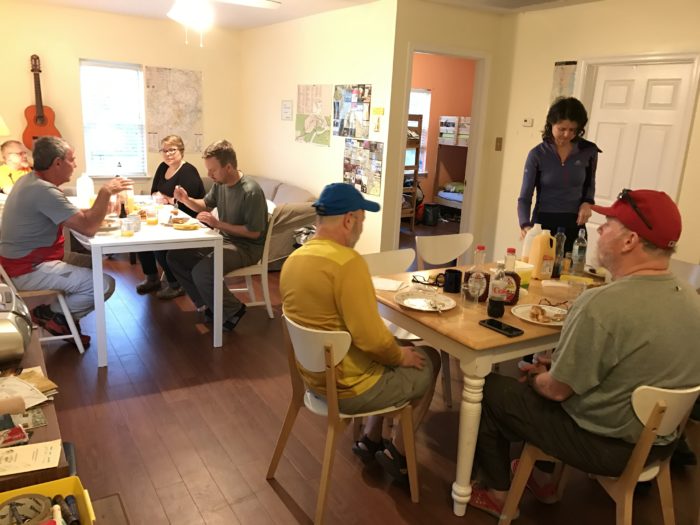 This weekend's big event was the 3rd annual Flip Flop Festival.  Most of the attendees were folks intending to start their thru-hikes in the center of the trail and work their way north first.
There were pack shakedowns, or "shamedowns," as one new acquaintance called it. Bags were emptied, contents examined for their true need on the trail.  Bowling balls, sofas and sets of wedding china were removed from some bags and mailed home. Hikers either slunk off in shame or boasted perhaps a bit too loudly about their 10 pound packs.
Numerous presentations were given, one of which reminded us that it truly IS a jungle out there.
Enough talk…let's hit the darned trail!
I was very pleased when "Little Bear", another hiker from the hostel, asked me if I'd like to join her on the trail. Crossing over the Potomac River, the AT took us on the flat C&O Canal towpath several miles before heading into the hills.
It was exciting to finally be following the white blazes.  These are white paint strokes on trees, posts, trees, etc..  They indicate that you're on the AT.  If there are 2 on a tree, one above the other or one slightly to the side, be on the lookout for a turn.
Okay, let's cut to the main points here.
I'm not going to take you through my week, minute by minute, even though I'd love to.  Let's look at the highlights:
Seven days of hiking.
Some parts of the AT is called the "green tunnel" for good reason, although the color here was just beginning to pop out.  The  part of the trail that I experienced was along ridges a great deal of the time.  It also took me up and down steep hills.  Through fields of rocks and boulders.  Over streams, rivers, roads and RR tracks.  Rain and shine.
14 shelters encountered.
There are more than 250 backcountry shelters  for backpackers.  One sleeps on either the floor or the occasional wooden bunks inside. There are also spots nearby for camping.
I hadn't realized till now how important shelters are to hikers.  Even if you don't sleep there, they're a great place to connect with others during a break.  You soon begin to remember faces and "trail names."  Mine, by the way, is "Chocoholic."  It became evident.
I slept inside shelters on two evenings.  Little Bear and I had the luxury of having the first shelter all to ourselves.  The other evening was shared with about a dozen hikers on the floor and the loft.
I especially enjoyed camping with my own tarp and net tent near the shelters.  I did this four nights.
Skills learned:
Bear Bags
Food supplies and scented items have to be put out of the reach of hungry creatures (non-human).  At shelters, there are poles or cables from which you can hang your bag, or sometimes secure metal boxes. If "stealth camping" away from the shelters, you must toss a rope over a limb 20 feet high and hoist your bag of food up.  You also hope that Yogi and BooBoo will be short and suddenly incapable of climbing trees.
Purifying water.
The guidebooks indicate where fairly reliable water sources are located along the trail. Sometimes these are springs, sometimes streams.  I used a Sawyer water filter to be sure the water was drinkable.  Water was collected in a sturdy plastic bag, and then directed through the filter into my drinking bottles.
Cooking al fresco.
Small pot with lid/teeny skillet.  Small isobutene propane tank.  Pocket rocket burner.  Cup.  Spoon and itty bitty spatula. Dehydrated-at-home food in ziplocks. There you have it.
Picking up a mail drop
I left the trail for a couple of hours to go into a nearby town to pick up a box of food I had sent to myself. With "General delivery" on the address label, the post office held the box for pickup.
Sadly, I arrived during the post office's lunch hour.  Happily, there was a diner across the street.  I spent a very pleasant hour chowing down a hiker-sized breakfast and chatting with these guys who had solved all the world' problems. Rumor has it I also washed my feet and underwear in the bathroom sink.  Please don't tell.
The post office opened, my box handed over,  food stuffed into my backpack and undies pinned to the outside of the pack to dry while I hiked.  I'd say displaying my panties to all the world  qualifies me as "hiker trash."
THE FOLLOWING CONTENT IS NOT SUITABLE FOR GRANDDAUGHTERS:
This nice lady gave me a ride back to the trail, saving me an extra 1.5 miles of walking along a busy road.  All I had to do was stick out my thumb.
It's a done deal.
A couple more days of hiking and I returned to my car and hotel, just as planned. I greatly enjoyed a whirlpool bath and soft bed. Back to Ohio the next day, after dropping hiker "No Doubt" off back at Harpers Ferry. Back to Point B again!
In a nutshell, it was the best trail education I could have had.  Friendly hikers, varying weather, and practice, practice, practice.
T minus 11 weeks
Around July 18, I will begin the southern half of the AT.  Bill will be with me several days, seeing what it's all about.  So I've got about 3 months to get even fitter and more food dehydrated for my on-trail meals.
SO EXCITING!  LET'S DO THIS THING!!
Affiliate Disclosure
This website contains affiliate links, which means The Trek may receive a percentage of any product or service you purchase using the links in the articles or advertisements. The buyer pays the same price as they would otherwise, and your purchase helps to support The Trek's ongoing goal to serve you quality backpacking advice and information. Thanks for your support!
To learn more, please visit the About This Site page.