Nero in Stratton
26 July 2017
Mileage
AT NOBO Miles – 454 miles
AT SOBO Miles – 188.2 miles
AT Total Miles – 642.2 miles
% Complete – 29%
Today's Miles –  1.8 miles
Time –  .667 hrs
Speed – 2.7 mph
Start: Cranberry Stream Campsite
Stop: Stratton, ME
BTW if you use an alarm in the wilderness, get up when it goes off.  I'm usually awake by 4:30am, but a 4am alarm from anorher hiker was annoying.  Especially when he didn't get up when it went off the first time.  Oh well, maybe he needed that snooze time?
I was up early and made it to the road by 6:20am where we tried to hitch a ride into town. There was lots of traffic going our way and we had heard this stretch was very hiker hitchhiker friendly.
After 20 minutes and about 15 cars, Mark picks us up…
…and we ride into town in the back of his truck.  Did I mention that this morning was a little chilly?  And at 70mph it was REALLY COLD!  But we made it to town.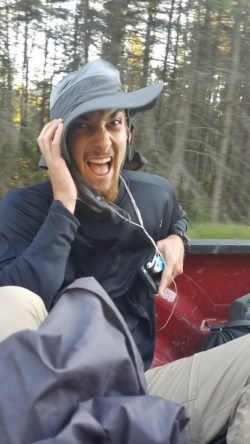 Mark dropped us off at the Flagstaff General Store and we quickly ordered breakfast sandwiches and warm drinks to fend off the chill.  So glad there were picnic tables in the sun…it helped warm our bones.
Then it was off to find our lodging…just a few short blocks away.  We hit checked in, settled our gear, took showers and headed off to do laundry.
The Old Mill Laundry did the trick.  The $2.50 for a large washer and $0.25 to dry was fantastic.  Now our clothes are clean (but still stink).  It's hard to get the hiker trash perfume to go away completely.  Maybe another run through another wash cycle OR just burn them?
Vista really wanted some internet activity so we headed to the library.  I got a chance to fix my blog since I had been locked out for awhile and some of the posts were out of order.  Now everything is working and the posts are in order.  Hopefully, I won't have any other issues with the blog!
Then…lunch was next.  There are only two sit down restaurants in town.  The Looney Moose on the other end if town and the Stratton Plaza Hotel & Lounge right across the street.  You can easily guess where we went…across the street!  It is a rest day you know.
Up next was planning our next leg of the trek and get our resupply at Fotter's Market.  They have almost everything you need.  With a planned next town stop being Andover ME in 4 days, we are packing some food.
The hiking plan is a little aggressive…with some big hills and miles almost every day.  This leg will only add to our hiker legs making them stronger for The Whites and Mahoosuc Notch which are quickly approaching! At least that is the plan.
Next I cleaned up more and shaved!  Yes, I hope to keep a somewhat cleaner face heading SoBo.  I'm not a beard kind of guy.
The most important step was next!  I video chatted with my daughter and granddaughter!  Boy this lifted my spirits!  I love seeing them both and Bee loves her LaLa.  Bee loved getting mail from me.
Now, it's repack time and wait for dinner.  I think pizza may be in the menu or save some $$$ maybe a sandwich from Fotter's Market…good idea TJ!
Since I got a double room with Vista, hopefully we'll be able to get some good rest.  I was a little disappointed the room price was $10 more than what's listed in AWOL.  The owner said it was because they now have air conditioning…whatever!
What a great AND much needed relaxing day off my feet in town kind of day.  The next week will really challenge my hiker legs…many 4000ft hills with many on each day.
Up-n-Ready
Flip GA to VA
Flop ME to VA
"On the road to Damascus"
Affiliate Disclosure
This website contains affiliate links, which means The Trek may receive a percentage of any product or service you purchase using the links in the articles or advertisements. The buyer pays the same price as they would otherwise, and your purchase helps to support The Trek's ongoing goal to serve you quality backpacking advice and information. Thanks for your support!
To learn more, please visit the About This Site page.