Never Say Never: My Blue Blaze off the AT Has an Unexpected Grand Finale
For those of you who follow my blog, you will remember that my body finally cried "Uncle!" after nearly 15 weeks of hard backpacking from Harpers Ferry, WV,  to Andover, ME.  I was hurting big time, and could no longer hike on the demanding Maine trails.  However, after some reflection, I decided I would continue the northerly trek via a rented SUV, in order to support my Swiss hiking pal, Freeman.
We had promised one another "Katahdin together!" and I would help him get there by shuttling him to trailheads. This way, he could carry a much lighter pack and sleep more comfortably in hostels along the way.
All went according to plan; well, the new adjusted plan.  Each hiking day, alarms were set for 4:15 to 4:30 on hiking days so that we could head for the trailhead as early as possible.  The goal:  have him hiking by daybreak, at 6 a.m., or 7 a.m. at the latest, if the trailhead was over an hour away or we got slightly confused on the back roads we traversed.
In the afternoons, I arrived at a different, agreed-upon crossing of the AT and a road, at the approximate time Freeman thought he'd cover that day's distance.  More often than not, he was faster than he had given himself credit for, and had to wait up to half an hour for me.  I hated for that to happen, but these back roads were slow to drive and  very confusing at times to follow, despite having three resources at hand: a detailed Maine atlas, Google maps and the Guthook AT app.
But we always succeeded.  He was never left deserted in the Maine forest!
I really enjoyed all the driving.  Because of the narrow gravel roads we used to get to trailheads,
I was still able to see a lot of the natural beauty of Maine that the hikers experienced on the trail.
In fact, I actually got to see more faces of Maine than I would have seen from the trail:  the farmhouses, many of which have multiple extensions connecting them to the barns;
the rustic weekend/vacation camps;
the tiny villages;
the beautiful freestanding barns;
and fun indications that we were truly in Maine.
Shortly after I dropped Freeman off at his trailhead on our first day of this new system, I realized that I would be able to give lifts to lots of other AT backpackers, too.  I watched for hikers coming out of the woods at road crossings, hanging out in front of supermarkets in the small towns, and just walking along the road toward town or a hostel.  Always lots of good conversation and laughs to be shared along the way. By the end of this journey, I had helped around 50 hikers, some repeat "customers."
With our shuttling and hostel system, Freeman was able to more easily traverse around 150 of the more difficult miles of the Maine trail.  He covered more ground than he would have with a full pack, and enjoyed a dinner of some sort at a cafe or restaurant
and a bed at a hostel or hotel each night.  True luxuries on the trail!
As for me, I never regretted my choice to stop this year's hiking.  My body slowly began to forgive the atrocities I had inflicted upon it and felt a bit more comfortable each day.  The real challenge was to stop eating like a lumberjack, now that I was no longer burning thousands of calories each day.  I decided to worry about that later and continued to enjoy the occasional potato chips and Ben and Jerry's almond milk ice cream while I could.
At last we came to the final northerly section of the AT called the 100-Mile Wilderness. In this section, the hikers have no access to towns for resupplying their food stash.  You either carry a heavy seven- to eight-day supply of food or do as most folks do: arrange for a resupply of your chosen food by a shuttle driver from one of the hostels at the southerly end of the Wilderness, most notably,  Shaw's.
Freeman, however,  had his own private shuttle driver.  He loaded up his big pack with all his gear and four days' worth of food and headed out.
We had agreed on a meeting place where the AT intersects with one of the two logging roads that would be available on his fourth day.
In addition to his box of food supplies, I decided to bring bags of apples, mandarin oranges, bananas, cookies, and potato chips, in order to do a little trail magic for other hikers while I was at the trail intersection.  After Freeman restocked his food bag and ate his luxurious lunch (a Subway roast beef sandwich with all the works, chips and two ice-cold Cokes),
he settled back and enjoyed relaxing and visiting with some of the other hikers who stopped for the treats.
During the previous few days before the food resupply, I had taken a nice break from the whole AT culture, renting a lovely room in Bangor through Airbnb.  The mattress felt like I was sleeping on a cloud and the deck was perfect for my morning yoga.
I enjoyed visiting a farmers market with the Airbnb host,
shopping at an LL Bean outlet center (no longer backpacking + a car at my disposal = room for purchases in a "new" suitcase from Goodwill),
and a one-day visit to nearby Acadia National Park.
After the resupply at Jo-Mary Road, as Freeman was finishing up his final days in the Wilderness, I took advantage of two more nights at an AMC (Appalachian Mountain Club) lodging, the Gorman Chairback hut.
I had so benefited from the bunks, prepared meals, and conviviality of three huts in the White Mountains of NH.  I was eager to see what this Maine version would present.  It turned out to be much more low-key, without quite all the animated welcomes and entertainment by the young staff that I had experienced in NH.  This was a true North Woods retreat, with canoes and kayaks at our disposal, plentiful trails, and still all the delicious food. Very nice.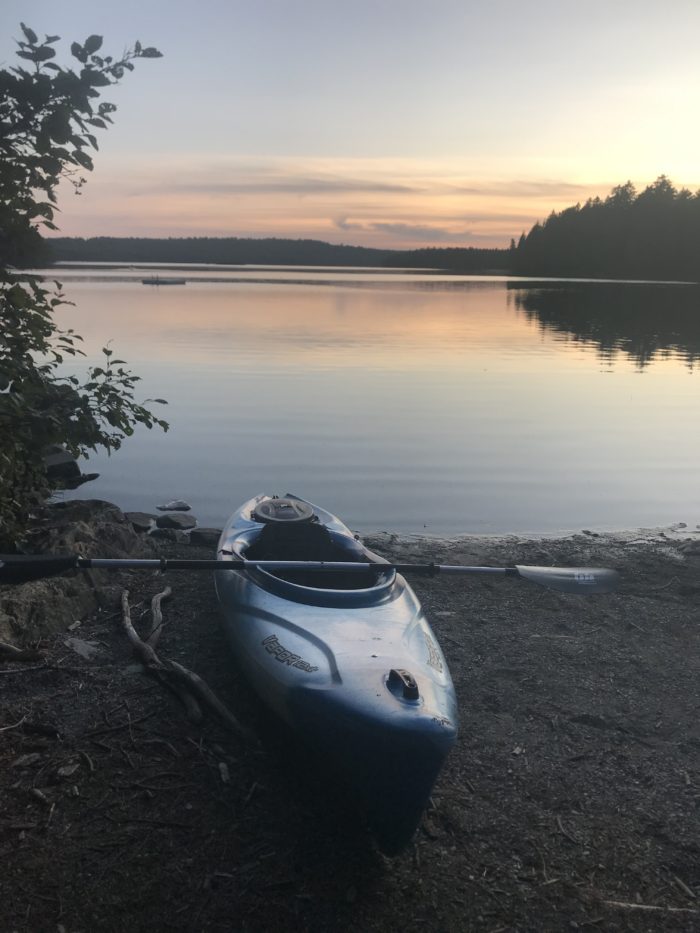 Because of the continued healing of my body and the proximity of the AT just a mile away, I chose to spend my free day at the hut hiking six slow, easy miles on the trail.  I wanted to forgive and to "make nice"  with the trail.  Mission accomplished.  A very nice reunion for both of us.
Which led to the unexpected change of final destination of  my "blue blaze" off the AT.  Much to Freeman's delight, I informed him that I would be climbing Katahdin with him after all.  I now felt up to this one-day challenge, and wanted to end the year on a high note, to so speak.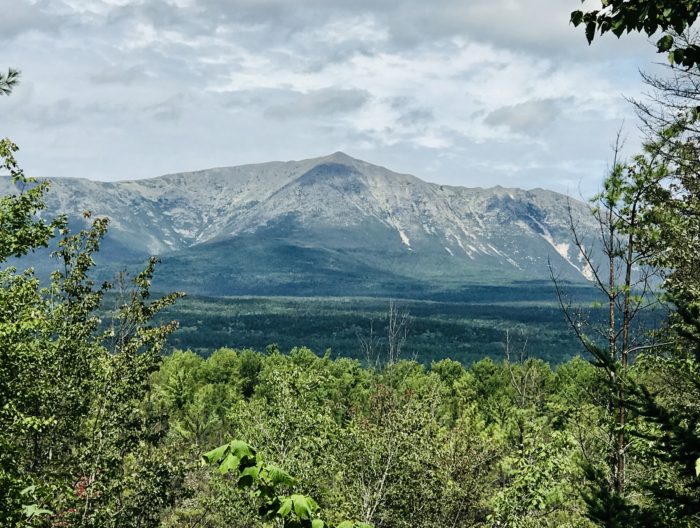 The two-day process for achieving this was:
I met Freeman at the Katahdin Stream Campground, where we had booked our own shelter for the eve of the hike.
We enjoyed talking with park rangers to learn more about the park, the mountain, and an upcoming celebration at the mountain by the local indigenous people.
The alarm went off at the usual 4:30 a.m., we packed up our belongings in the car and moved it to the day use parking lot, and hit the trail by 6 a.m.  I will admit to having much trepidation in my heart, but I knew I could make it up this formidable mountain with the help of my hiking partner.
Up we headed on the 5.2-mile Hunt Trail, the trail that the AT follows, hiking first through the forest and past a waterfall.
The trail soon reminded us that we were still subject to the Maine rules of  the game: roots, rocks, boulders, steep inclines, and later declines.
But also part of the Maine rules:  fantastic views from the mountaintops.
There was some scary climbing over boulders, with rebar bolted into the flat sheets of rock to provide a place for your feet and your hands as you boosted yourself up.   This was all very helpful, but not as much as a strong push from behind by one's partner!  Thanks, Freeman.
Once we got through the scary stuff, we finally came to the fascinating plateau near the top: lichen(?)-covered rocks, unique high-altitude plants, and signs and strings on both sides of the trail as reminders to hikers to stay on the trail so as to not harm the vegetation.  The cloud cover at the top actually added to the mystique.
With the ascent behind me, I tried to put the eventual steep descent out of my mind and just enjoy being on top of this mountain which, two weeks ago, I never would have guessed I'd ever reach.
And then, through the haze, we could gradually see the shape of  the iconic sign that signaled Baxter Peak, the highest point on the highest mountain in Maine.  It was hard to believe that we were actually there.  And we were so fortunate that we happened to be the only ones there at that time, to be able to take our time and enjoy this culminating achievement that we had imagined countless times.
And now, the descent.  We decided we would take one of the potentially easier alternative routes down, Abol Trail.  Well, I decided, and Freeman was the agreeable partner.  This trail was shorter by two miles, but that meant steep downs through boulders.  However, there was no rebar (sometimes good, sometimes scary) and no unexpected surprises around any corners.  It was a good decision.
Approximately eight hours after we had left our campsite, we jubilantly arrived back at our car.  With the back seat filled with three other happy but weary hikers, off we headed for the nearest small town of Millinocket, nearly an hour away.  Katahdin was now in our rear view mirrors.
A yummy steak dinner courtesy of Freeman, comfortable beds in a real hotel, a good breakfast at a local diner the next morning with friends Papa Smurf and Lucked In,
all led to a full SUV as Freeman and I headed to Bangor a bit over an hour away, with even more backpackers now filling the back seat.
It was hard to say goodbye to my hiking pal who had been so supportive and appreciative during our month together.  Our partnership added so much to both of our AT experiences  He would now catch a bus to Boston and a flight the next day to Switzerland.
I would fly to Cincinnati.
Suddenly, it was all over.  Boom.  Done.  The hikers disbursed with the wind.
But this year's journey  always be with me: the pride I have for my hiking partner who dealt with language challenges and intense homesickness for three consecutive summers, and still hiked every mile of the Appalachian Trail; my appreciation of the support of my dear husband, family, friends, and readers; the memories of so many conversations, laughter, and even the tears with other hikers; the beauty and the extreme challenges of the trail in the far north; thankfulness for the hard work my body accomplished; and the rewards of getting through the tough times.
I have hiked from Maine to Georgia.  I have summited the mountains at each end of this trail.  But one section of the trail remains untrod:  250 miles of Maine, from Andover to the base of Katahdin.  Will I return another year?  Knowing my history, the odds are very good.  With good training beforehand, fewer tiring miles before this challenge than this year's 900,  and a strict adherence to my rules of frequent zero days and low daily mileage, I could very well complete it.  Or not.
We shall see.  If I do it, it'll be reported on here at thetrek.co.  Stay tuned.
Never say never!
Affiliate Disclosure
This website contains affiliate links, which means The Trek may receive a percentage of any product or service you purchase using the links in the articles or advertisements. The buyer pays the same price as they would otherwise, and your purchase helps to support The Trek's ongoing goal to serve you quality backpacking advice and information. Thanks for your support!
To learn more, please visit the About This Site page.