New Jersey
Day 29 – Delaware Water Gap to Dispersed Campsite
Before leaving DWG, we set up a clothesline outside of our hotel in order to spray our clothes with permethrin. We did this before we started our hike and decided we were due for a reapplication. This keeps away the bugs, including ticks.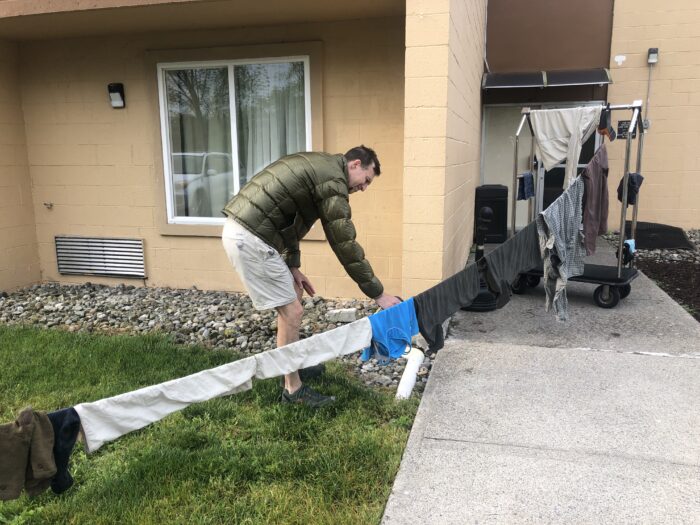 Kevin decided to test the brand new Coleman cooking fuel canister with our stove, and guess what? It didn't work. Better to learn that in the hotel room than at a campsite. This meant we needed to buy another brand of fuel, and the only outfitters in town didn't open till 9:30. So we decided to stop at the hiker hostel on the way out of town in order to donate the extra permethrin, some ziplock bags, and the unusable cooking fuel. Miker happened to be there, and he happily took the Coleman fuel. We in turn picked up a compatible more than half-used fuel canister from the hiker box and decided to forego the outfitters.
Leaving Pennsylvania meant crossing the Delaware River, which appeared to be shallow. The bridge carried a lot of traffic, and sometimes vibrated when a big truck whizzed by. I was glad to get off it. The trail then crossed 2 highway ramps and disappeared into the hillside where it gently rose 1,000 ft over 2 miles.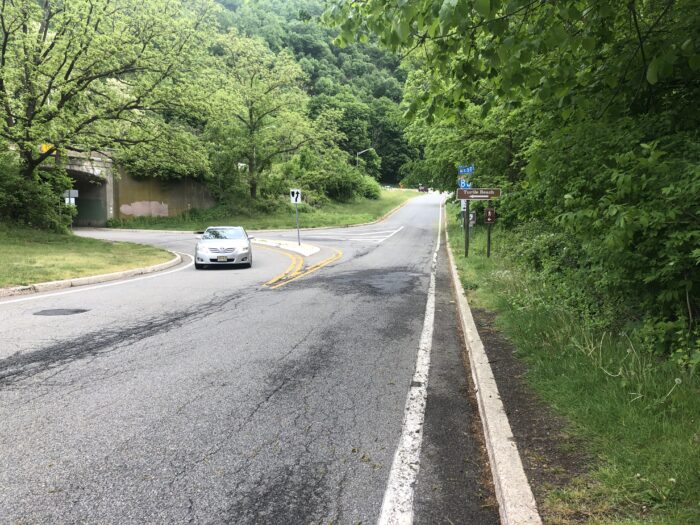 As usual for leaving a town, our packs were heavy with food. But the air was so cool and breezy, that it felt uplifting. At times I felt like I was in the freezer section at the grocery store, which I normally dislike. But going up the hill it felt great.
Sadly, the start of New Jersey was not without rocks, but they were to a lesser extent and severity than PA. We came across Sunfish Pond, a glacier lake considered to be "one of New Jersey's 7 wonders". I'm not sure what the other 6 are, but plan to look them up. It was nice to sit at and walk along a body of water. It was also nice to eat lunch, not just for the sake of eating, but to enjoy lightening our packs.
We were eager to have more vegetables with our meals and had bought a small container of fresh spinach, which I crammed into a ziplock sandwich bag. For dinner we made ramen with salami, Romano cheese, sun dried tomatoes, pine nuts, and spinach. It was practically gourmet.
Day 30 – Dispersed Campsite to Hilltop Campsite
The trail in NJ follows the mountain range on the PA/NJ border up to near the Port Jervis/ tri-state area. It is characterized by wide vistas with layers of gentle looking mountains in the distance. And it still has rocks.
We hiked most of the day in the remaining portion of the Delaware Water Gap National Recreation Area, then headed to Brink Road shelter to get water and escape the afternoon heat. It seemed like a good spot to soak our feet, too, but we quickly changed our minds when we encountered the buzz of mosquitoes.

In need of a decent place to sit, we decided to rest and make an early dinner in the shelter. The shelter was elevated, had a projecting deck, and was bug-free. A well designed shelter makes us appreciate the simple pleasures of a level floor instead of the uneven, leaf-covered ground; walls with hooks to hang things instead of tree branches; and a smooth, properly positioned place to sit instead of a low, uneven rock. Now if shelters only had running water!
After dinner we walked about 2 mi further and tented on the ridge overlooking Culver Lake. The air was cool and breezy, a nice change from the warmer afternoon temperatures.
Day
31 – Hilltop Campsite to Highpoint Shelter
Our goal has been to get a very early start each day. It hasn't always worked out that way, but it did today.
The benefits of an early start include lots of birdsongs and cooler temperatures, with less sun directly overhead. The only downside is breaking through hundreds of finish lines, the overnight work of spiders. On early start days, we often hike 8-10 miles before lunch.
Worse than spiderwebs, today we encountered a large rattlesnake. It was coiled up on the left side of a wide trail, and I walked past it on the right. I did not realize I walked passed it until I heard it rattle. At the same time Kevin, who was behind me, shouted "rattlesnake!" I then did what any human does when confronted with a dangerous creature. I grabbed my phone and took a picture. I didn't want to get too close, but if you look carefully you can see it slithering off the trail. Later Kevin read about what to do if bitten by a venomous snake. The answer is: do not move (to discourage blood flow), stay calm, and wait for help. This sounded to me like a death sentence.
We had intended to hike 14 miles to the Rutherford Shelter, but ended up tacking on an extra 3.6 in order to get to Highpoint Shelter. Rutherford was .4 mi off the trail, plus the stream was a little further. We decided to apply that extra side trail mile, which felt like a poor use of time and energy, towards moving to the next shelter. The added walk turned out to be the rockiest and most challenging section of NJ so far, where it turns a corner near Port Jervis.

We took a break at a bench next to a much-appreciated spigot in Highpoint State Park, then arrived at Highpoint Shelter around 7:30. By that time everyone was in their tents and we had the place to ourselves.
Kevin quickly got a tent site and started dinner, while I collected and filtered water. I even took a shower before crawling into the tent. We knew we would not be getting an early start the next morning.
Day 32 – Highpoint Shelter to Unionville, NY
After Highpoint we left the rugged Kittatinny ridge and headed southeast as the trail followed the NJ/ NY line. The landscape almost instantly transformed into forests, former farmland, and hay fields; and the ground was much more forgiving. Stone walls zigzagged across the landscape, the remains of previous generations' attempts at farming. It's hard to imagine the efforts required to transform this rocky landscape into farmland, and makes sense that most farmers moved on to easier terrain.
We made a left on Lott road, which crossed the state line into Unionville, NY. By noon we were seated as the first customers of the day at Wit's End Tavern. The place quickly filled up with locals. We enjoyed a burger, fries, and salad while the group next to us played multiple rounds of pool. Occasionally Kevin had to move his seat so they could make their shots.
Luckily we secured 2 spots at SOLA, a pastor-run hostel. Even luckier, we discovered that The Alchemist and Flying Camel would be joining us. The day was short on hiking and long on relaxing.
Day 33 – Unionville, NY to Wawayanda Shelter
Not only was SOLA very clean and well run, but the beds were so comfortable that I had my best indoor sleep so far. We really enjoyed talking to Pastor Doug and his family, and could have lingered all morning. But we were already getting a late start and knew we had to go.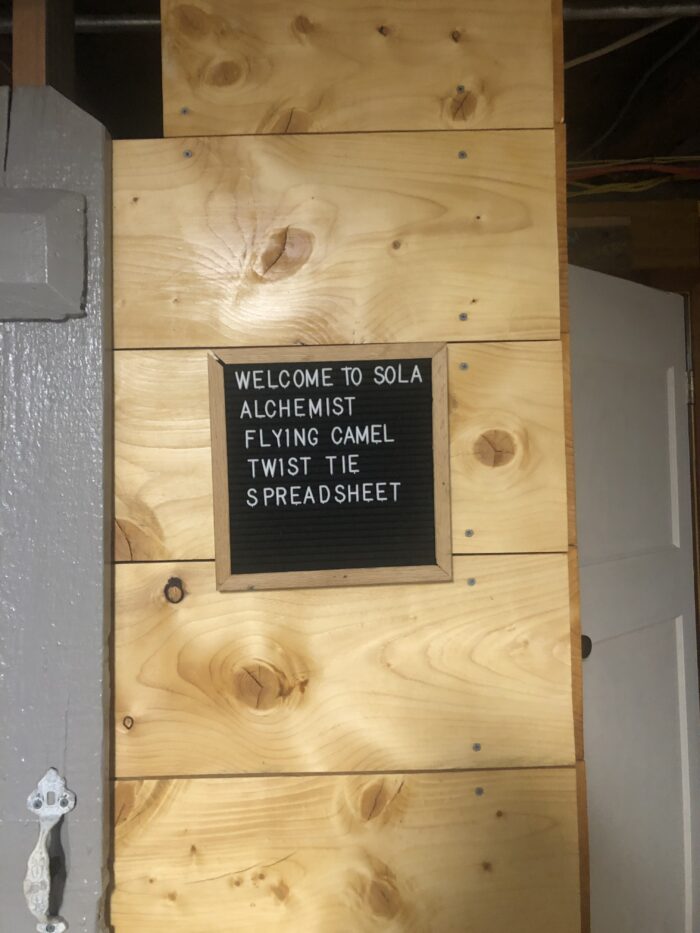 We walked back into NJ and continued through the Wallkill Wildlife Refuge, which was flat, open, and marshy. Parts of the trail took the form of a wood boardwalk. It couldn't have been more different from Pennsylvania.
After passing through some farmland, we arrived at the Mitch's hotdog stand and Heaven Hill Farm and Garden Center. This was perfectly timed with a late lunch that included hotdogs, watermelon, and apple fritters. It was also perfectly timed for our climb up the Stairway to Heaven, a series of rock slab steps that steeply switch-back up Wawayanda Mountain. At the top our view swept across Pennsylvania, New Jersey, and New York.
When we set our bags down at Wawayanda Shelter 5.5 miles later, we reconnected with Sponge Fob. He was already getting ready for bed. As we ate our dinner, The Alchemist and Flying Camel appeared. And they brought a present, an entire strawberry rhubarb pie carried all the way from Heaven Hill. The Alchemist had completed his 1,000th mile today, and the 4 of us celebrated this milestone with a very large serving of pie. My only regret was that I didn't take a picture.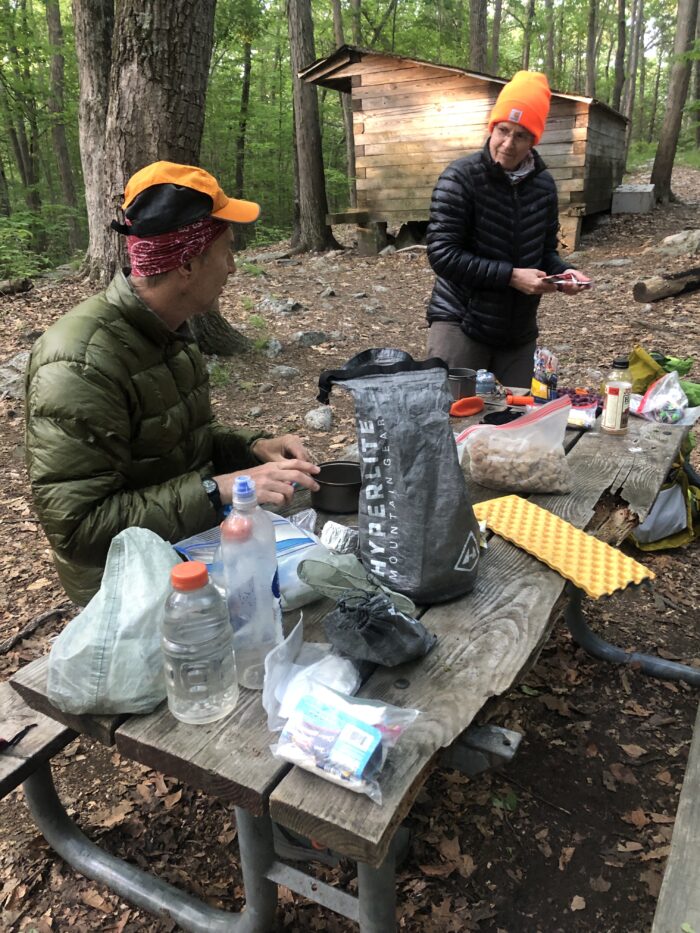 Day 34 – Wawayanda Shelter to Warwick, NY Bed and Breakfast
Last night the temperature went down to the mid 30s, apparently a record low for the area. Nonetheless, we slept well and woke up shortly after sunrise.
We were the last to leave the site, but still got an early start leaving before 7:30. We were excited to get to Greenwood Lake, and by 10:00 we stepped into New York. This fact was reinforced by a dramatic, but distant view of the tallest of Manhattan's many skyscrapers. They appeared like ghosts beyond the horizon.

Many days we hike 10 or even 12 miles before lunch. Today was different. When I saw that the trail ran along the lake, I pictured a moderate walk. Instead it was about 5 miles of strenuous bouldering that began as soon as we crossed the state line and ended shortly before we reached Route 17A. We even heard a bear running off after it heard us.

We were happy to reach the road and get a ride into town, where we ordered Mexican food and then resupplied as best as possible at the CVS and Cumberland Farms. Then our B&B host picked us up and we headed to the beautiful town of Warwick, where we rested in preparation for an even more challenging section tomorrow.
Affiliate Disclosure
This website contains affiliate links, which means The Trek may receive a percentage of any product or service you purchase using the links in the articles or advertisements. The buyer pays the same price as they would otherwise, and your purchase helps to support The Trek's ongoing goal to serve you quality backpacking advice and information. Thanks for your support!
To learn more, please visit the About This Site page.