New York
Day 35 – Greenwood Lake to Pond Campsite
Today we left the comforts of the Meadowlark B&B and set out on what has been the most difficult day of our hike so far.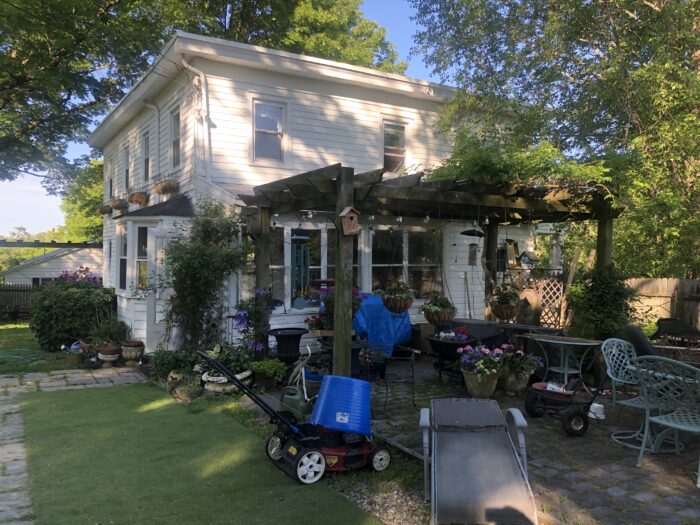 We had been warned that the section from Greenwood Lake/17A to Interstate 87 was the hardest leg of New York, and the warning was no exaggeration. The total distance was not extreme, 14.5 miles. And the elevations were not towering. But the stretch contained several hard, slow miles thanks to piles of massive rocks that looked like they fell from the sky and might keep falling. Each pile presented a steep, upright climb followed by a twisted, cascading descent. The hike's elevation profile looked like a heart monitor screen.

We didn't cross paths with too many hikers, but when we did they looked exhausted, and seemed to share the same doubts and frustrations. Even the day hikers.
Finally, after a harrowingly steep and long descent, we crossed Interstate 87 and entered the parking lot of Harriman State Park. We were out of steam and out of water, so we stopped at a nearby stream to rest, soak our feet, and collect water before the last uphill mile of the day.
Many day hikers and tourists were out for the holiday weekend, and we were kind of on display. Some couldn't help but notice that we were gathering water from a stream, which probably seemed like a strange thing to do when water is commonly accessed from a tap. Was it even safe? A passing couple asked about our water filtering system. They were intrigued that we could turn what flows from a ground stream into clean, potable water. But it is more than just a curiosity. We would not survive without our CNOC water collecting bag and Sawyer water filter.
An hour later we arrived at our stealth campsite hot and tired, but fortunately next to a large pond. I hadn't been swimming in over a month and was so happy to take a dip, even if it meant walking across a mucky bottom and picking through lily pads to get in. The water looked like tea due to tannins, but the temperature was perfect and refreshing. I was in another world. It was a bit hard to get in, but harder to get out. Eventually I climbed out to help with dinner and other chores.
Day 36 – Pond Campsite to West Mountain Shelter
The weather forecast has illustrated nothing but bright sun symbols for every hour of every day. On the screen this looks cheerful. But the sun is not always a friend. The rocks absorb and radiate its heat. The air starts to feel heavy. And the ground becomes dry and dusty, kicking up underfoot, and sometimes giving way on the downhills. It had not rained since the 11th day of our hike, the morning we hiked into Boiling Springs, PA. We were beginning to wonder why we were carrying raincoats in our packs.
We got up very early to try to stay ahead of the sun. Since we were now hiking in Harriman State Park, the trails were decidedly more civilized. Paths were wider, and less winding. Stone staircases carried us up and over rock piles. The park environment was a sharp contrast to the rugged landscape outside its boundaries.
We covered today's 14 miles relatively quickly and arrived at West Mountain Shelter by 3:00. To our great surprise and joy, we reconnected with Trig and Root. We hadn't seen them in over a week, thinking they were miles ahead. We exchanged war stories, especially about yesterday's miles. Trig said if he could have been helicoptered out, he would have gladly exited.
The hiking app Far Out describes shelters in terms of basic features, such as distance from the trail, sleeping capacity, water source, etc. But the comments for West Mountain Shelter tell the real story: location, location, location. At the end of a challenging .4 mile side trail, West Mountain is a true "destination" shelter. The cozy, historic 1930s CCC stone and wood lean-to occupies a prized piece of ground overlooking the Hudson River Valley and the Manhattan skyline. We sat on its wood floor and looked out at a landscape painting. Sailboats moved back and forth where the river bulged in the foreground. The city skyline stood flat across the background like a long gray cardboard cutout. At night the distant empire's lights were a blur in the haze, not a sparkling beacon.
Day 37 – West Mountain Shelter to Bear Mountain Bridge Motel
Today we worked our way towards Bear Mountain. It was Memorial Day, 50 miles from New York City, and people were everywhere. Many groups were trekking with various degrees of success from the picnic grounds at Hessian Lake up to the lookout tower atop Bear Mountain. One park employee wandered around picking up trash, which looked like an even bigger uphill challenge.
Bear Mountain was almost home to New York's Sing Sing prison. Instead it is a popular State Park, with an inn, swimming pool, zoo, trails, lookout tower, and other beautiful, historic structures. The park was the product of the efforts of local conservationists coupled with significant private donations of land and money. Later the iconic stone and wood structures, including the hiker shelters, were built during The Depression as part of the WPA building program. Bear Mountain and Harriman State Parks are home to the first established sections of the Appalachian Trail, which are distinguished by quality design and construction. The park and its trails  should be the model for all such public works.
After enjoying the view from Perkins Memorial Tower, we descended many, many stone steps, stopping every now and then to let uphill climbers pass. At the bottom we arrived in the park grounds, every square foot of which was occupied by picnickers. It was a lot of humanity.
The trail then wound through the zoo, where we saw our first bear of the hike. It probably doesn't count. Soon after, our motel host, Grandpa, picked us up and took us to his 100 year old 5-room motel, the Bear Mountain Bridge Motel. It would have served the park's visitors during the dawn of the automobile age. Now it seems to cater primarily to hikers.
Miker, The Alchemist, and Flying Camel all happened to be heading to the same motel. After a much needed shower, we walked to Bear Mountain Pizza. I was very excited to get real pizza after a few hundred miles of meh. It was amazing, and enough for lunch and dinner.
Day 38 – A Zero Day
Grandpa, the proprietor of the Bear Mountain Bridge Motel, was more than an innkeeper. He was like a dad. Or a grandpa. He mentioned that he was going to the dentist at 11:30. What a coincidence. Kevin lost a cap about a week ago, and had been planning to see a dentist. Luckily, he got an appointment with Grandpa's dentist, and we headed out with Miker and O.G. to nearby Highland Falls. O.G. got dropped off at the barbershop, Miker went to eat Mexican, Kevin and Grandpa went to the dentist, and I went to the grocery store. Then he recollected everyone, took us to pick up a taco lunch, and drove back to the motel. On the way he pointed out all the town's highlights, stopping to talk to everyone, including a truck driver whose load of sand was spilling through a gap in the back doors like an hourglass. Grandpa could very well be a candidate for mayor. Apparently Highland Falls needs a new one from what I read at the grocery store.
The rest of the day was spent eating, organizing, eating more, and resting.
Day 39 – Bear Mountain to Dennytown Campground
We have so far crossed the the Potomac, the Susquehanna, the Lehigh, the Delaware, and this morning the Hudson River. The bridge that carried us over was the 100 year old Bear Mountain Bridge, a cable suspension bridge that was built in 3 years' time for $2.9 million. In 1924, it was the longest suspension bridge in the world and the first suspended bridge to have a concrete deck.
Then we hiked through Hudson Highlands State Park, followed by Fahnestock State Park. The day grew hot and buggy by noon, and the last 2 of the 15 miles were a struggle. We reaffirmed our goal to get up at 5:00 and hike most of the day's miles by noon. Especially for tomorrow and Friday, with temperatures expected to reach 92F.
At around mile 6 we crossed the Appalachian Market, located at the junction of Routes 9 and 43, and famous for being open 24/7. Of course we stopped in for refreshments and a bathroom. I was surprised to encounter a TV in the bathroom. But almost as surprising was the local news story reporting that 25% of adult Americans have non-alcoholic fatty liver disease, or NAFLD, due to obesity and its related metabolic disorders. We had only recently learned about this condition in a book on health and longevity that we had been listening to in the tent. Apparently the liver can be damaged by more than heavy drinking. I was glad that it is at least being reported on TV and hoped the information would help people.
By 3:00 we arrived at Dennytown Campground. Its best feature was a water spigot next to the tent area. Given how many dry stream beds we crossed today, it was reassuring to be able to access water by turning a knob. It also meant that it was easy to set up our shower system and get clean.
We met an older hiker named Sugarfoot. He had recently returned to the trail after suffering a concussion in PA, where his head met a rock after his foot hit a root. He was determined to keep going, but at a much reduced pace. He also described other hiker-related maladies, like Lyme disease, that he had faced in previous years. We could tell he was a resilient person. Later he surprised us with his electric toothbrush, which played soft, chanting melodies while he methodically brushed his teeth. It weighed 2oz, including the charger, and his pack was not exploding. So we knew he offset that luxury item with something.
Day 40 – Dennytown Campground to Corrado's Pizzeria
Today we were up by 5:15 and on the trail before 6:30. The air was quite humid, especially for early morning. By 9:30 we were at Canopus Lake, which had a sand beach, picnic tables, and bathrooms. The lake was low due to the long draught which we learned was in its second year, but it was still inviting. We both went for a swim that made the first 6 miles disappear from memory. After that we had a snack, put on more bug repellent, and headed out.
We took another break about 5 miles later at the RPH shelter. It was more like a semi-enclosed dorm room, with concrete block walls, a finished ceiling, bunks, and a table with seating. It even had trash cans. Just prior to arriving at this shelter, we stopped for water at a stream that was home a very friendly frog. I noticed how far he glided after each  powerful breast stroke kick.
As we expected, the last 5 miles of the day were tough, especially in the heat. We came across a cooler full of cold water at Hosner Mountain Road. Later we met the woman who stocks this cooler when we arrived at Corrado's Pizza and Gelateria. She chatted with us about the drought until her mother called out that her gelato was melting. We set up our tent, took showers, and ate in the air-conditioned pizzeria until it was time for bed.
Day 41 – Corrado's Pizzeria to Pawling
Today's hike began and ended with enormous oak trees, with a lake swim in the middle. The first oak tree has no name, but it can be found just after crossing NY 52. The second one, the Dover Oak, is the largest oak tree on the AT at over 300 years old. This is where my friend JP, who lives in the nearby village of Pawling, picked us up.
Our hotel check-in wasn't till 3:00, so we got to spend some time with JP at his house, enjoying its beautiful garden and views of valleys to the east.

JP also graciously received 2 packages for us, our first mail drop. It was strange to open something that we packaged and labeled in early April, when the hike's logistics seemed abstract. The boxes included food, but most importantly, new shoes. Mine had about 500 miles on them, and Kevin's had about 400 miles. They served us well. I will probably write a gear review entry much further out, but so far we have both been very happy with our Topos.
As we headed out to dinner with JP and his 2 1/2 year old daughter, we grabbed our raincoats. Thunder struck and it was finally raining. According to JP, in Sicilian,
"La cosa bagnata e cosa fortunata."  Good fortune indeed. We dined on hamburgers and ice cream, made all the more fun in the company of a toddler.
Day 42 – Pawling to Wiley Shelter
Check out was at 11:00, and we were on the trail by 11:30. We had planned a short 8 mile day since we spent the morning getting organized and doing laundry. I felt like I was walking to school on the first day of the year. The air was 30 degrees cooler than the day before, my backpack was full of new things, and I was wearing brand new shoes.
The landscape was quite different from yesterday, too. We walked over a boardwalk through a swamp, crossed several farm fields, and arrived at Wiley Shelter in plenty of time for cards. By 5:00 we were in hats and down jackets wondering if we should make a fire.
We cross the border into Connecticut tomorrow morning, making this the last entry for New York.
Affiliate Disclosure
This website contains affiliate links, which means The Trek may receive a percentage of any product or service you purchase using the links in the articles or advertisements. The buyer pays the same price as they would otherwise, and your purchase helps to support The Trek's ongoing goal to serve you quality backpacking advice and information. Thanks for your support!
To learn more, please visit the About This Site page.