Northern PA and NJ
We tried to mentally prepare for the latter part of Pennsylvania which has been dubbed "Rocksylvania" by hikers that have survived it…
Rocksylvania
We had really enjoyed our journey through PA up to that point – nice views, nice hiking, warm and welcoming people. After Port Clinton, the rocks became relentless and offensive to say the least. The bigger rocks were fine because generally you have a flat(er) surface to put your foot on. The smaller rocks the size of every various sports ball littered the trail and there was nowhere to land your feet that didn't contort your ankle.
Luckily, the trail elevation was unimposing and not too steep with the exception of the climb out of Palmerton, PA. Although not as iconic as McAfee Knob, the climb was treacherous and kind of fun – in a 4WD, off-road kind of way. We made the mistake of going into the town and getting an elevation view of what we had to climb in the 95 degree heat. But we had a mission to get through the rocks and onto Delaware Water Gap where we met up with Flo & Semi, and then a bit further where my buddy Carl was meeting us the next day.
Delaware Water Gap
Delaware Water Gap, the official end of Pennsylvania, was a neat little town where we took a quick Dunkin break and cooled off in the AC. We were able to charge our phones and headlamps at our friends Trash and Semi's hotel room next door to the Dunkin Donuts. We hadn't seen Trash in a few hundred miles and it was a nice surprise to see him again. Shortly after that we officially crossed the Delaware River, said adieu to Pennsylvania and loaded a new map for New Jersey!
Getting home
We had planned for a while to take a brief trip back to Michigan to visit family from both of our sides. Pepper's family meets in a small coastal town on Lake Michigan every year as sort of a vacation/family reunion. My family all lives in the GR area. While not a long trip, we wanted to see them and take a break from the trail after 1325 miles of living outdoors. My buddy Carl drove 12 hours out to meet us at a road crossing on the AT. He was unknowingly the brightest trail angel Pepper, Semi, Flo and I had seen in a when he showed up with beer and some great pizza!
The next day, all five of us slack packed (slack pack = no or nearly empty pack). Carl and I took everyone's pack in his car 14 miles north to Branchville, NJ while Pepper, Semi and Flo hiked from our camp spot north. Carl and I saw a huge black bear in a field on the way up! We parked the car where 'Moose' the trail angel was giving out full scale trail magic – pringles, donuts, coffee, chips, candy, etc. A hiker himself, he knew what thru hikers craved. Carl and I chatted with him for awhile and started hiking south towards the gang.
A neat part of the day was dodging thunderstorms and the rain. We got to the first ridge and actually watched the rain storm go to the north of us. Another unusual thing for me that I explained to Carl is hiking Sobo (south-bound). I had never done it before and it was cool to see all the other hikers I knew that I had no idea where so close behind! We met Pepper nearly halfway, took a quick break and gave her the keys to the car to come pick us up when we reached where she left off today. A few hours later we arrived at our camp spot from the night before and Pepper had just pulled up in Carl's 4Runner! We started our drive back to Michigan that afternoon.
Michigan
Our trip home was fun and somewhat bizarre. It was fun seeing family and a couple friends – sorry to those we wish we saw but couldn't under our time crunch. It was very bizarre being able to flush toilets, get food any time we wished and do all the things we used to take for granted before the trail. We spent time with my family and even got to go sailing on my dad's boat! We spent time with Pepper's family down in South Haven, MI for a day and a half. It sure went quick and it seemed like we were back in NJ in no time.
Back to the grind
Pepper had forgotten her trekking poles in the parking lot when we left and a fellow hiker, Cy, found them and recognized them. It's not uncommon for hikers to know who's around based on their gear after hiking so many miles with each other. He stashed them behind a tree in the woods and they were still there when we showed up looking for them! I saw Moose the trail angel for the second time and we sat and talked with him for a few minutes. We kept hearing something in the woods and we looked over to see a small bear running by not 15 feet from us! That was AT bear #9.
The rest of New Jersey was beautiful… and we had no idea it would be. The people were great, the forest was exceptional and overall we just enjoyed the scenery. The weather, however, was extremely brutal – 95 degrees for almost a week straight with thunderstorms that would (and did) make a sailor nervous. It was hard getting back to being wet with sweat all the time, especially right after saying goodbye to the convenience and amenities of home.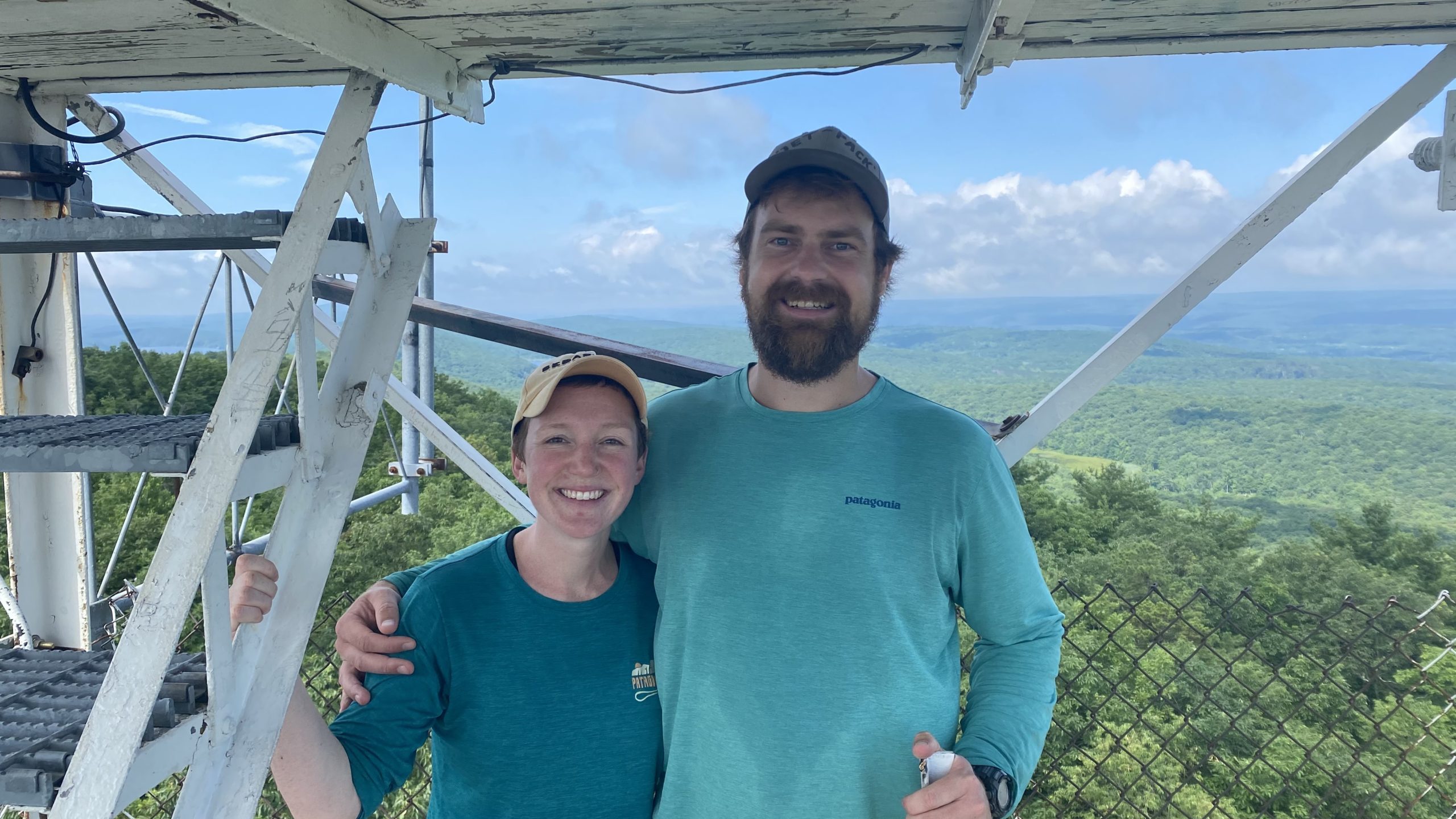 In the beginning of our trip I wanted to make a blog post on 'what it's like to be a Thru hiker'. Clearly I didn't and I'm glad because now I feel a slew of new emotions, joys and pains on the trail after 1300 miles. Stay tuned for that post. 😉
Affiliate Disclosure
This website contains affiliate links, which means The Trek may receive a percentage of any product or service you purchase using the links in the articles or advertisements. The buyer pays the same price as they would otherwise, and your purchase helps to support The Trek's ongoing goal to serve you quality backpacking advice and information. Thanks for your support!
To learn more, please visit the About This Site page.