The Nuts and Bolts of My Perfectionist Preparations
I have been blessed/cursed with the need to do everything to the very best of my ability and then some.  So this naturally applies to preparing my 60-something body and my gear for traversing the northern half of the AT this year.
It was humbling for me in 2017 to have to end my southern half journey after just 500 miles.  Foot and leg injuries made that decision for me.   But I was back on the trail in 2018 for the final 600 southern miles. Climbing Mount Springer on Nov. 10, with my beloved daughter and granddaughters, was the absolute highlight of those 1,100 miles.
And now, back I go.  On May 1, I'll be NOBO (northbound) out of Harpers Ferry, WV, accompanied as always for the first five days by Shortimer. This name is actually a misnomer, given that he has been by my side for 49 years.  How fast time flies!
I diverge. Back to the subject at hand:  I'd like to share with you how I have trained my body and mind for up to four months on the trail this year.  Following that, you're going to hear more minute details than you ever imagined (or cared to hear) concerning putting together an efficient backpack.  That is, gear that works specifically for me.  My loaded pack is not in the highly esteemed category of ultralight, but is the lightest that I can make it and still meet all of my needs.  Read on.
The Body
Some folks can hit the trail with no training whatsoever.  Some of these people succeed in their quest.
I'm not one of these people.  When I did marathons, ultras and triathlons, I judiciously followed my training plans to the letter.  And I never had a DNF (did not finish).  That's not to say that I never had injuries that kept me from even getting to the starting line, but I always mended and moved on to the next event.
Not so much anymore.  About five years ago, a hip injury led to the discovery of scoliosis, arthritis, and lumbar stenosis (permanently pinched nerves in the lower back).  After seeing the MRI's and hearing the doctors' warnings, even I had to admit that the running had to end.  This was one tough pill to swallow.
But happily, backpacking works!  This is something that I have always enjoyed, so I'm grateful that it's still at my disposal, at least for the time being.  With the switch last year to a pack with a good hip belt that supports the majority of the weight, I'm good to go.  But being trail-ready doesn't stop there.
My 60-ish body still gave me a lot of pains and problems the past few years until…
Pilates to the rescue!  For the past five to six years, I have been taking private Pilates classes from a very skilled teacher and friend.  We work out on the reformer, chair, springboard,  core align, Cadillac, and all sorts of other fun equipment. It has been a very good match, making a world of difference in how I move my body and feel about life in general.  I definitely couldn't have done all I have done the past few years without the Pilates workouts improving my balance and tuning the muscles of my body, most notably the supportive center.
So that has been the core of my AT training:  one-hour Pilates sessions with my teacher twice a week.  I also can get in some extra workouts at home on the reformer given to me by a very generous friend who was downsizing his home.
But it's not just Pilates.  Before returning to hiking, we had a fun bit of cross-training in early February:  five days of kayaking and camping in the Everglades with a small group and a professional guide.
In retrospect, playing a rousing game of ax throwing at a girls-night-out in Nashville probably wasn't the wisest thing to do for my sore shoulder.  Axes are heavy.  But it sure was fun!
The other main focus, of course has been walking and hiking.  I resumed in earnest in February, during a trip to California to see our son.
There has only been enough time for one overnight shakedown camping trip, but it served me well.  Overnight temperatures below 40 degrees helped me make the decision to pack the Therm-a-Rest sleeping bag liner and Xtherm air mattress for this year's trip.  Otherwise,  pitching the tarp and bug net tent came back to me quickly.  But climbing in and out of the low structure wasn't quite as graceful as in the past.
All this training, both the Pilates and frequent hikes, work for me.
The Mind
Please believe me when I say that I have plenty of anxiety as I approach my return to the AT.  This body is not the same one that did a shakedown hike just two years ago.  The back is much stiffer,  joints hurt from arthritis, and my hips are very uncomfortable if I try to sleep on either side.  So finishing the northern half  within this calendar year is not a given.
But I have a ton of perseverance and determination.  I know that slow and steady sets the course.  With retirement comes open time in one's schedule, if you plan it so.  Shortimer tells me to take all the time I need to get to Katahdin. He might just be saying this because he enjoys eating at Penn Station, Skyline Chili, and Wendy's during my absence, but I'm taking him at his word and plan on taking my time.
Another person who was a source of encouragement was this amazing woman, who we heard speak in Milwaukee.  When she tells sold-out halls of enthralled people that we CAN achieve our dreams, we believe her.
For my own peace of mind, I have once again made an itinerary for this trip, but only up until southern Vermont.  In my planning, I used the highly regarded Gutthook app (now Atlas) and the paperback  A.T. Guide by David "Awol" Miller. There are too many unfamiliar, difficult stretches in New Hampshire and Maine to try to guess how far I can go each day in those states.  This will be decided as I approach each section.  As said in my previous post, I will also gradually increasing my daily mileage, week by week.
I've heard it said that it's a great idea to write up an itinerary and take it with you on the AT.  This way, you'll have a kindling on hand for your first campfire.
That's funny, but for me, a plan has been helpful in its intended manner.  This will be my seventh hiking or cycling adventure over 500 miles for which I've planned my estimated daily distances.  Being very goal oriented, I get comfort knowing where I'll most probably sleep the next few nights. With all my food being sent by Shortimer to hostels, hotels, and post offices, he has to know at least a week in advance when and where to send these.
It works for us.
The Gear, Etc.
I'm very happy with how my gear has shaped up.  There have been changes since my past two long sections. I think these will keep me comfortable on cold nights up north and the pack work more efficiently for me.
Where to begin?  Here come all the details.  I hope they help prospective hikers and don't send the rest of you right on to the next person's post.
My pack continues to be the ULA Circuit, which fits my back very comfortably and forces me to not overpack.  I have discovered a cool website, litesmith.com, where you can find all sorts of tempting lightweight and useful gear.  My pack is now lined with one of their clear nylofume pack liner bags.  These are ultralight (25.9 g each), odor resistant, fully waterproof, and tougher than the commonly used compactor bags..  These can come in a pack of three, so I'll have Shortimer send a new one if/when pinholes develop.
My clothes will no longer be stored in several gallon-sized ziplocks.  Based on positive comments about the waterproof capabilities of the bags made by zpacks.com, I will now be using one of their medium-plus sized dry bag for all my sleeping clothes, spare socks, down jacket, etc.  Selling features:  the material (Dyneema Composite fabric) makes it both waterproof and ultra lightweight (23 g).  The size, roughly 7″ diameter by 13″ tall (500 cubic inches), is just right for laying on top of all my other pack's contents.
Because the scent of snack bars easily escapes their wrappers, I'll be lining the hip belt pouch designated for snacks with an XX-small  Bos odor-sealing bag, found on Amazon.  When Dottie (the hunting dog that adopted me for a day last year) repeatedly went directly to my empty, closed snack pouch, I knew these odors remaining from previous snacks could also attract bears or the even more prevalent shelter mice.  For convenience, my hand sanitizer will join the snack bars in the bag.
Don't say I didn't warn you about a multitude of details.
While we're looking at the pack, I'm reminded that I lost a lovely aqua bandanna to a strong wind last year.  That won't happen this year.  I sewed a buttonhole on one corner of each of the two bandannas I'm taking.  Attached to carabiners that are clipped to straps on my bag, these bandannas aren't blowing away.  The pink one is for wiping sweat or my nose, and also serves as my towel.  The half-sized purple bandanna starts with the letter P, and is for that use.  Because of their different uses, they don't reside side-by-side on the pack, although they're washed or at least rinsed out each night.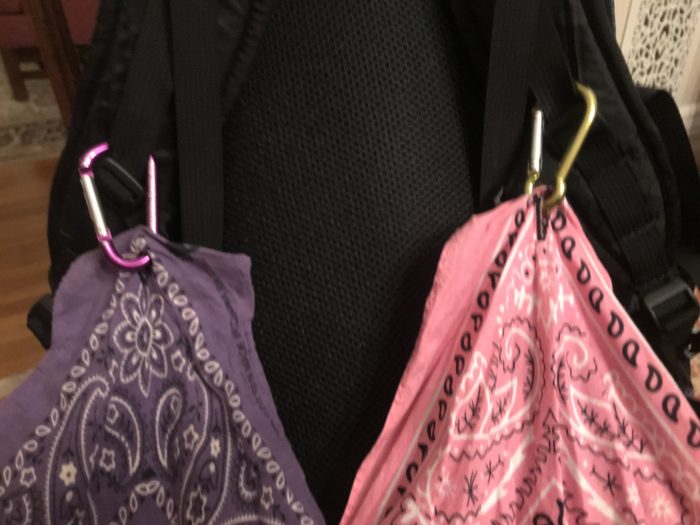 Regarding clothing, there have been other improvements.  After much researching and trial and error $$, I decided on a new rain jacket.  Again, a small cottage industry, lightheartgear.com, provided just what I wanted at a great price: $99.  The fabric is NOT breathable, which means that it will protect me in the way a poncho does and won't wet out when subjected to hours of drenching rain.  Long pit zips provide ventilation and the full brim hood keeps the rain off my glasses.  For $50 more, I was able to customize it with an added 1.5 inches added to the length of the sleeves.  This helps protect the hands from rain.
Speaking of the hands, I followed the lead of famed hiker Andrew Skurka and ordered a pair of fisherman's gloves from Seattle Marine and Fishing Supply Company:  https://www.seamar.com/item/ATS281-SZ/GLOVE-TEMRES-BLUE/  They're a lovely but vivid blue. You feel kind of like you're all set to wash up a bunch of greasy dishes or gut a fish.  But in today's cold,  heavy rain, they kept my hands warm and dry.  I got size L, so that I can layer these over a pair of liners in very cold weather.  Mount Washington, I'm talking about you.
Last rain item:  a change of rain kilts.  I stuck with zpacks.com, but bought their opaque blue kilt instead of the see-through silver one I've used in the past.  This way the kilt can serve two purposes:  keep the rain off most of my lower half and later serve as my temporary outfit, along with my rain jacket,  while all my other clothes are in a washer and drier.  It's great when things can serve multiple purposes.
Inside the bag, there are other interesting little details that I hope will help make life on the trail run a bit more smoothly.
Two sports balls will be going with me.  The smallest one, two inches in diameter and just 1.7 oz, will be used to help prevent plantar fasciitis.  I plan on firmly rolling one foot at a time over the ball, to help keep the tendons on the bottom of the feet loose.  This worked well last year.  The second ball, four inches in diameter and 2.5 ounces, is somewhat squishy.  It will be used like a mini-roller, to ease sore muscles whenever I have a shelter or hostel floor at my disposal.  I see these as very important pieces of the puzzle called "Keeping the Body Going."
This body also needs its supplements, all recommended through the years by my physician who specializes in integrative medicine.  After taking a deep breath for strength, I ordered enough of everything for four months and told Shortimer to not look at the Visa statement for a while.
Once everything arrived, I put together tiny packs for each meal and bedtime, and combined them all in a 2″ x 3″ zip-closure bag.  These bags came from Amazon, where you can find just about anything.
Supplements need food to work.  As you've read in my previous posts, I dehydrate all my gluten- and dairy-free food for the trail, with the exception of some purchased snack bars.  A couple of weeks ago, I'm sure you heard me cheering from the basement when I finished preparing the final pack for day 120.
Returning to supplies in the backpack, backpackers usually try to eliminate large containers or quantities of items that will only be needed a little at a time.  Here are some examples of what I'm doing.
Two other personal items in the medical category that are going:  a liquid solution for keeping my eye lids and base of eyelashes clean, to keep blepharitis (dry eye resulting in blurred vision) at bay; and CBD oil, which really helps moderate the discomfort in my joints.
Well, folks, I think I've used up all my energy for now on this post.  Time to go put my feet up and get rested for tomorrow's training hike.  Thanks for hanging in there with me.  Now you see some of what it takes to get ready for hitting a trail for weeks and months.  I look forward to when my feet are finally on the AT and with no more preparations that need to be done, although I have enjoyed this process.
Let's hike!  Talk to you again in a couple of weeks.
Affiliate Disclosure
This website contains affiliate links, which means The Trek may receive a percentage of any product or service you purchase using the links in the articles or advertisements. The buyer pays the same price as they would otherwise, and your purchase helps to support The Trek's ongoing goal to serve you quality backpacking advice and information. Thanks for your support!
To learn more, please visit the About This Site page.