Oh Man, Oh Maine, Oh Mountains.
Day 19: Mile 188.2 to Mile 196.6
Pretty easy day today, or it should have been should I say. In all honesty, it hasn't been that taxing, we've had a fair amount of elevation, but it's been relatively gradual. I think the issue I'm having today is hiking after a zero and on a belly full of breakfast. I just couldn't resist the cream cheese bagel, or the homebaked muffin that was calling my name. Fatty! The I just wanna Netflix and chill with my bagel look….
North and South Crocker Mountain were pretty cool climbs. I've adopted a new approach that seems to help morale when climbing 100 feet has me gasping for air and questioning why I'm doing this. Heard of Guthook? It's an offline GPS that may have saved my life once or twice. That's a bit extreme; I've just followed northbound blazes off a mountain once or twice. They're not labeled so it's relatively easy to do if you're me. I did tell you I get lost following a SatNav so this really shouldn't come as a surprise. Anyway, when I'm tired, sweaty, and staring sadly up at the mountain I still haven't managed to summit, I check to see where the little blue dot (me) is on the map. Works like a charm. Especially when I see I'm a third of the way up.
Time for mountain talk. South Crocker has the better view; check out the awesome dining spot.
It overlooks Sugarloaf and some other mountains. Tomorrow is the day we conquer that beast. Although I'm kind of jealous of Al's mum and brother. They're leaving us tomorrow and get to depart by way of the ski lift that's on Sugarloaf. I'll miss out on that fun, but I suppose the hike won't hike itself.
Just when I thought it was going to be a good day the thunderstorms hit. I was walking so fast I may as well have been jogging the last mile and a half to camp. I don't know if this is the case for you, but being soaked to the bone makes me move faster.
I sat under the tarp sulking like a teenager waiting out the storm. May have been singing Ted's Thunder song to myself.
I proceeded to be a pathetic teenager for another hour or two inside my tent. I changed clothes, snuggled my sleeping bag for warmth, ate a tuna tortilla, and all of my Starbursts that should have lasted another day. That's all it takes to turn this frown upside down. Cute dog memes or funny animal videos do it better, but sadly I didn't have those. Luckily Starbusts work, too, though America's version taste a little odd. Is it not enough that you destroyed Cadbury's Creme Eggs?
Day 20: Mile 196.6 to Mile 209.7
I woke up to the sound of rain at 4:50. Here we go again, I thought. We had to cross a stream by rock hopping. This is it. This is where I bite the dust. Slippery rocks on previous fords had been unsuccessful, so how was I going to cope with this one? Somehow, I did it. The rain had buggered off by the time we left camp, which probably helped my cause a little.
Rock climbing and scrambling up at least one side of the mountain has become the norm, though I won't pretend to be any less scared by the thought of it. I'm getting better at finding footholds and pulling myself up, but do you know what I'm excelling at right now? Being ankle deep in mud. I just can't help slipping off rocks or log planks. I'm starting to accept being dirty. I don't like it, but I'm accepting it. Styling.
Oh guys, guess what? We reached 200 miles today. Only 1,980.4 miles to go. I celebrated with a Pop-Tart, of course. What else was I to do? It's not like I had a cake and a candle to celebrate my 100-mile anniversary.
Also, I've become infatuated with the mushrooms on trail. They look as though they belong in a Tim Burton film because they're so colorful and wonderful.
Every time I walk past one I half expect him to jump out and shoo me away because I've stumbled onto a scene from Alice in Wonderland. Some small part of me wishes that'll actually happen because it'd be freaking awesome.
Forget raging bulls, let's talk about raging storms. We set up camp in a shelter because we knew there was a thunderstorm on route. We made it to camp just before the thunder and rain kicked in, but it was fairly mellow. Then, out of nowhere the rain intensified. It sounded like gunfire hitting the tin roof above us. Roaring thunder and flashes of light followed. Oh, let's not forget the Malteser-sized hail that bounced aggressively off the floor toward us in the shelter. It was truly frightening given our elevation. I actually said, "If this is the end I'm going to go get my bear bag so I can go out eating a Pop-Tart." At least we weren't above tre line climbing over Saddleback. We would have been goners, for sure. Let's hope that the sun comes out tomorrow or we'll be stuck in the shelter.
Day 21: Mile 209.7 to Mile 218.6
One word to sum up the day? Awesome! We had a lazy start to the day and left around 9, the sun came out, we sat and talked to a few NOBOs, and the mountains. It's easier if I just show you pictures of my day; you'll see what I mean. Excuse the crazy lion mane hair I've got going on; it does its own thing these days.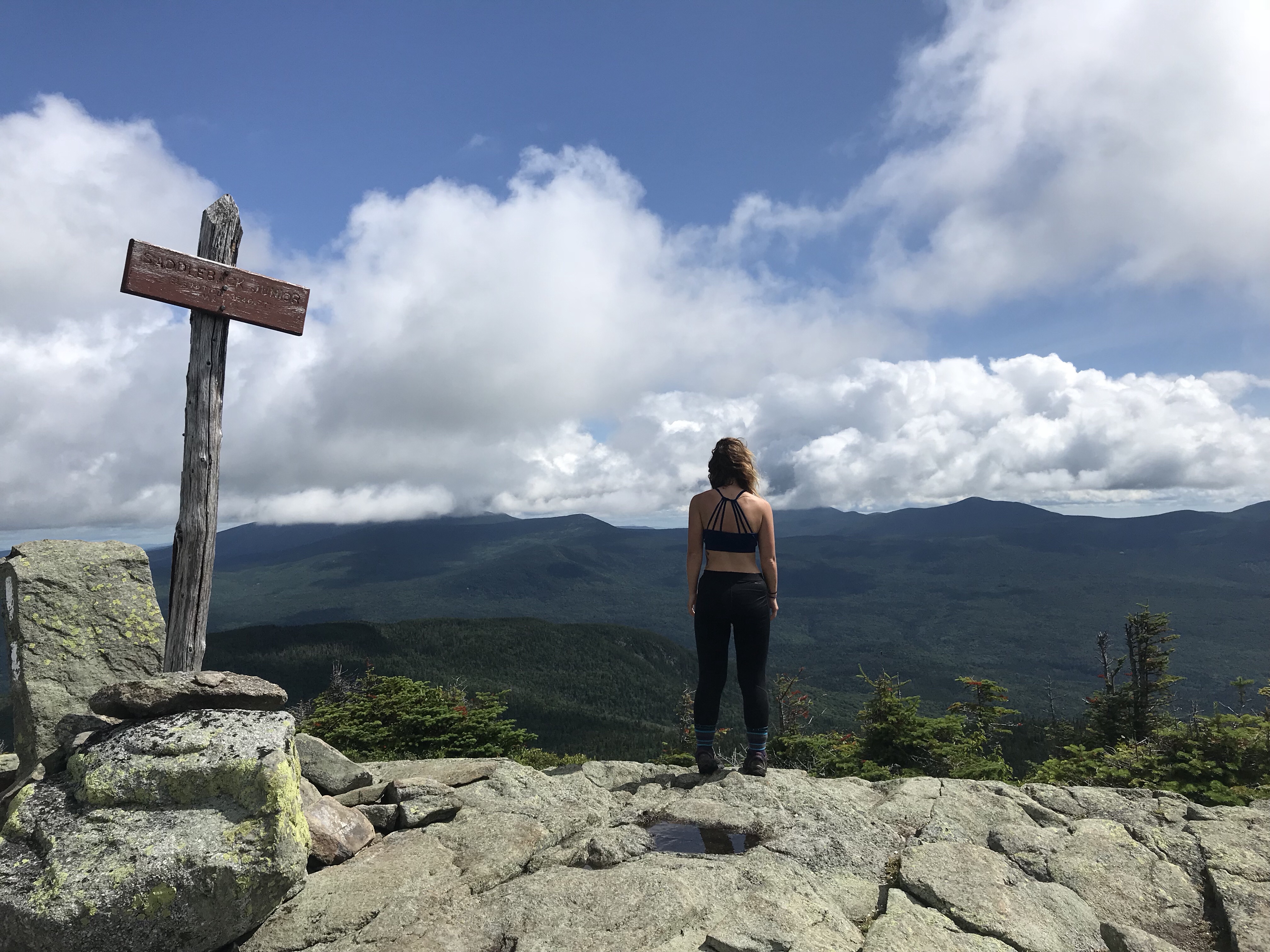 Saddleback Jr., you've been a blast. Where's your daddy?
Look at that lion's mane. Do you think I'll scare off any potential bears if I roar?
When Horn Mountain doesn't have a wooden selfie podium what's a girl to do but make horns?
Mountain and chill is the new Netflix and chill.
Mountains (or the view from the mountains) make me a happy, happy bean.
I'm on top of the woooooorrlllld!
Day 22: Mile 218.6 to Mile 229.8
Woke up early today and hiked two miles to the regular hitch spot. We were hitting Rangeley for a resupply and the laundromat. Before we move on, I got three more firsts in today. I'm on a roll.
The first being hitching. I can't think of that horror movie that now makes this a pointless reference and sentence. Basically, hitching is a scary thought to me. Have you figured out I'm a bit of a wimp yet? Anyway, thumbs up and within seconds we had a truck pull over. Would you believe me if I told you that the guy that pulled over was the owner of the laundromat? Well it was. The odds!
The second was going to a laundromat. I know, they're not thrilling firsts but I like doing things I've never done. This happens to be one of them. Look at my happy little face. Aren't those loaner clothes legit? I almost kept them to hike in.
The third was eating a Whoopie Pie outside of IGA. We're getting good at this hiker trash business. Having a hole in my top helps the cause (undecided if it's from a mouse, or from getting caught in trees when it was drying on my pack). Don't worry, I had a banana. too. I'm all about that nutrition. If I wasn't I wouldn't have washed everything down with a Coke.
After lots of firsts and a quick Instagram update, we headed back to trail. 9.5 more miles to the lean-to, and boy did it suck. Not in a bad way, the terrain was fine – we were just full-bellied hikers in town mode. We got a good break at a cute pond to eat lunch. My egg sandwich held up in the sun. Great news.
Ended the day eating crisps and Fizzy Worms  by another pond, just a two-second walk from the lean-to. Gross leeches stopped us from swimming but I did have a mini wash so I'm not so smelly. Bonus!
Day 23: Mile 229.8 to Mile 242.4
Today was like being in a game of Pokemon. I'd find myself walking through grass with wild Pokemon appearing every so often – with slight differences, of course. The entire 12(ish) miles of terrain was the grass, and various nature things were the wild Pokemon.
First up to challenge me was the mud slide. I put up a good fight but eventually lost that battle. Next up to the plate was slippery moss, and boy was his will to win strong. I don't need to tell you what happened; you can probably guess. After that a hard rock appeared and attacked with a toe stub. You all know how that feels, don't you? It was super effective. Lost that one, too. Last, but not least, were watery mud puddles (ankle deep); this wild Pokemon crept up several times throughout the day, and yes, I lost those battles, too. On a side note, if your kids love making mud pies this is the place for them – they'll have the time of their lives.
I never managed to capture any various nature things; they all escaped after inflicting some sort of pain, whether it be physical or mental. I guess you could call today a demoralizing day.
A NOBO put Maine into perspective today when she compared it to a final exam. She went on to explain how Maine has the rocks of Pennsylvania, mud of Vermont, and the heights and sheer rock faces of New Hampshire (I might have forgotten a thing or two). Maine might be pretty, but she'll make you want to take mental health days.
The start of the day was nice; we ate breakfast on a beach. Al really wants to see a moose so we perched by the water. Sadly, no luck.
We were told about a little gem called Height Of Land during our resupply yesterday. It's a place that overlooks the Bemis Mountain Range and Mooselookmeguntic Lake. The guy said it was the most picturesque view of the entire trail. I can neither confirm or deny that statement this early on, but it certainly didn't disappoint. I sat on the bench eating my Ritz crisp thins for a good 30 minutes, soaking in the views.
It's 7:15 p.m. and I am zonked. Time to hit the hay. Is that the right expression? I'm too tired to even care; it can stay and we'll pretend it's right. Catch you on the flip side.
Day 24: Mile 242.4 to Mile 255.0
Pitched my tent after 12.6 miles, three mountains and several lung/food breaks. All before 5 p.m. Not too shabby if I say so myself. Rewarded myself with a Pop-Tart dessert. It was going to be a Fizzy Worms kind of night but I forgot I ate them all yesterday. Tragic, I know.
Today's mountains will be added to my list of least favorite mountains alongside yesterday's. I think we're getting better at conquering the beasts, though, because we seem to be making better timing.
Come at me New Hampshire, I'm ready for you! I jest. New Hampshire is going to destroy me. Here's to hoping the weather for the Whites is phenomenal so I at least get the views everyone keeps talking about. Luckily, I've got a few more miles to psych myself up for those bad boys and convince myself I can do it.
Going into town tomorrow. We'll be hiking a grand total of 1.9 miles to the pickup point. We get to sleep in too as the shuttle isn't until 9. All about maximizing that nero day.
Alex just told me that some Walmarts have McDonald's. This is going to be the best resupply to date. There's a high probability that I'm going to be dreaming of nuggets tonight. That or hot showers. I can't decide which I'm more excited for. I guess we shall find out; well I will.
Oh, would you look at the time? 7:08. Bedtime! Sweet dreams.
Affiliate Disclosure
This website contains affiliate links, which means The Trek may receive a percentage of any product or service you purchase using the links in the articles or advertisements. The buyer pays the same price as they would otherwise, and your purchase helps to support The Trek's ongoing goal to serve you quality backpacking advice and information. Thanks for your support!
To learn more, please visit the About This Site page.