OH MY GOODNESS…….!!!!!!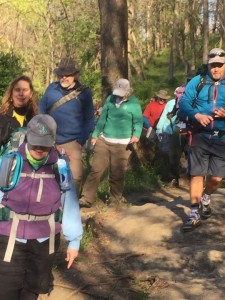 Picked up a rental car for a one way drive to Harpers Ferry, West Virginia. It's been almost a year of preparation and now our adventure is in full swing. We've been on the trail for 4 days of heaven with a little hell thrown in. Harpers Ferry Flip/Flop day was spent getting our hiker numbers, attending workshops and touring the beautiful historical area.
Harpers Ferry to Pen Mar Park:
Day one on the trail, we began our first steps from the Harpers Ferry Appalachian Trail Conservancy by parade from the side trail blue blaze to full cheers when we reached the famous white blazes that mark the historical Appalachian Trail. We were a group of hikers setting off on a journey of unimaginable highs and lows. Everyone together yet we are on our own personal quest. While hiking and stopping at the Ed Garvey Shelter for lunch we began to come together as a "tramily" an expression given for groups of people who choose to stay in contact with one another while on the trail becoming a kind of "family". Our tramily is a great group so far. Not sure if we have all our members yet so I'll have more information later.

Our home for the night was Crampton Gap Shelter and camping area. Tired from a long 11 miles, hiker midnight happened at about 8:00 p.m. Everyone sound asleep.
Day two we were up, packed up, breakfast devoured, and out of camp before anyone else. We started at 6:00a.m. That was a good thing because it got hot and hard to hike as the day went on. Our stop for the night would be 12.5 miles to Pine Knob Shelter. We rested along the way taking time to lunch, snack and just sit down. Our tramily passing, then we would catch up and pass some of them. We were so tired we just set up camp, ate, and went to bed. Surprisingly we felt refreshed waking the next morning and ready to go.

Day three we really were pushing ourselves and we knew it. Today was going to be the toughest day so far at 13.1 miles but we needed to make that destination because we would run out of food to add an extra day. 13.1 miles, 13.1 miles, this was NOT just an ordinary 13.1 miles most of it was either straight down a mountain covered in rocks or to get to the shelter we clawed our way straight up a mountain carrying a full load of water. We may have been the first out of camp but we were almost last to arrive at the destination that night. One of our tramily members yelled "Welcome Home!" When we finally arrived. I yelled back, "I'm happy to be home!" I made the statement "I'm never carting a full load of water up a mountain again." A member of the tramily laughed loudly and said, "Yes, you will." That day I received a huge compliment, I was told that my trail name "HazBen" was all wrong because I was certainly not a "has been".
We met our first NOBO trail name "Nugget" on his way to Katahdin. He left Springer February 22 and is now moving at a 25 mile day pace. We were encouraged to hear that our first three days pace was good for starting out.
That night was very windy and loud making sleep difficult to come by. It didn't help that the day had been so hard. As it is our habit we were up early and on the trail. Good bye Raven Rock Shelter on to a town day for resupply, bath, laundry, and AYCE or in other words all you can eat restaurant .
We hiked 5 miles that morning across a boulder field to get to where we could be shuttled to a hotel. Boy, am I ready for a treat!
Affiliate Disclosure
This website contains affiliate links, which means The Trek may receive a percentage of any product or service you purchase using the links in the articles or advertisements. The buyer pays the same price as they would otherwise, and your purchase helps to support The Trek's ongoing goal to serve you quality backpacking advice and information. Thanks for your support!
To learn more, please visit the About This Site page.
Comments
6
Good to hear that your journey has begun. I am feeling nostalgic these April days. Keep up the good work!

Thanks Jeanne, it's the hardest thing we've ever loved doing. Raining now and in a shelter hummmm think we'll stay the night.

You hiked through mini-Rocksylvania without issue so you're going to rock it through the southern part of Pennsylvania (my favorite stretch of the trail that I have hiked in preparation for my own flip-flop).

The Flip Flop Festival was so great. Glad to see the people that were kicked off for doing so well through Maryland!

Hi Michael,
That is good to know! It's been more than expected for the begining. Time to gear up for what's next and we're loving it.

Good start Brenda and Larry. As you have already seen there are lots of "ups and downs" on the AT. Enjoy when you can and push through when it's hard. Backfire

Thanks Mel!
That's exactly what we're going to do. We've decided to treat this like it's our job!