On the trail while not on the trail
My wife figured it out before I did. I told her I was feeling down and I wasn't sure why.
"Is it because the other Appalachian Trail hikers are getting ready to start and you aren't?"
Yeah. The northbounders are starting their thru-hikes and I am not going to be out there with them. Bummer.
Keeping my head in the game
How do I propose to keep my head in the game, to be on the trail while not on the trail?
–I follow the hikers
I am following this year's contingent here on The Trek and on Instagram. I comment on their posts. I ask questions. I get a few replies. Some of of those conversations will go deeper. Some will turn into friendships.
–I read thru-hike memoirs
Thru-hikers like to write books. Some of them are quite good at it. I like to read books. Such a deal.
I enjoy getting to know people through what they have written, whether recently or long ago. Books are time machines. It really is quite wonderful.
Reading thru-hike memoirs helps me understand my own reasons for wanting to thru-hike the Appalachian Trail. Realizing how much much my reasons had to do with the hiking community was a deciding factor in postponing to next year. I don't want to have to distance myself from other hikers and from the trailside communities.
–I get out in the woods and walk
New York State is beautiful. Most places are, I have learned, but differently. The best way to see the beauty is to get outside and walk. I can step out my front door and be in Durand Eastman Park in fifteen or twenty minutes. Or I have a multitude of choices within an hour's drive. (We also have a wealth of fine breweries for post-hike libations.)
So I hoist the pack on my back and hike. Because this is also about keeping my seventy-year-old body in the game. I am in good health and reasonably good condition and, inasmuch as it depends on me, I intend to keep it that way.
–I write
Specifically, I write this blog for The Trek. Writing, for me, is as important as walking for keeping my head in the game. Writing forces me to think about what I am thinking, to compose my thoughts coherently. Like photography, it is a way to interact with people whom I will never meet in person and even some whom I will. How cool is that?
–I take photographs
Which means I get to carry the cameras. And the camera stuff. And to figure out what works and what does not. And to figure out how to carry the cameras and stuff without adding twenty pounds (or more!) to the pack.
Since I prefer classic film cameras this gets to be a challenge.
I enjoy making photographs and I enjoy sharing them with other people.
And so…
Pictures!
For the camera geeks, I used the Argus C-3 with a 50mm lens and Ilford HP5 Plus film. I do my own developing and scanning.
The last Saturday in January found me at Mendon Ponds Park, about half an hour's drive south of Rochester. I wore snowshoes, which would have been appropriate were I breaking trail. But I wasn't. The trails I was on had had enough traffic that the snow was well packed. The snowshoes went clackity-clack across the top of the snow. Microspikes would have worked better. Such is life. At least I managed to dig them out of the garage, no small project in itself.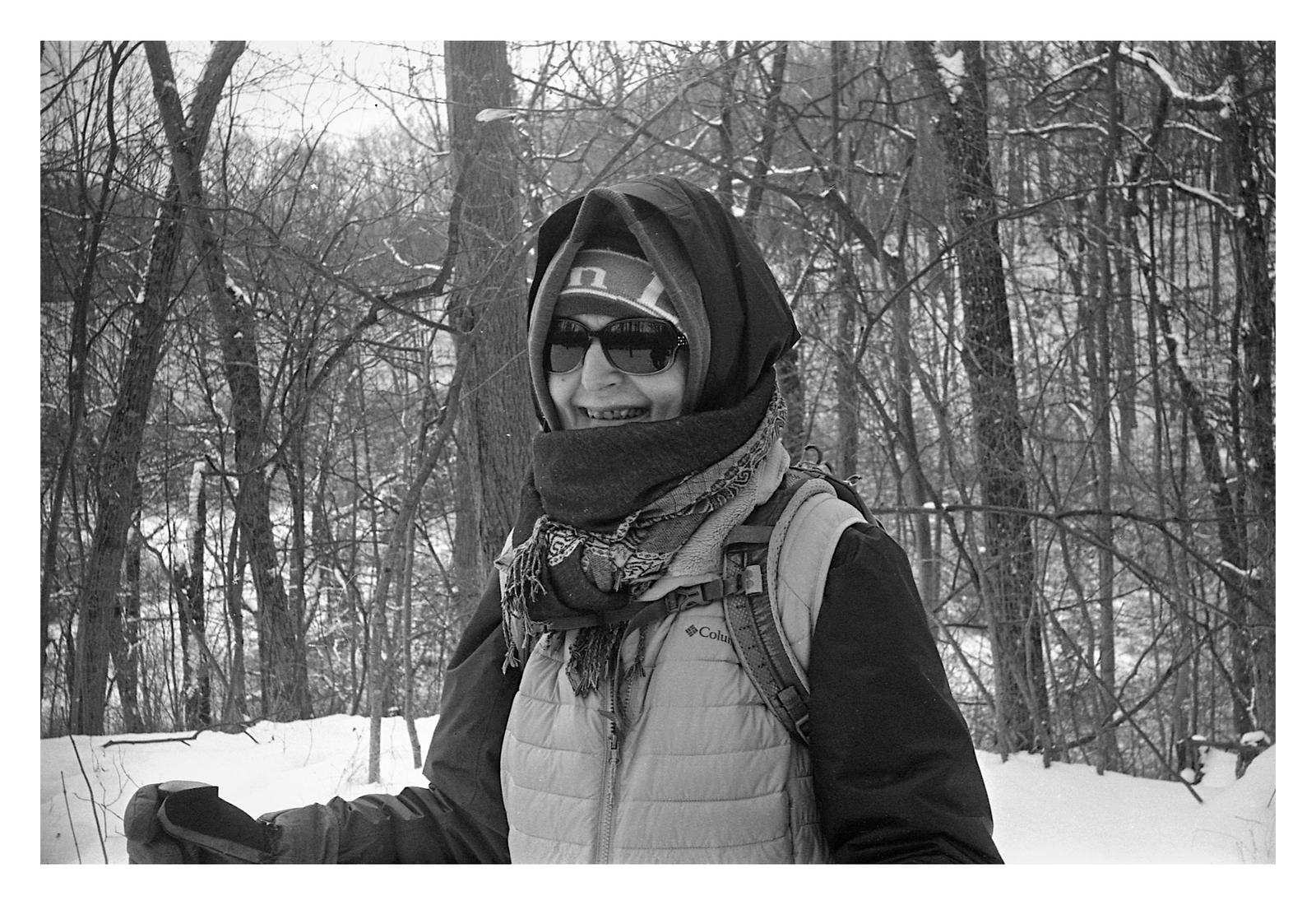 Meeting up with a hiking buddy ensures that I get the the trailhead on time. Sue is out a lot but goes more slowly due to a bum knee. Typically she heads back mid way and I continue by myself.
Mendon Ponds Park is a treasure-trove of glacial geography. From the trailhead we followed along the ridge of an esker. The undergrowth on the sides of the ridge was thick.
After Sue headed back I continued on to Devil's Bathtub, a kettle pond formed as the result of blocks of ice calving from the front of a receding glacier and becoming partially to wholly buried by glacial outwash. I decided against venturing out on the ice. I play it a bit more cautiously when I am out by myself.
The path runs near the edge but the summertime brush gets thick enough to block the view. The wooden deck of the overlook is a bit higher and gives a good view of the pond with the high ground all around it.
The sun kept trying to make an appearance. All in all it was a beautiful day to be out. On the other hand, Mendon Ponds is lovely any day in any season, though that's easier to appreciate on some days than others.
Walking back along the esker with Hundred Acre Pond to the east. I really need to get my canoe back on that pond when the weather warms up.
One going, one coming. It was getting on toward dusk as I approached the trailhead. I met one solitary hiker heading out for a late afternoon walk.
Thanks for listening in!
Blessings,
Steve / pearwood
Soli Deo Gloria
Affiliate Disclosure
This website contains affiliate links, which means The Trek may receive a percentage of any product or service you purchase using the links in the articles or advertisements. The buyer pays the same price as they would otherwise, and your purchase helps to support The Trek's ongoing goal to serve you quality backpacking advice and information. Thanks for your support!
To learn more, please visit the About This Site page.