Out of the Frying Pan and Into the Freezer
Appalachian Trail 2023: Days 0-5
Memories and Weather
Every backpacking trip in my memory has experienced some kind of extreme weather mishap. I've hiked in snow, single digits, a record-setting heat wave…and lots of downpours. Why would I believe that my AT journey would start any other way?
Day 0: Rain and Hiker Registration
When we drove down to Amicalola Falls State Park, it started pouring just before we got out of the car. We simply strapped on our rain gear and packs and went inside for orientation with Chris, a ridge runner. I registered as hiker #1,298. We took our iconic photos beneath the arch before accidentally slackpacking up the wrong trail (in the pouring rain) to get to the top of the falls. We then descended all 604 steps to get the beautiful waterfall views before ascending them again to climb back up to the Lodge. I was so nervous and excited that night that I could barely sleep.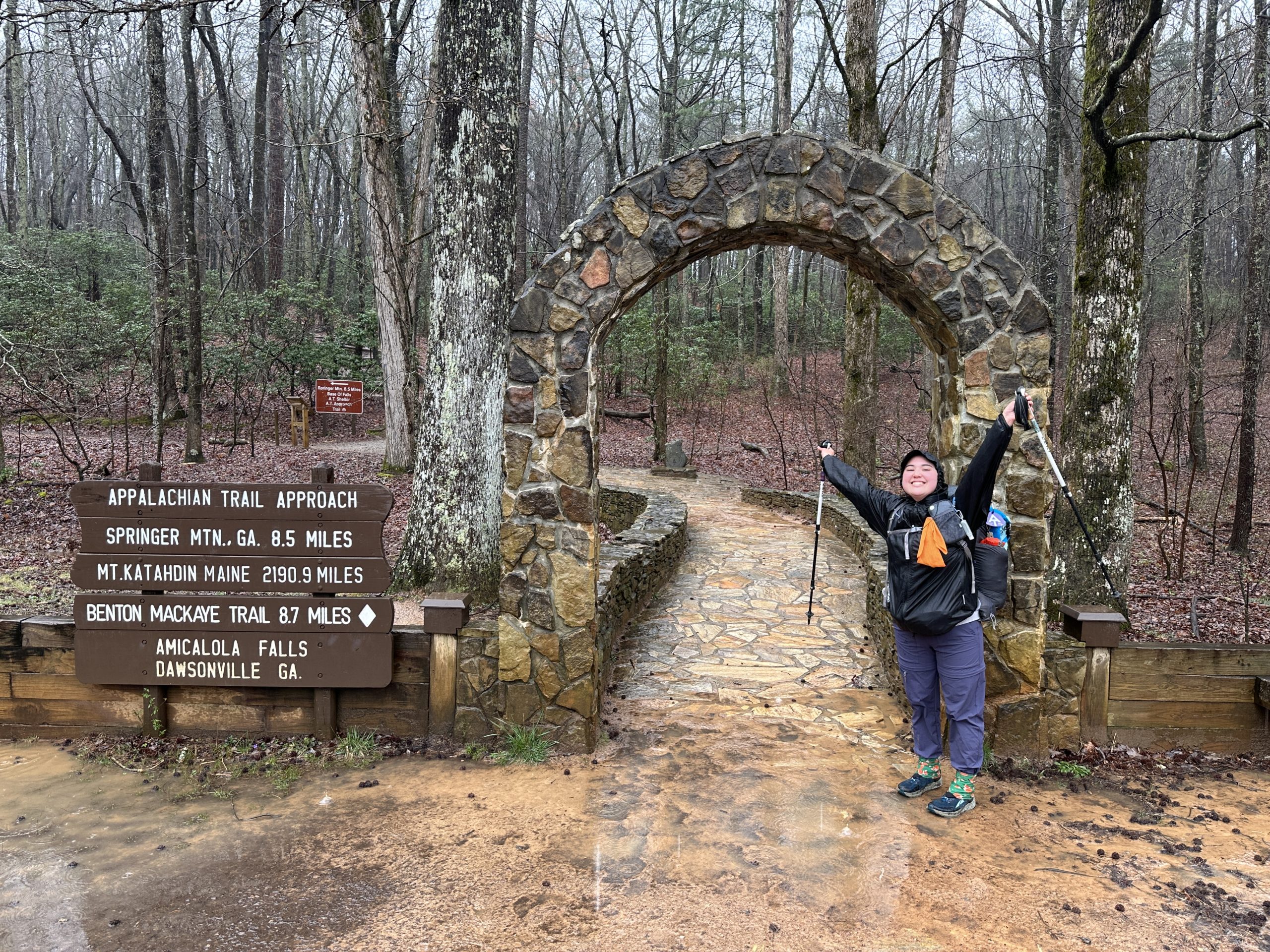 Day 1: Summiting Springer in a Winter Wonderland
When my husband dropped Christus Cowboy and I off at the Springer Mountain parking lot to hike our mile southbound to summit, it was freezing. The mountain was a winter wonderland as we summited to a blue sky, beautiful view. I signed the thru hiker log, and we started back down the mountain, officially northbound on our AT trek. The day stayed brisk, but we were in a whole new thru hiking world. I met so many hikers, and almost all of us ended up shivering through a night in the teens at Hawk Mountain Shelter. One thing is for sure: cold may kill the flowers, but it cannot kill the thru hiker spirit!

Day 2: The Tramily's Family Saves Us From the Cold!
Day 2 was as cold as Day 1. We layered up and hiked hard up Sassafras Mountain in 19*F weather (oh, that was BEFORE the 20-30mph wind chill…). Since we had to wear every layer we owned to stay warm, we were soaked with sweat by the time we reached Gooch Gap Shelter, our planned end point for the day. Deciding that hypothermia was too real a risk with wet, cold gear, tramily member Mountain Crusher called in the cavalry: Dave and Reecie, his cousins from GA. They picked up our shivering, stinky selves and fed, bathed, laundered, and (did I already say) FED us! It was trail magic received at the best time. We spent a night in the teens warm indoors.
Day 3: Sunshine and Shorts
Day 3 was noticeably warmer than Day 2. Once the thermometer hit 35*F, I zipped off the pant legs and sported shorts. It was practically a sauna compared to the days before. We took in beautiful views beneath a Montana blue sky. It was a welcome change from the frigid days that had marked our hike so far.

Day 4: Sunrises, Magic, and Hiker Trash Reunions
Day 4 started with a dark, chilly night hike up Blood Mountain to catch an incredible sunrise. A red sun rose over the Blood Mountain Shelter, a warning of the weather to come. We were too excited by reaching Neel Gap to take heed of the warning, though. At Mountain Crossings, we found ourselves reunited with hikers we had met in the days before. It was just the start to a long day of hiking. We picked up a new tramily member along the way: Snapshot! We also received the most incredible trail magic from Sips and King Tut to tide us through a day of hefty PUDs!

Day 5: Rain, Mud, and Town Food
Day 5 was a miserable mix of cold and rain, lots and lots of rain. The PUDs turned into slip-n-slides made of mud and rocks. We slid one step back for every two steps forward. It was the stuff hiker nightmares are made of. In the end, though, our tramily descended into Unicoi Gap one member stronger: Lucky! Bandit shuttled us into Helen, GA for town food, hot showers, warm beds, laundry, and lots of space to dry out our gear. It was a good ending to a challenging day.

The Moral?
Hiking is no walk in the park. This week, I went from the frying pan direct into the freezer. I left Emily and her cloud of nervous energy behind and became Cobweb Rose with all of her ambition and hopes. Despite the extreme weather, PUDs, and first week kinks, I grew both as a hiker and a person. I found myself facing the cold and rain with an amazing tramily at my back, and I feel strong to face the days ahead!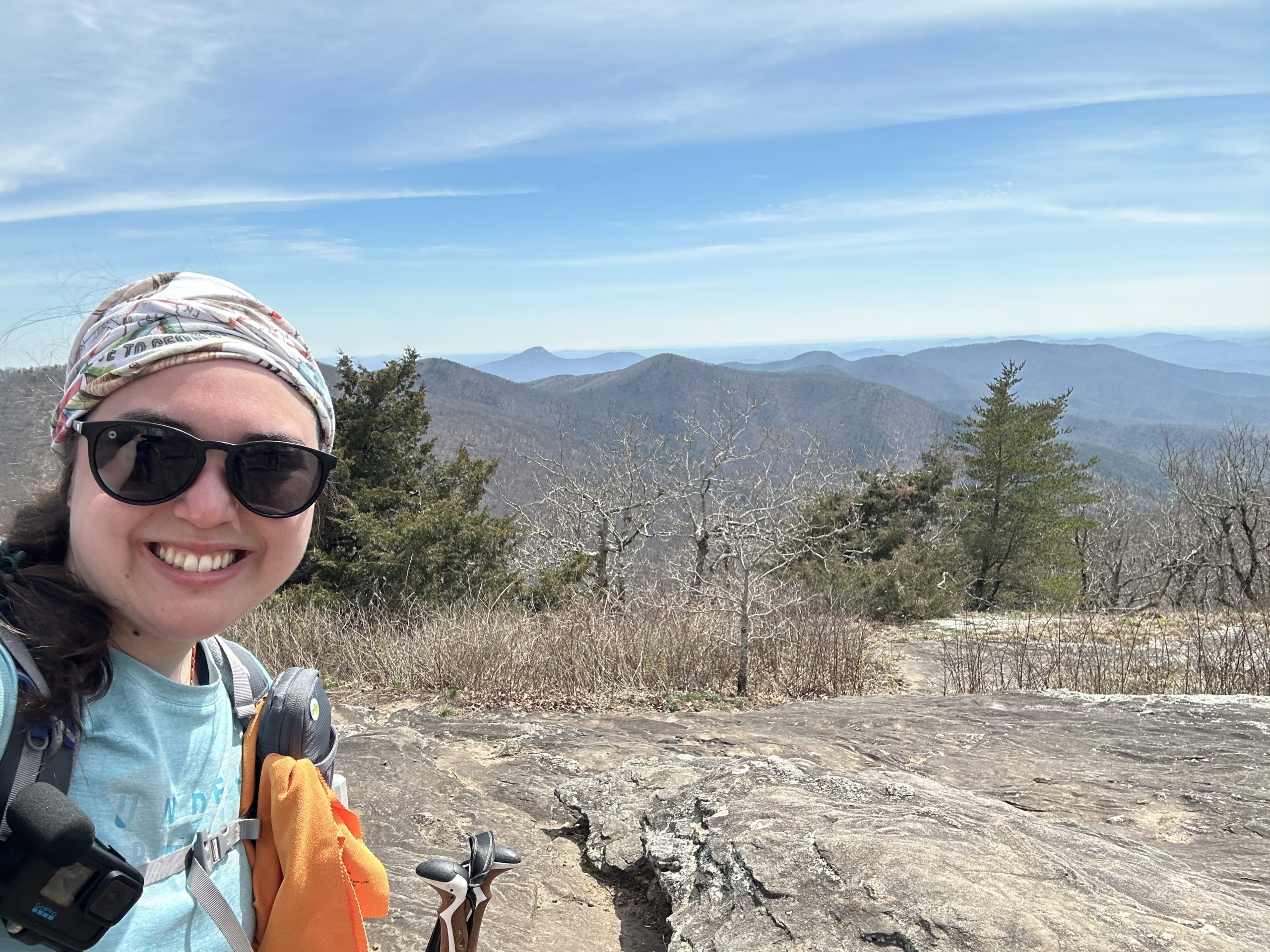 Affiliate Disclosure
This website contains affiliate links, which means The Trek may receive a percentage of any product or service you purchase using the links in the articles or advertisements. The buyer pays the same price as they would otherwise, and your purchase helps to support The Trek's ongoing goal to serve you quality backpacking advice and information. Thanks for your support!
To learn more, please visit the About This Site page.