Overnight trip….overly optimistic
First overnight!
So after a couple of changes to my equipment, I felt ready to do an overnight trip and talked my son (Joe, 28) into going with me.  Joe has a lot of camping experience.  I now had my sleep system, my cooking system, clothing choices and was ready to try them out overnight.
I wasn't quite ready to sleep in the woods alone, so was really happy to have my son go with me.  In fact, I think sleeping alone with no one around is something I will have the hardest time with, that and pooping in the woods. Of course, leaving in March, doing NOBO on the trail, I don't think sleeping alone is going to be a problem as there will likely always be folks around, especially at the shelters.
I made the plans to start at Neels Gap, hike to first, second and third shelter and then stop at Unicoi Gap.  We were set to start our hike Monday morning and come home on Thursday.  Very optimistic.
Due to circumstances, we did not even start our hike until about 1:00 pm the first day.  My husband's suggestion that we delay a day was completely ignored; we were too excited to wait.
Unprepared
It's amazing how unprepared I was even with all the research I had done and I'm really seeing how all these checkout hikes will make things go much smoother come March.  There is still much to practice.
I hadn't given much thought to where to leave the car, my son's car.  I figured we would park at Mountains Crossing at Neels Gap and leave the car there for 3 nights.  As we were driving up the day of the hike, I casually posted on one of the AT Facebook groups about this possibility and the answer is no, can't leave car there, could leave it down the hill but possibly lose the catalytic converter and the best place is Vogel State Park.  Well, this meant getting a shuttle to Neel's Gap from the park.  The thought of hiking those 3 miles from Vogel to Neel's Gap didn't even cross my mind.
Now I was trying to figure out how to find a shuttle driver last minute.  All of that took a while and led to us actually taking our first step on the trail at 1:00 pm.
Leaving so late at 1:00 PM had a domino effect on the entire rest of the day and night.
The hiking went well, but as I am not a fast hiker, we stopped to camp a couple of miles short of the first shelter.  No problem, we were on top of a mountain, anticipated a beautiful sunrise.  This was Halloween and it was very spooky with a lot of mist that meant no sunrise view, just a lot of mist and fog.
Love my tent!
My tent was awesome…love the tent.  I figured out the reason for the gap between the tent and the rain cover is great for keeping the boots relatively dry and keeping the backpack relatively dry. I have a heavy duty garbage bag (trash compactor bag) and so everything I didn't need in my tent stayed inside the garbage bag inside the backpack between the tent and the rain cover. Worked great! I need to learn how to setup and tear down in rain. I'm planning to keep the rain fly in the bag with the tent when dry, and just loose and tied to the bottom of the pack when wet.  Probably will be wet a lot, there was a lot of dew in the morning.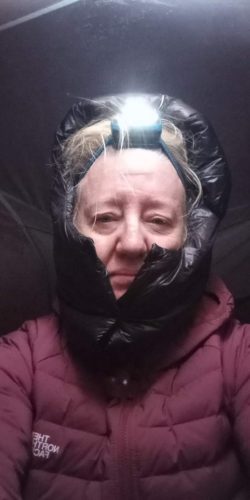 This was a great try at how to use my tent as my home. I had a place for my headlamp, phone and kindle. This was useful when I first woke to pee.  Had to be able to find that headlamp, most important piece of equipment I felt in my tent.  Living in the middle of the city, nights are NOT dark.  This was dark.  But amazing!  Standing on top of a mountain in the middle of the night, listening to the night animals, was just magical.
I hung my day socks in a specific place in the tent to air out, but they didn't seem to smell, they are all merino wool.  I'm bringing 4, I wear two at a time, and swapping every other day; well at least that is current plan.  I am a real newbie, people so I'm sure all my best laid plans will modify over time!
All that I learned
I created a spreadsheet from that night with Lessons Learned and then Action Items. We aborted the 3 night trip after just one night due to these lessons learned and needing to mitigate them before continuing.
Just a few of the things I learned:
My feet were not warm enough.  I love my quilt, it's an Enlightened Equipment.  I had an Enlightened Equipment balaclava for my head at night, but after this night I ordered the nighttime booties.  Plus I will bring toe warmers and a bag to keep the open toe warmers in so I can use them multiple nights.
I forgot so many things so I have since made an "out the door" checklist of all items that should be with me when I leave in March.  Of course, being the organizer I am, I have a spreadsheet with the following:
the item,
what bag it goes in
where that bag goes in the backpack
is that item used during hiking or at camp
whether the item needs extra batteries
needsrecharged
to be refilled by mail
to be refilled in the towns
where the item is stored in the storage system my husband set up at home.
Shew!  It's actually quite helpful.
Create an end of day routine. I turn on my garmin inreach and ALWAYS forget to turn it off.  When I look later, it's a LOOOONG hike since it includes a drive home, etc :).  Also create a beginning of hike routine, turn ON the garmin, etc.  I haven't done this yet.
Don't pass up watering sites, camel up.  I had read these things, but was so eager to get to the first shelter that we bypassed some watering sites.
Always start the hike early. Well, that didn't happen.
Bring an absorbent towel!  I loved my bear canister. It made for a GREAT seat at camp.  However, in the morning, when it was covered in dew, I realized I had nothing that really worked well to dry things off. It was so humid, everything wet, but I had no real good way to dry things off.
My little plastic shovel useless. I got a more metal like shovel, still small, but I can use my foot to help push it into the ground to dig a cat hole.
Water bottle needs to be attached to front of pack.  I can't be taking off my pack every time I need to drink water.  I don't love having the bottle right up towards my face, but it is necessary to stay hydrated.
So this is just a short list of the lessons learned and actions I am taking to change things.
I'm a newbie!
As a newbie hiker, my blogs will be full of things that may be commonly known to many of you.  I am thinking there are likely folks out there that are newbies too or considering a hike like this and coming from a non-hiking background like mine.  So bear with me and feel free to follow if you are looking for true newbie impressions.
My feelings about the upcoming hike
I heard someone say "Lose your mind, find your soul!" about a thru-hike….I think I am going to find my soul.  My life has been interesting. I am currently over 3 years sober, learning to stop dwelling on the past (ruminating) and worrying about the future (catastrophizing).  I think the hike will restore peace to my soul.  I am more excited than ever!
Affiliate Disclosure
This website contains affiliate links, which means The Trek may receive a percentage of any product or service you purchase using the links in the articles or advertisements. The buyer pays the same price as they would otherwise, and your purchase helps to support The Trek's ongoing goal to serve you quality backpacking advice and information. Thanks for your support!
To learn more, please visit the About This Site page.
Comments
5
We are related…that said I'm Susan. Newbee! 62. Will be following your Trek. I'm planning 2028/2029 thru-hike when retired. I've overnighted but never lightweight. Not more than 3-5 miles from car/shelter on own. Did 100 mile group hike on AT in college. Got hooked. Good luck. You got this. Sounds like you good planner. I'll swap to metal cat hole digger right away. Thanks

I just wanted to say good luck and I'm a little envious. I enjoy reading all the different blogs about it. I'm 51 and I hope to some day hike the AT. I'm currently working on getting in better shape

Hi fellow Susan, yes that ground is HARD to even put a dent into based on my attempts.

I just wanted to say good luck and I'm a little envious. I enjoy reading all the different blogs about the AT. I'm 51 and I hope to some day get to hike it. I'm currently working on getting in better shape

I hope you get there. I can't tell you how excited I am, but personally I had to get through the raising of the kids, the career, and only now really finding the time for these grand adventures!