AT Part Seven: Seven Things I Loved About Pennsylvania
Harpers Ferry, WV, to Delaware Water Gap, PA
Distance: 270.1 miles
Total distance: 1,295.4 miles
Because of its jagged boulders, dry springs, and ornery rattlesnakes, Pennsylvania doesn't rank very high on a thru-hiker's list of favorite places.
In fact, for most people it seems to rank rock bottom (pun intended).
Being a native of the Keystone State, however, I entered Pennsylvania fully aware of what lay in store. Perhaps I am a bit biased, but I thoroughly enjoyed most of my time in the state.
Here are a few of my favorite highlights from PA.
Crossing the Mason-Dixon Line
After hiking a relatively easy 40 miles through Maryland, I crossed the most historically significant boundary of my hike to enter Pennsylvania, the Mason-Dixon Line.
It felt good to officially be in "The North" and on the second leg of the journey.
The Shelters
In Pennsylvania I came across some of the most unique and well-maintained shelters on the trail, particularly in the southern part of the state.
Some shelters looked liked they were almost professionally landscaped, complete with hanging baskets of flowers. The 501 Shelter was one of my favorites with a fully enclosed bunkhouse and a huge domed skylight.
Reaching the Actual Halfway Point
While Harpers Ferry marked the "spiritual" halfway point of my thru-hike, the true midpoint lies in Pine Grove Furnace, PA.
Although the mark varies slightly every year because the trail changes length, a pretty impressive structure marked the general area. From here the miles started counting down to Mount Katahdin, instead of up from Springer Mountain. 
The Half-Gallon Challenge
To celebrate making it halfway through the journey, a thru-hiker tradition is to attempt to eat a half gallon of ice cream in 30 minutes. Against my Paleo sensibilities and better judgment, I decided to take on the challenge.
Because ice cream no longer comes in half-gallon containers, I had to purchase an extra pint to make up the official volume. I chose vanilla and black raspberry for my flavors. I figured fancier flavors would make the challenge tougher to swallow.
It was a struggle, but I managed to finish my ice cream in a cool 29 minutes. My reward was a stamped popsicle stick, freezer burn on the roof of my mouth, and an immediate run to the restroom.
I didn't exactly feel like a winner, but it was an experience I won't forget.
Beaver Dams
I was pretty excited to come across my first beaver dam because I had been learning a lot about beavers via "The Wild" podcast. They are impressive animals that are responsible for creating entire ecosystems by their handiwork.
Unfortunately, beaver dams also manage to flood out entire sections of trail. Although I could have taken a rerouted trail as a bypass, I decided to embrace the adventure and walk the original trail through the pond.
I was a little nervous that an angry beaver might swim up and start gnawing in my leg. I just ended up with wet feet.
The Scrambles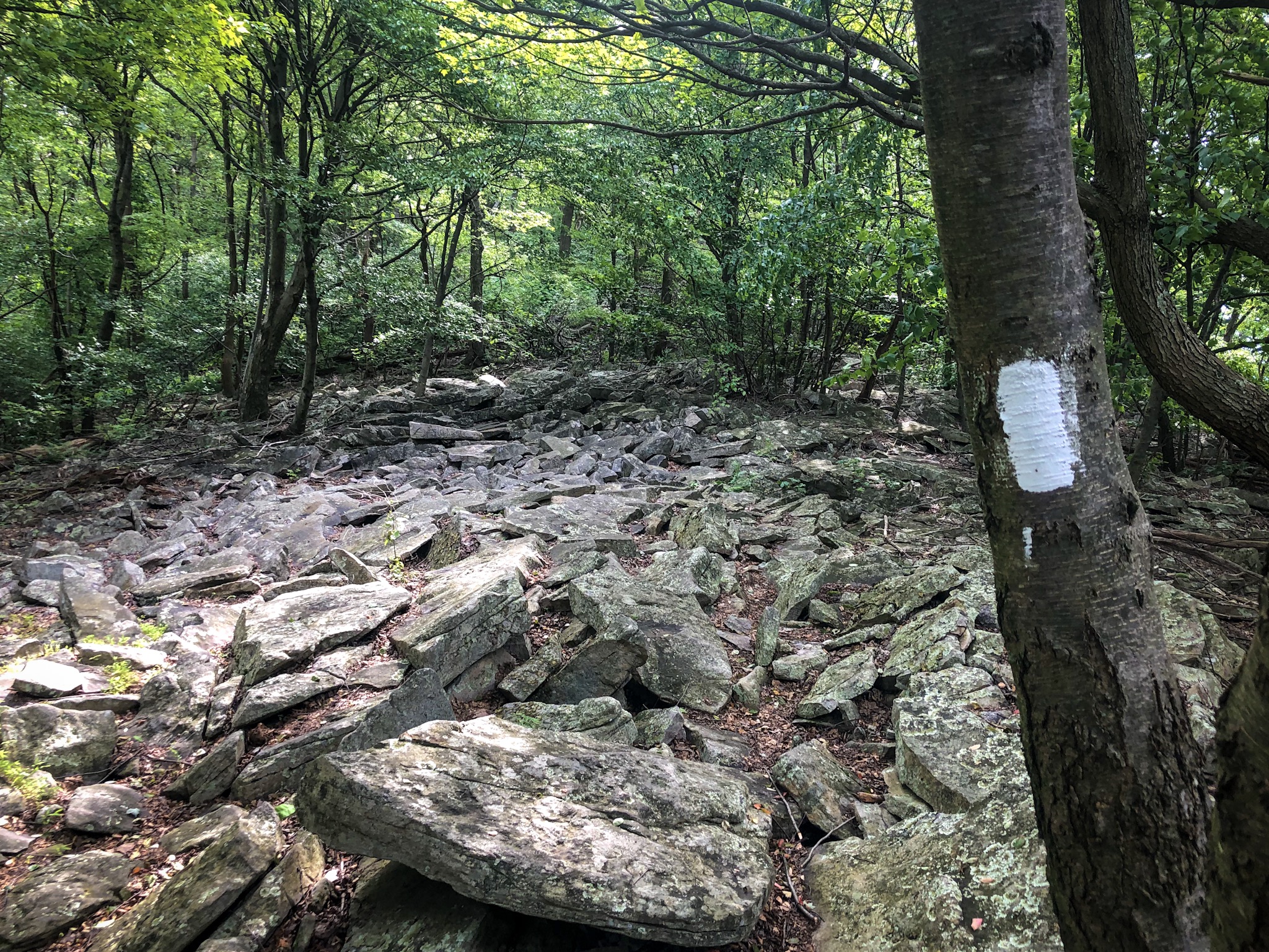 It is true that the Appalachian Trail in Pennsylvania contains a few rocks. But it also provided an opportunity to do some of the best scrambling since Albert Mountain in North Carolina.
My favorite scramble was the hand over hand climb up Blue Mountain Ridge outside of Palmerton. It was slippery and difficult, but I was rewarded with a beautiful view of the Lehigh River at the top.
Leaving the State
As much as I enjoyed my hike through Pennsylvania, leaving it was great too. I had traversed 229 rocky miles. Some days had been tough on the feet and on the mind.
Crossing the Delaware River as cars whizzed by me on Route 80, I looked forward to what awaited in New Jersey and beyond.
Affiliate Disclosure
This website contains affiliate links, which means The Trek may receive a percentage of any product or service you purchase using the links in the articles or advertisements. The buyer pays the same price as they would otherwise, and your purchase helps to support The Trek's ongoing goal to serve you quality backpacking advice and information. Thanks for your support!
To learn more, please visit the About This Site page.