Pennsylvania Part 1
The trail through Pennsylvania is known for being rocky. So rocky, in fact, that the state is often referred to on trail as Rocksylvania. It's not a place hikers look forward to.
But after 100ish miles in this state, I'm here to share: Southern Pennsylvania is wonderful. There's gentle terrain, cool towns, and a plethora of trailside attractions. I give it 5 stars.
Day 84
17.8 miles to Pen Mar Park

After hiking close to 18 miles, I arrived at Pen Mar Park. At it's prime, in the late 1800s, the area was an amusement park and top resort destination. With direct train service, thousands of visitors would visit the park, which then included a roller coaster, carousel, hotels, and more.
It's since been turned into a county park, and now features a playground (with a fun zip-line), and many, many picnic tables and benches.
Walking along the trail, which goes right through the park, I spotted Pirate and Baked Potato sitting on one of the benches. Pirate is a thru hiker I'd met a few days earlier. Baked Potato hiked the trail last year and is now hanging around, shuttling hikers and doing trail magic.
After some chit chat and swinging at the playground, we decided to take a trip to the local McDonalds, via Baked Potato's car.
I ordered a deluxe chicken sandwich, fries, and iced coffee, and we spent a long while relaxing in the air conditioning.
Arriving back at the park, my plan was to hike a few more miles to the next shelter. But then, I ran into my friend Jack! Jack and I met back in Glasgow, VA and had been hiking off and on together.
One thing that makes Jack and I compatible hiking partners is that we both enjoy "premier" campsites, as we like to call them. These are campsites situated near amenities, like running water and flushing toilets. It was around 7pm and neither of us felt like hiking much more. The picnic shelter we were hanging out in seemed like a preferable option for the night.
We checked a sign listing the park rules. It was a long list with small print. Right above "no gambling", it said "no camping". We conferred, and decided that since we wouldn't be pitching tents, we weren't really camping – just sleeping.
So we laid out our sleeping pads alongside the picnic tables and called it a night.
In the morning, as we were waking up, the groundskeeper walked by. He smiled, said good morning, and let us know the bathrooms are now unlocked.
Day 85
20.8 miles to Quarry Gap Shelter
The next day, we officially crossed the Maryland/Pennsylvania border.
It was an easy day of hiking with smooth terrain. The highlight of the day was arriving for the night at Quarry Gap Shelter. While most shelters aren't much more than a 3-sided shack in the woods, this place was straight out of a fairytale.
There were potted flowers, benches, and cute decorations.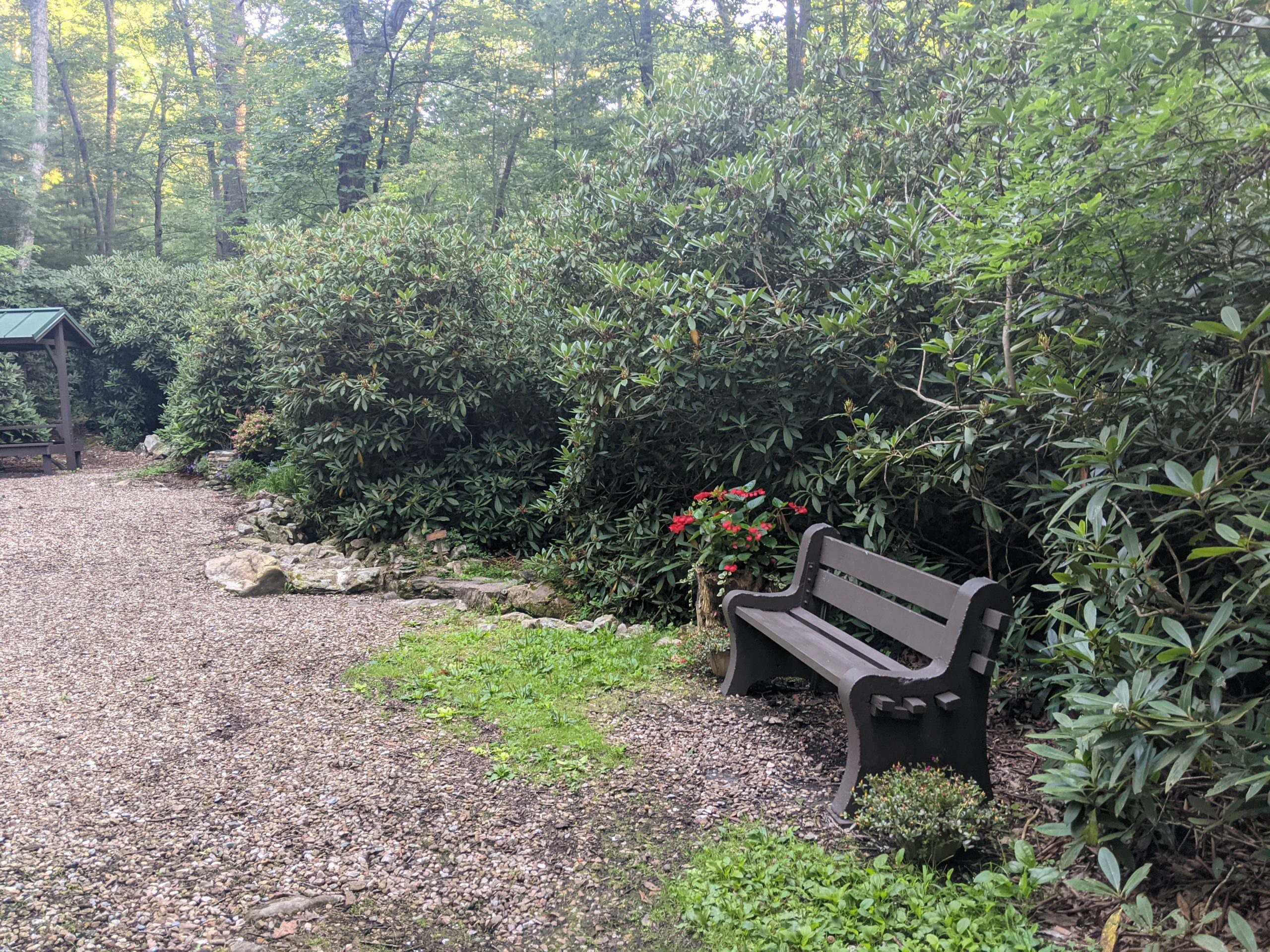 Day 86
17.7 miles to Fuller Lake
As I mentioned in my last post, Harper's Ferry is referred to as the trail's spiritual halfway point. Today, we passed the official halfway mileage point. Because the trail is often rerouted, this mileage point varies from year to year. We passed a few different signs/markers. The last photo is this year's official sign (lol):
We also passed the 1100 mile marker.
Next up was Pine Grove Furnace State Park. The camp store here is home to the trail's "half gallon challenge", where, in celebration of completing half the trail, hikers traditionally attempt to eat a half gallon of ice cream.
Jack, Pirate, and I were all hungry, but the thought of eating that much ice cream felt a bit sickening, so we opted instead for burgers and sandwiches. Not a decision I regret.
About half a mile from the camp store is the park's sandy beach lake, where we planned to swim (an activity that doubles as shower and laundry, too). We picked up a couple of $3 floats from the store, along with half a gallon of lemonade, and headed that way.
After a long day (weeks/months) of hiking in the heat, the cool water felt amazing. We kept all our hiking clothes on, happy to be drenched in lake water rather than sweat, and floated around on our (what turned out to be) toddler sized innertubes.
After the swim, Pirate decided to hike on, while Jack and I scoped out the park for a premier stealth camping spot. With no good picnic pavilions in sight, we opted for a patch of grass. Aside from the slug that apparently crawled all over Jack's pillow, and the ants that took over my pack, this was another successful night of camping.
Day 87
14.9 miles to Alec Kennedy Shelter
The original plan for today was to hike around 20 miles to a campsite right on the edge of Boiling Springs, PA. But with storms looming around us, we decided to cut the day short, stay at a shelter, and make up miles the next day.
I did a little super glue/ duct tape shoe repair at the shelter, and other than that, not much to say about today.
Day 88
25.5 miles to Cove Mountain Shelter
Now around 5 miles from Boiling Springs, we got an early start, excited to get to town and have breakfast. It did not disappoint. We both ordered iced maple spice lattes, and the food (eggs, potatoes, etc) was so good. Also, this town is adorable.
The hike from there was pretty easy, as we traveled through the flat Cumberland Valley farmlands.
Sometime in the afternoon, we came up on a roadside family farm store that had fresh milk, eggs, produce, and more. The kids of the family were running the store. They would ride unicycles up and down the hill from their house to the store, carrying boxes and supplies with them. It was very cool.
Jack and I each got a peach ice cream, sold in styrofoam containers and made fresh by the women in the family. It was easily the best ice cream I've had on trail…possibly the best ice cream I've had in my life.
25 miles is a long day, and with these stops, I arrived at the shelter sometime after dark, around 9pm. At that point, the idea of boiling water to make dinner seemed hard, so I had a pb&j tortilla and went to bed.
Day 89
I'm currently in Duncannon, PA. We got to town this morning and did the normal town things – shower, laundry, coffee, and food. Also picked up my resupply box sent from home. It's part box, part work of art ❤️
We plan to hike a few miles out of town today and keep this thing rollin. Thanks for reading 😀
Affiliate Disclosure
This website contains affiliate links, which means The Trek may receive a percentage of any product or service you purchase using the links in the articles or advertisements. The buyer pays the same price as they would otherwise, and your purchase helps to support The Trek's ongoing goal to serve you quality backpacking advice and information. Thanks for your support!
To learn more, please visit the About This Site page.