Pennsylvania Porcupines
Day 80
With limited camping opportunities ahead, we decided to do a 24.6 mile day; just shy of my longest day to date! I wasn't thrilled as my pack felt heavy with a full resupply and two liters of water. Fortunately, the trail followed a ridge that undulated gently and had few rocky patches. The last mile descended to a spring at which we had agreed to meet for lunch.
After 13 miles, I was ready for a lunch break and took off my shoes to air my feet. I chatted with my friends and a couple thru-hikers that stopped. I found myself slightly dreading the hill ahead, though it wasn't large by trail standards. Once again it was pack weight getting in my head. We got under way and it wasn't long before the trail crossed a road. A woman under a sunflower garnished awning offered us fruit and tried to give us religious pamphlets.
Hobble-It was a little ahead and had come upon a rattlesnake stretched across the trail. We all stopped to watch it glide away into the forest. To make the hill climb pass faster Hobble-It and I did four rounds of Walking Wordle. This consisted of one person thinking of a 5-letter word and the other person guessing the word, getting feedback as in regular Wordle. Afterwards, I started to tire mentally, not having slept well last night. To distract myself, I started the Fellowship of the Ring. There were a few chapters left in Breath, but I needed a break from the information stream.
I was very happy to arrive at our campsite. Come Along cooked and shared Chicken of the Woods mushrooms that he gathered that morning. They really do have a hearty texture and made a nice addition to my dinner. I went to bed earlier than usual, enjoying the noise of the nearby creek.
Day 81
I woke from a wonderful night's sleep and gazed upward through the branches of a tree to the sky brightening above. The last wisps of a dream faded from my mind. We had slept in later than usual, all of us needing the sleep. Per usual, Hobble-It took off first, though the rest of us were on trail by 7:30.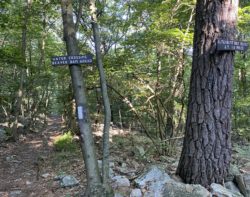 Within the first mile, a sign warned of a water crossing over a beaver dam. Bullfrogs chorused as I carefully stepped from log to log, keeping my feet dry with the help of my trekking poles. After that I dawdled, taking pictures, stopping to record thoughts in my journal, and sinking into the world around me. Yesterday felt like a forced march so it was a welcome change and a reminder of why I am on trail.
With my dawdling, I thought I fell behind, but I came upon Hobble-It and Cricket taking a break. Turns out we'd all been taking it easy. I joined them and pulled out a snack. Cricket told me about a Supreme Court ruling that limits the EPA's ability to regulate power plant emissions. More bad news following the repeal of Roe vs. Wade. The country is falling apart while we are in the oasis of the trail.
I chatted with Hobble-It for the next hour or two while we hiked. In the afternoon I returned to the Shire. We ended up doing 23 miles. To my delight, lightning bugs appeared during dinner.
Day 82
I slept poorly, which unfortunately is the norm despite long days of hiking. There is a skill to sleep that eludes me. The 18 miles to town were uneventful, broken up by a couple stops. At one point I actually felt tired of hiking. I paused my audiobook, became present with the world all around me, and recovered a feeling of content.
Port Clinton had a pavilion that hikers could stay in for $10. However, it only provided a roof and port-a-john, no charging or water. Plus, we wanted to go into Hamburg to resupply at Walmart. Hamburg had a motel, but due to the holiday weekend we wouldn't know if there was a room until 3 pm. Though we were at a motel only four nights ago, I was swayed by rain and sharing a room with friends.
It was pouring rain when we reached PA 61. The thought of walking to Hamburg disappeared when we saw the highway had no shoulder and looked dangerous. We stood at the intersection with the Blue Mountain Road and tried for a hitch. I despaired of getting one in the rain and at what was an odd intersection. However, a lady stopped to take us the mile into town, though she had been headed home. What a kind, generous person!
We deposited wet gear in our room, but stayed in our wet clothes. Back outside, the rain had ceased and the sun shone. The air was very humid. On our way to resupply, I spied a mulberry tree full of low hanging, perfectly ripe berries. Come Along and I stopped to snack. After shopping, Hobble-It and I went to Red Robin where we got veggie burgers and bottomless fries.
Day 83
Another continental breakfast to peruse! This one had granola and fresh-tasting orange juice. Per usual, we left full trash cans in our room. Both residue of trail meals and packaging from resupply items portioned into Ziplocs. A man in an extended cab picnic gave us a ride back to the trail.
Hobble-It and I have a similar pace that is slower than Come Along and Cricket. We took a water/ snack break and played Walking Wordle. When we reached our agreed on lunch spot, the Pinnacle, the others had moved on. Cricket seemed eager to reach the shelter before the afternoon rain. Hobble-It and I took a long lunch break, enjoying the view and raptors riding wind currents. I excitedly ate seed crackers with guacamole and sampled several new snacks I picked up in town. As we left the outcropping, I spotted a large snakeskin on top of a rock.
We planned to meet Cricket and Come Along at Eckville shelter, however, we missed the turn and overshot 0.7 miles. A group of thru hikers told us the rain was no longer due until 9 pm. Since Hobble-It and I didn't want to backtrack we filtered water so as to continue and dry camp. We met a nice guy named Cloudy and chatted with him for a bit. He was doing a flip flop hike and started in Harpers Ferry.
Our camp site was adjacent to the Dans Pulpit overlook. After setting up our shelters and rain covers, we walked to the view for dinner. A large porcupine was hanging out on a log! So exciting! I hadn't seen one before! It trundled off when we got near, then returned to the log where it splayed out and chewed. We watched it while we ate and heard an odd calling noise in the forest behind us. It turned out to be a second younger porcupine approaching the rock on which we sat. It was adorable! We returned to camp to finish dinner and not be caught between the porcupines. The rain never came.
In the end it was a 17 mile day, but it felt so luxurious with the late start, multiple long breaks, and critter time. It captured the essence of the trail that I am out here to experience.
Affiliate Disclosure
This website contains affiliate links, which means The Trek may receive a percentage of any product or service you purchase using the links in the articles or advertisements. The buyer pays the same price as they would otherwise, and your purchase helps to support The Trek's ongoing goal to serve you quality backpacking advice and information. Thanks for your support!
To learn more, please visit the About This Site page.