Pepperoni Juice EVERYWHERE, and Other Week One Fumbles
When we started our AT flip-flop last week both my wife and I were laser-focused on avoiding those newbie mistakes we had read all about. I'm talking about things like starting too fast and getting injured, bringing useless heavy gear, getting our sleeping bags soaked in a rain—that kinda thing. We were on top of it. Locked in. Ready to look the part of real thru-hikers.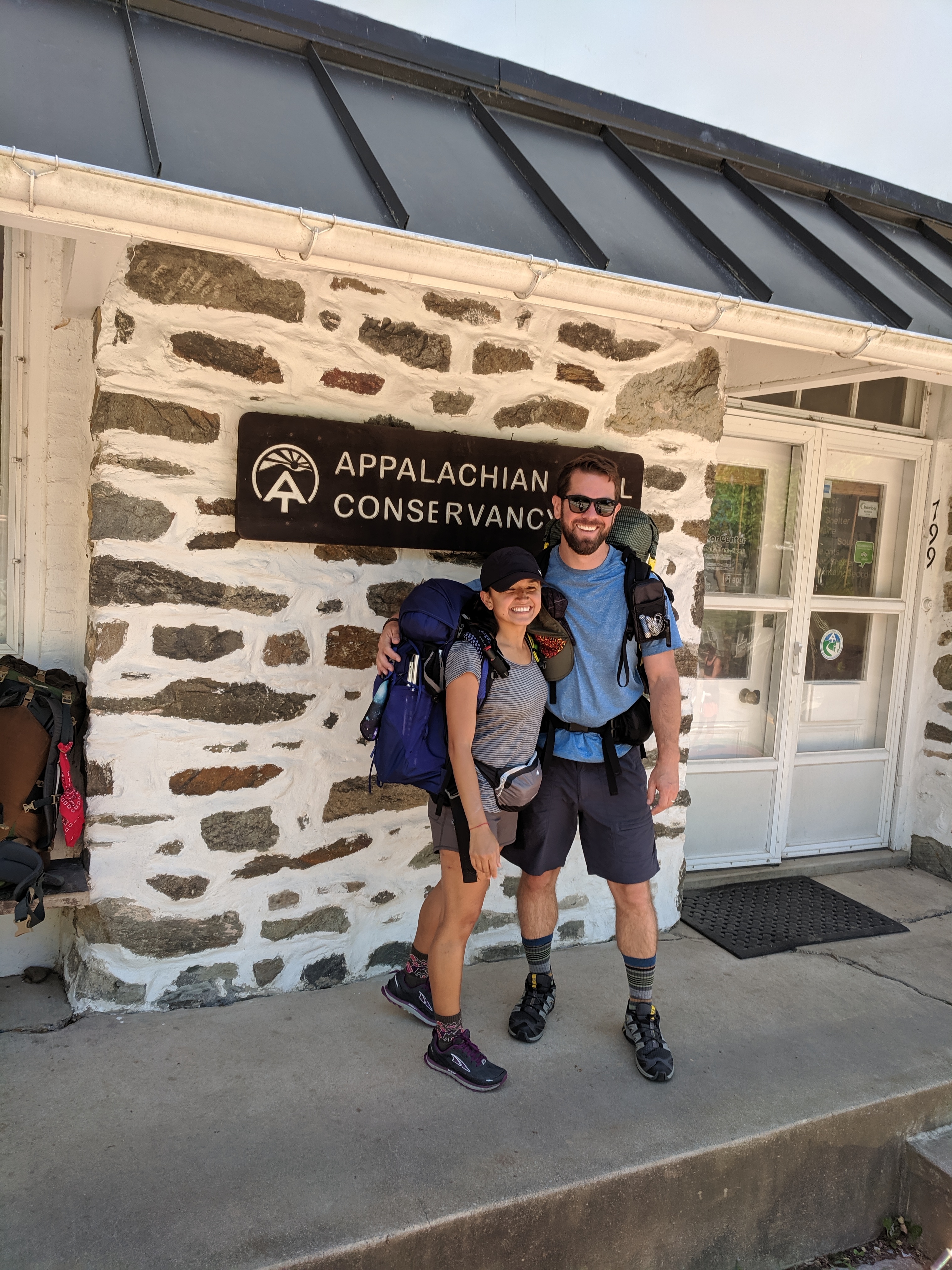 That was the plan.
Then at our first lunch break, just a couple miles into day one, I noticed a weird color on my food bag. Upon further inspection it was basically all over the bag. Some kind of liquid. "But I didn't pack any liquids besides water!" Digging to the bottom I saw that pepperoni bag I had bought a day ago. And it was bleeding red pepperoniness all over the place. Saweet! I knew I'd have that smell with me for at least a few days.
That was the first in a series of lessons and reminders that Espie and I experienced in our first week on the trail. Store-bought pepperoni bags will pop open when compressed in a tightly packed bag.  So repack if you get the slices.
But I didn't read that in my AT prep!
We learned a handful of other useful tidbits over our first 40 miles of hiking. That said, this list is for the newbies, or to give those steel-calved veterans a nice laugh and a bit of nostalgia about all the dumb stuff they did when earning their trail legs. Here goes:
#2 Don't forget your shit in the car!
After our friends and gracious hosts drove us out to Harpers Ferry from B'more, Espie decided to leave her wallet in their car. Alright, day-one jitters! That resulted in a series of texts and a request for our friends to meet us a week later in the next town we stopped in. They did and we got it back. Thanks Lily and Jesse! But probably best just to check your car/van/shuttle twice before jetting off on the trail :).
#3 Keep track of all those stuff sacks.
At our second campsite we experienced our first night of rain. That created a morning shuffle with hikers coming and going under one roof with everyone trying to stay dry while organizing their stuff. In the shuffle I misplaced a stuff sack of mine for my rain gear. I didn't actually lose a stuff sack (I found it in a jacket later on) but I definitely didn't know where it was for a day after that shelter. Those things are gold out here, keeping us organized and compact. Lesson: Have a place for everything, and keep it organized at all times, especially when there is a bit of a shuffle at shelters.
#4 Don't rush to hang your food bag. And hang it once.
I swear I hung my food bag at least twice on night one, maybe three times on night two, and a couple times in the following days. I'm hoping I'll be down to one hang a day this coming week. I'd  finish eating, pack my food up, and hang it. Then I'd think, "Shit, my sunblock" or "Damnit, my toothpaste," or "Ahh, that string cheese in my pocket!" Everything that is food or might smell like food needs to be up there in case a hungry bear comes along. You don't want that in your tent. (Side note: we heard about a hiker whose girlfriend sent him cocoa butter to put on his ailing feet. He woke up at night in his tent to a bear attack, and his feet were all torn up. So yeah, get all that stuff outta your tent and into the bag. And lay off the cocoa butter.) It's pretty fun walking back and forth between your tent and the bear hang, lowering, repacking, rehanging, and repeat! Lesson: Think twice before hanging that bag. Or just do it at dusk every night so it's a time-of-day thing and not something you do right after eating.
#5 Watch that simmer!
My dinners have been basically Knorr's pasta sides, and my breakfast is basically instant coffee and a snack. All that requires boiling water. Probably five to six times this week I came within a hair of both of those boiling over my Jetboil pot. Simmering is not really a thing my stove does well. Boiling is super fast, but holding a lower simmer is an art. So don't set the stove to a temp and look away—it might boil over and burn some tired hiker compatriots on the same bench to your left or right. Keep an eye on it till you are sure how much time it takes and when you can start to multitask.
#6 Place your tent in a spot that'll work, rain or shine.
On night two we got into the site pretty early and set up the tent in a super flat spot off to the side. It was a gorgeous afternoon and nice flat spot with unusually cleared out ground too—no sticks or rocks. Lucky us! As it clouded over and I started to realize rain was coming I went back over and reinspected the terrain. I could see it immediately—we had set up in basically a dry stream. Huzzah! But I was tired and sore (day two, people) and instead of moving the tent I literally piled up leaves, dirt, and rocks to give us a little uphill diversion should the stream come back to life overnight. NOT THE BEST. Though we didn't get soaked, our tent footprint was pretty damn waterlogged the next morning. Clearly the stream partially came back to life. Luckily we both had 2.5-inch inflatable pads that kept us both completely dry. But looking back on it that was a super newbie move. And I have no idea about the trees or potential widow-maker branches above us. Lesson learned: Fatness is important to keep you and your tent partner from rolling into each other, but you need to pick a safe and dry site that'll work in a thunderstorm with high winds. So check the terrain and the trees too.
That's your newbie wisdom from week one.
Also, MD is pretty pretty.
We crossed our first (mini) state! 13 to go…
…and passed some snakes.
I'll leave you with these picturesque shots from our third and fourth shelters.
Pine Knob Shelter.
Ensign Cowall Shelter.
LAST STOP: Harpers Ferry, WV
CURRENT STOP: Waynesboro, PA
NEXT STOP: Duncannon, PA
Affiliate Disclosure
This website contains affiliate links, which means The Trek may receive a percentage of any product or service you purchase using the links in the articles or advertisements. The buyer pays the same price as they would otherwise, and your purchase helps to support The Trek's ongoing goal to serve you quality backpacking advice and information. Thanks for your support!
To learn more, please visit the About This Site page.
Comments
5
Sounds like a great first week to forge thru some adversity. It is great reading your update. Beautiful views and good hiking!

Looks like you're surviving just fine…Hope you have a book on poisonous snakes….pretty sure that was a copperhead. Best to Espy.

This typo had me giggling. "Fatness is important to keep you and your tent partner from rolling into each other". d

I too like the 'typo'!
Plus, w/r/t the wallet, a seasoned hiker once told me he takes a 360 degrees sweep before he leaves a rest stop/campsite/shelter/etc. I follow this advice and I'm sometimes surprised at what I find. DMFINO

What DMFINO said … take a look around before leaving.

Another hiker taught me to take 10 steps, stop, and turn around. Anything left behind?

Yes, on a number of occasions.

This is a habit I maintain off trail, too. Before I leave the office to go home, or after having dinner in a restaurant, I always give the office or the table a hard scrutiny. Find stuff left behind all the time!