Possum and Ukelady: Days 14-26
Possum here! I am enjoying tea, oatmeal, and a beautiful sunrise here at the Fontana Hilton. Let's fill you in on what's been happening.
Day 14 – 4.5 Miles
We woke the Budget Inn in Hiawassee, GA and packed our bounce box for Three Eagles Outfitters to send to their store in Franklin. I asked the clerk there about this rash that had been growing on my neck for a few days and he told me I had poison ivy. Relieved it wasn't the egg nest of some rare forest spider, I went out and bought calamine lotion.
We took the shuttle back to Dick's Creek Gap. At the parking lot we got some very welcome Gatorade and Yoohoo trail magic. We said goodbye to Teddy Bear, a hiker that had been with us for the past two weeks. His injured his knee pretty badly when he came down the last mountain and it looked like he was done, though he didn't want to admit it. Before we left I bought some of the delicious spice mix that he made and was very proud of.
We hiked a short distance to Plumorchard Gap Shelter. Some hiker was talking about the mice that come out at night and crawl all over the shelter looking for food. He assured us that they wouldn't bother us. Yeah right. Despite hearing this, we set up our stuff in the shelter because there were some friendly hikers doing the same. Safety in numbers. However, at around 8pm they vacated and set up tents at a nearby campsite. So there we were about an hour later, moon high in the sky, nestled in our sleeping bags, playing a card game, listening to the one section hiker with a sleeping disorder who stayed, and wide-eyed as we listened to all the tiny feet clicking and clacking throughout the walls. After bravely fighting the urge to flee for about ten minutes, we fled, set up our tent in the dark with headlamps on, and had a good night's sleep.
Day 15 – 7.3 Miles
During our hike today we met a father, Sam, and his kids, AJ and Samantha.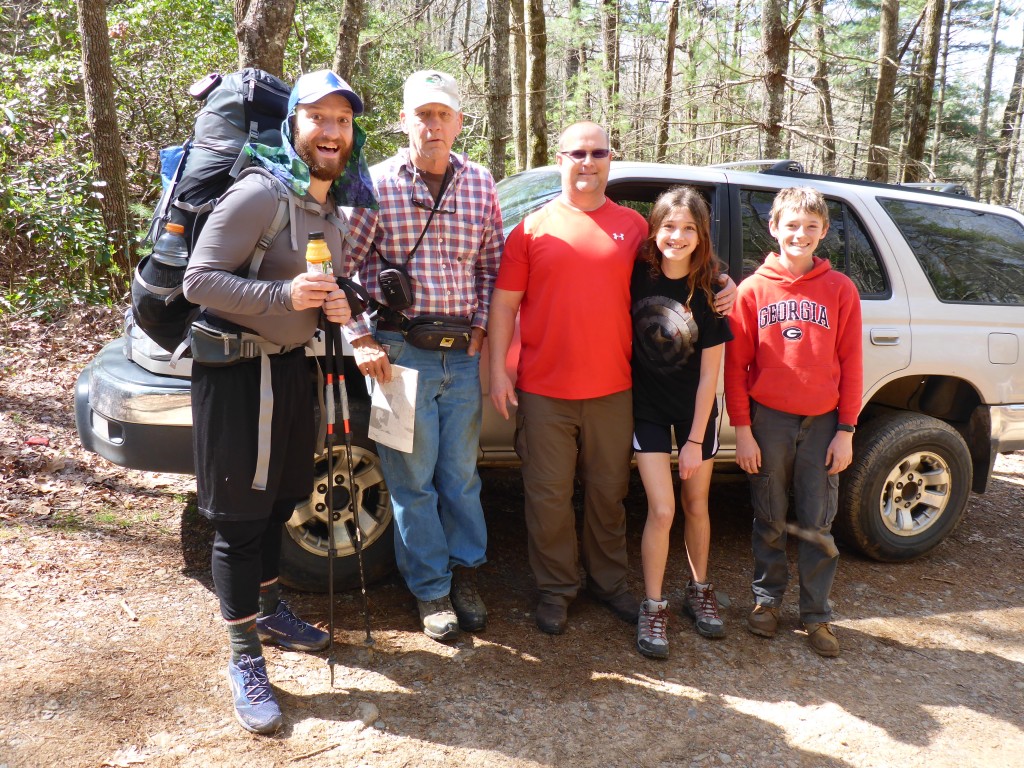 Sam gave us some leftover supplies from their hike including two Knorr pasta sides, two orange juices bottles, and two peach fruit cups. The orange juice was worth it's weight in gold. After eating the same thing for weeks, any tiny variety might as well be exotic spices from India.
We crossed the state line into North Carolina where we were welcomed by some hikers waiting for a friend. It felt good to be back in the state we just moved from. While we were hiking in Georgia you could have told me I was in Oregon and I would politely nod in agreement. But now I actually feel I am in the state I am in. Feels like home.
Day 16 – 9.3 Miles
We planned to hike 9.3 miles today which meant an early start. However, I had a rough night's sleep and voted to stay in another half hour. We ended up pushing our start time from 8 to 9. There was a lot of friction and patience testing this morning. Like Neels Gap, we just weren't on the same page. But again, we talked it out and the day turned our great. We got to a gap where we were reunited with King Croc just as he was fixin' to move on. This time he was handing out snacks that a church group had left earlier that day. We saw a few hikers who also stopped there that we met the day before. Unfortunately, they were getting off the trail, possibly for good. One of them hurt their knee so badly he needed an x-ray. Another hiker wasn't sure she wanted to continue due to the loneliness.
It was sad to see these people leave as we knew and liked them. Early on while we did less than seven miles a day we would briefly meet people who were doing fifteen or more miles a day, and we assumed that would be the last time we saw them. But then a few days later we'd see them after they took one or two zero days due to injured ankles or blown out knees. We ran into a couple who took four zeros in a row to recover from an injury and they weren't even sure they should go back. And then there are the people who just leave the trail entirely. It makes me glad that we kept the mileage so low in the beginning. But to be fair, were were struggling to get to even seven miles a day. We thought we would have to scale back our abilities. Turns out we actually do not have those abilities yet. The fact that we are still on the trail is so fantastic. Every time someone leaves it reminds me that only about a quarter of the hikers who try make it to the end, and we are still part of that quarter. I am very proud of us.
We got to Beech Gap campsite and had a lovely time around the fire with the other hikers. I hung my bear bag from a very tall branch on the first try to the amazement of the other hikers.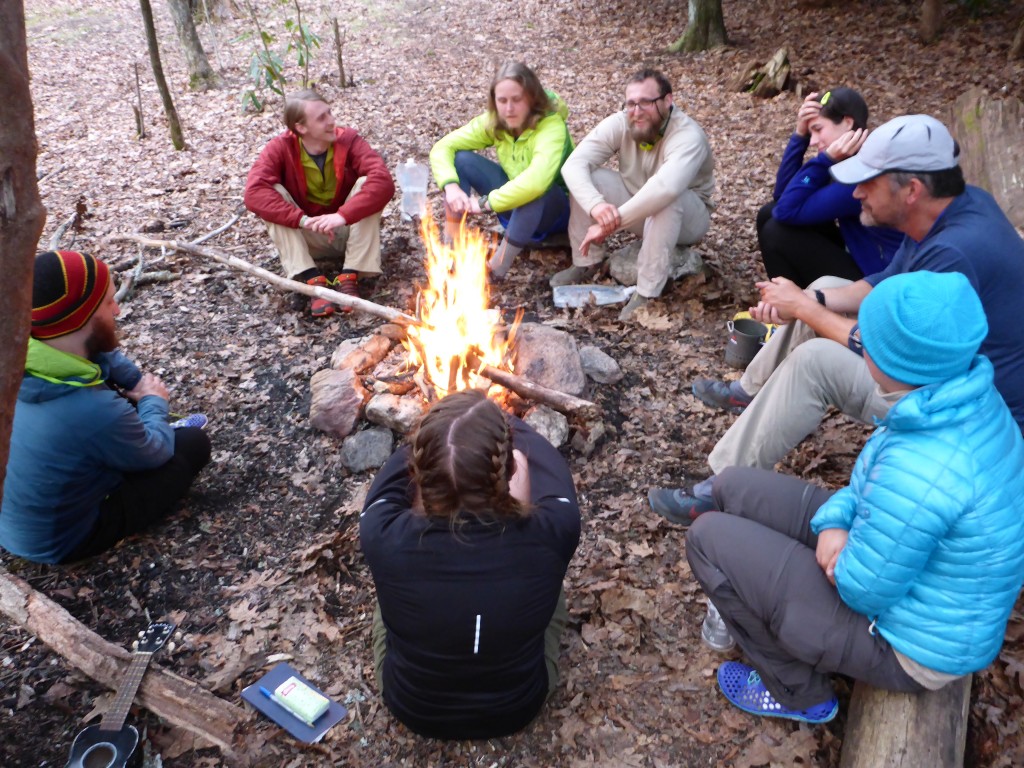 Day 17 – 6.9 Miles
Today was a day made for disaster. I hadn't gotten a good night sleep as my neck was killing me. When I woke up it was worse. I could hardly sit up, turn, or move my head. I took two ibuprofen pills and put to icy/hot patches on my neck. My joints in my right hand also hurt when I made a fist. I was worried it might be symptoms of Lyme disease. Grace gave me some more time to sleep it off. We had intended to let leave if it wasn't raining yet, but since it had already started she didn't mind waiting. Eventually I felt better and it wasn't raining so badly, so I went out and got our bear bag and we had breakfast. As we ate and listened to music it was clear that we weren't going anywhere for a while. We ended up hanging out in the tent until around 1:00 pm. Finally we packed everything up and left. Grace was feeling bitter about leaving in such crummy weather but got herself in a good mood very quickly. On a day that started off so poorly it really turned into one of the best days. We hiked through the rain, but it didn't dampen our spirits at all. We were happy in spite of it.
We had a long conversation about our relationship and how good we are together. Grace remarked that it is amazing how she can only stand the same thing for six months at a time except for hanging out with me. That made me very happy.
We ended up at Betty Creek Gap. Our intended destination. We set up camp and watched an episode of Gravity Falls.
Day 18 – 4.9 Miles
Today was another hard morning. We got up and let the morning pass us by seeing as how we got away with it yesterday. But this time it was harder to convince ourselves to leave. Especially since we had more miles to do today. When we finally did get out and start hiking we nailed down exactly why this morning sucked. It's a problem of compromise. We have different ideas about how the morning routine should go. We need to set time limits and schedule our morning activities. Division of labor is also an issue. My default is to do all of the bear bagging and cooking. But those are the only things we need to do in the morning. We are going to split those from now on. Hopefully we remember to compromise.
We climbed Albert Mountain and the fire tower on top. It was 5150 feet above sea level.
I called my mom, and Grace and I sang "Happy Birthday" to her. We also gave her the next mail drop address and what to send. I am hoping for some surprises.
We got to Long Branch Shelter and decided to stay there instead of pressing forward to our planned stop. It seems like a good choice. We will see if it pays off tomorrow. Grace played her uke and impressed more people with her voice and songwriting. We were also interviewed by a German hiker named Arrow for his book about thru-hiking. There may be as many Germans as Americand on the trail.
Day 19 – 7.6 Miles
We woke early, got ready quickly, and hiked 7.3 miles to Winding Stair Gap. During the hike our tent freed itself from Grace's pack and tumbled down a steep hill while we helplessly watched.
It was quite a trek to retrieve it. We caught up with fellow hikers Katman and Zach at the Gap while they were trying to hitch into Franklin. We added our thumbs to theirs and within twenty minutes we all got a ride from two gentlemen who pick up hikers all the time.
Our first stop was Outdoor 76. We wanted to visit it specifically to see Rob again and let him know we were out there, which we did. We also bought two long spoons to replace the sporks I broke. It turns out all we need are spoons. The fork is useless out here.
Next up was a laundromat where we washed AND dried our clothes. We hadn't dried them at the Budget Inn a week ago when we last did laundry and they have just smelled like moisture and BO since. While they dried we called Three Eagles to see if they got our bounce box from Hiawassee (they did) and if they could pick us up. They referred us to someone who called a third person to get us.
Lisa rolled up fifteen minutes later and we climbed into her car smelling just a bit fresher. We talked along the way and found out that she does this all the time. She even had a hiker guestbook for her car, which we signed of course. She asked us where we were staying and when we said we were going back to the trail to camp she offered to take us all the way back to Winding Stair Gap after we got what we needed at Three Eagles. It was more than either of us expected one person to do for us. Again, we were floored by the kindness of strangers who want our journey to be special.
So we got our package, our ride, and ended up back at Winding Stair. The entire reason we were camping here was because it was right next to a waterfall, Grace's favorite thing in all of nature, rivaled only by penguins.
So tonight we fall asleep to the sound of water ceaselessly rushing forth.
Day 20 – 7.9 Miles
It was a pretty standard morning. Everything was wet but at least it wasn't actively raining. In fact, it never really rained the whole day. It was just wet and cold with the occasional drizzle. We got to the base of Silas Bald where a side trail led to the top and the promise of a spectacular view. We missed a few views before that we ended up regretting, so we shed our packs and climbed. It was worth it. 360° panoramic view of mountains and rivers.
The most fun part though was coming back down as we rolled part of the way, then near the bottom we raced back to our packs. Seeing and doing things like that is why we are out here. Sometimes we just need a reminder.
Along the way to our campsite we met Psych who is also blogging and won first place in the Badger Sponsorship. He was super nice and even slowed his pace so he could walk and talk with us for a while. We also caught up to Win from our first night on the AT who is now called Thunder due to his snoring. We passed a pair of hikers who happened to be playing 20 questions with each other. We stole that idea and played many rounds that day that got us through the tough parts. All in all it was a good day.
Day 21 – 7.6 Miles
Today I had an unfortunate pooping fiasco. Let's leave it at that.
It didn't rain for a long time today, so it was a good day. When it finally did start raining we luckily ran into King Croc for the third and final time as he would be heading back to Tampa. He had his canopy out and was serving bunless hot dogs. Many hikers came to get out of the rain.
We made it to Cold Spring Shelter and set up camp. It was sort of a normal day with its ups and downs.
Day 22 – 8.4(?) Miles
We climbed another tower today. This time there was a bachelor party at the top with whom Grace exchanged her gushers for dried mangoes. What a weird life.
We ran into a hiker named Detox along the way. He won the Badger Sponsorship too and is taking this hike to get sober. He is a really nice guy and we were glad to have met him.
It didn't rain at all. When we got to our campsite I realized I forgot the bearbagging paracord at the last campsite. I had to lift Grace on my shoulders to get our bags in a tree. She came down crying from laughing at the ridiculousness of what we were doing. We made our own campfire that night.
Day 23 – 4.4(?) Miles
It was raining this morning when we went to get the bear bag. There we were again, butt on shoulders, me standing on my tiptoes to get enough height. We got it really quickly this time and raced back to the tent. Thankfully it stopped raining pretty quickly and our hike was mostly rain free.
We got to the NOC after spending the last five minutes of hiking in sudden pouring rain. There was some snack cake trail magic which was a nice blessing, but it also reminded us how hungry we were. After much deliberation on cost and time we decided to use one of the gift cards my parents gave us for rainy days on a hot lunch at the neighboring restaurant. It was absolutely the right call.
After the meal we began the sad task of resupplying at the General Store. The were no cheap dinner options for Grace and no real lunch options for either of us. Grace ended up getting a couple of expensive hiker meals. These outfitter towns are charming, but sometimes are just terrible resupply stops. I wish we knew this beforehand so we could have a box sent to us. And it's not like they were just more expensive than we thought, but they didn't have enough of a supply and were sold out of stuff they did have altogether. We decided to do the next 3.5 days on the leaner side since we knew we would have a box waiting for us at Fontana Dam.
After the resupply we hiked a mile or so until we found a spot to camp. This was the second night we camped by ourselves. Everything was going fine until I spilled my boiling hot ramen soup all over myself and Grace's sleeping pad. A delightful aroma of "beef" and "chicken" lingers in the air tonight as we sleep, gently wafting through our dreams.
Day 24 – 9.3 Miles
Today was a great day. We hiked as normal, took in a few great views, and had lunch while we watched clouds roll over mountains like the shadows of whales.
We got to Locust Cove Gap and set up the tent. There was already a big group so we had to set up right next to the fire. This group was great and everybody really clicked. Grace's ukulele got passed around to almost everyone. One hiker, Marley, brought a guitar. Another, Sherpa, brought his harmonica. They all jammed together, people played covers and originals.
It was an awesome night. I hope we hike with these people again.
Day 25 – 8.4 Miles
This was a perfect morning. We ate breakfast by the fire. Well, I should say I ate by the fire, and Grace opened the outside flap that faced the fire and ate while still in her sleeping bag. We were serenaded by Marley's morning tunes.
The hike was beautiful, sunny, but just a tad bit too cold. We met Salamander and Smiles on top of a mountain just as they were getting ready to leave. I pointed out a snake to Grace, and Salamander immediately jumps into the brush and grabs the snake with his bare hands. This wasn't his first snake. In fact, he got his trail name because he was catching so many Salamanders.
We reached a road crossing and someone had spread a pile of apples and bananas on a picnic table. They also offered to take us into town for a pizza buffet, which we kindly turned down. That more than anything should tell you how good of day this was. We chatted with Blue, Bullet, and Viking, and met Go Away Bear who was so named because a bear came right up her tent on her first night because she forgot to bear bag and so she shouted, "Go away bear!" Some other night hikers heard her and scared the bear away.
We got to our campsite at Cody Gap and ate dinner in our tent. When we went to get water we saw that Bullet and Blue were also staying here so we sat by the campfire and chatted mostly about traveling. It was a good night. They told us that they had been talking about how they thought we worked really well together. It was a really sweet compliment. Tonight we sleep as very happy, but cold, people.
Day 26 – 9.9 Miles
Today we had a leisurely morning which included watching a cartoon. We gave Bullet what food we could spare since she was completely out. The hike was pretty normal although we reassessed what we thought we could do for the day. Our original plan was to camp just before the road crossing that leads into Fontana Dam, then head into Fontana Dam the next day to pick up our resupply box, and sleep at the Fontana Hilton Shelter that night. We decided we could make it all the way to the shelter. It was 9.9 miles from our campsite, which would be the most miles we've hiked in a single day. The weather was great and our spirits were up. It just seemed like the right call.
One of the most bizarre chance meetings happened today. After hiking 2.4 miles to Yellow Creek Mountain Road we decide we need a long snack break. While we sat there in the grass two days hikers get dropped off. We exchange greetings and then one of them asks us if we are blogging for Appalachian Trials. Once Grace says she is Ukelady his eyes light up. He tells her that he's been following our adventures and that he has is learning the ukulele. He said Ukelady was the one person he wanted to meet while on the trail. It was amazing. We talked for a bit and said our goodbyes, stunned by the randomness of the whole experience.
After another 6.3 miles we got to the Fontana Village Marina, which was a long dock full of boats stretching into a huge lake. The view at the end of the dock was gorgeous.
It was a wonderful way to relax. Sometimes you imagine that the AT is made of all views worthy of Peter Jackson epic. But that is simply not true. Most of the AT is deep in the forest. If you do make it to a viewpoint that overlooks mountains you would be lucky if there was no rain or fog to block it.
So when we made it here we took a lot of time soaking it all in. Then, of course, as we started to hike again it started raining. It didn't last long and it was only a mile to the Fontana 'Hilton' Shelter, so named because it fits 15+ hikers, has running water, showers, sinks, and toilets that flush. It is a sight to behold. Hands down the best shelter we've seen so far. We caught up to a lot of hikers here that we have run into over the last 26 days. Tomorrow we get to pick up a resupply box from my mom. It feels like Christmas Eve.
Affiliate Disclosure
This website contains affiliate links, which means The Trek may receive a percentage of any product or service you purchase using the links in the articles or advertisements. The buyer pays the same price as they would otherwise, and your purchase helps to support The Trek's ongoing goal to serve you quality backpacking advice and information. Thanks for your support!
To learn more, please visit the About This Site page.