Possum and Ukelady Relax at Trail Days & Work at Hard Core
Possum here! Here is what we've been up to lately!
Day 44: May 10th – 10 miles?
We woke up in our luxurious Ramada room after a zero day in Hendersonville, had breakfast, and hightailed it out of there by 9 AM. It took an hour to get back to Allen Gap. We said goodbyes to our wonderful friends and started our 11.6 mile day.
It was hard. We had more food than we needed which weighed our packs down a lot. Not as bad as the Food City fiasco, but not great. The only thing that wouldn't fit in our packs was a cereal bag's worth of puppy chow. So I strapped the bag to my belly with the extra length of my hip belt's straps.
It was a lot of uphill capped off by a "strenuous" rock area at the top of a ridge so dangerous they have a "bad weather" side trail that bypasses it. At one point I had to throw my trekking poles ahead of me so I could descend a rock face safely.
We got a little more than a mile from our intended destination when we found a campsite. My feet hurt so much that I suggested we stay here instead. We have a 13 mile day tomorrow that will not get done. We had so much food to bearbag that I broke two separate branches trying to do it. The second one broke and hit me on the head on its way down.
Here is something really disappointing. While hiking the AT today we came across a big poster board thumbtacked onto a tree. It was a recent advertisement for a nearby hostel and it sucked hard. You know what I don't want to see while hiking? A ad. This was the first time we saw anything like this. We've seen advertisements for hostels before, but they were in things like outfitter stores in civilization. You know, not just tacked onto a random tree deep in the forest far from any gap or road crossing that might make sense. I know it must be hard to advertise your business to hikers, but the AT is not I-95. Leave no trace, and keep your billboards off our trees.
Day 45: May 11th – 7 miles?
We woke up around 6:30 and immediately went back to sleep. We ended up not leaving until 9:45. Not great for a potential 14 mile day, but our bodies needed the rest after all the punishment from yesterday. Unfortunately, they were in for more. Gnats, heat, flies, rocks, and more gnats made for a miserable hike. We came no where close to meeting our goal. But at least we crossed the 300 mile mark!
We eventually stopped at Flint Mountain Shelter and reappraised our plans. A few hours ago a passing hiker told us about a potential thunderstorm tonight. It was slowly thundering now, but it was very far away from us. We decided to move on until we could not go any further. Then lightning happened right in front of us. We turned tail and ran as fast as we could back towards the shelter. A minute later we calmed down, turned around again, and decided to press on. But when it started to pour rain and hail we made the decision to stop and set up our tent for the night at the next campsite.
Day 46: May 12th – 7 miles
We didn't leave until 2:45 PM today. Shameful, but our bodies were exhausted from the previous two days. We spent the morning napping in between rounds of Carcassonne and Zen Pinball.
When we finally did leave, the hike wasn't too bad. We didn't make it to the next shelter, but our spirits were high anyway.
I'm not sure how we are going to get to Trail Days since we are now more than a day behind schedule, but I'm sure The Trail Will Provide.
Day 47: May 13th – 12 miles?
Since taking two zeroes and a few nearoes, I had been lamenting that we were so far behind all the people we were hiking with since Fontana Dam. Our trail family that we had become so comfortable with are days ahead of us now. I didn't want to start all over again with a new crop of people that would eventually hike faster than us. I missed the people I knew and liked. So last night, as we were in our tent playing Minesweeper and the only hikers in that campsite, two hikers came and set up their tent for the night. A fine opportunity to try and make friends in the morning. However, when we woke up and saw them it turned out to be Salamander and Smiles! We all had the same startled reaction of the pure dumb luck. All of us thought everyone else was way ahead. It was the best surprise.
Our hike was great. It was a beautiful sunny day with great views from Bald Mountain.
We played music from my tablet for a few hours and it made all of the tough parts of hiking totally tolerable. It was a banner day. At the end we made it to Bald Mountain Shelter.
I was thinking about how strange it is that so many people want to send us stuff for our hike. We've gotten offers of food, money, supplies, anything we would need. These people aren't getting anything back. We aren't doing anything special or selfless. We aren't running a charity that helps people. This is just how we decided to live for six months. I am not sending my brother care packages because I believe in his programming career and New York City apartment. My sister isn't getting Visa gift cards from me because I admire the fact that she has a family. Sometimes it's a strange feeling knowing that people specifically want to support our lives because we chose to hike. Now don't get me wrong – I'm not saying to stop sending us stuff. Please keep sending us stuff. It's great and makes us very happy.
Day 48: May 14th – 5.6 miles + 2 hitchhiking miles
What an amazing day.
We started by hiking 5.6 miles to Spivey Gap. Our plan was to hitch from there to Damascus since it seemed from our guidebook like it was on a main road with lots of traffic. How wrong we were. Smiles and Salamander had been there for 30 minutes by the time we showed up, and they only saw one car in all that time. After a few scattered cars drove past us we decided to just start walking towards Tennessee.
We walked on the road beside a stream past gorgeous houses with huge yards and freshly mowed grass. But no cars or people. After walking for an hour or so we finally saw a human and Smiles bravely approached him for information. Apparently Erwin was 13 miles from where we were and the next intersection was 4 miles ahead. We moved on, still hoping to hitch. After another 15 minutes of walking a pickup truck slowed down to get us and it was the same guy we had just talked to. He offered us a ride into Irwin, but as he put it, "The dog rides up front." So we loaded our packs and bodies into the open bed, making sure not to dislodge the riding mower he had strapped to it.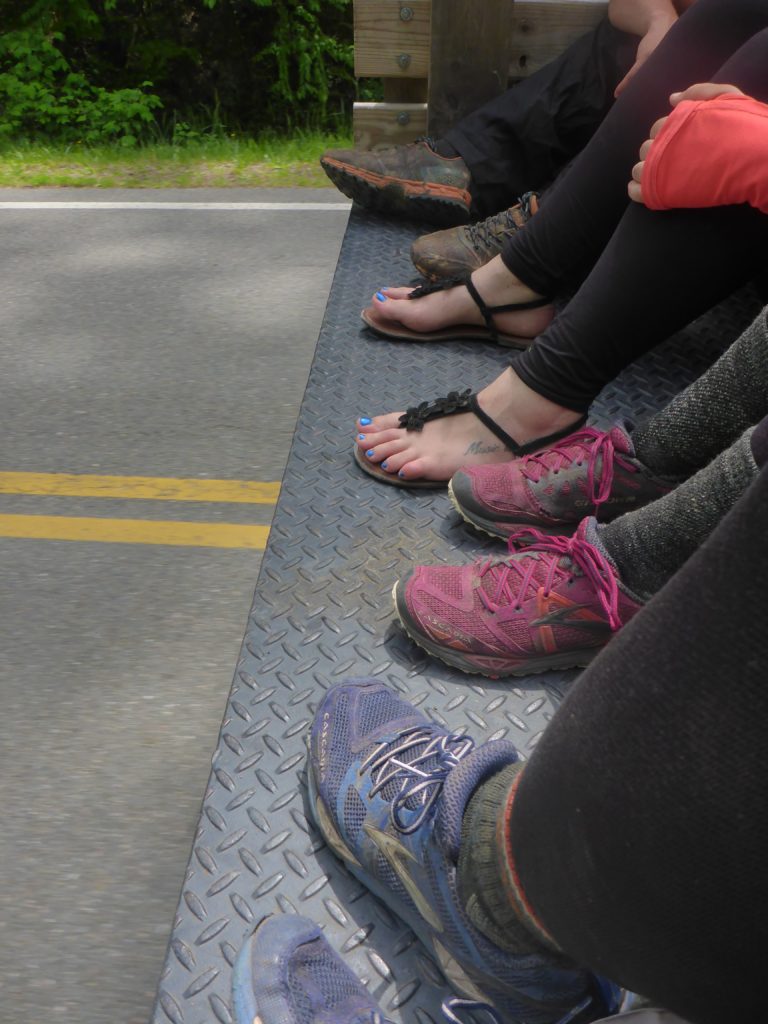 He took us all the way to the Irwin McDonald's, which was serendipitous since that was all Smiles and Salamander could talk about the whole day. Smiles then proceeded to eat 2290 calories. A true thru-hiker meal, as that is about how many miles there are on the AT.
We then got cardboard from the nearby gas station and made hitchhiking signs for Trail Days in Damascus, VA. Ukelady and I had been holding them up for a while when a big van pulled up to us. HOPE. The driver asked us if we were hitchhiking. But that's when Ukelady noticed the Sheriff's badge on his shirt and said, "I don't think so."
"Good," he said. "Because that's a $300 misdemeanor." Then he drove away. We decided not to hitchhike after that.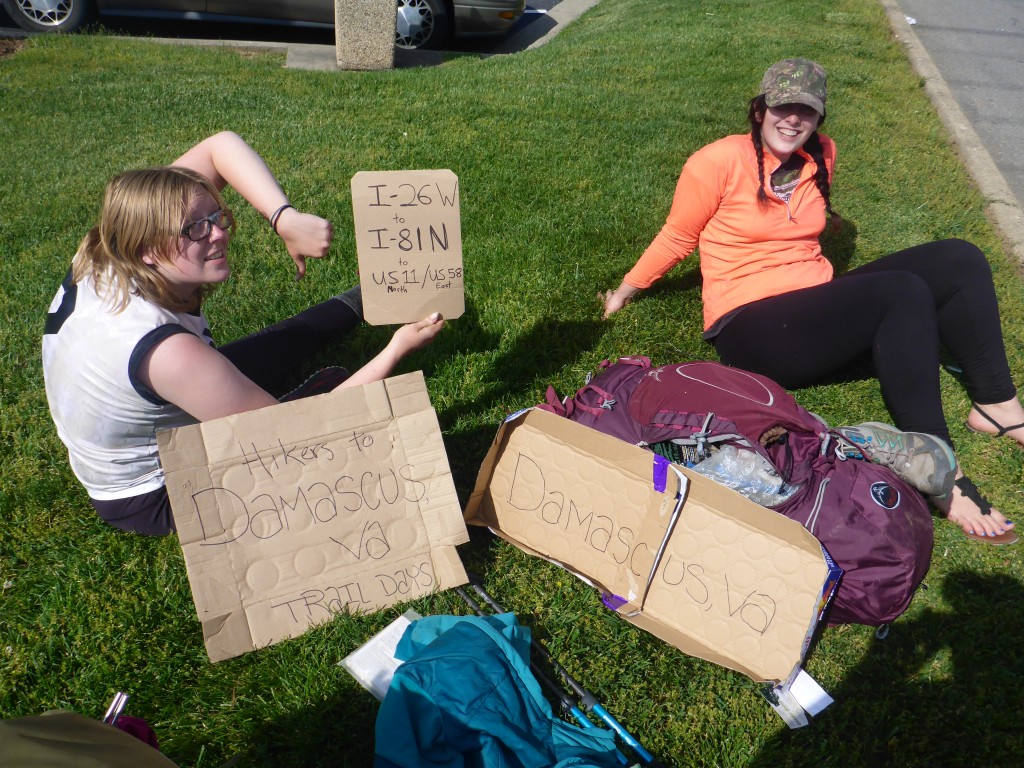 So we called 10-K and J-Walker, a husband and wife who spend their days shuttling hikers around the Irwin area. J-Walker picked us up plus another hiker named Grip and took us all to Damascus for a reasonable fee.
For those who don't know, Trail Days is a huge annual hiker event in the small town of Damascus, VA from Thursday night to Sunday morning. Hikers tent in the public park, outdoor gear companies set up vendor booths, and the local churches feed everyone and provides showers. All it costs a grand total of $5 per person. It's basically a hiker convention. There are talks, films, and guest speakers. There is even a hiker prom with a king and queen. If you are hiking the AT, no matter where you are, you have to go to Trail Days.
The first minutes of our Trail Days were amazing. Before we even set up our tent a hiker recognized my Disney Channel cartoon hat and gave me a sip of vodka from his solo cup, a representative from Gregory gave us beer and a plate that converts into a bowl, and we ran into a friend that Ukelady used to work with in Asheville who now reps for a few companies at Trail Days.
Running into hikers we hadn't seen in a long while was the best feeling in the world. We saw Peacock, Moonlight, Whizbang, Riki Tiki, Rhythm, Bookie, Bullet, Blue, Marley, Ambush, and more. It's fantastic to see that all of these people made it, even the ones that quit the trail. It's a convention, a celebration, and a reunion.
We ate a salad and pasta lunch at the fire house and then ate dessert and listened to a live band play folk hits from the seventies. We fall asleep tonight in our tent listening to a distant drum beat and wild animal noises made by hikers excited to be alive and together.
Day 49: May 15th – 0 miles!
Today was a blur. It took both of us to remember what happened.
We woke up super early and walked down to the fire station for breakfast. Unfortunately, we didn't realize it wasn't free. Even though entry to trail days cost $5, yesterday we didn't have to pay extra for any food so we assumed everything was free and didn't bring any money with us. Thankfully the Christians came through again. As we walked further downtown we ran into a Christian group providing hikers with hot drinks, breakfast breads, and cookies. They even had handmade hats knit especially for thru-hikers. Grace scored one that was the same pattern as her leggings.
When we got back to tent city we took showers and signed up for laundry, which was all sponsored by another Christian ministry.
We then walked all the vendor booths, which were incredible. A lot of big brands were there including the ones who made our sleeping equipment, which we had some trouble with recently. A baffle broke on mine and Ukelady's leaked air. We brought them both to the Big Agnes booth for repair and a little while later we walked away with brand new pads. It was unexpected and incredible. There were also people who would repair any damage your pack had suffered so far. It's interesting to see how much these companies really did their best to care about the needs of thru-hikers.
We also entered raffles and collected A LOT swag. Day packs, sacks, bowls, cutlery, and snacks galore. We visited the Appalachian Trials booth and finally met Zach face-to-face.
We also signed up for Hard Core, a two-day trail maintenance project by the Tennessee Eastman Hiking Club. So this Sunday and Monday we will be moving rocks, digging trails, and other activities we have yet to learn of. The part of the trail we will be working on is one we haven't reached yet. So once we get back to hiking we will be hiking a section that we helped create. I imagine it will be a really satisfying feeling.
We then attended all of the raffles we signed up for, and I won a Gregory Marin 28 pack.
But as surprising as that was, while we were there we ran into one person we thought we'd never see again: Teddy Bear. We left him at Dick's Creek Gap with a busted knee over 20 days ago. We were sure he'd have to quit. But there he was. It was delightful to see him again, and he continues being a testament to staying on the trail no matter what.
After that I got my hair cut and then it was time to eat. Four Pines Hostel gave out pork sandwiches and another booth was dolloping venison chili and vegetarian chili into bowls.
We then walked to the Damascus United Methodist Church to see Jennifer Pharr Davis speak about traveling around the US with husband and toddler on a book tour. We fistbumped a few times as we kept getting reassured that we are doing things right.
When we got back to our tent is was dark and we decided to see if we could find our friends. Tent city is scattered throughout an open park and the woods that border it. Wandering into the woods as night was like entering a dream world. There were different camp cities with their own unique names and signs.
We got to the drum beat bonfire where people danced around and made screaming animal noises.
Someone was swinging fire and lights. It was a bizarre mix of people and experiences.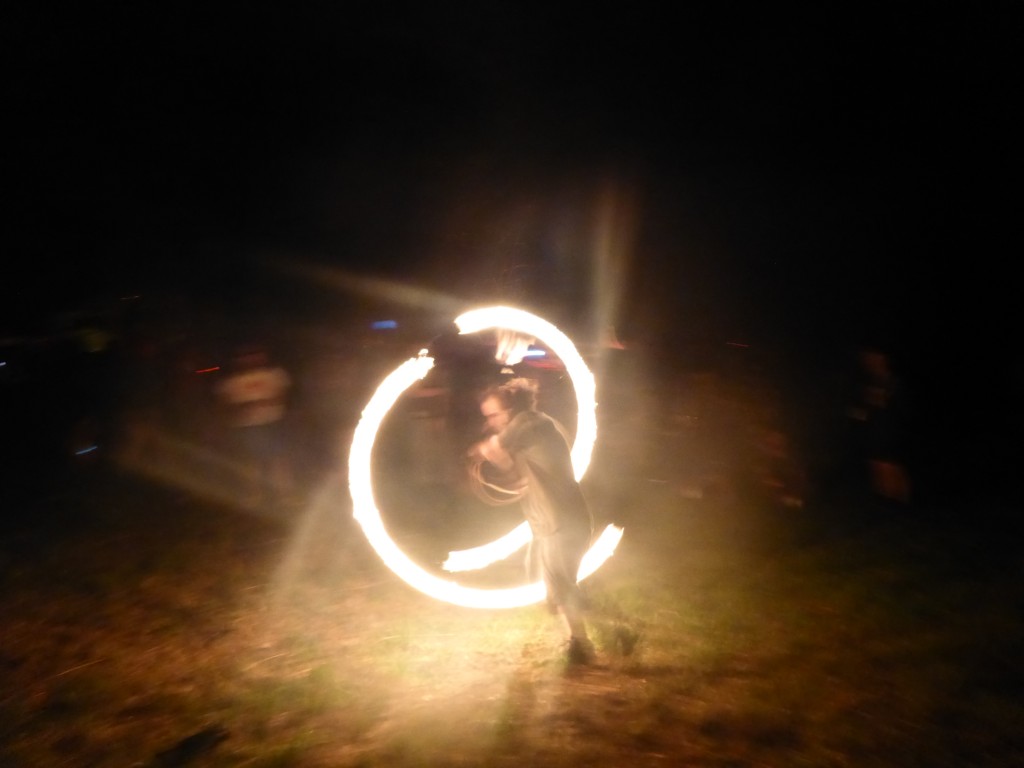 At one point, out of nowhere, a small expressionless child pointed a water gum at us, fired, and disappeared into the labyrinth of nightmares.
We walked around for an hour before we needed some semblance of proper society. Now we are back at the tent sunburned, tired, and ready to do it all again tomorrow.
Day 50: May 16th – 0 miles!
I woke up on the ground as my brand new sleeping pad leaked air overnight. I took it back to the Big Agnes booth to be fixed. We ate an AYCE pancake breakfast hosted by One Way.
We then walked around the vendor booths again. We entered and attended more raffles. It was mostly more of the same from yesterday.
We did walk in the hiker parade, which has a tradition of the locals shooting water at the hikers. Some hikers even brought water guns of their own. It was a lot of fun.

At the end of the day I went back to the Big Agnes booth to get my pad back, but they couldn't fix it and didn't have any more of the same sleeping pads as the one I turned in, so they gave me a really expensive superlight version. Saved me a pound. Great great company.
Day 51: May 17th – 0 miles!
Every time we see a part of the trail that is blocked by a tree or otherwise difficult to navigate I say, "What are you gonna do? It's run by volunteers." Today, we were those volunteers, and I will never disparage them again.
We woke up early and walked to the bingo hall where there were cars waiting to take hikers to the trail they would be maintaining. Old RidgeRunner was our chauffeur for the weekend. He is a seasoned hiker who has an impressive number of miles and trail maintenance hours under his boots.
We got the trail in Tennessee and worked on Section Five. Compared to what everyone else was doing, this seemed relatively simple. Apparently, as the years go on, if the trail is built into the side of a slope it slowly moves downhill. It was our job to bring it back up. That meant digging a new trail above and next to the old one. It was a lot of hard work and we learned a lot of new tool names, including my favorite, the polaski. We got to dig out the trail and even put a step in.
We got our section done pretty early so we helped Section Six dig out rocks.
However, the most exciting thing we got to do that day was each paint a white blaze on the trail. It felt good to do all that work. I am now super excited to hike this small section we worked on, and to see our blazes as they guide us along.
Tonight we stay at Bob Peoples' hostel, Kincora. When we got to the upstairs bunks there was a man sleeping on the floor in no particular orientation. A hiker, who didn't see him, stepped on his head, waking him up. The hiker apologized profusely, but the now very awake man disregarded him saying, "No problem. I could use a good kick in the head." That was my introduction to "Baltimore" Jack.
Day 52: May 18th – 0 miles!
It was our second day of Hard Core. Since we finished our section yesterday we went to help the other sections. I went to section 8 and broke rocks with two older maintainers, while Ukelady moved trail upslope.
We had a lot of fun. Unfortunately it started to rain at the end of the day as we hiked back with 15+ pounds of tools in our hands.
Back at Kincora "Baltimore" Jack and his helpers were making a feast of soup, salad, spaghetti, and garlic bread. It was all delicious.
When it came time for cake, Bob Peoples and Camo cut the ceremonial first slice together.
During dinner prep, "Baltimore" Jack turned to Ukelady, who was sitting on top of me at the moment, and asked her if we were a couple. Ukelady answered, "We are in love," and that was good enough because Jack showed us to our brand new couples suite.
Inside was a big bed with fresh linens. Luxury of the highest degree here on the trail. Unfortunately, nothing could be done about the penetrating smell of cats as recently a litter had been born somewhere on the premises.
Day 53: May 19th – 10 Miles
It was our last morning at Kincora. We watched hikers leave one by one as they were driven back to wherever they got off the trail. Our assigned ride back to Spivey Gap didn't show up so Bob Peoples drove us there himself. And that is Bob. He wasn't planning on driving us and wasn't expecting it, but without a moment's hesitation he took us. Spivey gap, by the way, is an hour each way. Bob is the best kind of person. He has a suggested donation of $5 at his hostel. A little while ago it remained unchanged at $4, and his friends had to fight to convince him to add $1.
The hike today was great. Beautiful flowers lined our path.
The only downside was that I had to carry all of our Trail Days SWAG ten miles in my new bag as it was clipped it to my pack.
When we got to Erwin, TN we ran into another AT legend, Miss Janet. She is a famous Trail Angel, a person who provides goods or services to hikers usually in the form of rides or a free bed. She gave us some good camping options close to Erwin and told us the best spot to hitch from. She also said to call her if we couldn't hitch.
Tonight we are camping on a sandy beach next to the river.
Affiliate Disclosure
This website contains affiliate links, which means The Trek may receive a percentage of any product or service you purchase using the links in the articles or advertisements. The buyer pays the same price as they would otherwise, and your purchase helps to support The Trek's ongoing goal to serve you quality backpacking advice and information. Thanks for your support!
To learn more, please visit the About This Site page.