Raindrops Keep Falling on Our Heads 
Day 54
The possible overnight rainstorms never quite came and the morning air still felt as though the rain would come at any moment. Before we left the shelter we refilled our Easter eggs, in preparation of recycling the trail magic by hanging the eggs in trees up the trail.
The day turned out to be beautiful, the sunshine much welcomed as we were doing more long miles. Tonight we would end at Woods Hole Hostel, which we had been told we could not pass up. Woods Hole is well on its way to becoming self-sustainable, something Nate is very interested in. We just had to go.
Halfway through the day Eddy caught up to us and we began to hike with her. She and I chatted away as Nate led us through the wilderness. Without noticing, we started going up. Then we thought we passed the last shelter before the hostel. Eddy and I were curious enough to stop and check the guidebook, hoping that our day was nearing its end. Nate kept walking. Before I knew it, he was out of sight. I hurried around the next bend. He wasn't there. My pace increased and Eddy and I said our farewells. We would meet at the hostel, if not the top of the mountain.
Frantic, I raced up the hill, hoping I was headed toward Nate. Awful thoughts of the most unlikely scenarios rotated through my head. What if he took a side trail, not noticing he was no longer following white blazes? What if he reached the turnoff for the hostel and flew past it, not having a guidebook to show him the way? What if he wasn't waiting at the top of the mountain for me? What if I had somehow passed him and we would both be searching for one another the rest of the day? I watched the sunflower seeds on the trail, wondering how long they had been there, if they were from Nate or a hiker who came through last week.
My fears subsided when I turned the corner and caught the backside of Nate's legs as he meandered up the mountain. Out of breath from sprinting up the incline at top speed, I could not call out to him. I had to hike even faster, to the point where I could barely touch his back with my trekking pole, and tap his shoulder. Alarmed, he turned around, ready to defend himself. When he realized it was me, all I could pant was, "Hug me."
The rest of the hike to Woods Hole Hostel was uneventful. At the trailhead, we noticed a flyer advertising a missing English Setter with an orange collar. We noted the phone number to call in case we ran into him.
Approaching the front porch of the hostel, we were greeted by the owners, employees and fellow guests. They advised us to drop our packs, remove our shoes and decide if we wanted to stay in the house or the bunkhouse and if we wanted to eat dinner or breakfast. In search of a comfortable stay, Eddy, Nate and I opted for an indoor stay with both meals. 
We opened the door of the house to be led to our bedroom for the night and there sat an English Setter wearing a blaze orange collar! Someone had found the missing dog! We were quickly informed that two of the other hikers staying at the hostel had found the dog the night before, but they wanted to take him to the vet before contacting the owner.
That night we ate a hearty meal of soup and stir-fry, followed by a scoop of ice cream, garnished with cookies. Then we fell asleep atop the most comfortable mattresses we had experienced in 54 days.
Day 55
"You lost your sole on the Appalachian Trail!" Eddy, Nate and I were chatting and laughing about our stay at Woods Hole. We finally left after the ten a.m. yoga session and we hiked up to two men, one of whom was holding his boot in one hand, and it's sole in the other. It was a father-son pair.
Desperate for a way to temporarily fix the boot he'd had for over fifteen years, the young man borrowed Nate's duct tape and strategically wrapped his boot, sole attached, until it looked like something an astronaut would wear. He just needed to get another ten miles down the trail to Pearisburg. Nate took the opportunity to bestow trail names on them, and the pair became Sole Train and his father Caboose.
 Planning a short day into Pearisburg to fulfill her craving to watch a movie on her phone using wifi, Eddy tried her best to convince Nate and me to finish at the town as well, but Nate's legs were feeling fine and we wanted to make the miles when we could. Plus, we had just spent the night under a roof, in a bed, eating real food, and doing that twice in a row seemed strange. We craved our tent. 
Partway into the day we heard news that the dog at Woods Hole had been returned to his owners! What a wonderful Easter surprise for those who had been missing him for so long. 
Day 56< The frayed stitching and paper-thin padding on the shoulder straps. The ninety degree bend in the back support. The visible knots over my collarbones and swollen knobs on my spine. Nate was trying to convince me that I needed a new pack. I resisted. Mine would make it to Maine.  In our attempts to cover the next 100 miles of trail in 5.5 days, we didn't let down on our mileage today, and, with the exception of the final 1.5 mile jaunt straight up, we both felt great. Nate's legs had healed! Bee-bopping up a grass covered hill, listening to James Taylor tunes blaring out of my cell phone, I felt as though the day was perfect. Not wanting to break the jet-speed rhythm we found ourselves in, but wanting to stop, sit in the grass, enjoy the sun and eat a snack, we chose the latter. 
Nate has always claimed to hate jelly beans, but he was ravenous the night before as we set up our tent and dumped an entire bag of beans into his mouth at once. That changed his opinion. As we sat on the grassy knoll I handed him jelly beans one by one, asking him to critique each flavor. He didn't like the good kinds (orange, red, black), but when I gave him a yellow one he turned to face me with eyes as big as saucers and half-whispered, half-screamed, "These lemon ones are fantastic!" And now he is a fan of jelly beans, especially the yellow ones. 
 The day became more humid as we crept along but we made it to the shelter without having been rained upon. Again, Nate was starving. He whipped up dinner and I set up our sleeping pads and sleeping bags inside the shelter. My hiker hunger has died down, but knowing how crucial it is to have the energy to hike, I forced myself to eat with him. It wasn't as hard once we switched from our dinner of Ramen noodles to our dessert of solid chocolate eggs dipped in peanut butter. 
Day 57
We had planned to walk over twenty miles but the heavy fog floating around our feet and the persistent showers falling from the sky made us question if we would make it past the shelter eight miles from where we started. The rocky terrain was not helping. We kept moving and eventually outlasted both the rocks and the rain. The day improved, slightly. 
"We have gone at least two miles," Nate puffed through gritted teeth as he crawled up a mountain. "Check the map." I wasn't in quite as bad of shape, and I knew that the last time I checked, the mountain was 1.5 miles long, a steady, gradual incline. I was wrong. The mountain was 2.5 miles long and steep. No amount of apologies made it easier for Nate to climb, but he wouldn't take a break until the top. Complaining that I had misled him about the ease of the hike, I told him that he could be in charge of reporting elevation and terrain from now on. He declined the promotion.
Hours and miles later we were just one flat mile from the turn off for the shelter (I made sure to be more accurate in my descriptions of what lay ahead). Nate pulled out the camera to document a daily recap, but instead got to document something he'd never seen before: himself sneezing. He was beyond excited to watch the footage, having always loved a good sneeze and never having witnessed his own accomplishment. It was just the boost we needed after the morning's rough hike.
The shelter we had chosen for the night was 0.4 miles off trail. And, since we were walking a ridge line, the shelter was straight down. We had no choice but to head down, as it was the only water and the only flat, non-rocky spot we would see for miles. As we got closer to the shelter we noticed clothing and tents hanging from the clothesline strung out front. There were four men gathered in the shelter, each with blisters festering on both feet. They were planning a six-day, 100-mile section hike from Pearisburg to Daleville. Three days in, they had already lost toenails and much spirit. We tried to cheer the group up before heading to bed. They still had three long days ahead of them.
Day 58
"Why are you going so slow?" I called to Nate as we trudged up a mountainside.
"This is as fast as I can go!" he admitted. It had been a long couple of days and we were nearing the end of this one. 
"Look at that sky over there," I demanded. "Doesn't that make you want to go faster?!"
It was going to storm. We were on top of a mountain. With metal trekking poles in our hands. I wanted to get to the shelter. Fast.
Though he claimed he could go no faster, Nate started running once we made it to the downhill side of the mountain. I was more than thankful as the wind had picked up and goosebumps, due to fear more than the dropping temperature, had appeared on all of my appendages. Alternating between a run and a fast walk, we made it to the bottom in no time. But we still had one more mountain to climb. 
On the way up, Nate let me go ahead of him. He stopped to pick some flowers and long, spring grass. I could not fathom why he was collecting such things in the middle of a storm, but I wasn't going to let it slow me down. I took long, fast steps up the hill. Then it started raining. Then it started pouring.
Accepting the fact that we were going to be soaked in seconds, we didn't stop to throw our ponchos over our heads. We kept hiking up and up until we reached the crest of the incline, where the trees became less dense. And the rain became heavier. On a flat section, I started jogging. Then we heard thunder and I started running. Then we saw lightning and I started sprinting. When we reached the turn off for the shelter, I opened my stride as I was now moving through a meadow instead of a rocky trail. I looked back to see how far behind me Nate was and he signaled for me to go ahead. Another flash of lightning struck, seemingly right before my eyeballs. The world was pink for a second.
Dripping wet, we reached the shelter and flung ourselves inside. It was a tiny, dirty shack, but it was home for the night. Twenty minutes later the rain stopped. An hour later, beyond our belief, the four guys who we shared the shelter with the night before appeared. All they could talk about was getting off the trail the next morning. 
Day 59< "Hey what should I do with this?" Nate was holding up a men's wedding band that he had found sticking out of the mud between the privy and the shelter. It didn't belong to any of the four men we were sharing the shelter with, so I told him to hang it on the nail next to the shelter's log book. Hesitant, Nate did so. After a good night's rest, the four men were still set on ending their trip a couple days early and heading home. Looking at the condition of their feet and the looks on their faces, we couldn't blame them.  We accepted their extra food and left the shelter. On the way back to the AT, Nate thought of a name for the group and wrote it in the dirt: Four Brothers. 
For hundreds of miles we had been hearing about Homeplace Restaurant in Catawba, Virginia.  They offered home cooked meals and family-style dining, which in hiker language means good food and a lot of it. At three o'clock, an hour before the Homeplace opened its doors, we left the trail for a 1.4-mile road walk to the restaurant.
We arrived before 3:30, leaving us plenty of time to make ourselves presentable before we were seated at a cute table for two next to a window in the front room. Our waitress came to get our drink order and our meat order. Then, instantly, our food appeared.
She brought us pulled pork, ham, fried chicken, green beans, mashed potatoes, coleslaw, applesauce, more beans, biscuits and apple butter. Before we could even taste all of it, our waitress offered to bring us more. We decided that we would first eat everything we had in front of us before asking for seconds. We never asked for seconds. The first round of food was enough to put us in the perfect condition to hike another five miles with bellies full to the brim. 
McAfee's Knob is an icon of the Appalachian Trail. Nate and I sort of snuck up on it, only realizing we'd be passing the knob a few days prior. But like Clingman's Dome and the Grayson Highlands, the weather had once again made a much-anticipated sight on the AT fall short of our imaginations. It was foggy, the sky was gray, and looking out over the rock was akin to staring at a blank piece of paper. Nothing.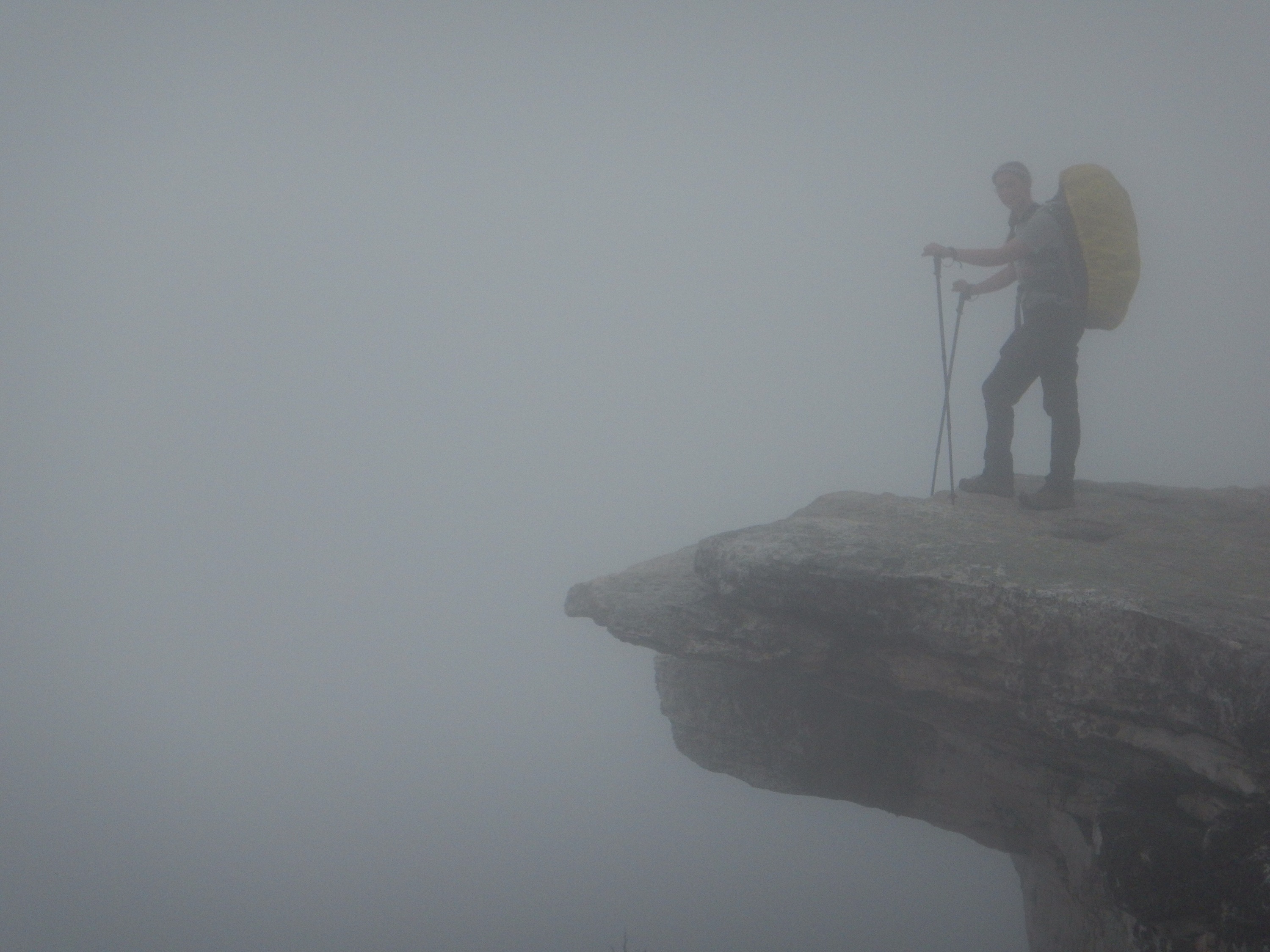 Not allowing the weather to spoil McAfee's Knob for us, we each posed on the edge of the rock for a few pictures before moving on to the shelter 0.7 miles past the knob.
"We'll come back for a sunrise tomorrow," Nate promised me. "Hopefully the sky will have cleared up by then."
Affiliate Disclosure
This website contains affiliate links, which means The Trek may receive a percentage of any product or service you purchase using the links in the articles or advertisements. The buyer pays the same price as they would otherwise, and your purchase helps to support The Trek's ongoing goal to serve you quality backpacking advice and information. Thanks for your support!
To learn more, please visit the About This Site page.