Ramen Noodles and Snickers Bars – Is the Typical Thru-Hiker Diet Really Wise?
One of the questions I've been mulling over as my husband and I prepare for our 2017 thru-hike is what to eat on the trail.  This is not a minor issue.  Hiking ten to twelve hours every day for months on end requires an incredible amount of calories — somewhere between five to seven thousand each day.  But food isn't easy to come by in the wilderness.  Whatever we carry has to be lightweight, calorie-dense, and non-perishable – thus the infamous hiker diet of Ramen noodles and Snickers bars.  But is junk food really the best thing to eat on a thru-hike?  Does what we consume on the trail influence how much energy we'll have?  With only eight months left before my hike, I decided to find out.  I wanted answers to the following questions:
What is the best way to fuel an endurance event that lasts six months? I know about carbo-loading from my long-distance running days.  But a thru-hike is not a one-day event like a marathon.  How do we prepare for something that lasts this long?
How can a hiker avoid a post-hike weight gain? Many of the former thru-hikers I've met are overweight, which took me by surprise.  Why have so many formerly athletic people put on weight after their hikes?  Did they simply have trouble eating normal portions after binge-eating for half a year?  Or did hiking somehow change their metabolism?
Most people want to lose a few pounds on their hike. Most of them will succeed, whether or not they keep it off long-term.  But what if you don't want to lose any weight?  Is it possible to maintain your current weight while exercising like a maniac? Or does everyone end up skinnier, whether they want to or not?
By researching, I found some answers.  Now keep in mind that I'm not an expert.  I have absolutely no nutritional training, so take this for what it's worth.  But here is what I've learned and how I plan to incorporate this information into my hike:
– In general, a long distance hiker's diet should consist of about 20% protein, 50% carbohydrates, and 30% fat.  These percentages vary depending on the source, though, so this is just an estimate.
-To have the energy for a multi-month endurance event like a thru-hike, your body needs to burn both fat and glycogen for fuel, not just glycogen like a marathon runner's does.  Interestingly, in order to train your body to burn fat, you should consume foods containing medium chain triglycerides.  The best sources are coconut oil, palm kernel oil (not palm oil, which is different), and sheep's milk cheeses like Manchego.  Since I doubt I'll be able to find Spanish cheese at convenience stores along the trail, I've decided eat peanut butter/coconut oil sandwiches for lunch, along with other healthy fats.
–Start the day with complex carbohydrates.  Simple sugars will raise your blood sugar too quickly, causing a subsequent spike in insulin, followed by a crash a few miles down the trail.  It's better to eat oatmeal or other whole grains, along with some protein and fat.  Complex carbs will burn off more slowly, keeping your energy high.
-Half an hour before a steep ascent, add some simple carbs, such as a handful of dried fruit.  This will give you a quick burst of energy.  If you mix the dried fruit with nuts (gorp), you'll still have energy after you reach the top.
–It's essential to eat at the end of the day. This is when your body replenishes its glycogen stores and builds muscles.  Immediately after hiking, you should ingest at least 20 grams of protein with essential branch chain amino acids, particularly leucine.  Leucine is critical for muscle recovery.  One way to get enough leucine is by drinking some sort of recovery shake immediately post-hike.
-If you don't eat enough protein, your body will start burning lean muscle mass, which will make you weak.  You should eat approximately .8 grams of protein for every pound of body weight each day.
-In addition to their other health benefits, the Omega-3's in fish, flax seed, and olive oil have an anti-inflammatory effect, which can help with aching joints.
-On your rest days, you need to fill your depleted glycogen stores with lean protein and whole grains.  Unfortunately, most thru-hikers do the opposite, eating mostly carbs on the trail and then gorging on fat-laden foods in town, such as ice cream and pizza.  This throws their bodies out of whack.
-Don't forget your vitamins and minerals, along with electrolytes.
So what about that post-hike weight gain?  It appears that the typical hiker diet really might change your biochemistry.  Eating a diet high in simple sugars trains the body to only use carbs for fuel.  On the trail, while you are exercising twelve hours a day, the problems this causes aren't that obvious (other than feeling chronically lousy and tired).  Once you return to more normal levels of exercise, though, those problems are unmasked.  Your body has now become overly sensitive to insulin.  When you eat a typical diet high in refined foods and sugar, the resulting surge in insulin prompts your body to begin storing fat…and the pounds quickly pile on.  The solution is either to never stop hiking, or eat healthier foods both on and off the trail.
These are just some basic concepts, and since I'm not a nutritional expert, I can't swear to their accuracy.  But at least this gives me a foundation for planning my meals.  I'll still eat some junk food, of course, including those Snickers bars – but I'm going to take care of my nutritional requirements first. I'll let you know how it works out!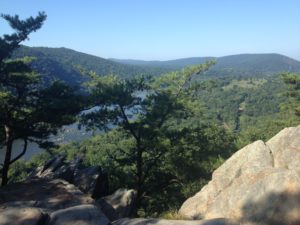 Affiliate Disclosure
This website contains affiliate links, which means The Trek may receive a percentage of any product or service you purchase using the links in the articles or advertisements. The buyer pays the same price as they would otherwise, and your purchase helps to support The Trek's ongoing goal to serve you quality backpacking advice and information. Thanks for your support!
To learn more, please visit the About This Site page.