Ready… Set… SLOW! (Day 1-5, Springer to Neel's Gap)
If you need me at any point in the next six months, I'll be out in the woods having the time of my life.
—
The first five days on trail went as well as I possibly could have imagined. No blisters, minimal knee pain, sunny skies, and great friends met on trail. So many trail names given and rejected. Lots of laughter and good conversation as we walk for 8 hours every day.
I am so happy to be on the trail right now.
I'm posting this from the Blood Mountain cabins, where the crew I've been hiking with for the past few days rented a cabin for Wednesday and Thursday nights. What, a zero so soon?? Yep! I rationalize it like this: Avoiding overuse injuries is priority number 1 this early in the hike. I already see lots of hikers dropping out due to knee pain, blisters, and burnout. Plus, I'm not on any schedule, the last one to Katahdin wins!
Let me take you back a few days, to where it all began…
Day 1
Start: Springer Mountain
Finish: Hawk Mountain Campsite
AT Miles Hiked Today: 7.4
Overall AT Miles Hiked: 7.4
Miles To Go Until Katahdin: 2,181.7
After spending the night in Dahlonega Georgia, my family and I drove up the forest service road to the parking lot about a mile away from the summit of Springer Mountain. The parking lot was busy, and we had to park on the side of the road despite getting there around 10:30 a.m. the first weekend in April did not disappoint, with sunny skies and many hikers as we climbed the 0.9 miles south to the top of Springer.
I signed the register at the top of Springer, took some pictures, and started heading north!
It felt pretty surreal to be out on the trail, passing white blazes. I've been imagining this for the past few years and to see it in living color was pretty strange.
The section from the summit back to the parking lot was the most treacherous section of the day, surprisingly. After this rocky section the rest of the day was gentle inclines and declines, with not too many rocks.
I passed and was passed by many thru-hikers. This is traditionally one of the busiest weekends to start a northbound thru-hike, and the hikers were out in full force. I passed a Ridge Runner after my first few miles who said that 70 thru hikers had started the day before! Pretty wild.
At my first water source, I met another thru-hiker named James. James was ex-military and carrying what looked to be a 70 pound pack. We decided to walk the rest of the day together and bonded over funny Greyhound bus stories.
About five miles in we ran into our first Trail magic of the trail!
I assumed that Hawk Mountain shelter was going to be packed with hikers, so James and I pulled up short at the new Hawk Mountain Campground for the night.
The day was pretty emotionally exhausting, and I could have gone to bed right then despite it being barely 6 o'clock p.m. But, I decided to be a little more social than that and go meet some of the other hikers. There are tons of solo hikers out here right now, and not everyone has grouped up yet, so lots of people just kind of hanging out in their tents by themselves. A bunch of us got together to talk before the sun went down, and the night ended with a 6 year old whose trail name was Thumblina the Candy Princess teaching me how to play gin rummy.
It was a good first day.
Day 2
Start: Hawk Mountain Campsite
Finish: Gooch Mountain Shelter
Miles Hiked Today: 8.5
Overall Miles Hiked: 15.9
Miles To Go Until Katahdin: 2,173.2

It was super cold as I woke up at the campsite. I sat in front of my tent eating blueberry frosted poptarts, and watched the sun rise above the mountains.
I got an early start out of camp today, & I hit a water source in about a mile and where I stopped to refill. I met a guy there carrying what look to be a 75 pound pack and asked him if he knew where the next water source was. Turned out this was the last water source for about 6 miles up and over several mountains.
A few miles down the trail, I met Seltzer and Nilla, two other thru hikers. We walked together for the rest of the day and got to know each other pretty well.
Seltzer earned his trail name later that day, as we were most of the way through the dry stretch without water, and he suddenly remembered that he had a La Croix seltzer in his bag that the company had sent to him for free to take pictures with out on the trail! We did a quick photoshoot and then he drained the Seltzer in about 5 seconds. Too funny.
Throughout the day we passed back and forth with the hiker with the 75 pound pack I mentioned earlier, who's trail name is Kodak. He has a big camera in addition to all of his other gear, and is taking lots of good pictures out on the trail. He's a cool young guy as well, so the four of us were hiking together almost the whole day.
We finally got to Gooch Mountain shelter around 3:30 p.m. and got the last few tent pads that were available. Everyone who came in after that point had to set up there tents on a slope, which meant to they would wake up in the middle of the night bunched up at the bottom of their tent.
There were probably close to 40 hikers at the shelter tonight. Pretty ridiculous, this isn't exactly what I thought of when I picture to serene Mountain setting. The guy in the tent right next to me was snoring terribly all night, and was up at 7 a.m. the next morning on a conference call with his family because he had service. He was super loud and on speaker phone the whole time, and the phone call lasted about 30 minutes. It seems like I'm right in the thick of the bubble, and I need to start avoiding shelters at night.
Before bed I went over and spoke with a guy who is in a hammock near me named Thomas. He too is a young guy and I enjoyed speaking with him, so I invited him to come walk with us the next day.
As I went to bed, the wind started to pick up, & I awoke again at around midnight with the wind absolutely howling. The wind was blowing so hard that the bear bag cable snapped, which sounded like a gunshot in the middle of the night. I was really chilly as well and I found a difficult to get back to sleep afterwards. Even though the days have been pretty warm, the nights have been very cold up to this point.
&nbsp
Day 3
Start: Gooch Mountain Campsite
Finish: Bush camp short of Lance Creek
Miles Hiked Today: 8.1
Overall Miles Hiked: 24.0
Miles To Go Until Katahdin: 2,165.1
This was a great day. The climbs weren't bad at all, my legs were feeling great, and we had an unexpected shuttle ride down a mountain at woody gap to get pizza, soda, and chips at the convenience store nearby. I had been running a calorie deficit the last couple of days, so I ordered an entire pizza for myself when we hit town, as did the other guys.
Kodak got a pack shakedown by Bob Peoples aka sir packs a lot, the owner of the top o' Georgia hostile, which is about 30 miles up trail. Bob was running the shuttle because they just opened and outfitter down from woody gap, right next to the convenience store. Kodak ended up sending home about 20 pounds worth of stuff and has been significantly happier since he got all that weight off his back. He even leads the group sometimes!
Seltzer's knee started bugging him today, a sharp pain on the outside of his right knee. We are hoping it doesn't turn into anything else, but joint pain is really common at this point on the trail, due to strained ligaments.
We each packed out a couple slices of pizza for dinner that night, so when we're old into camp that night, we were able to eat the pizza then use the cardboard boxes as a fire starter. We had our own campsite about half a mile short of Lance Creek, as we figured that there would be tons of people at Lance Creek, which we were right about.
The 5 of us were talking about what are plans were the next couple days. Seltzer and nilla were going to have a shorter day tomorrow, followed by a really short day into Neal's gap the next day. The rest of us wanted to get into Neil's gap tomorrow. As we talked it over, we decided that we could all hike in, but the problem remain that the hostile was filling up by about noon so we would have to wake up early in order to get our spots reserved. Seltzer had a great idea to call ahead to see if I private cabin was available, which cost about $100 per night, but since the were five of us and actually would end up being cheaper than the hostile. Since he had service at the camp site he called and they did have some openings, so we reserved for 2 nights, taking our first zero of the trail in the very first town. It was Thomas's birthday on Thursday, so we decided we should celebrate a little.
We got a gorgeous sunset, and all went to bed very happy, bellies full and plans to go into town the next day.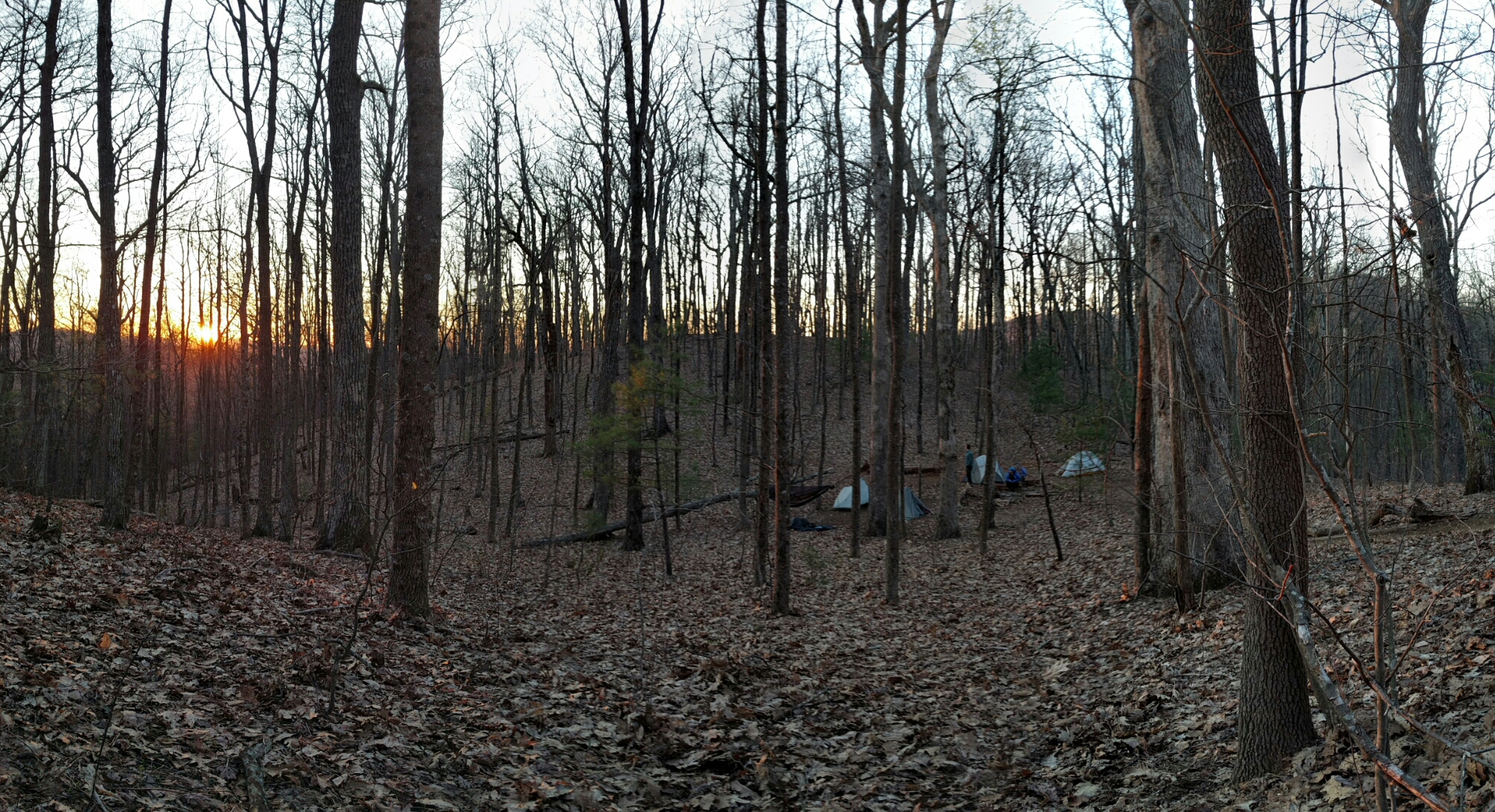 Day 4
Start: Bush camp short of Lance Creek
Finish: Neel's Gap
Miles Hiked Today: 7.7
Overall Miles Hiked: 31.7
Miles To Go Until Katahdin: 2,157.4
This was our coldest morning yet waking up, so is pretty difficult to roll out of our sleeping bags, but we got on trail around 830 with heads full of warm food once we got to town. We knew we had Neil's gap in about 8 miles.
The real fun for the day started once we had blood Mountain, where we had quite a bit of elevation gain, followed by about 1400 feet of descent into Neil's gap. The down hills are much more painful than the uphills or the flats for me, & I need to go very very slowly as I'm going downhill to make sure that I don't stress my knee.
It quickly became very clear that Seltzer's knee injury was going to be an issue. He was limping very slowly and was visibly frustrated the entire day.
We got fantastic views from the peak of blood Mountain, and it was all downhill from there.
We rolled into Neil's gap around 3 p.m., and saw a bunch of hikers out front scrambling to find accommodations, as the hostile was already full for the night. We are super happy that we booked the cabin the so we don't have to worry about anything!
We watched the old movie Volcano as we wrapped up the evening eating entire pizzas once again, for the second time and two days. Seriously, the hiker hunger is real.
Day 5
Start: Neel's Gap
Finish: Neel's Gap
Miles Hiked Today: 0!
Overall Miles Hiked: 31.7
Miles To Go Until Katahdin: 2,157.4
So, I'm sitting on the porch of our private cabin writing this blog entry. If feels like the lap of luxury here, with a running water, our own shower, & I got to sleep in a bed last night! It's the little things.
We've done absolutely nothing but watch old terrible movies on VHS the entire day. We cooked bacon, eggs, and biscuits for breakfast, and we're all trying our best to get those calories in before we have to leave town again.
Unfortunately it looks like Seltzer has a pretty bad knee injury, and will have to go off trail for a little bit. We're going to see how it looks tomorrow morning before the rest of us hike out, but I think he's going to go home and get it checked out before he figures out his next move. The plan is for me, Kodak, nella, and Thomas to try for the 11.5 miles tomorrow to low gap shelter. It'll be my longest day yet, but the water doesn't look very good tomorrow, with a long stretch before low get that we would be unable to stop at.
All in all, the trail has been everything I expected it to be and more. I'm so happy I pulled the trigger on the hike this year. Hoping for many more pain free miles! I'll check in from Hiawasee Georgia, which is our next stop.
Affiliate Disclosure
This website contains affiliate links, which means The Trek may receive a percentage of any product or service you purchase using the links in the articles or advertisements. The buyer pays the same price as they would otherwise, and your purchase helps to support The Trek's ongoing goal to serve you quality backpacking advice and information. Thanks for your support!
To learn more, please visit the About This Site page.