Reducing Pack Weight After The Big 3 – Bag Of Magic Potions
It's a well-known fact that the easiest way to reduce your base weight is by scrutinizing your Big 3. Tent, Sleeping Bag, Backpack. You might have just dropped $1,200 on the lightest, most badass Big 3. But then what? Are you just going to throw bulky clothes and giant tubes of sunscreen in your pack before hitting the trails?
It's taken me years to refine the little tubes of magic potions that I carry. Travel sizes are a nice place to start but ultimately, it's always more than one person needs. Plus, I'm picky. As a cancer survivor I care about my exposure to chemicals, especially those in hygiene products. My potion bag was first revolutionized when I found dropper bottles that were small enough. Because of the size and color selection, Ultralite Outfitters is my go-to shop for mini dropper bottles.
So here's what I carry: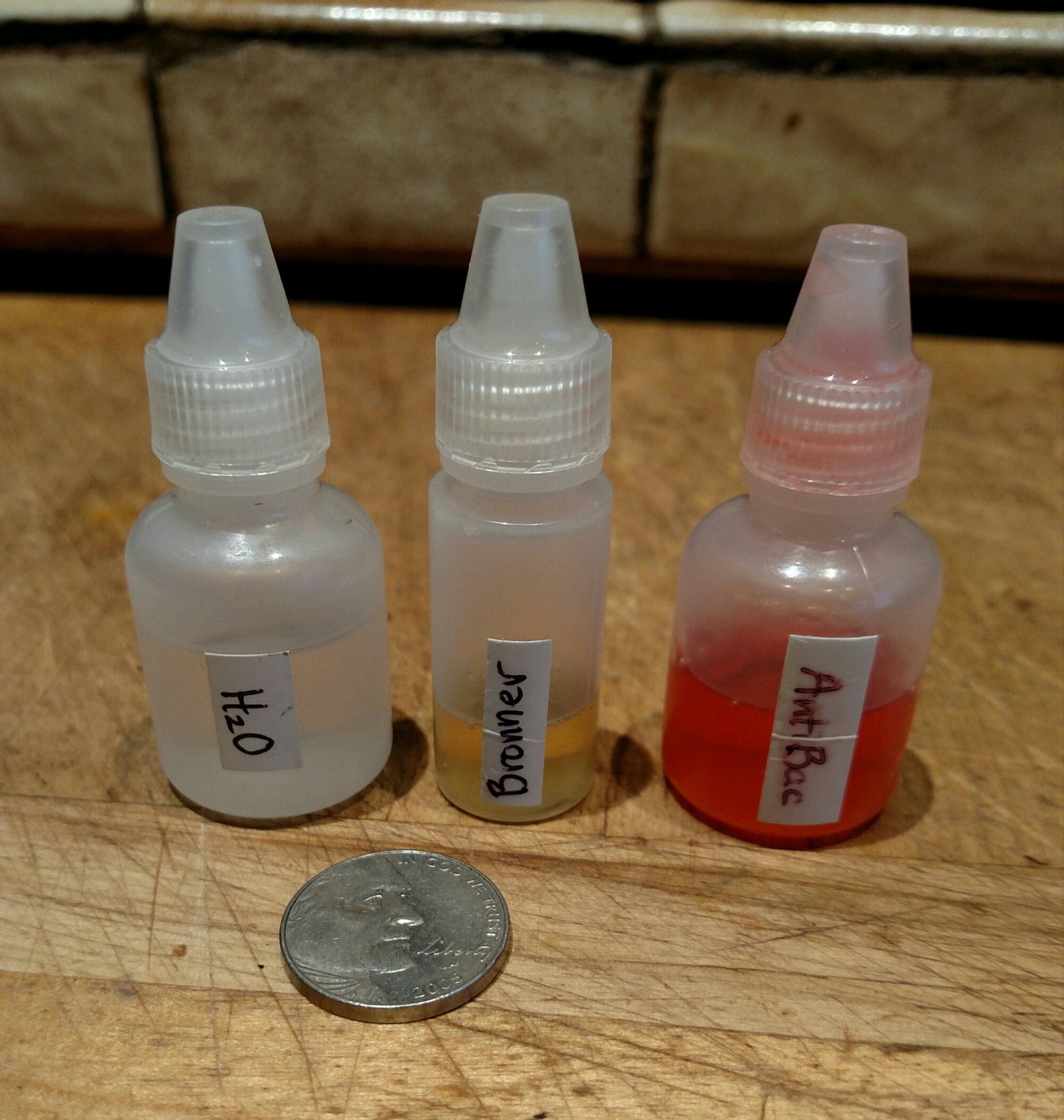 10 ml dropper with Hibiclens – Due to my high susceptibility to infections, I use this toxic and very powerful anti-bacterial wash instead of anti-biotic ointment like Neosporin. I also use it to sanitize my needle before blister management. The 10 ml droppers are a bit on the big side but filling them is enough for an entire thru-hike.
6 ml dropper with Dr. Bronners Liquid Soap – For body and hair on those lucky days there's a shower but no soap. Works in the washing machine too!
10 ml dropper with MSR Sweet Water Purifier Solution – It's basically bleach and my only water treatment method.

contact lens cases with sunscreen, shea cream and chafe cream – The second revolution. This way I can carry my favorite organics without a lot of weight. The two lens cases with magic potions weigh a total of 1.4 ounces. I choose to cover my body with clothing rather than use lots of sunscreen so one eye cap should be enough. A new special addition for the AT is the butt paste. Wish me luck. And I love my shea cream so I've got two caps worth.

essential oils – three 5/8 dram glass bottles with Lavender, Peppermint and Tea Tree oils. More details on Lady on a Rock's blog here, which includes a Spark Naturals coupon code. They look heavy but the three only weigh .6 ounces. Lavender is handy for burns, stings, cuts, chafe and as deodorant. Peppermint oil works on ticks, knocks out headaches and clears my sinuses. Tea Tree (Melaleuca) oil is good for flu, cold, athlete's foot, throat gargle and rash.

first aide kit – to repair me and my gear (3.1 oz)
~bandaids – 5. Maybe a couple extra at the beginning of a trip.
~moleskin – small square
~q-tips
~leukotape – Homemade strips on address label paper.
~manager knife – Gots to have my bottle opener, but I use the scissors the most.
~nail clippers
~needle tucked into ray-way thread
~emergency fire = lighter and candle
~safety pin
~cuben fiber tape
~thermarest repair = glue dot and patch
~tenacious tape – small square
dental kit (1.1 oz.)
~Zpacks toothbrush
~waxed floss – also for blisters and gear repair
~Zpacks toothpaste
I section them off into ziploc freezer PINT bags and then put the bags into my handy 1 gallon paint strainer stuff sac. The magic potions weigh in at 3.3 oz., dental kit at 1.1 oz., repair kit at 3.1 oz. That's a total of 7.5 ounces for my Harry Potter bag of tricks.
Getting your magic potions into such small portions definitely takes time. Probably as much time as you spent researching your Big 3. But when you bust out your little bag of potions, you'll be the envy of the trail. For my entire gear list visit my blog, Journey Return.
Affiliate Disclosure
This website contains affiliate links, which means The Trek may receive a percentage of any product or service you purchase using the links in the articles or advertisements. The buyer pays the same price as they would otherwise, and your purchase helps to support The Trek's ongoing goal to serve you quality backpacking advice and information. Thanks for your support!
To learn more, please visit the About This Site page.