Reflecting on AT Favorites
It has been over a month since we completed our southbound thru-hike on the Appalachian Trail.  We had some post-hike adventures planned which helped focus our thoughts and combat the looming post-hike depression.  Our adventures took us to Atlanta, followed by Disney World where we took our final descent down Splash Mountain and then to Philadelphia before heading home for the holidays.  Reality tried to creep in several times, but there was always something to distract our thoughts.
However, a month later, those distractions are becoming less and less.  We're looking forward to the comforts of home but already miss life on trail.  It will be nice not having to worry about the weather, putting on wet, smelly clothes, or digging cat holes, but we will miss the small moments like hiking under headlight in the early morning, the warmth of our sleeping bags, or hearing the owls each night at dinnertime hooting, "who cooks for you, who cooks for you aaaalllll."  Most of all we'll simply miss just being in nature all the time.
We arrived home a few days before Christmas.  It was so nice being around familiar faces, family, and friends.   While thru-hiking, it seemed like life stands still.  Our world on the trail is very small, but upon returning home, everything sped right back up, and life was marching on with or without us.  We miss the simplicity of life on the trail.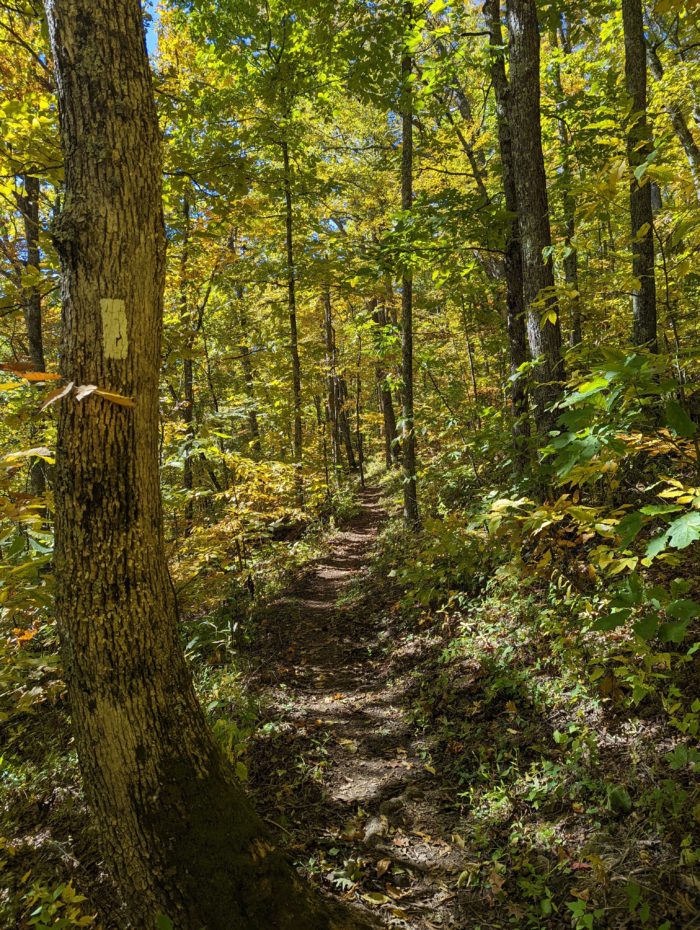 Being home for the holidays has allowed us some time to break down our thru-hike and recap many of our favorite memories.  By the numbers, we averaged 13.71 miles per day.  When taking out the 15 zeros we took, the average bumps up to 15.13 miles per day.  Our biggest day on trail was 26.9 miles with our shortest non-zero day being only .6 miles.  We also completed 12 neros.  Mileage for a nero, or near-zero day, can vary depending on the hiker's mindset. We are counting days that we hiked half of our average non-zero mileage as a nero so that includes any day that we hiked less than 7.5 miles.
Miles per month:
| | |
| --- | --- |
| June | 40.8 |
| July | 315.2 |
| August | 424.5 |
| September | 472.6 |
| October | 470.5 |
| November | 443 |
| December | 27.7 |
We started off very slow averaging a little over 10 miles a day through Maine and New Hampshire.  While at times it was challenging to end our day early, usually around 4pm, this really helped build our legs and hiking mindset.  We believe these early decisions likely led to the success of our thru-hike, plus this was our favorite part of the trail.  We didn't complete our first 20-mile day until day 60 in Massachusetts.  We did our most 20-plus miles days in Pennsylvania, just putting our heads down and grinding it out.  We did most of our neros south of the Mason-Dixon line, in October and November, which correlates with when we did most of our hostel hoping.
Where did we stay:
We absolutely loved our NEMO Dagger 2-person tent and spent 71 nights inside.  Forty-eight nights were spent in a shelter, mostly over the last month on the trail.  With no crowds, we had shelters mostly to ourselves in the south.  With less daylight, this made setting up camp a lot easier and breaking down camp in the morning which allowed us to start hiking earlier as daylight dwindled.  We spent 17 days in a hotel and 18 days at a hostel.  Four days were spent at a family/friend's residence.  One day we splurged and spent the night in at Madison Springs Hut, and one night we slept in Smart's Mountain Fire Tower.  If your hike allows it, spending a night in a fire tower makes for a lovely night, beautiful sunset, and incredible sunrise.
When we arrived at our campsite, we often used the remaining daylight to gather firewood and enjoyed the warmth of a fire on 48 nights.
Below we wanted to provide a list of our favorites.  This has always been the most challenging question we are asked and often changed depending on the day.  Most sections include our top five with a few honorable mentions.
Towns:
The trail passed within a few miles, or sometimes right through the center of several towns.  Our goal was narrow it down to five if we could.  We based our decisions on proximity to trail, re-supply, amenities, and of course food.  We could easily list almost every town.
| | |
| --- | --- |
| Eric | Hayley |
| Monson, ME | Monson, ME |
| Harper's Ferry, WV | Hanover, NH |
| Bennington, VT | Warwick, NY |
| Warwick, NY | Franklin, NC |
| Hanover, NH | Delaware Water Gap, PA |
It is no surprise to see several of the friendliest places on trail listed.  We loved our time in Monson and said regularly throughout the journey that our biggest regret was not taking a second zero here.  We loved staying at Shaw's Hostel in the small hiker-friendly town, taking some time to kayak and eat at the Lakeshore Restaurant.  Hayley made it her goal to try every dessert there.
The trail passes right through the campus of Dartmouth College in Hanover, NH.  We camped just on the outskirts of the campus and were able to stock up on several snacks at the nearby grocery store.  Many restaurants are hiker-friendly, offering discounts or even a free item like a baked good from Lou's Bakery.  Hikers are able to use the lounge on campus in Robinson Hall to charge electronics and rest on the couches.  We also met Hayley's parents here, and it is always nice to see familiar faces on trail.
The AT passes right through Harper's Ferry downtown.  Full of historic landmarks, coffee shops, and restaurants as well as home to the Appalachian Trail Conservancy.  The downtown has an amazing ambience with the beautiful mountains looming close by.
We met Eric's dad in Bennington, VT a short drive from the trail. Downtown has several restaurants, breweries, and historic sites as well as an art college nearby. We enjoyed listening to live music on one of the stages in town and admiring the painted catamount sculptures throughout town.
It's hard to compete with being able to camp at an outdoor movie theater across the street from a cidery and pizza place that is also within close proximity to a grocery store.  Even before catching a ride into the town of Warwick, NY the trail passes nearby the best ice cream on the trail, the Bellvale Creamery. This was another spot where we met Hayley's family for some R&R.
Honorable mentions: Gorham & Lincoln, NH, Dalton, MA, Kent & Salisbury & Falls Village, CT, Boiling Springs & Duncannon & Hamburg PA, Daleville & Damascus & Glasgow & Waynesboro, VA.
Hostels:
| | |
| --- | --- |
| Eric | Hayley |
| Shaw's | Shaw's |
| Woods Hole | Woods Hole |
| Mountain Harbour | Long Neck Lair Alpaca farm |
| Long Neck Lair Alpaca farm | Mountain Harbour |
| Stanimals (Glasgow) | Stanimals (Glasgow) |
Our top hostels are also among the most common favorites which is no surprise. Please note there were a lot of hostels we did not stay in the north.
Shaw's in Monson is the first hostel SOBOs arrive at the last for NOBOs.  The energy and excitement here from both groups made for a really fun time.  The chill vibe, famous pancake breakfast, and access to town made for a memorable experience.  We often say our biggest regret on the trail was not taking a second zero.
Woods Hole is set on a 100-acre sustainable organic farm that has roots dating back to the 1880s.  The property includes a comfy bunk house, several animals, and among the best food on trail.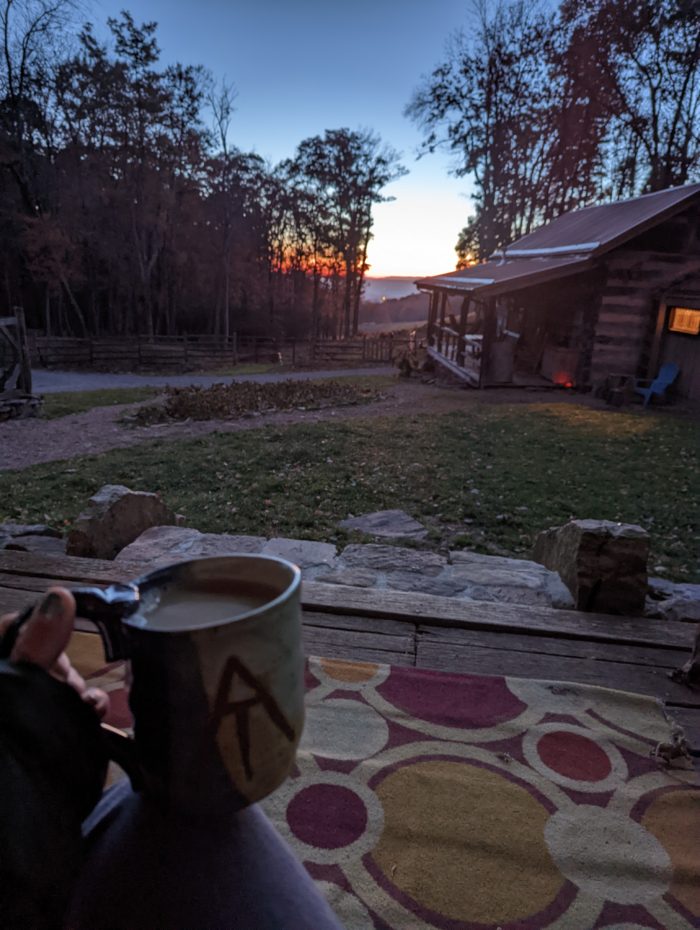 We enjoyed the Mountain Harbour bunkhouse to ourselves, one of the luxuries of going south.  This hostel includes a deck and then up at the B&B house there is a massive covered porch complete with rockers to enjoy relaxing in the outdoors.  Nearby is Station at 19e where we enjoyed live music.  But the main reason Mountain Harbour is on this list is because of the breakfast. It is easily the best breakfast we had on the trail.
Long Neck Lair is set near the trail on an alpaca farm.  We had heard good things about this place and decided to check it out.  We are so glad we did.  The setting is peaceful as we watched the alpacas and other farm animals.  Eric even made a friend with one of the barn cats.  In the morning, we were able to assist with feeding the alpacas, and Hayley was in her element as they swarmed around her.
Stanimals has two locations.  One in Glasgow, VA and the other Waynesboro, VA.  The hostel host in Glasgow is what made this place special.  Charlie is truly a gem of the AT going above and beyond for thru-hikers. The hostel had a nice homey feel that you don't always get in the larger hostels.
Honorable mention: Boots Off, Broken Fiddle, Gooder Grove, Ironmasters Mansion, Laughing Heart, Stanimals (Waynesboro), Station at 19E, Uncle Johnny's.
Our favorite town food:              
| | |
| --- | --- |
| Eric | Hayley |
| Homemade Meatballs | Pizza at Greenhouse |
| Pizza at Greenhouse | Pizza at Scotto's |
| Clam Chowder at One Love Brewery | Treats at Village Farmers Bakery |
| Village Farmers Bakery in DWG | Bellvale Creamery |
| Italian sub from Tony's Deli | Ben & Jerrys pints |
It is hard to beat a home-cooked meal with friends, which we enjoyed in Maine.  We thought about those homemade meatballs often and wished we could have them again.  We enjoyed camping on the property of the Greenhouse Restaurant less than a quarter of a mile from the trail.  The food, beer, and hospitality were second to none.
The small sleepy town of Delaware Water Gap is an outdoor enthusiast's dream, offering hiking, biking, and rafting along with other sports like fishing.  The Village Farmers Bakery offers all the treats a hiker or passerby could want including fresh baked turnovers.  The trail passes through the outskirts of town, and it's an easy walk to the fun stuff. We hope to return to this town to take advantage of some of the outdoor activities and of course have more pie from Village Farmers Bakery.
Hikers are always craving ice cream.  It is also a right of passage to eat a half gallon in one sitting at the halfway point.  Ben and Jerry's pints were a constant when in town. When we arrived in Warwick, NY, we patiently waited until Bellvale Creamery opened then went back for seconds to enjoy easily the best ice cream on trail.
Tony's Deli is a short walk from the trail.  It is the first deli SOBOs come to when entering the deli-mile stretch in the mid-Atlantic.  The Italian sub set the bar incredibly high.  Eric often craved seafood on the trail, but it is hard to get fresh seafood in the mountains.  However, the clam chowder at One Love Brewery hit the spot perfectly.
Honorable Mention:
Road Hawg Barbeque, Gorham, NH; Kline's Ice Cream, Waynesboro, VA; Pancho Mexican Restaurant, Daleville, VA
Our Favorite Trail food:
| | |
| --- | --- |
| Eric | Hayley |
| Knorr Creamy Garlic Shells with Old Bay | Kraft or Annie's Mac and Cheese |
| Pepperoni with ritz cheese crackers | Guacamole Tortilla Rice Wraps |
| Fast breaks (fun sized) | Poptarts |
| Three Musketeers (fun sized) | Sunbelt granola bars |
| Tuna – Thai Chili | Creamy Peanut Butter |
Having a hot meal after a long day of hiking is very enjoyable.  We're not sure how those hikers that go stoveless do it.  We can't fathom having to cold soak ramen or couscous.  Hayley got tired of pasta sides but Creamy Garlic Shells remained Eric's favorite especially with Old Bay seasoning.  Eric went through 3 Old Bay 2.6 ounce shaker bottles while on the trail.  Mac and Cheese is a thru-hiker staple and is also excellent when sprinkled with Old Bay.
Tortilla wraps are super versatile and great way to add extra calories to any meal.  There are many great tuna flavors to choose from but the Thai Chili was a constant followed by Jalapeño. Eric often had tuna for lunch while Hayley stuck with creamy peanut butter on a tortilla wrap.
Weight loss:
The last time we weighed ourselves was in Franklin about 1 week from the southern terminus.  Eric was down 37 pounds, and Hayley was down 16 pounds.  While we did experience weight loss, we also noticed a change in how we looked, more angular in the face and muscular in the thighs and glutes.
Most surprisingly, more muscular in the arms from our heavy use of trekking poles, not to mention the calluses on our hands. Any excess fat in our backs or shoulders was gone as a result of the heavy backpacks. Hard muscles formed under the layer of stomach fat as our core strengthened from the challenges of staying upright, especially on harsh terrain. Our waistlines shrunk by inches and those love handles were significantly lessened as well.
While our diet wasn't a particularly healthy diet, it was what we expected, and we did our best to keep it as healthy as we could when we were able. Now the challenge is learning how to eat like a regular human back in the real world.
Favorite State:
| | |
| --- | --- |
| Eric | Hayley |
| Maine | Maine |
| New Hampshire | New Hampshire |
| Virginia | Virginia |
| North Carolina | Vermont |
| Massachusetts | Massachusetts |
This is among the most challenging questions we get asked.  It has hard to compete with the rugged beauty of Maine hiking through pines, open ridgelines, and being able to cool off in the myriad of spring-fed lakes.  That ruggedness continues into New Hampshire with the rocky ridgelines above the tree line over the Presidential Traverse, Franconia Ridge, and Eric's favorite mountain – Mount Moosilauke.
Virginia is incredibly diverse.  This is due to mostly to the size of the state.  We did not experience the so-called "Virginia Blues" and were generally sad to leave this state.  From the Shenandoah to McAfee Knob, Grayson Highlands, and southwestern Virginia, this state has it all including high peaks, lush forests, dense thickets, and plentiful views.  The majority of our hostel stays were in Virginia including three of our top 5 favorites: Woods Hole, Long Neck Lair, and Stanimals (Glasgow).
North Carolina, we get back into the high peaks, but it was strange being above 6000 feet yet still surrounded by trees.  We did enjoy rolling over several balds like Max Patch where we enjoyed a spectacular sunrise.
Massachusetts and Vermont are beautiful states in their own right and often overlooked by their neighbors to the north.  The terrain is smooth with lush electric green forests, dense pine trees, clear streams, and thundering waterfalls.
Tennessee is on the list for honorable mention because of the sections that run parallel with the North Carolina border.  In the mid-Atlantic, we enjoyed pushing big miles, even through Pennsylvania when all we did was complain about the rocks and the rain.  The weather was perfect (mostly) and still enough daylight to hike from sun up to sun down.  We travelled with a mini SOBO bubble for the majority of our time in PA enjoying the comradery.  Plus, the deli stretch in New York and New Jersey provides tons of extra motivation.
Favorite Section:  Slightly easier than the state question but still incredibly challenging to answer.
| | |
| --- | --- |
| Eric | Hayley |
| 100 Mile Wilderness | Northern Maine |
| Bigelow Preserve | Southern Maine |
| White Mountains | White Mountains |
| Grayson Highlands | Southern NH |
| Mahoosuc Notch | Max Patch |
It is hard to complete with Maine and New Hampshire again here.  The majority of our favorite sections are from these states.  The dense pine forests, rugged rocky ridgelines, and crystal-clear spring fed ponds are why these sections make the list.
Southwestern Virginia was easily one of our favorite sections and included the Grayson Highlands, McAfee Knob, Tinker Cliffs, and the area surrounding the Long Neck Lair hostel. The Grayson Highlands in Virginia are beautiful.  The wild ponies and long horned cattle that roam this area add to the majesty of the grassy and rocky ridgelines.
Max Patch in North Carolina is always among the favorite spots on the AT and often incredibly crowded.  We were fortunate to have this summit to ourselves for sunrise.
Honorable Mention: Roan Mountains, Smoky Mountains, Shenandoah National Park
Campsite/Shelter:
| | |
| --- | --- |
| Eric | Hayley |
| Black Mountain, NY | Black Mountain, NY |
| Bromley Mountain, VT | Antlers Campsite, ME |
| Smarts Mountain Firetower, NH | Bromley Mountain, VT |
| Antlers Campsite, ME | Ed Garvey Shelter, MD |
| 501 Shelter, PA | Secret Shelter, NY |
Black Mountain, NY was among the most memorable campsites we had on trail.  This summit had a view of the NYC skyline that lit up at night.  It was strange camping within view of this stunning city.  We also enjoyed a small fire and Eric was able to complete his fantasy football draft.
Antlers Campsite, ME is located in the 100 Miles Wilderness.  This peninsula campsite provides a peaceful setting and swimming along with the haunting calls of the loon.  We did get poured on overnight and woke up with our tent in three inches of standing water but stayed dry inside.
Bromley Mountain, VT is a popular ski mountain and allows camping at the summer.  The summit includes a privy and warming hut that are open to hikers.  We enjoyed a nice sunset and one of the best sunrises on trail.
Smarts Mountain fire tower, NH was a unique camping experience.  We lucked out by getting the opportunity to camp in the tower itself.  After we had arrived, several other hikers showed up hoping for the same experience.  With limited space, they all tented below but joined us for dinner and a great view. It is a beautiful spot for a sunset and sunrise.
The Ed Garvey Shelter, MD was the shelter of our childhood dreams.  Double-decker Lincoln log style with big windows.  It's truly stunning and spacious. We enjoyed the shelter to ourselves and of course had a big campfire.
This 501 Shelter is a fully enclosed shelter with a massive skylight.  We had been hiking with several SOBOs at this point and enjoying the comradery of the group.  Plus, at the 501 Shelter, we ordered pizza!
The secret shelter on Jim Murray's property in NY was a safe haven from a very rainy day.  Jake the donkey graced us with his presence.  No favorite shelter list is complete without Jake!
To many honorable mentions to list.  We loved being in our tent at the end of a long night, so we would consider most campsites for this list.  We only really stayed in shelters when we expected rain or towards the end of the journey when the cold was starting to become a factor.  Aside from a few nights, we had the vast majority of shelters to ourselves or with only a couple other people.
Favorite gear:
We have commented on our gear several times throughout our journey and the importance of buying the right gear for your specific style of hiking.  We are not lightweight hikers and were comfortable carrying loads in mid to upper 30-pound ranges.  We carried several luxury items including a hammock for the first half of the trail, two stoves (one for just boiling water and one for cooking meals in) as well as an extra tarp.
Eric's favorite piece of gear was the Hyperlite Mountain Gear Versa ultralight fanny pack.  He got this when we arrived in Front Royal, VA.  Being able to store his phone in the waterproof pouch made taking pictures a whole lot easier as opposed to storing it in the brain of the backpack.  We took 2,354 pictures along with 130 videos. He could also store a pair light hiking gloves, hat, and sunglasses which made taking these layers on and off during the cooler months easier.  In warmer months it would be easy to store a few snacks to eat and hike.
Hayley's favorite piece of gear without question was her Helinox Chair Zero.  At just under 1 pound, this luxury item was used almost every day on trail and was a great way to rest her legs at end of the day.  She sometimes let Eric use the chair for a few minutes each night.  We still laugh at all the NOBOs we met in Maine that tried to convince us this chair would not make it to Georgia but we chalk up to their jealously of not having a comfy place to sit.
A close second for Hayley was her SmartWool arm sleeves.  This quick and easy layer made hiking through the cooler months much more comfortable while limiting the time stopping to delayer or layer up.
Essential gear:
Our favorite essential gear was easily our NEMO Riff 15 Degree Sleeping Bags.  We changed out our summer bags in Front Royal, VA and within a few days back on trail the temps at night dropped below freezing and into the teens.  We stayed toasty warm in these comfy bags.  They are bit heavier because of the spoon-shaped design but with 800-fill they are easy to compact.
Our NEMO Dagger 2-person tent was also the perfect shelter for us.  It was big enough that we could keep our packs inside the tent just at our feet.  The large vestibule made the shelter space seem even bigger when having to wait out a rainstorm.  The tent performed well in wet weather, even when a massive rainstorm pooled 3 inches of water in our campsite.  We stayed warm and dry inside.  The only issue is it did take time to dry out, and we were often jealous of those that carried the Duplex or Hyperlight products that seem to dry almost immediately once the rain stops.  NEMO has also updated this product with their OSMO fabric, and we will 100% be purchasing this tent again when the time comes.
Our backpacks performed incredibly well and carried our heavier loads conformably.  Aside from a few small tears, the only issue was one of the straps on Eric's Granite Gear Blaze has started to fray.
Least favorites:
Getting asked the question – what are plans once you get back into the real world? We just want to live in this world right now! We'll figure that out later!
Least favorite gear was our BeFree Gravity Filter.  While the filter itself worked and we never got sick, it took a long time to filter water even though we spent a lot of time cleaning out the filter and bag. This was okay when at camp, we could set and forget the filter while doing other chores, but when filtering on trail it took too long and required us to unpack our bags to get it out.  One positive is it did provide us another place to store water when we had to camel up and carry extra water when needed. The BeFree Gravity Filter is a good piece of equipment, but on our next adventure, we will likely be changing to the Sawyer Squeeze as it is more "on the go" friendly.
Total spent on trail:
We spent $13,280.98 or $6,640.49 per person.  This breaks down to just over $3 per mile per person.  This was within the range we budgeted for but does not include gear purchased before the trip.  We had been accumulating gear for several years prior when Eric worked at an REI.  This does include monthly bills like travel insurance, phone plans, and car insurance along with streaming services that include Spotify, Netflix, and Audible.
We have enjoyed reading many other 2022 thru-hikers providing their final thoughts.  We're also excited to see the 2023 thru-hikers making their announcements and introductions.  Thru-hiking is truly an amazing experience that is unique to each person. We hope this information helps those who are getting ready to embark on a journey of a lifetime. Some words of advice: try to embrace and enjoy every moment on the trail because it will be over before you know it and of course hike your own hike!
Affiliate Disclosure
This website contains affiliate links, which means The Trek may receive a percentage of any product or service you purchase using the links in the articles or advertisements. The buyer pays the same price as they would otherwise, and your purchase helps to support The Trek's ongoing goal to serve you quality backpacking advice and information. Thanks for your support!
To learn more, please visit the About This Site page.