Remaining Patient as a SOBO
It's Here!
It's here. The Appalachian Trail 2023 thru-hiking season is beginning. The excitement is almost excruciating. Yet, for a SOBO, there are still several months to be idle. June is my time. I won't deny that it can be a bit of a bummer seeing folks getting started and knowing that I won't be out there until some are nearing the end. But in my mind and for what I want, having the patience to wait for a SOBO hike will be worth it.
In the depths of my imagination, I find more joy in a soft finish, seeing that plaque on Springer Mountain and walking through the Amicalola Falls arch rather than the epic summiting of Katahdin. I imagine less fanfare and fewer tears finishing in the South. Almost as though no one knows how far you've come, and no one needs to know. I'll quietly slip into a car and drive home.
This is an example of how the mind proves to be fickle. Here I am thinking of the conclusion when I haven't even started hiking. Whenever I see a 'starting the AT today' announcement I think, 'I should get out there right now too!'
How does one remain patient as a SOBO? Extrapolating this further, how does one stay patient when they intend to hike in years to come? How many times can one set up their tent in their own backyard while dreaming of pitching it each night for months on end?
My first time ever setting up a trekking pole tent a couple of years ago (I have improved):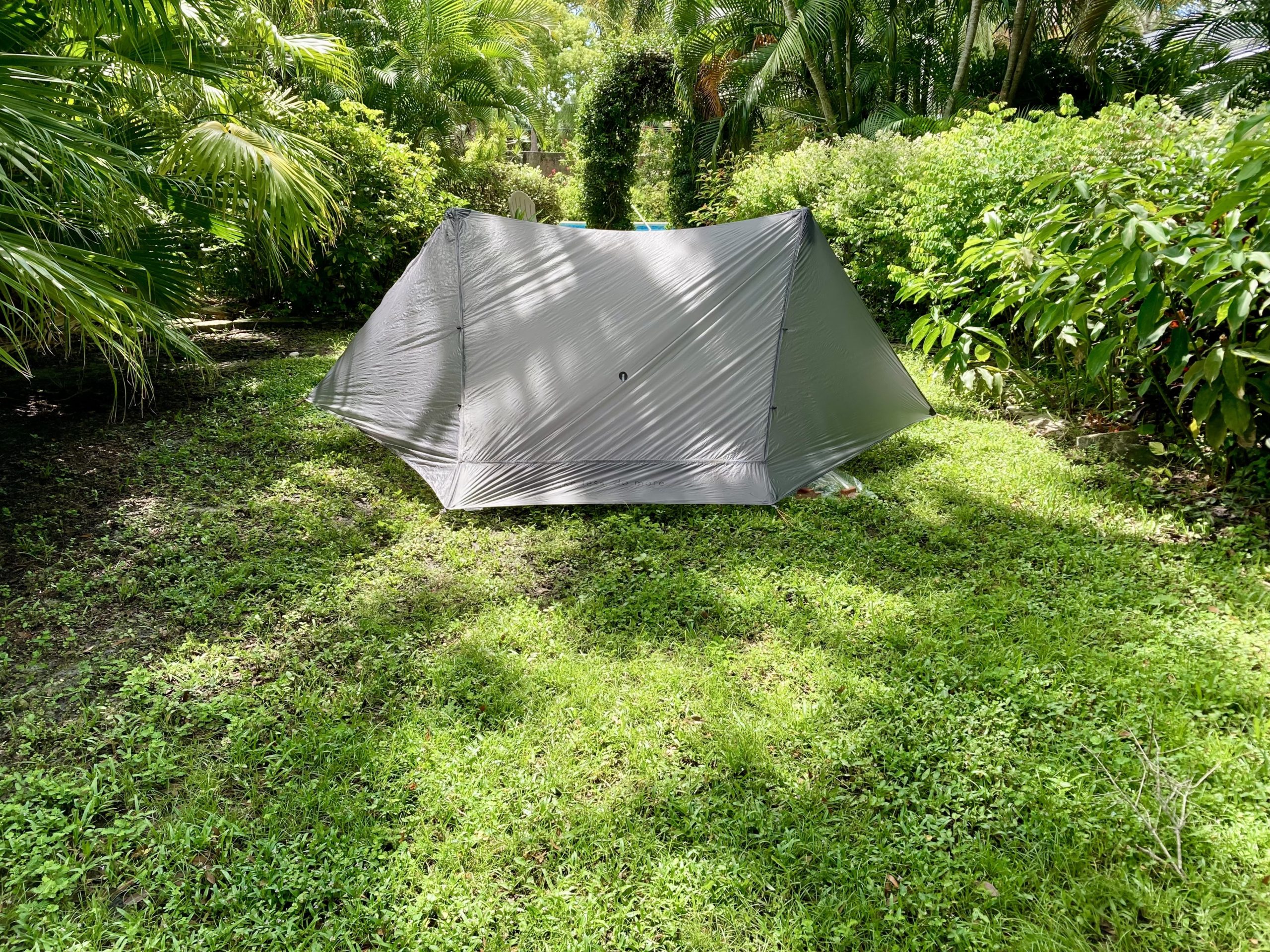 What I Do
The only perspective I can share as to how one may remain calm while waiting for their hike to begin is my own. As a soon-to-be thru-hiker, much of the world around me has faded. The significance of other goals, current projects, and many day-to-day mundanities dropped drastically. However, to avoid an entirely narrowed view of my current life, I try to create as many adventures as I can.
I have a passion for hiking and being in nature. Better yet, I find existing among the majesty of mountains, trees, and waterfalls to be healing. I assume most, if not all, who choose to embark on a thru-hike share this feeling. This is why the one true method I have found that satiates the thru-hiking hunger, is to hike and camp. Whether it's a multi-day backpacking trip, a weekend in the woods, an overnighter, or simply a day hike, spending time in nature and wandering a trail is the best way to quell that impatience.
It is also crucial to give these shorter trips the respect they deserve. Backpacking is meant to be fun, to allow yourself a moment of being unplugged, and to shift your perspective. Shorter trips are of course a means of preparation for the big day, but each also provides a unique experience.
Hiking a long-distance trail seems like it will be a clear dividing line in my life. There will be pre-Appalachian Trail me, and post-Appalachian Trail me. There may not be a stark and noticeable difference in who I am in the view of others, but there will be for me. To avoid overhyping myself and spinning out of control as I mismanage my excitement, I remind myself – there was a time before I'd ever camped and before I'd ever hiked certain distances. There was a time before I'd ever carried a true backpacking backpack or filtered stream water on a trail.
Each step forward as I pursue this passion is significant. Each experience provides immeasurable value to my life. Hiking the Appalachian Trail will only be a conclusion of the trail itself. This reminder serves as my means of patience. It is pseudo-reminiscent of the abundantly used cliche, 'live in the moment'. 
Affiliate Disclosure
This website contains affiliate links, which means The Trek may receive a percentage of any product or service you purchase using the links in the articles or advertisements. The buyer pays the same price as they would otherwise, and your purchase helps to support The Trek's ongoing goal to serve you quality backpacking advice and information. Thanks for your support!
To learn more, please visit the About This Site page.