Resupply Dos and Don'ts: Mail Drops, Calorie Goals, Mistakes to Avoid
"How do you get food?"
This was the second most common question I was asked before and during my AT thru-hike (the most common being "Who are you hiking with?").
The answer: I typically went into town every three to six days to buy food from a grocery, Dollar General, or gas station depending on the size of the town. Some hikers ship themselves boxes of food (a.k.a mail-drops) to the post office or a hostel rather than purchasing from a store at each stop. Either way, the goal is to end up with enough food to sustain you to the next town, without running out or carrying too much unnecessary food weight. It's a delicate balance.
This post will cover everything you need to know to successfully resupply on a long-distance hike, as well as common mistakes my friends and I made that resulted in buying too much or not enough food.
How much food do you need?
I'm no nutritional expert, so I'm not going to go too deep into this. But the answer to this question ultimately depends on your metabolism and body's needs, and so will vary for each person. My research prior to the trail indicated that most thru-hikers need about 5,000 calories per day.
Here's what this looked like for me, a not super health-conscious hiker. For breakfast, a pack of Pop-tarts and a 200 cal protein bar. Every hour I spent hiking, I ate a snack of at least 200 cal (such as a pack of peanut butter crackers, protein/granola bar, honey bun, or Snickers). For lunch, I ate nuts, jerky, and carbs of some sort (Goldfish crackers, Chex Mix, Wheat Thins, something like that). And for dinner, I ate a pack of Ramen noodles and a Lil' Debbie snack cake (usually a brownie or fudge round, as those squish the least).
I say all this just to give you a rough starting point for how much food to carry. You will of course need to tailor it to your personal needs and eating preferences.
Should you send mail drops?
I surveyed 24 Appalachian Trail thru-hikers.
According to a survey I conducted, of the 24 AT hikers surveyed, 64% sent at least one mail-drop during their thru-hike. Most said they sent 2-6 mail-drops, but a few sent many more. Of that 64%, 71% would send mail-drops if they were to hike again, while 29% found them to be unnecessary.
In the same survey, 67% of the hikers reported having no dietary restrictions (a.k.a they eat whatever), 17% eat a gluten-free diet, and 12% are vegetarian or vegan. I found it interesting that the vegetarian/vegan responders were split 50/50 as to whether they would send resupply boxes again or not. One pro-mail-drop vegetarian said she "LOVED the variety" mail-drops provided, but one anti-mail-drop vegan said he had no trouble finding options in town, except once in Duncannon, PA when he had to resupply at a gas station. His biggest difficulty proved to be finding a really caloric/protein-filled mid-day meal. Most hikers eat something like tuna packets for lunch, which obviously isn't an option for a vegan.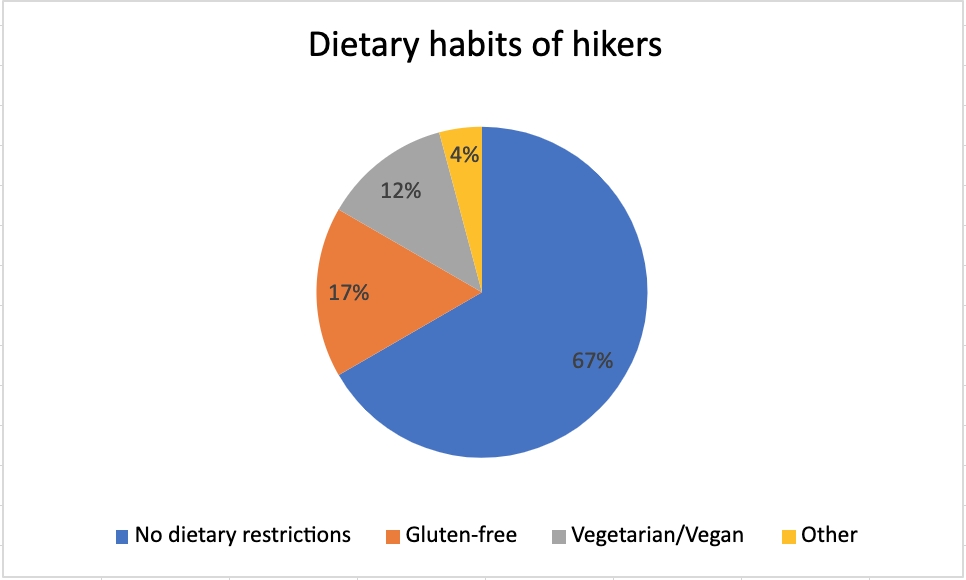 Pros and Cons of Mail Drops
For my AT thru-hike, I didn't send any mail drops, and wouldn't if I were to thru-hike it again. I personally hate planning, and mail-drops require a good bit of that. Also, I know that it is very easy to just pack the same things in all of your boxes and quickly get bored of your food, which would require even more planning to avoid. However, I know the PCT is more remote, so when I hike that I will most likely send some mail-drops.
READ NEXT –
One hiker who responded to my survey said that he made around 25 resupply boxes each for his thru-hikes of the PCT and the AT, and plans to do so again for his CDT thru-hike in a few years.
"I can spend a couple months before trail buying things that are on sale and that I really like, and then spread the variety out between all my boxes," he said. "And I dehydrate my own meals. So I only spend a total of $1200 in food before the trail, and then just get special treats and stuff while I'm in town. Keeps my on-trail cost way down."
Like with all other aspects of thru-hiking, whether or not to send mail-drops on your thru-hike needs to be determined by your personal preferences.
How Not to Resupply: 3 Dos and Don'ts for Buying Food in Town
If you choose not to send mail-drops to one or more towns, you'll need to buy food from the local stores. Here are five lessons I learned the hard way while resupplying that resulted in my having too much or too little food for the next section of trail.
1. Don't resupply while hungry.
Long story short, if you resupply without eating first, you won't be responsible. When hungry, your stomach will overrule your brain Every. Single. Time. You'll buy way too much food, and it'll be more of the things you're craving (for me, that means fruit and chocolate) and less of the things you actually need (ramen and protein bars).
I made this mistake a few times, the worst being when I was in Dalton, Massachusetts. I ended up buying six days worth of food to make it three days, which meant I carried way more weight up Mt. Greylock than I needed to.
You might think you're capable of making the right choices. You might tell yourself that it makes sense to resupply first for any number of reasons. This is your stomach lying to you. Always eat first. Always.
READ NEXT – Beginner Backpacking Mistakes to Avoid
2. Bring something to carry your purchases.
So apparently, some states in the US have a plastic bag ban. Eight to be exact. I didn't know plastic bag bans were actually a thing until I walked into the North completely unprepared to cart my groceries out without a bag.
According to the National Conference of State Legislations, plastic bag usage is banned in California, Connecticut, Delaware, Hawaii, Maine, New York, Oregon, and Vermont. All but two of these impact hikers on long-distance trails. However, I remember being able to use plastic bags in Rangeley, Maine, so I'm not sure what that's about. It's possible that the ban hadn't spread to everywhere in the state yet, as Bangor Daily News says the law was supposed to take effect July 1, 2021, and I was there in early September.
As of 2019, 130 cities and towns in Massachusetts (but not the whole state) also have bag bans, with Great Barrington being one such town. Some places, like the CVS in Greenwood Lake, NY provide brown paper bags for free, or reusable grocery bags for a fee, but don't count on it. Also, who wants to buy a bag they're just going to trash or have to carry in their backpack for two months? So once you enter Massachusetts, just be prepared to provide your own means of carrying your groceries. Otherwise, you'll be balancing boxes on the ride back to the hostel.
3. Don't save money by cutting back on calories.
True, you can't thru-hike if you run out of money. But you also can't thru-hike if you don't have the energy/strength to carry on. There are many other ways to save money, but eating less food shouldn't be one of them.
I did save money by not buying expensive, fancy backpacking meals (like Mountain House, Backpacker Pantry, etc). Don't get me wrong, they are DELICIOUS, but they're also like $10-15 per meal. A pack of Ramen is 24¢ at Walmart. But don't penny-pinch to the point that you're hungry because you're not buying enough food. That'll kill your thru-hike real quick.
Resupplying will look different for each hiker, definitely don't do it exactly how I did. But hopefully, this post will give you a launching point to figure out what method and how much food will work for you. And guys, seriously, never resupply hungry.
Graphic design by Jillian Verner (@yourstrulyjillian).
Affiliate Disclosure
This website contains affiliate links, which means The Trek may receive a percentage of any product or service you purchase using the links in the articles or advertisements. The buyer pays the same price as they would otherwise, and your purchase helps to support The Trek's ongoing goal to serve you quality backpacking advice and information. Thanks for your support!
To learn more, please visit the About This Site page.