Send Back The Check, We're Not Done Eating! (Days 62 to 64, Daleville to Glasgow)
Hey there! I'm in Waynesboro as I type this. I've been plagued by technical difficulties, my WordPress app decided to throw me random errors when I tried to upload this post. After many hours of failed experimentation I was forced to post it using a mobile chrome browser and manually readd all the photos. As a result it's in a bit of a different format and the photos may not flow as well as previous posts. Anyway, enjoy!
—
Day 62
Start: US Route 220 / Daleville
Finish:  Bobblets Gap Shelter
AT Miles Hiked Today: 18.6
Overall AT Miles Hiked: 746.1
Miles To Go Until Katahdin: 1,443.0
I slept so well last night. I booked myself a room at the Holiday Inn Express, and when I arrived I saw they upgraded me to an executive single room. Huge bed, comfy couch, good view. You could have fit a dozen hikers into this room comfortably. I needed a night to myself, though, so I treated myself to a private spot for the night.

Waking up was a disconcerting experience. I was sleeping so deeply that I woke up and had absolutely no idea where I was. Once I got my wits about me, I walked down to an excellent continental breakfast, with a selection of teas, chobani Greek yogurt, sausage, pancakes, fresh fruit, and bagels with cream cheese. I ate myself silly then started the one mile trek back over to the trail. By the time I arrived at the trail head I was hungry again, so I dipped into a nearby gas station and got a Gatorade and some Oreos.
The trail had some nice rolling meadows to start the day, but quickly changed to an uphill to get us back into the mountains.


I started hiking alone, but soon bumped into many familiar faces. Goblin and Cavs were hiking together, and I saw Dusty and Ivan as well.
Despite getting a bit of a late start, I flew up the first 5 miles, and continued a fast pace most of the day.
The trail was surrounded by blossoms of this white flower. I don't know what it is, but it made for some scenic hiking all day!

Around 2pm the trail began to run alongside the Blue Ridge Parkway, and the trail would dump out into these scenic overlooks for the cars to pull off on. I got to do a little reading on the overlook information boards.

It started to rain a bit, and I pulled up to the turnoff for the shelter at 4:30. Decision time, I had already done over 18 trail miles on the day, do I press on 3 more to the next water source? As I was thinking, Chicken Fried walked up and we debated how lazy we were feeling. We heard distant rumbles of thunder and decided to be lazy and enjoy the rest of the evening. Ivan was already down at the shelter and we joked around while I did my camp chores. The distant thunder was very clearly moving closer.
I barely got my tent set up near the shelter before a crazy thunderstorm rolled in. We all huddled in the shelter as it rained buckets. I stretched and ate dinner while waiting for the rain to end. Several hikers ran down to the shelter during the storm, completely drenched. Whew, I'm glad I was feeling lazy. It's always a good feeling to dodge raindrops whenever possible, especially coming out of town, when you know your socks will be wet until the next town.

Eventually Cavs and Goblin showed up as well, drenched. I was tired and all my chores were done, so I retired to my tent around 7 to lie down and enjoy some music. All in all, not a bad day! Hopefully the terrain stays this good. If it does, I'll be in Glasgow very early on Monday to grab my mail drop and get back to the trail.
Day 63
Start: Bobblets Gap Shelter
Finish: Bushcamp 1 mile short of Cornelius Creek
AT Miles Hiked Today: 18.3
Overall AT Miles Hiked: 764.4
Miles To Go Until Katahdin: 1,424.7
I was up early, and the first one out of camp at 7:15. Getting out of camp early is both good and bad – good because you clear miles before it gets hot, bad because being the first on trail means running into all the spider webs that went up overnight. It's a gross feeling that makes you itch all over as you're hiking.



It was a beautiful morning to be hiking. I cleared the three miles to the first water source in about an hour, stopping for a snack and filtering water. I had a weird headache, I think I was a bit dehydrated from yesterday. So, I took care to chug water. I forgot to pick up some of those electrolyte tablets at the outfitter in Daleville, I'll need to get some in Waynesboro if I can.
As I crossed the road after the water source, I stumbled upon a white tailed deer, who was not skittish at all. I took some pictures as he snacked on nearby leaves.

Once again, the day was heating up, and became oppressively humid. I hiked up, up, up and was rewarded with a view of the fog burning off down in the valley.

By 11am I had already cleared 9 miles, but the heat and humidity was taking its toll. I took a long break at a water source and hung out with Ivan. He said there was a number we could call for a local diner that would come pick us up and give us milkshakes, but I was skeptical and kept hiking. (I saw him a few hours later and he gloated that he ate burgers, fries and a milkshake… damn!)

I was extremely slow for the next 4 miles. The headache was still pounding away, and I was hiking up and over a 1,000 foot mountain. As I arrived at a stream near Bryant Ridge shelter, I decided to take an hour long break. I chugged 2 liters of water and ate some salted almonds, as a loud crew hung out and smoked near the shelter. I went to soak my feet in the stream and close my eyes for a while.

Distant thunder started to roll closer, and I was only 13 miles into my day, so I decided to make a break for the next shelter, 5 miles and 2,300 feet up Apple Orchard Mountain. I heard the thunder coming closer and closer, and it started to sprinkle. Fearing a rager of a storm like yesrerday, I pulled up and set up my tent in a clearing to wait out the storm.
The crazy rain never materialized, but it rained a bit. I relaxed, ate dinner, and pondered my next move. It was only 5, and I had cleared over 16 miles on the day, but there was still 3 hours of daylight left, and it seemed like a shame to waste it! (This is the mental math of all thru hikers.) As the rain moved off, I tossed my gear back in my pack and continued moving up the mountain.


I reached the shelter at 6:30 to find it packed! There had to be 15 tents set up. What was going on? Then I remembered that it's Saturday, and these must be weekenders. They had a fire going, but I hung my bear bag, grabbed some water and hopped in my tent. Not a bad day, and I've set myself up for a nice early morning hitch into Glasgow on Monday morning. It's only 20 miles to the spot where I'll hitch to town. I still don't know if I'll try to get back out to the trail the same day, but it looks like I'll have that option.
Day 64
Start: Cornelius Creek Shelter
Finish: US Route 501 / Glasgow
AT Miles Hiked Today: 19.9
Overall AT Miles Hiked: 784.3
Miles To Go Until Katahdin: 1,404.8
We had one hell of a thunderstorm move in around 9pm last night. Just as I was drifting off, the crazy rain and lightning started. The lightning was flashing multiple times every second and lasted for close to an hour at full strength! And the rain was pouring down.
My tent was down below the shelter, so all the rain runoff from the hill began accumulating near my tent. I pulled my bag and shoes into my tent then prayed the water wouldn't flow into my tent to soak my bag. It was dark aside from the lightning, so I had my headlamp on for nearly an hour as I checked the corners of my tent to see if I was taking water. I had all my gear except for my sleeping pad and sleeping bag inside my bag, ready to make a break for the shelter if I got flooded. It was a very tense hour, but the rain petered off around 10, and I fell asleep, legs resting on my full backpack.
I let myself sleep in a bit and got moving around 8 this morning. The skies were still overcast, and it was foggy, but fortunately not rainy.

I finished the 1000 feet or so up to the top of Apple Orchard Mountain. Almost the entire rest of the day was downhill, as I descended from 4,200 feet back down to 650 feet.


I felt super sluggish again all day, as I descended the mountain. Fortunately no headache like yesterday, but it was a struggle even to stumble my way downhill for most of the day.
I got to my first water source of the day and spent a half hour just hanging out. Chicken Fried came up and we chatted a bit while chugging water.

Not much to report for the rest of the hiking day. I listened to music as I made my way down towards the road crossing. Especially between 2 and 4 I was moving slow, but all I needed to do was stumble my way downhill to the road.

Around 4:15 I hit my intended camp site, Matt's Creek Shelter, and decided to keep cranking and get to town. It was only another 2.5 miles to the road and I was craving real food.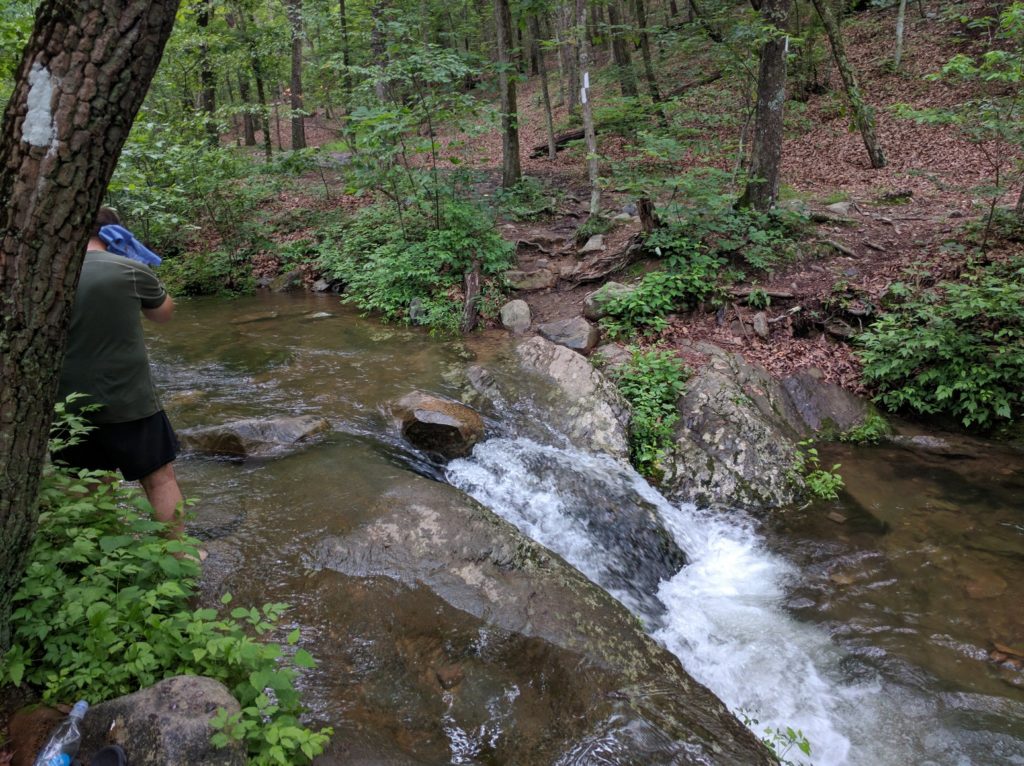 I cruised the last few miles and got to the James River Bridge, which is the longest footbridge on the entire Appalachian Trail.


On the bridge I saw two emergency responders, and as I walked by, they asked me if I had seen any extremely wet people out on the trail. I hadn't, so I kept walking. Then on the other side of the bridge were bunch of ambulances and firemen. I walked over and asked one guy what was going on. He told me that a canoe had overturned up the river and the people were missing. Wild stuff. I then turned to a more immediate problem: hitchhiking while right next to five ambulances and several fire trucks. It's harder than regular hitchhiking because it looks like you're trying to flee the scene of the crime! Lucky for me someone had pity, and after about 10 minutes, a very nice gentleman pulled over and brought me to town.


Glasgow is funny. It's a super small town, with one motel, and one restaurant – an "Italian" joint named Scotto's Restaurant. I went right away, and I was put in the back "hiker" room, where they stick all the stinky hikers. I ate a giant cheese steak sub and chips, and when I cleaned the plate, the waitress brought me my check without me asking. I sent it back. I ordered another two monster slices of pizza. I'm glad I came into town tonight, they are closed tomorrow!

They allow hikers to stay in the town park, where there are also bathrooms and showers. So I'll stay there tonight, grab my mail drop in the morning, and then head on towards Waynesboro!
Until next time, happy trails!
-Slice
Affiliate Disclosure
This website contains affiliate links, which means The Trek may receive a percentage of any product or service you purchase using the links in the articles or advertisements. The buyer pays the same price as they would otherwise, and your purchase helps to support The Trek's ongoing goal to serve you quality backpacking advice and information. Thanks for your support!
To learn more, please visit the About This Site page.