Sepia Blazing the AT (Days 91 to 95, Duncannon to Port Clinton)
Day 91
Start: Clarks Ferry Shelter
Finish: Cyrus Sturgus Jr Campsite
AT Miles Hiked Today: 16.8
Overall AT Miles Hiked: 1,167.7
Miles To Go Until Katahdin: 1,021.4
I'm psyched to be hiking this section of trail with my friend Jason! Jason drove down from CT after work yesterday, and met me just outside of Duncannon. He'll be joining me through the 4th of July as we head towards the halfway point of Pennsylvania.
Last night we got a surprise rainstorm. Hellbender had to get out of his tent to put on his rain fly in the rain, and I was smugly thinking how happy I was to be dry in my tent, when I remembered I didn't bring in my shoes and socks from drying out on a log. I scampered out to retrieve them, and climbed back into my sleeping bag all wet.
We woke up around 6:30 and were hiking around 7:45. The day started with some rocks, but overall the terrain was smooth, and we even got a few good views of the river!
The first water source of the day was at Peters Mountain Shelter, 7 miles away. The water was  off trail 0.2 miles and down a steep set of 300 stairs. Jason decided to carry enough to skip this source, but I didn't want to carry enough water to clear 12 miles of hiking. The spring was cold and beautiful, but that trip back up to the shelter was loooooong, and definitely got the heart rate up.
We continued cruising down the trail. It was easy miles overall, the entire first three quarters of our day was up on the ridgeline, basically flat.
We stopped for lunch at a trail crossing. This ledge is not conducive to cooking lunch unfortunately. Not a lot of flat spots to hang out. Jason cooked on a flat-ish rock, and I ate down all the snack food I brought out. Definitely not my healthiest resupply, I got food from the gas station near the trail in Duncannon. Jason saw my resupply last night and exclaimed "Holy Sugar!" – lots of Oreos, pop tarts and hostess fruit pies. Delicious! But certainty not nutritious.
We descended from the ledge to PA 325, and considered our next move for the day. There were several water sources coming up, but Guthook had reported almost all of them as being dry. As we were considering, Peter Pan rolled up and told us about the fantastic trail magic we had missed by leaving the campsite too early. Damn! Someone had apparently given him five bucks to go get a burger next time he got to town. Oh well, you win some, you lose some. I still have way too many oreos, probably better to eat those down.
We climbed up to the next ridgeline, and near the top we ran into Puma and Cavs at a water source. Some southbounders walking by told us the next section was dry, confirming our water fears. The water source we were currently at was orange from all the iron in the water, but we would have to pack out water for the night and the start of the next day, as it was 10 miles to the next shelter, and we couldn't make it all the way there.
Jason and I got up to our campsite, which was the site of an old fire tower. Towards the end of the day, Jason started to slow down, but overall he hiked faster and harder than any others who have joined me on the trail. Pennsylvania is relatively flat but doing 16 miles is no joke, even here in PA! We got to camp around 4:30 and had plenty of time to relax and get a fire going.There's so much dead wood around the site, it's clear Pennsylvania is getting less rain than usual.
Jason packed out a platypus bladder full of red wine, so we enjoyed a fine glass of Malbec and lit stuff on fire for the rest of the evening. We were joined by two other thru hikers, 60 Cent and Badger, so we got some thru hiker stories going. Topics of conversation included sketchiest trail town or stop – Hiawassee and Standing Bear topped the list. All in all a great day of hiking and a fun campsite to end a mild day. The sunset was awesome, lots of red and orange. We got to bed around 8:30.
The goal for tomorrow is a campsite around 13 miles in. It's either 13 miles or 22 miles tomorrow, the water is super inconvenient.
Day 92
Start: Cyrus Sturgus Jr Campsite
Finish: Swatara State Park Stealth Camp
AT Miles Hiked Today: 12.8
Overall AT Miles Hiked: 1,180.5
Miles To Go Until Katahdin: 1,008.6
Jason got a few visitors last night – he woke up to two porcupines making noise and wandering near his tent. Apparently 60 Cent and Jason both were up, but Badger and I slept through the excitement.
It was a very chilly morning! I was in my down jacket as we packed up camp and headed out. 60 Cent was already gone – we heard him leave around 6am. We started hiking at 7:30.
We hit sections of crazy rocks, but overall we were moving very fast. We were hiking slightly downhill on the ridgeline, so we didn't need to take breaks. Jason was feeling good so I opened up the throttle, and before we knew it, we had hit our first water source of the day, Raush Creek, at 10am. We had hiked 8.5 miles in 2.5 hours. Flying!
We took a nice long break at the creek, rehydrating and eating snacks. There were lots of signs about the history of the creek and the surrounding area. As I was eating a bag of cheeze its, the bag tipped over and spilled everywhere. I shed a tear for the calories lost.
We moved slowly down the trail. It was only 4.5 miles to our planned campsite and there was no sense pushing beyond, as Jason's car was about 13 miles beyond the campsite. Lots of weekenders out again today. This part of the trail seems to hit roads every 10 or so miles.
We got to the campsite at 12:30. There were signs on the way in that camping was not allowed, so we are stealth camping near the creek. We're still visible from the trail but we set up on far side to be as inconspicuous as possible. Very sneaky.
We killed the afternoon eating, soaking in the creek, napping, drinking whiskey, and talking. So much time to fill would have made me feel anxious before the trail, but I relished in the open spaces between conversations. The comfortable silences as we lay down and stared at the swaying trees was relaxing. We eventually ate dinner, hung our bags and went to bed at 8.
Only 13 to Jason's car tomorrow, and aside from one climb back to the ridgeline, the elevation profile looks flat. I was hoping to do bonus miles after Jason leaves but it looks like it might rain tomorrow afternoon. I won't stress if I only do 13 tomorrow – last one to Katahdin wins, right?
Day 93
Start: Swatara State Park Stealth Camp
Finish: Hertline Campsite and Creek
AT Miles Hiked Today: 18.2
Overall AT Miles Hiked: 1,198.7
Miles To Go Until Katahdin: 990.4 (Under 1,000, whaaaaaaat)
The birds went apeshit crazy starting around 5:30, so I found it tough to go back to sleep. Eventually my hunger overcame my laziness, so I got up around 6 and ate breakfast. To my surprise another hiker snuck in after we went to bed, very sneakily, neither of us heard him come in.
We were hiking by 7:30. We had a 1,000 foot climb to start the day, but before we started he climb, Jason found a cave to do a little spelunking. Reindeer would be proud – we used to joke that black blazing the AT is when you find caves and follow them all the way to Maine.
We cruised up the 1,000 foot climb. It was still a little chilly this morning, so I didn't mind the chance to sweat a bit.
As we were walking, I explained to Jason all the different blazing terms. Yellow blazing, aqua blazing, white blazing – these are the ones every AT hiker knows about. There were more that have made their way into popular hiker culture – pink blazing (changing your pace because you're chasing someone of the opposite sex) being foremost among them. Then there's the crazy ones I'm not even sure anyone else knows – platinum blazing (spending $15,000 on your ritzy thru hike), brown blazing (only pooping in the privies, never digging a cathole). Then there's the ones I'm sure we made up – black blazing among them. Jason and I were trying to come up with a term for the hikers who hate tech, sneer at people using Guthook, and are generally crotchety old men. At first we agreed that was grey blazing, for the grey hair of an old man, but then I floated the idea of sepia blazing – sepia is that old timey orange hue from old pictures. I love it! Anyone out here who hates tech is a sepia blazer. Get off my lawn.
The trail today was super indecisive. We sometimes were on the easiest smoothest terrain you can imagine. Then in the blink of an eye it would turn into awful classic Pennsylvania rocks. As the day went on the trail got worse and worse. I tweaked my right knee at one point and now I have a sharp pain to the bottom right of my kneecap when I straighten my leg fully. I'm gonna gobble ibuprofen tonight and pray the pain goes away.
About 3 miles from Jason's car, we ran into trail magic being set up! The trail maintainer for this section and his wife decided to spend their 4th of July feeding hikers. Awesome.
We chatted and chugged a few Gatorades, but I left most of the food for other hikers coming through. Jason's car was nearby and we wanted to go feast at a restaurant. The trail magic organizer recommended a local place called Buddy's, and that became our plan. We got to Jason's car around 1 and drove over.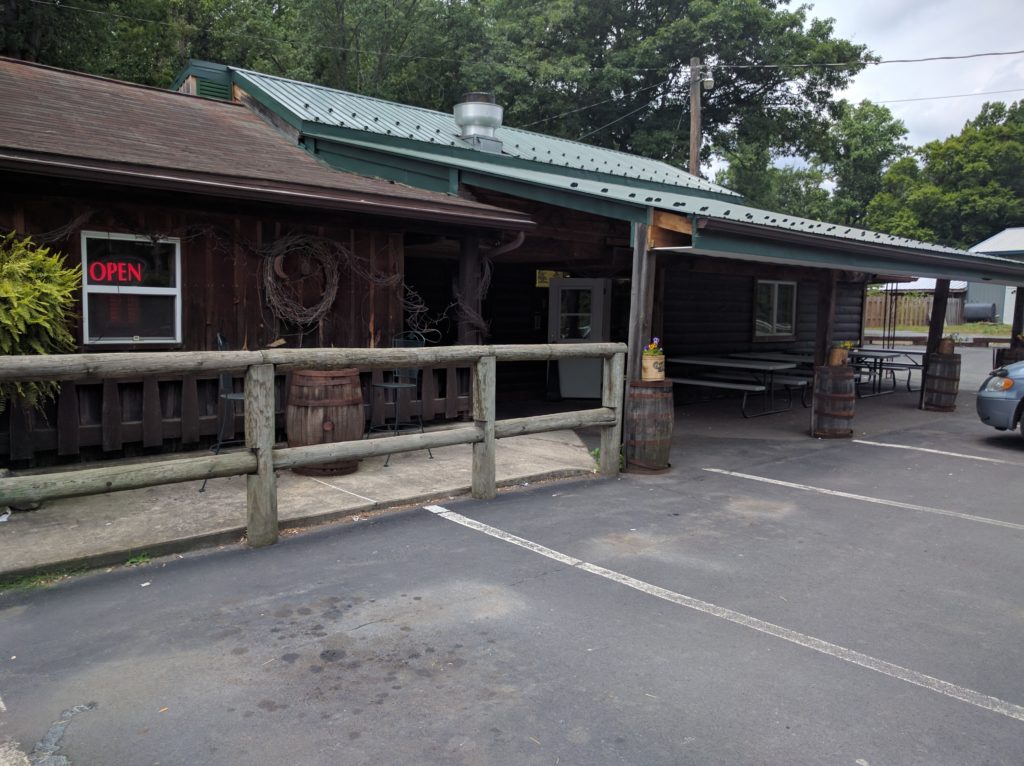 I thought I had hiker hunger, but I don't compare at all to the amount of food that Jason put away. Damn that guy can eat. I shudder to think of the day he decides to thru hike. No all you can eat buffet is safe.
He dropped me off back at the trail head, just as it started to drizzle. I decided I wanted to do another 5 or so miles, to give myself a shot at Port Clinton tomorrow. Of course the terrain is almost entirely awful rocks. I think I'm finally starting to hit the famous section of Pennsylvania, the section bemoaned by all thru hikers. The rainy weather definitely didn't help my footing.
Just as I got to my planned campsite, it started to rain in earnest. I set up my tent and climbed inside, emerging only to hang my food bag. I'll hide in here all night and hope the rain goes away in the morning!
Day 94
Start: Hertline Campsite and Creek
Finish: PA 61 / Hamburg
AT Miles Hiked Today: 18.8
Overall AT Miles Hiked: 1,217.5
Miles To Go Until Katahdin: 971.6
It rained out all night. I woke up and as I was filtering water, Sage popped out of his tent. He said he was attacked by MISIS (the mouse version of ISIS) last night – he didn't want to hang his food bag in the rain, and he paid the price. Trail mix littered the ground near his tent. The mice just rampaged through his food!
I got moving around 7:15 as usual. The hiking today was similar to the last few days – smooth sailing for a bit, then terrible rocks for a bit, then back to smooth sailing. The elevation wasn't too bad either, only one really steep climb! But the rocks were wet, and I didn't want to fall and break every bone in my body. So I took it nice and slow.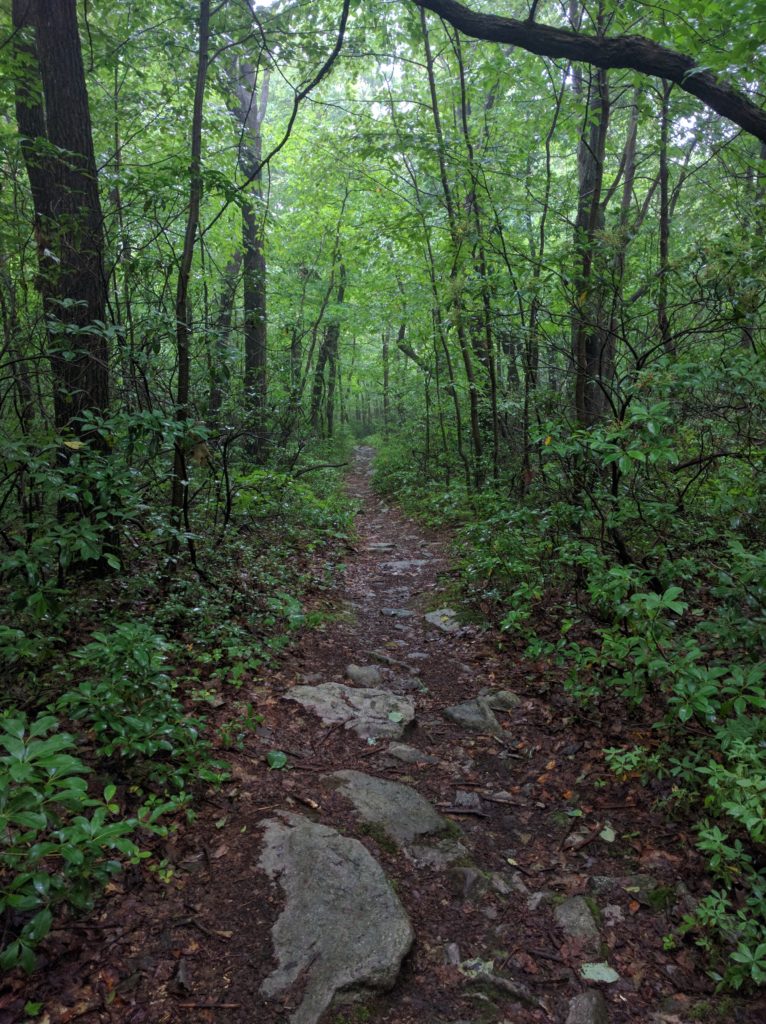 It's so dry here in Pennsylvania right now. The water sources between shelters are really drying up. Multiple streams in this section have been completely dry. Sage passed me close to town and asked if I had any water. Looks like he was gambling on the water source between shelters, and lost.
I made the steep and treacherous descent into the gap, walked few easy flat miles, then came to the road crossing near Hamburg. I got a hitch from a man in a big truck, and walked into the friendly Microtel in town.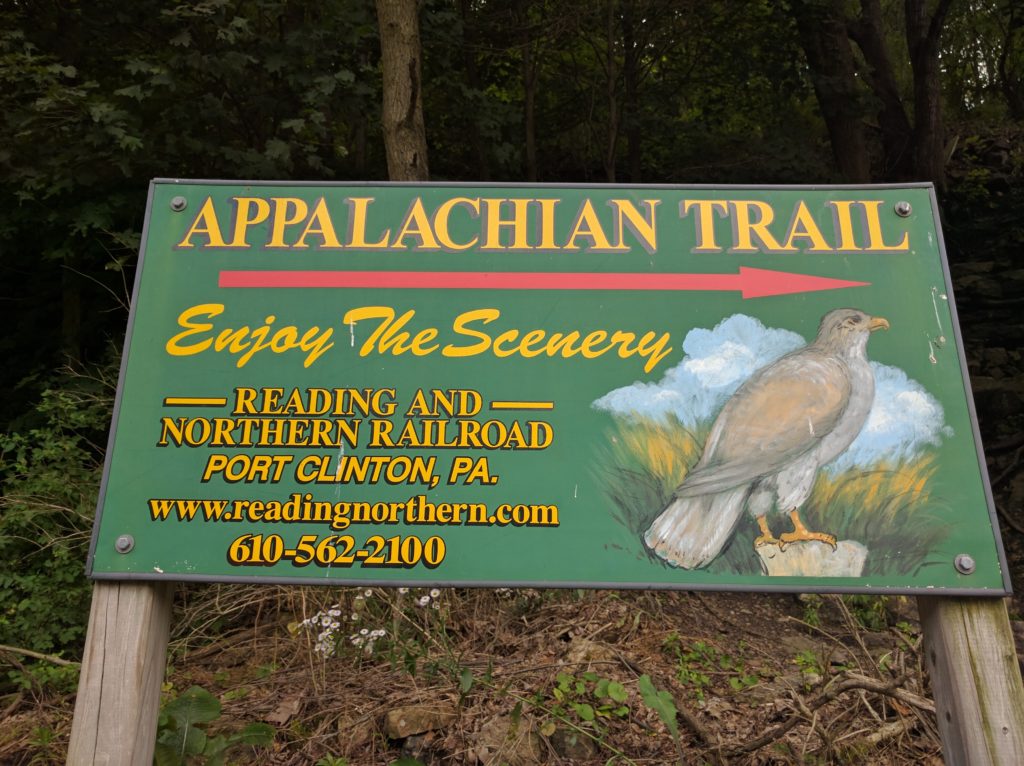 Peter Pan texted me saying they had a room on the second floor, so I went up and knocked. The door opened, a wave of stink hit me, and I entered the room to find 6 stinky hikers with their gear exploded everywhere.
"Hey guys. Got room for one more?"
The rest of the afternoon was filled with laundry, resupply, and Wendy's runs. This town is filled with fast food chains, and no local restaurants.
I got back from resupply and dinner to find Cavs curled up in the room. He might have Noro. He's in really rough shape. Of course I immediately googled "How do you get Noro Virus" and followed all the advice the Internet could offer. I warily left the room to go join Peter Pan down at the bar. We played foosball and drank beer until exhaustion got the better of us, then went to bed.
Day 95
Start: Hertline Campsite and Creek
Finish: PA 61 / Hamburg
AT Miles Hiked Today: 0!
Overall AT Miles Hiked: 1,217.5
Miles To Go Until Katahdin: 971.6
Ah, zero days. How I love you.
At breakfast I was still unsure of if I would hike out, but I ate with Strider, who also wanted to zero. So we agreed to split a room, along with Dutch.
I returned to the room and proceeded to do absolutely nothing for most of the day. We watched a South Park marathon on Comedy Central and the Portugal – Wales semifinal soccer match. Today's pictures are light because I sat with my ankles iced, watching a television screen.
I was eating lunch when Reindeer texted me – he was at the Microtel! He roomed with Cavs, who is taking a zero today as well. Turns out he didn't have Noro, it was just food poisoning.
Reindeer, Strider and I went over to the Cracker Barrel nearby for some dinner. I got breakfast instead – pancakes for dinner is the best. Although, it seems my hiker appetite has been decreasing slightly since I stopped pushing so hard in central Virginia. I'm a bit ashamed to say I had trouble finishing my meal!
After dinner, Reindeer, Peter Pan, Strider and I went out for a few beers at the local bar. I had one… then two… then three… then I decided it was a good idea to get up and sing karaoke. Stacy's Mom by Fountains of Wayne. I got super into it. No other hikers got up to sing! It was just the supremely untalented locals, and me.
We went to bed way too late. A local is picking us up at 8am to go back to the trailhead. The local news is talking about a big heat wave coming. Perfect! Just in time for a miserable rocky section. I'm hoping for 5 days into Delaware Water Gap.
Until next time, happy trails!
-Slice
Affiliate Disclosure
This website contains affiliate links, which means The Trek may receive a percentage of any product or service you purchase using the links in the articles or advertisements. The buyer pays the same price as they would otherwise, and your purchase helps to support The Trek's ongoing goal to serve you quality backpacking advice and information. Thanks for your support!
To learn more, please visit the About This Site page.