Shaking It in the Snow at Laurel Falls
Time is closing in until my thru-hike on the Appalachian Trail and the nerves are kicking in. But luckily I live close to the AT and that gives me the opportunity to practice on the turf I'll be playing on in March.
Five Miles and Back
There's something majestic about hiking in the snow. It made a gloomy hiking day shine and glisten.
The dog and I started our SOBO hike on a side trail parking lot in Hampton, TN, near US 321. It was about a one mile flat and easy hike from the parking lot to the AT. Most hikers say they try to avoid hiking more than half a mile off the trail to get into town. Makes sense. In my case, if I was thru-hiking, it would have added an unnecessary two miles just to get into town and back to the main trail. Always look ahead and plan on whatever map you are using. In this case I know there is another parking lot up ahead that is usually busy and I'm sure rides could be found from there without going the extra mile.
As we walked through this familiar trail, I decided to skip the actual Laurel Falls and take an alternate path around to the Laurel Fork Shelter. Laurel Falls runs through the AT and the Laurel Fork Shelter is a side trail with a large water source. It is worth the stop.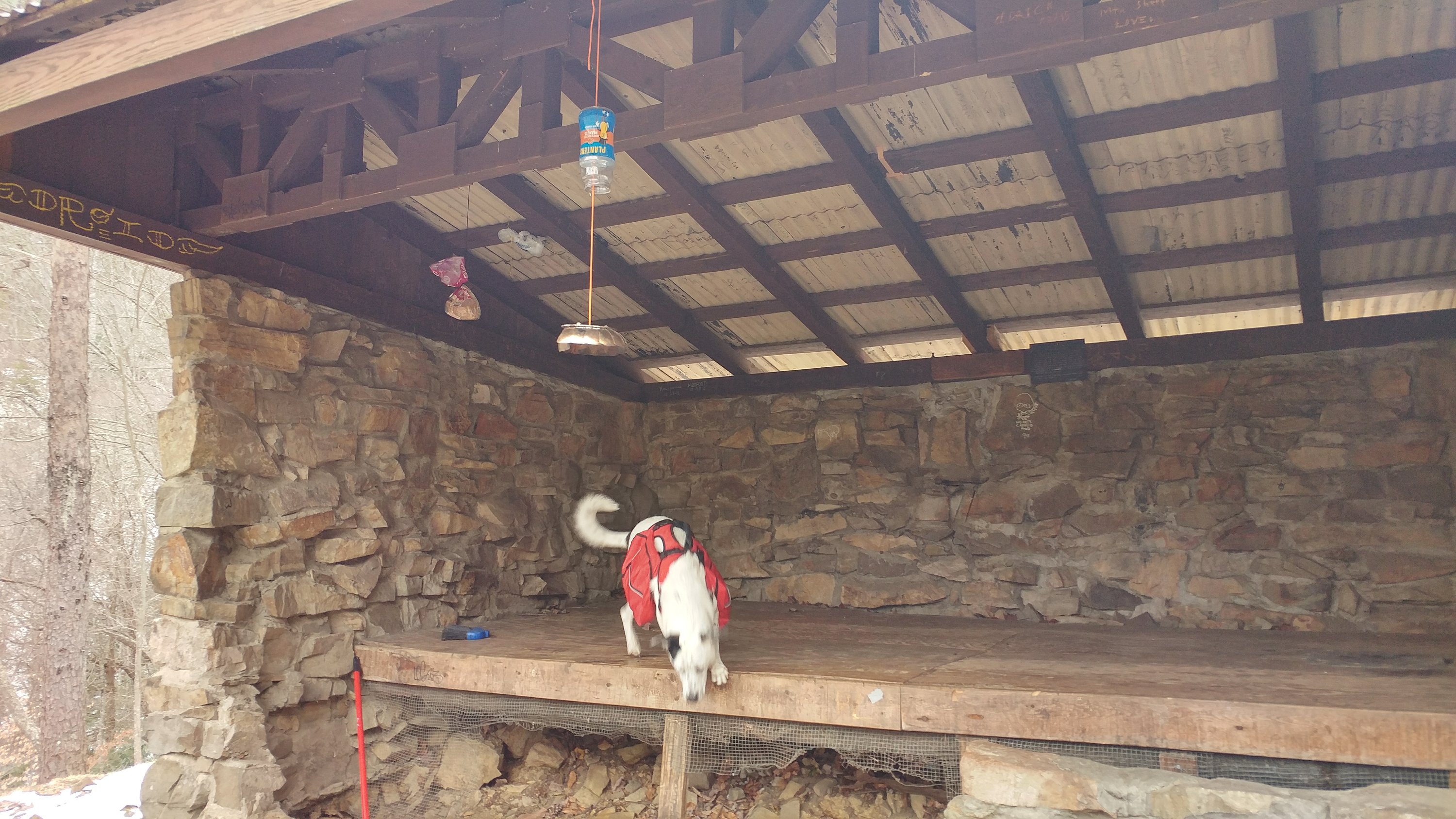 What to Find in Laurel Fork Shelter
In the past I have found notebooks with thru-hikers jotting down what they have experienced in the area, like bear activity. But this day I found a broken broom and some spectacular hiker engineering to keep the mice away. There is a large fire pit close to the shelter and you can hear the roar of Laurel Falls just down the hill. Perfect place to stop for the night if you don't want to stay at the two local hostels about two miles southbound on the Dennis Cove Road. One hostel does not allow dogs and the other only asks for a $5 donation. Both have running water and a place to do laundry.
Remember, this shelter is along a side trail. If you need a place to stay for the night, go and enjoy the falls then come back up the stone stairs to a hikers' perfect hangout. This shelter is big enough to hold eight people, maybe more, so chances are that you will not be alone.
The Snow Turned into Rain
Excellent! This is my chance to test my backpack rain cover and trash bag liner for the extra waterproof protection. So far, so good. After a few miles in the rain and walking in the slush I practiced setting up camp. I take the rain cover off my bag and lay the outside on the wet ground to protect the bottom of my bag.
That is why we practice. Learn little tricks as you go and don't be afraid to make mistakes. You won't be the only one. But as long as you learn from them, that's all that matters.
Eat and Turn Around
I hiked to what I believed to be Coon Den Falls past this old barn that I do not recommend going into. It looked like a sad set of Lincoln Logs that would fall over in a gust of wind.
After practicing how to prepare a simple grits dish for lunch, I backtracked five miles NOBO to where my car was parked.
It was an easy day. This section of the trail doesn't have much of a challenge and my bag felt good on my back. But I always think about "what can I ditch and how can I go lighter?" I have a little more than a month before I start my hike and I plan on spending that time answering my own question.
Affiliate Disclosure
This website contains affiliate links, which means The Trek may receive a percentage of any product or service you purchase using the links in the articles or advertisements. The buyer pays the same price as they would otherwise, and your purchase helps to support The Trek's ongoing goal to serve you quality backpacking advice and information. Thanks for your support!
To learn more, please visit the About This Site page.