Shanendoah Part 1 – A Glimpse of the Good Life (Days 70 to 73, Waynesboro to Lewis Mountain Campground)
Day 70
Start: Rockfish Gap / Waynesboro VA
Finish: Rockfish Gap / Waynesboro VA
AT Miles Hiked Today: 0!
Overall AT Miles Hiked: 861.4
Miles To Go Until Katahdin: 1,327.7
An excellent zero day today. Crusher and I woke up around 7, then wandered down to the extremely subpar continental breakfast in the Super 8 lobby. The fanciest thing they served were unfrozen limp waffles that had questionable spots on them. Nobody likes a floppy waffle.
We returned to the room and lay back down to relax. It seemed like our mission was to move as little as possible, and we were succeeding beyond my wildest dreams. Having WiFi again is addicting, and we messed around on our phones and listened to some music.
I started trying to figure out what my next two weeks would look like. Normally I take it day by day, but I have two friends who want to join me on trail for a few days, so I did some mapping to figure out where they could hop on and off.
It's surprisingly difficult to schedule people into my thru hiker schedule! The pace changes when hiking with non thru hikers, plus I had to worry about resupply points in towns, along with convenient access points on the days they wanted to join. I puzzled out a rough schedule, though.
I had a quick call with one person joining me, Ali, to talk through gear that she would need to purchase or borrow. My other buddy, Nard, is an experienced backpacker and knows his business – he is one of the guys I did my PCT section shakedown hike with last summer. I think I have a good plan for both of then, hopefully they are able to join and nothing goes awry on their ends! They are responsible people with jobs so you never know what will happen.
The date to meet Nard is a hard date next Sunday, so I get to take my time going through Shanendoah. Many thru hikers just bomb through in five 20+ mile days to Front Royal, but I'll do 5 days to Luray and another 2 to Front Royal, where I'll meet Nard. I figure, what's the rush? Maybe Reindeer will catch up while I'm in the park. Plus I've heard rumblings that there are spots in the park where I can eat a full meal and resupply at camp stores. I don't plan on depending on those camp stores, instead using them as bonus calories.
Crusher and I decided to go see a movie in the afternoon, as there was a big movie theater within a mile from our hotel. The problem was that there were no good movies out! We considered going to see Warcraft (we would have no idea what was going on), The Conjuring 2 (scary movie as a matinee? Pass.), and X-Men (they're still making these movies?). Finally we decided on seeing the Jungle Book remake, so we walk down to the theater, eat lunch at Moe's nearby, and settle in to watch the movie with popcorn and a drink.
There's some hiker festival going on downtown that we were too lazy to hitchhike into town for, but fortunately, the festival came to us! Part of the festival was shuttling hikers to the theater for a matinee. The theater went from mostly empty to packed with smelly hikers. Have you ever smelled unshowered hiker stink alongside delicious buttered popcorn? It's a strange experience.
Unexpectedly, our friend Nilla walked into the theater just as the show began! We all caught up after the movie, she walked back to the hotel with us, and we bummed around and talked for about an hour. I believe that she is Aqua blazing through Shanendoah (canoeing through with others instead of hiking through on the AT). It's not the purist way of hiking all 2,189 miles, but canoeing through is much better on your feet.
That afternoon I met up with a friend of my older sister's, who attended a thru hike this year but had to hop off due to personal reasons. It was awesome catching up with him. He's starting a section hike tomorrow in Daleville with a first time backpacker! Ah, I remember my first big backpacking trip. I ended up with a deep knife wound on my arm. Hopefully his first trip is less eventful!
In the evening, I was having trouble updating my blog for the past two sections. Every time I would hit "post" the photos would take about 15 minutes to upload, then the app would throw out an error saying it was unable to post. I was super frustrated. Eventually I had to copy and paste into chrome on my phone then manually add every individual photo through the chrome interface. Super slow and super tedious.
I swung over to the Wendy's for dinner then was in bed early. Despite not doing much of anything except eating all day, I am wiped. Guess my body needed a day to recharge.
A local trail angel named Yellow Truck is coming tomorrow at 8am to bring me back to the trail, so I'll be up bright and early!
Day 71
Start: Rockfish Gap / Waynesboro VA
Finish: Blackrock Hut
AT Miles Hiked Today: 20.6
Overall AT Miles Hiked: 882.0
Miles To Go Until Katahdin: 1,307.1
I was up at 5:45 and headed over to waffle house to get myself some eggs and hash browns. Delicious! Just the kind of greasy spoon diner type food that I had been craving.
Crusher and I packed up the room and headed out to meet our shuttle. Crusher was just getting dropped in the middle of town to wait for his parents. His dad is coming to hike Shanendoah with him! I got dropped at the gap at 8:30 and started my day.
The park is known for being very flat in comparison to the rest of the Appalachian Trail. Ivan explained to me that it's because the government only owns the top portion of the mountains, so they had to build the trail along the ridgeline instead of having it go all the way up then all the way down again. I have no idea if that's true, but it sounds plausible, and I have no internet connection to check. So, that's what we're going with!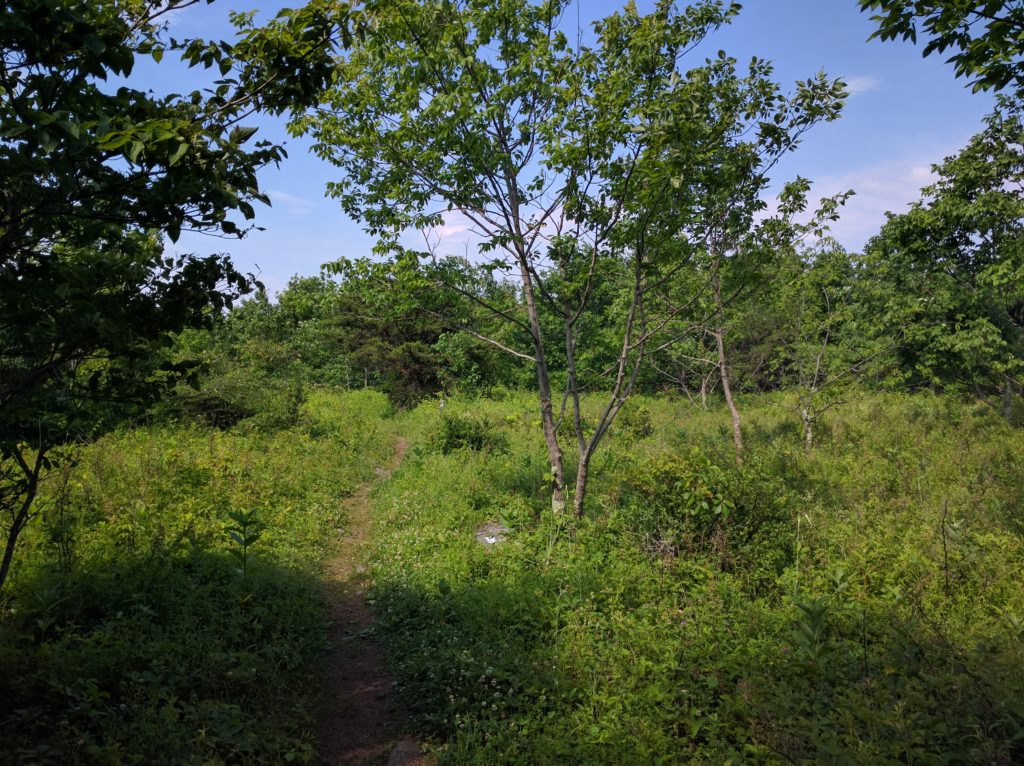 The terrain was a little rocky to start the day, but it quickly smoothed out. I knocked out the first 8 miles before noon, and pulled up to the first water source to find Fern, who I hadn't seen in a while. We caught up and chugged some water. It was to be 13 miles until our next water source. Tough day for water! I chugged a bunch and decided to make the sprint to the shelter with one liter. (I'm carrying 5 days of food on my back… with water included, the weight becomes really difficult to schlep up mountains).
I was taking a break a little after noon when Ivan rolled up! It was great to see him again. We walked together and talked for about an hour, then we walked together on and off for the rest of the day.
Around 3:30 I was crossing over one of the many intersections of the AT and Skyline Drive. I looked down the road and there was a big old black bear crossing the road. I stopped to watch and out trot 2 tiny cubs onto the road! So cute! Then a car came from the opposite direction, and the cubs split in different directions. The mama bear just swung her head back and forth to try to watch both cubs at once, and I walked on before the mama bear saw me and decided it was my fault her cubs went running. That brings the bear count for this thru hike to 7, by the way.
The rest of the day was uneventful. My right Achilles tendon is hurting again. So frustrating, but I suppose something on my body will hurt, it may as well be that. I rolled into the shelter to find a literal ton of hikers. Whether these are day or section hikers, I don't know, but they didn't look like thru hikers. The whole shelter is full, as is the entire surrounding area.
All the areas good for tenting were full, so I was forced to awkwardly pitch my tent on the side of a hill. So, I'm sleeping slanted tonight. Cie la vie I guess! I cleared over 20 miles today and have a short 13 mile day planned for tomorrow, but we will see how it goes.
Day 72
Start: Blackrock Hut
Finish: Pinefield Hut
AT Miles Hiked Today: 13.2
Overall AT Miles Hiked: 895.2
Miles To Go Until Katahdin: 1,293.9
Sleeping in the slanted tent last night was awful. I kept waking up in strange positions cramped into the bottom of my tent. I awoke around 5 to find I was completely off my sleeping pad and it was somehow on top of me.
I finally woke at 6:45 and decided to get moving. I was hiking around 8 and moving quickly, the terrain was extremely well maintained with almost no rocks on the path. I quickly summited my first mountain with great views.
While checking Guthook (my AT guidebook app) I realized that there was a camp store just off the AT, 7 miles into my day. I decided to go scope it out, and I was amazed at the food available! It was like a legit little grocery store! I picked up 2 containers of ice cream, a can of Pringles, and a Gatorade. I enjoyed the snacks on the porch of the store, while other park visitors drove up along skyline drive and bought food for their car campsites and RV's.
It was 11:30 when I left the camp store, and I only had another 6 miles to my planned campsite. I took it slow and enjoyed the views. While hiking past a side trail, Ivan comes walking out looking extremely happy. Turns out that a half mile walk down that trail takes you to a restaurant! He just ate a burger, fries, and a blackberry milkshake. I was full from the camp store, so I just walked along with him for a while, before I stopped at a water source to filter some water.
I got to the campsite at 2:30, and decided to give myself an early day. I stretched, soaked my feet in a nearby river, ate, and slowly did camp chores. I felt myself getting tired, so I went down for a 45 minute nap around 4:00.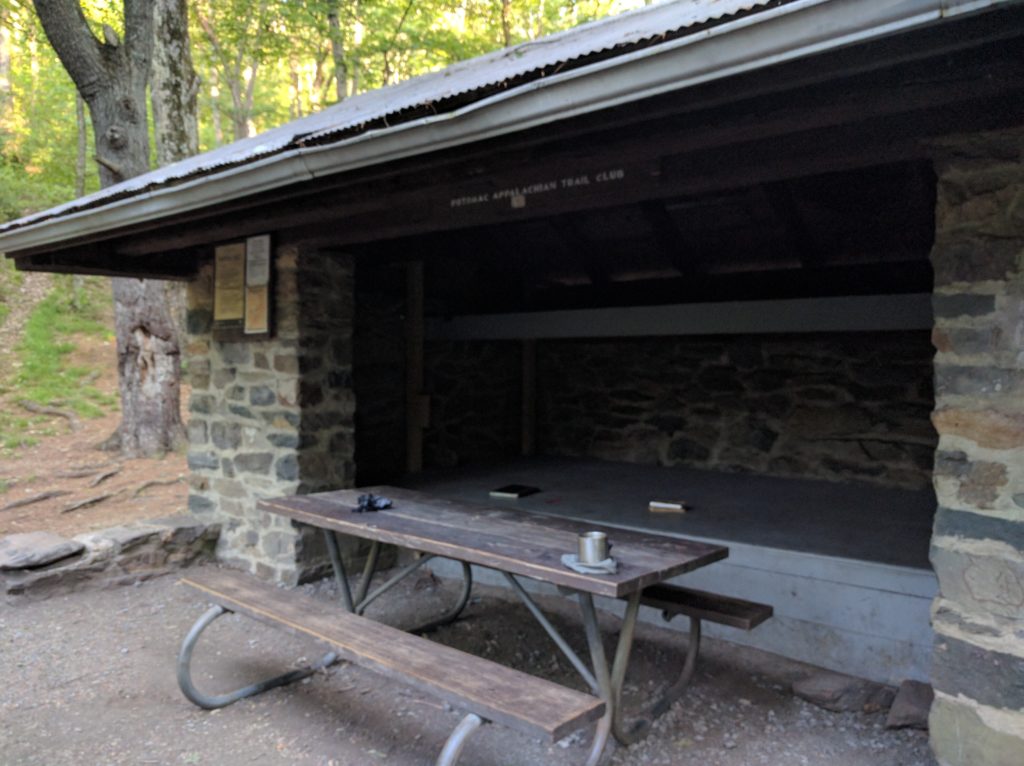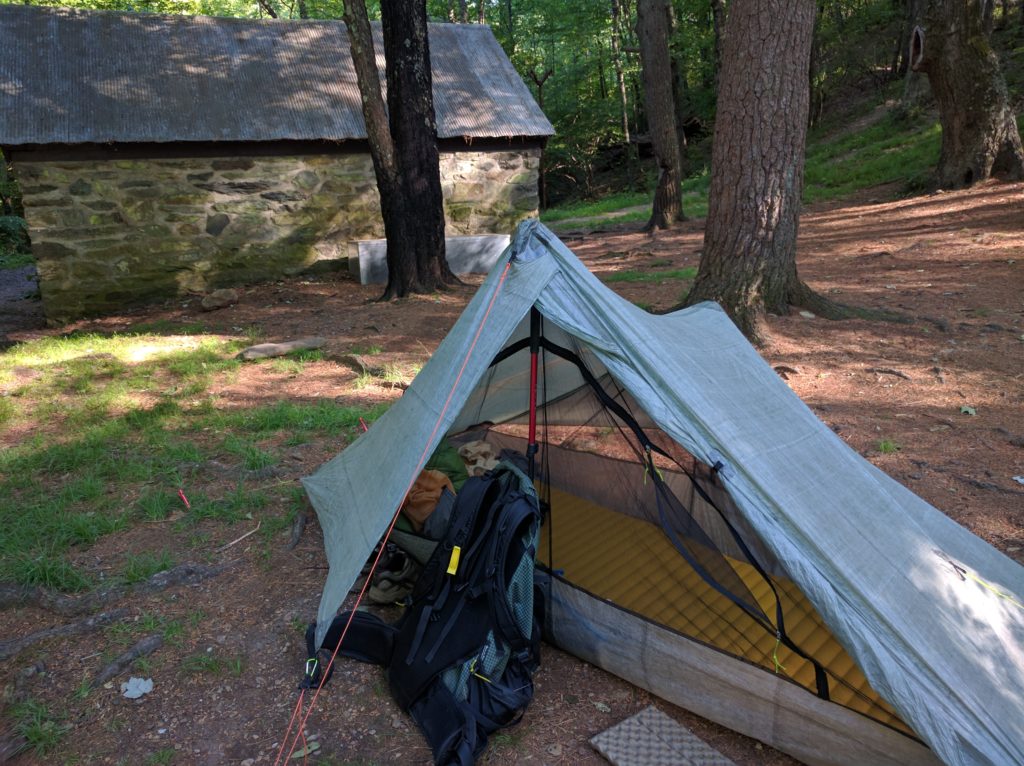 There is almost nobody at this campsite tonight. Seems like the big bubble went ahead to the shelter that was 22 ahead of our shelter last night. It certainly would have been possible for me to press on today but I'm glad I gave myself a break. It felt good to get some trail relaxation time in.
I checked, and there are a few more camp stores with easy access in the days ahead. So I likely don't need to go into Luray any longer, I can go directly into Front Royal. I'll need to find someone with cell phone reception so I can call and cancel my reservation at the motel in Luray, but that's a worry for another day! For now, I've got a full belly and I'm ready for bed.
Day 73
Start: Pinefield Hut
Finish: Bushcamp short of Bearfence Mountain Hut
AT Miles Hiked Today: 20.1
Overall AT Miles Hiked: 915.3
Miles To Go Until Katahdin: 1,273.8
I slept like a log last night. Out around 8, and I woke up at 6. Guess my body was shot! I not only napped yesterday but also slept for 10 hours!
I was hiking early, around 7am. A 20 mile day in the summer can be miserable if you sleep in, but moving around 7 let's you get in many miles before the day really starts to heat up. The day started off much choppier than the past two days.
On top of the mountain I was able to get cell phone service, so I called to cancel my reservation in Luray. I checked my guidebook more closely and saw that I was going to hit a camp store later today! That gave me the motivation I needed to haul ass up the trail.
The right Achilles tendon pain was gone today, replaced with left patellar tendon pain. Future thru hikers please take note: strengthen all your lower body tendons before doing something as ridiculous as a thru hike.
I was dragging ass around 2pm, and several hikers passed me on an uphill as I sat and drank water. I was hungry and sweaty. I checked my guidebook – only 4 more miles to the camp store. I turned on some music and flew.
The great thing about Shanendoah is how often it intersects with Skyline Drive and the "official" campgrounds that people pay for. This is definitely not the pristine wilderness experience. BUT! I am willing to sacrifice a bit of the pure experience if I can have evenings like today.
I walked into the camp store and bought ice cream, Pringles, Gatorade, two packages of chocolate doughnuts, sour patch kids, and oreos. I had a veritable feast! And, the cashier was friendly and told me about the restaurant I will hit tomorrow around 7 miles in. A restaurant! I sure am glad I slowed down for Shanendoah, it'll allow me to hit each of these opportunities to eat. My wallet isn't happy, but my stomach is.
After an hour of eating and drinking on the front porch, I filled up on water out of the tap and made my way towards the shelter. A hiker I passed told me that all the tenting may be full, so I found a spot about a half mile before the shelter near an official Shanendoah clearing and stealth camped in the woods. I'm not sure if I'm allowed to camp here, but it's a nice spot! As I was eating dinner at a picnic table, 3 deer came up and started chomping on plants nearby. Really cool!
I'm not far from Skyline Drive so I can hear cars going by, and there are cabins that real people can rent right across the street. I hear lots of kids running around. But I'm happy here in my tent, belly full of food I didn't have to schlep up a mountain. Today was my last planned 20 mile day for Shanendoah, and I received confirmation from Nard that he was able to get time off from work to come join me. I'm excited to have some easy days into Front Royal, with lots of eating, then four days with Nard into Harper's Ferry!
Stay tuned for part 2 of Shanendoah – I have a feeling it'll be even more glamorous than my first 3 days in the national park.
Until next time, happy trails!
-Slice
Affiliate Disclosure
This website contains affiliate links, which means The Trek may receive a percentage of any product or service you purchase using the links in the articles or advertisements. The buyer pays the same price as they would otherwise, and your purchase helps to support The Trek's ongoing goal to serve you quality backpacking advice and information. Thanks for your support!
To learn more, please visit the About This Site page.