Shutterbug's final trail update…. for now!
I know, I know, I haven't updated my blog in quite some time. So much has happened in the past three months. So let's back up to where I left off in my last post.
When I wrote last, I was sitting in my hammock at a stealth site right outside of Gorham, NH. I'd been there for a couple days waiting for my hiking partner Chips to get over a nasty cold/stomach bug. When he finally felt well enough to hike on, NH decided to have a heat wave. I swear it got up into the 90's! We didn't hike very fast because of the heat and lack of water. It took way longer than we wanted to get into Maine. There were a couple days where we decided to hike less than 5 miles…
We made it through the Mahoosic Notch & up the Mahoosic Arm. (barely) When we got down to Grafton notch Miss Janet was there waiting for us! She'd texted me earlier in the week and told me to meet her there. She said she was going to kidnap me and whoever else decided to show up at the road crossing.
She took us to a nice restaurant where I was able to get my millionth burger on the trail. (Not really but I seemed to order a burger wherever I went!) Then she took us all to a secret cabin in the backwoods of Maine. We spent the night talking about the trail and what we might do after we finished. The next day she dropped us back off at the notch and we spent the night stealth camping behind the parking lot. We'd ran into some friends that had flip flopped so we didn't mind the extra zero day spent with them. The next day I started doing the math and although it would've been possible to get to Katahdin before the park closed, it would not have been fun. 14 miles a day with no zeros didn't sound appealing at all.
We made a quick decision to call Shaw's Hiker Hostel and 6 hours later we were in Monson, ME.
If you stay at Shaw's (And you most certainly should!) make sure to take Poet's advice about the wilderness! Take your time, camp at the beaches, do lower mile days the first half because it's actually pretty hard, & most importantly, HAVE FUN! We took 8 days of food into the 100 mile wilderness and wound up spending a total of 11 days & 10 nights out there.
Luckily about halfway through there's a camp called Whitehouse Landing. If you call them they'll come & pick you up by boat and you can stay the night in their bunkhouse. They also serve homemade burgers & pizza for dinner. They had minimal resupply but they also had loads of homemade baked goods. It was definitely pricey but when you take into account the fact that they're a completely off the grid camp & it's their only income, it's worth it. If you choose to take your time through the wilderness but want to save money you can always pay Shaw's to do a food drop where they meet up with you halfway through!
Make sure you don't hire one of the hostels that hides your food because people (unsure of whether they were thru-hikers or townies) have stolen them in the past!
Thankfully the river fords in the 100 mile were all pretty much rock hops. That was the one part of the trail that I'd been worried about and it turned out I didn't have a reason to worry.
There was one day when Chips and I had planned a big mile day. I was a bit sluggish and was probably a good two hours behind him. The sun went down while I ate dinner at a shelter that was about 4 miles from where we planned to camp for the night. I made it another 2 miles and decided to check the weather because I'd noticed a bunch of clouds had rolled in. After seeing that rain was supposed to start any minute I decided to cut the day short and camped alone & at least 2 miles away from anyone else for the first time my entire trek.
It didn't rain but I'm glad I got to experience sleeping in the wilderness all alone. It isn't scary at all, I promise!
Maine was absolutely beautiful and I'm so glad I was able to hike it during peak fall foliage!
We strategically planned our summit date for Friday the 13th because the weather was supposed to be beautiful & we knew a few other people planning to summit that day. The hike up Katahdin is not that bad… until you get above treeline. Then you're no longer hiking, you're climbing. There was one spot where you were supposed to use rebar to hoist yourself up a rock face. I was too short and had to jump, grab hold of the rebar, and hope I didn't body slam into the rock face. Somehow I made it out with only some minor bruises & sore muscles.
If you have good weather & are not too terrified of heights, HIKE THE KNIFE EDGE TRAIL!
I'm an adrenaline junkie and had been planning on hiking that trail for years. When my dad thru-hiked in 1980 he didn't get a Katahdin summit photo because there was no one else up there at the time to take it but while he was hiking the Knife Edge trail he came across another hiker. They took his photo & it is pretty epic so of course I had to recreate it.
I thought I was going to die the entire time but I'd hike the Knife Edge Trail again.
After Katahdin, Chips and I attempted to finish the rest of Maine but we got a long stretch of freezing cold rainy days. We wound up spending three days in a shelter trying to wait it out but ultimately decided to backtrack to Stratton and have my mom pick us up.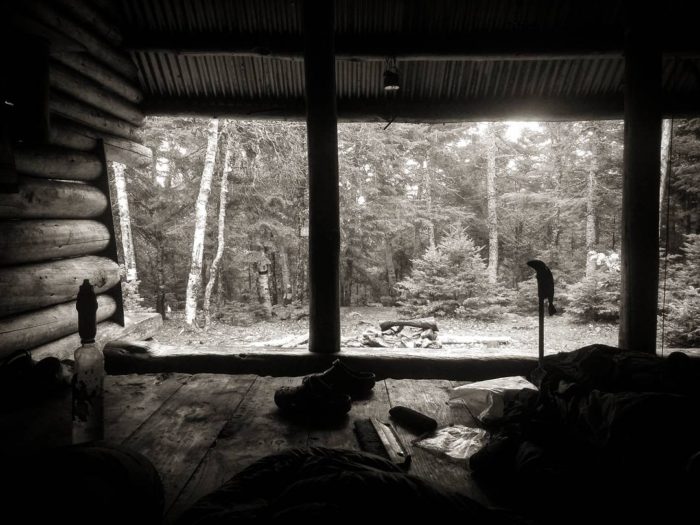 We ran into an issue when we got to a stream that had been a rock hop crossing just days before. It was now a full on raging river. I got to the edge of the river and could barely make out what Chips was trying to say to me because of how loud the river was. I heard the first sentence at least.
"Shutterbug, we have a problem." And a problem it was.
The board that had been propped up on the rocks to cross the creek had washed away. The rapids were fast and the water was deep. We walked along the riverbed searching for a way across. We attempted a few spots but it was just too dangerous. I had my first panic attack on trail shortly after our last attempt. We camped along the riverbed in hopes that the water would lower overnight.
The next morning we wound up bushwhacking about a mile before we found a spot I was comfortable trying to cross. As I was working up the courage to cross I heard Chips start laughing. I thought he was laughing at me because I was just standing there in my underwear. The water looked deep and I didn't want to have to wear soaking wet leggings for the rest of the day! I looked over and out of the water below a small waterfall a duck popped out and flew away. Soon after there were two more. I started cracking up.
Here I was scared to death to walk across a river and there's some adrenaline junkie ducks that didn't seem to have any issue sliding down the raging waterfall.
Chips got in the water and the first step was already up to his knees. I followed close behind. The entire time I was shaking & on the verge of another panic attack. The water was ice cold and the deepest part got up to my waist. I was only in the water for a couple of minutes but it felt like hours. Chips pulled me across the last few steps and all of a sudden both of my feet were on dry land. We bushwhacked our way back to the trail and made our way to town.
My mom picked us up (along with Chips' friend who was also in ME) and we were in NY the next night. I didn't last more than a day on the trail in NY before I started getting some intense stomach cramps. Luckily I was close to home so my mom brought me to the doctor. They weren't sure what was wrong and told me to get an ultrasound. I didn't make it to my appointment though because the pain got much worse and I decided to just go straight to the hospital.
Turned out I had a kidney infection and wouldn't be able to hike for over a week.
Chips and his friend hiked on without me. I met up with them at the secret shelter that week just to hang out because it was only an hour away from home. When I finally felt better my mom dropped me off in Pennsylvania.
I hiked with Chips for a little over a week and then it was Thanksgiving. My family had a vacation to Hawaii planned for the two weeks after Thanksgiving so I went on that. It was really awesome! And now I'm home. I won't be finishing the trail this year but I did hike about 1500 miles of it. I'm damn proud of myself for doing so! Especially after dealing with pink eye, lyme disease, & a kidney infection on trail!
I have a bunch of blog post ideas (I promise, I will finish my trail recipe post soon!) so this won't be the last you'll hear from me! I am also planning on hiking the PCT in 2019! You can take the girl off the trail but you can't take the trail out of the girl!
Happy hiking!
– Shutterbug
Affiliate Disclosure
This website contains affiliate links, which means The Trek may receive a percentage of any product or service you purchase using the links in the articles or advertisements. The buyer pays the same price as they would otherwise, and your purchase helps to support The Trek's ongoing goal to serve you quality backpacking advice and information. Thanks for your support!
To learn more, please visit the About This Site page.