Silly Me: I Forgot to Schedule in a Hurricane
"Adopt the pace of nature: her secret is patience."  Ralph Waldo Emerson
Up and down the eastern seaboard, hundreds of sidelined backpackers are chomping at the bit. Some are in motels/hotels; others, in hostels; a few in actual homes.  What all have in common, besides restlessness, is the necessity of waiting out potential downpours, the aftermath of Tropical Storm Florence.
State and national parks and forests along the southern corridor have shut down their trails and campgrounds.  The Appalachian Trail Conservancy and The Trek have posted warnings on their sites for all hikers to get off the trail, due to the potential for downpours, massive mudslides, and falling trees.
Most backpackers would agree that they have learned a great deal from their experiences on the trail. Now we work, off trail, on the virtue of patience.
"I have seen many storms in my life. Most have caught me by surprise, so  I had to learn very carefully and understand that I am not capable of controlling the weather, to exercise the art of patience and to respect the fury of nature."  Paulo Coelho
Where am I?  Working on my patience while comfortably ensconced in an EconoLodge in Marion, VA.
Happily, I have company in the room next to me: two other AT backpackers, Princess and Stephan. I have now spent three nights here and intend  to stay as long as needed, which will probably be at least two more night$.
Today is the first day we have had any rainfall or wind, and, as I write this, it is still very light. Let's see when and where that big green glob decides to move elsewhere and let the blue dot continue on her SW trajectory.
What has happened since I last left you, dear readers?  A week of glorious hiking, all of which affirmed my strong need and desire to be on the AT.
I appreciated so many moments of quiet beauty…
I had two memorable stays at hostels, with enriching discussions with each generous host.  Late one rainy afternoon,  I was safely transported from a trailhead by my shuttle buddy, Bubba…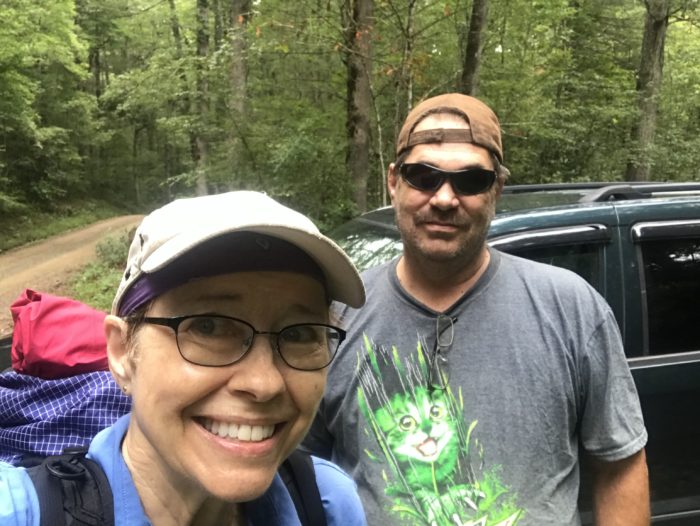 …back to Lickskillet Hostel, the former church building Bill and I had visited for a Gatorade the previous week.
Being later in the season, I was the only guest this night.  Shown: Mister, the canine host. Human host Mongo is equally nice.
Next, a completely different style of hostel, the Appalachian Dreamer. Owner Mack, a 75-year-old accomplished backpacker himself,  built the home with a hostel in mind, and created a beauty. With a heart of gold, he gives you a free 2.5-mile shuttle to and from the trail, a big home-cooked dinner and breakfast, a beautiful six-bed bunk room, spotless bathrooms, free use of his laundry facilities, goats, donkeys, and a gorgeous view of the Virginia countryside, all for the standard hostel rate of $20. He said that if he wanted to earn money, he'd work as a greeter at Walmart. I had a very restful zero day here.
I also had two nights of camping during this stretch of the trail. The first night was intentional, at a beautiful site by a stream. Being close to a dirt road, someone had been able to haul in a picnic table (a real luxury for campers), with a touching plaque affixed to one corner.
The second night of camping:  unintentional. Two weeks in advance,  I had booked a bed at St. Luke's Hostel, in the lovely valley called Burke's Garden. I waited for 1.5 hours with two other hikers at the AT trailhead on their closest gravel road. No show. Just a recording on the phone saying that we would be picked up at 5 p.m. at the spot. It was now 6:30 p.m.. Our water bottles were completely empty. Very happily, there was a trail angel named Gary with his dog Pepper, who were camping out there for several nights. Gary likes to give water bottles to passing hikers because of the lack of water in the area. Chatting with Gary was my buddy the shuttle driver Bubba. There's a real trail community both on and off the trail.
Bubba piled us into his van and took us the five miles to the hostel. It was locked up tight. Dejected, we came back to the trailhead and decided to camp, since Gary had plenty of water for us. It all turned out fine,  although one of the hikers was unable to get the food box that had been mailed to the hostel.
You can bet that I left a very unhappy review of this hostel on the Gutthook App, which joined many others stating the same sort of incidents.  Hikers count on these services if indicated available.
The hostel had posted two signs illegally on the trail, erroneously stating it was just a 1.5-mile walk down the road.
Interestingly enough, the next morning, only the posts remained.  Yet another mystery of the forest.
"Beware the fury of a patient person."  John Dryden
During the past week, I enjoyed my lunch at several shelters. One was unique in that it was made of stone, had four walls, and a door for entry. It was in a meadow of wildflowers with a beautiful view of Burkes Garden below.
The other was more typical of this region: wooden, with an open front, and tucked within the forest.
I shared the trail with just a few hikers each day. One interesting trio that I met were a father and his homeschooled twins, maybe eight years old (no photos allowed on social media). They had started hiking three months ago in Maine and had made it three-quarters of the way to the south in just three months, an amazing pace. The kids were eager to finish up, so they were now doing 30 miles a day, which very few people can accomplish. The father explained that they didn't stop for meals, but every hour they each ate a high-calorie snack bar, with a packaged meal like macaroni and cheese in the evening. They chowed down when coming to cafes.  The kids look happy and their packs looked ultralight.   As they flew up the next mountain like winged mountain goats, I plodded along with what felt like a set of bowling balls and a baby grand in my backpack.
I climbed over at least four stiles that day, because of all the fenced pastures the trail traversed. Certainly had to watch my step for cow pies!
One very cool building along the way was an old schoolhouse from the late 1800s, part of a settlers museum. Hikers are welcome to sleep inside the school, as a shelter. I wish that would have worked out for me.
As the hurricane drew closer, I experienced some big downpours on the trail. I arrived, sopping wet despite my rain jacket, at the "sorta OK" motel, the Relax Inn.
As I dried out pages of my AWOL guidebook, I shopped at two adjacent gas stations, buying new ziplocks for storing my extra clothes in my backpack and a $6 poncho, which later truly increased the efficiency of my $300 Gore-Tex jacket.
All of which brought me to Marion, VA, my present location. And what has happened here during this forced vacation from backpacking?
Join me tomorrow for the next installment of this fascinating (or so I believe) narrative.
Affiliate Disclosure
This website contains affiliate links, which means The Trek may receive a percentage of any product or service you purchase using the links in the articles or advertisements. The buyer pays the same price as they would otherwise, and your purchase helps to support The Trek's ongoing goal to serve you quality backpacking advice and information. Thanks for your support!
To learn more, please visit the About This Site page.