Snowy Shakedown – How My Shakedown Humbled Me.
My shakedown, although helping me build confidence in myself for my upcoming AT thru-hike, knocked me down a peg or three.
January, Why Are You So Cold?
I guess if you've taken a geography class ever in your life, you understand that Pennsylvania experiences all 4 seasons. Yes, I knew this too, having grown up here and recently moving back to the area last year.
We started 2019 with temperatures in the 50's and even 60's. I was prepared for my 46 mile, 4 day hike on the beautiful Laurel Highlands Hiking Trail. The mild January weather in Central Pennsylvania was very misleading.
There were talks of a major storm building in the distance as the days to my shakedown were in the single digits, forecasts calling for 12-18 inches of frozen rain and snow.
Having paid for my shelters for 3 nights (backwoods camping is prohibited on the LHHT), I had to make some last minute arrangements and changed my shakedown to one day and one overnight. This was due to safety concerns. If we were to get inches of ice and snow, not only could I get stranded on the trail, but there would be almost no way for anyone to rescue me, if I needed it.
Shakedown Commence!
So the Shakedown day arrived, I was up early, excited to get this shakedown on the road, or you know, trail. This is the face of a girl who was just dropped off, literally in the middle of nowhere, on an unplowed snowy road, ready to face the 13 miles and snow covered trail ahead of me.
(Don't worry the under-eye bags are Gossamer Gear)
This was also the first time I had my full gear on my back, for longer than a few minutes to see how it felt. I felt great in the morning as a light snow fell and the woods were so quiet, foggy and almost dream-like. I was LOVING it!
It wasn't but 3 or 4 miles before my achilles tendons started to ache as I was ascending some 'hills'. I say hills because the most I ascended in a single stretch was 500 feet. As my ankle tendons stretched, I realized that yoga stretches are going to be a daily occurrence, until I leave for the AT. I believe my achilles' were causing me discomfort for a few reasons.
1. I'm not in thru-hiking shape yet.
2. Hiking in ankle deep snow is hard, harder than not hiking in ankle deep snow.
3. Hills are witches.
I managed my 13 mile day, that ended with only slight left knee soreness (something I was used to from years of running) and aching achilles'. Both issues subsided overnight, and I woke the next day feeling 95%. I would say all-in-all my body faired alright!
(Naturally Stoic LHHT Pic)
How Did My Gear Hold Up?
First Up… Turtle Shell
I originally purchased the Gregory Amber 70L. But, Recently I made the switch to the Gossamer Gear Mariposa 60L. The Amber 70 was very sturdy and had a great lumbar support. It fit me well, but after trying on the GG Mariposa 60L I was converted. It felt so light (it was just shy of 2lbs lighter) and comfortable. AND IT HAD TONS OF POCKETS! Everyone knows that pockets are fun!
(How cold, uh I mean cool, do I look?)
Obviously I will need to use this pack more to fully grasp my complete feelings on it, but for now, I am sold!
Second Up…Water Filtration
I know that many people, use the Sawyer Squeeze and Micro Squeeze. I own one. I like it. However, I really have grown to love my Katadyn BeeFree 1.0L filter bottle. This thing is super light, and I love how fast the flow rate is. It can filter 1L of water in 30 seconds. I know that the life span of the BeFree may not be as long as the Sawyer Squeeze, but I will use it until stops working and have my mom send my sawyer squeeze if that day happens on trail. For now, it has my vote.
(Being free with my BeFree)
(and here you can see, water. Cold, cold water)
Third… Cooking System
I opted for the GSI Outdoors Soloist cooking system. Honestly it was on sale at REI and it seemed to have everything I needed, and more. I took out the spoon, the cup and simply used the pot and lid with the case. Honestly, I do not know why it seemed like the best choice at the time, but as you will see below it worked.
(Courtesy of REI.com)
The pot fits a large fuel canister, my MSR pocket rocket, lighter and a bandana. The kicker, and the lid closes and locks on.
(I'm honestly a terrible cook)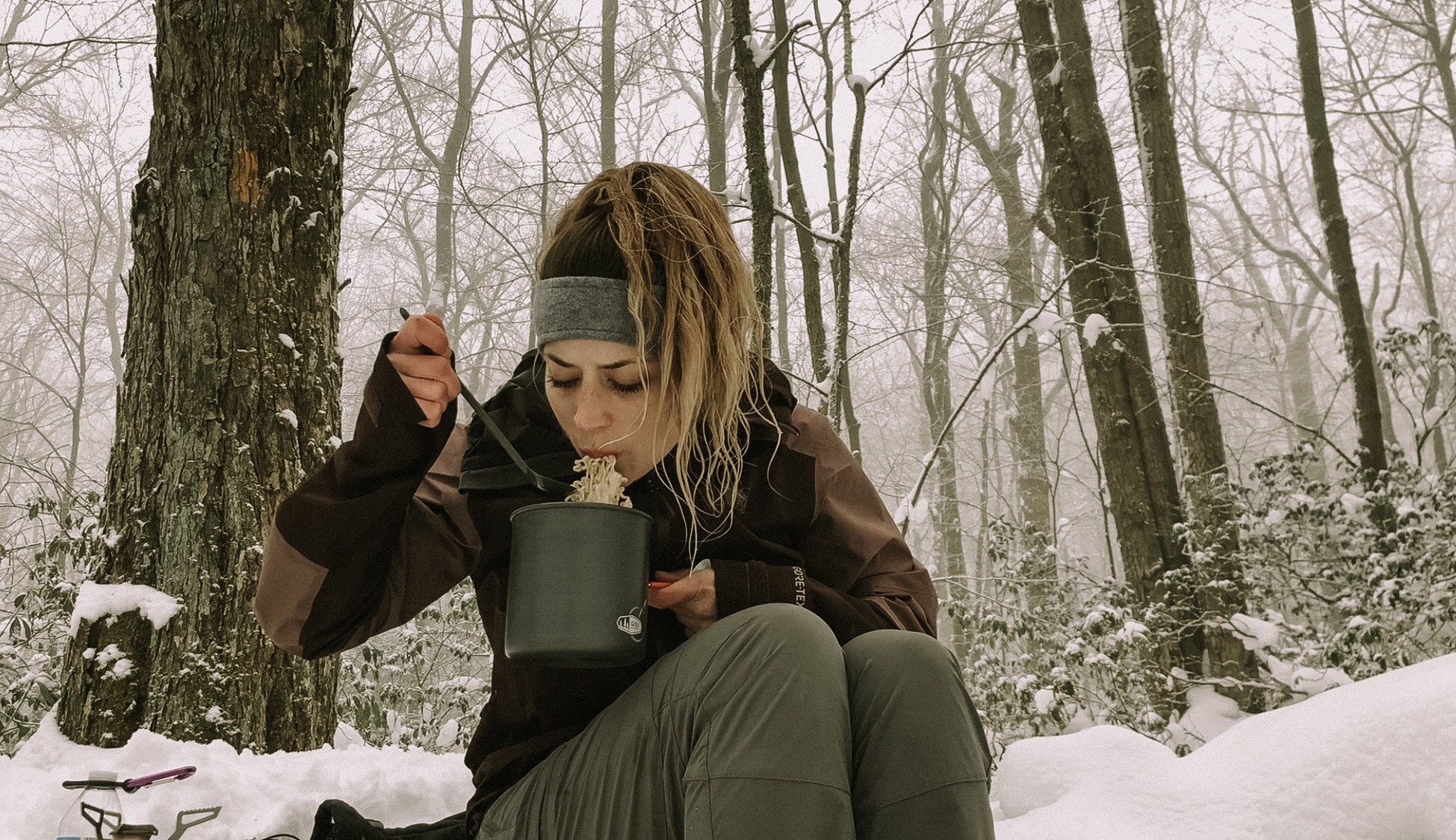 (But ramen is always easy)
I know this isn't the lightest pot, and I still may trade it out for a lighter titanium pot, but for now, she gets hot, and boils water, and she keeps my belly happy.
Lastly… Sleeping System
Did you know, that a tent stake, simply will not penetrate frozen ground? The ground will not be penetrated, not without a hammer, and I happened to be one hammer short on my shakedown. I attempted to put up my tent, which I also changed out to the GG "The One" tent. This also shaved off around 2lbs from my base weight. After bending a stake, and cursing the winter weather gods, I called it a loss and opted for the shelter.
(Image courtesy of Caet Cash https://thetrek.co/appalachian-trail/review-gossamer-gear-the-one-ul-shelter)
Luckily the LHHT offers shelters, which is why I paid $4/night to camp there. The shelters came with a fire pit in the entrance and honestly it saved me. Everything was frozen and wet, and a fire just didn't look like it was going to happen, and BOOM, Trail Magic! Someone had left a fire starter brick in the shelter and I was able to eventually light some cold, moist wood and get a fire going.
(Wet wood does not a fire make. Yes this fire took me over and hour to make)
After spending far too long on a fire, I set up my sleeping system. It was composed of:
Women't NeoAir Xlite Sleeping Pad
Kelty Cosmic Downs 20 Degree Women's sleeping bag
Sea to Summit Thermolite Reactor Extreme Sleeping Bag Liner
Madera Outdoor Ultra Light Blow-Up Pillow
(Luxurious Sleeping accommodations)
Let me tell you one thing. If I take anything away from my shakedown related to my sleep system. MY SLEEPING BAG LINER WAS THE BEES KNEES! Yes it added almost ONE WHOLE POUND TO MY PACK, but it warmed me up so much more than just the sleeping bag would have. I was actually WARM sitting in it. I have slept outside in the same temperature without it and my butt was chilly. With the extra liner, I COULD HAVE SLEPT ON EVEREST! Ok, well maybe not Everest, but it was a valuable investment, and I will be taking it with me on the AT, and when the summer heat makes me want to sleep in my birthday suit, I can use this liner as my sleeping blanket and save weight and space by sending my Kelty home for a bit.
In Summary
As I was settling in getting ready for dinner by the fire, my mother called worried that the big storm might be changing paths and it might not be safe to stay for the night. I believe that I made the right, and safer call, and packed up and high tailed it to the trail head, where a warm car, and safe haven awaited. As I am writing this we are under a severe storm warning for the next 24 hours.
DO NOT WORRY, in a few short weeks, I will get 180 days of getting to sleep outside.
I am very happy with how my shakedown played out. My gear worked great, my body didn't melt and I had AN AMAZING DAY OUT IN THE SNOWY LAUREL HIGHLANDS. I am proud that I was able to make a call I did not want to, for the sake of safety. I cannot wait for this to become my everyday… for half of a year. Yes, I am still wrapping my head around that, and I probably will still be until I summit Mt Katahdin.
Thanks again for reading along and I cannot wait to see you out there!
Julia
Affiliate Disclosure
This website contains affiliate links, which means The Trek may receive a percentage of any product or service you purchase using the links in the articles or advertisements. The buyer pays the same price as they would otherwise, and your purchase helps to support The Trek's ongoing goal to serve you quality backpacking advice and information. Thanks for your support!
To learn more, please visit the About This Site page.
Comments
3
Get a jet boil, it's much more efficient than the cooking setup that you have.

Ill definitely check into the jetboil. My system was easy and fast to use!

That trail is great. You'll have a great test climbing out of Ohiopyle and be rewarded with the rt653 shelter area it is sooo pretty in the snow.