AT SOBO 2019: Katahdin and the 100 Miles
It has only been a tad bit over a week, and already I can feel a change both physically and mentally.

I do not know at all how to feel about that, especially considering that I still have over 2,000 more miles to go. I will say, however, that I am incredibly grateful that I am going SOBO. These first days of my journey have been incredible.  Pictures and words cannot do it justice, but I'm going to try.
Mount Katahdin, where the trail ends for most but where it began for me, has legendary views and is full of history. At Katahdin Springs Campground I was able to catch this quick view from the bottom that I really like. However, my experience with climbing said mountain, and coming down, are a different story altogether.
Weather at high altitudes is terrifying. A drizzle at the bottom of the mountain is a torrential sleet storm at the top. A breeze becomes a gale, and it feels as if the mountain itself simply rejects the idea of you. I was alone for my entire ascent, and each step became more and more difficult. I kept telling myself that I could just turn around… It would be fine… Honestly, I didn't even have to tell anyone… But I kept going. It was so bad that I had to focus on something else to keep my fear at bay and maintain control. For me, that started as a sort of mantra of me cussing the mountain, that eventually, after eight long hours and one freezing cold picture that I was lucky to have gotten at all, I ended up with a couple of stanzas.
Step by careful step,
He made his wet way up the mountain.
This trail was not a footpath,
They should call it the Hunt fountain.
Every single divot
In this endless gray rock-face
Is home to falling water
At a torrential downhill pace.
I quite literally repeated variations of this as I went, and it evolved and grew into that. While I am definitely no poet, it served a purpose. I learned that my imagination (always rampant) can, and will, be a resource in getting me through the hardest parts of my trek.
After Katahdin, I spent the next seven days going through the 100-Mile Wilderness.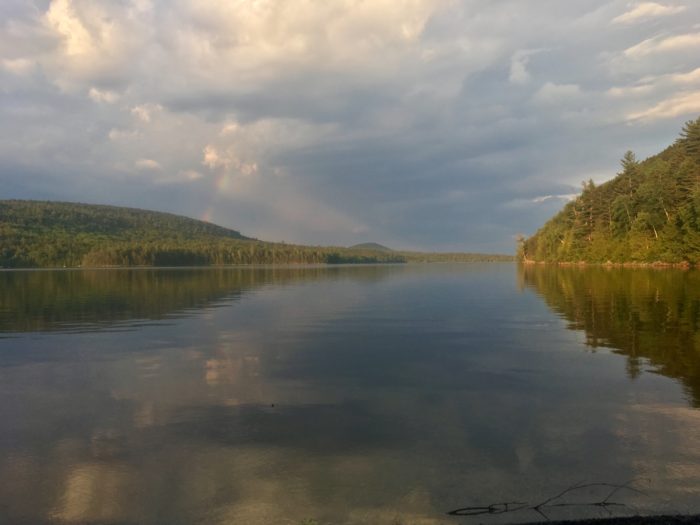 In this, the weather must have been trying to make up for its behavior on my summit day, because it was gorgeous. Every few miles opened up to another picturesque mountain vista, or a lake hidden between the peaks. Along with the sunshine, though, came enough mosquitoes to potentially black out the sun. It was preposterous. Anything you have ever read or heard or think you know about how bad the bitey-bugs are in summer in Maine is true.
 Probably, your imagination is not enough to really get a sense of the scope. To make matters worse, I lost my Deet on day two. Of all things to lose (and the only thing), I lose my damn bug spray in the 100 mile. In July. What worked for me was wearing a long-sleeve shirt and pants the entire time, despite the heat. I brought a bug net hat, but it restricted my vision too much, was uncomfortable, and I eventually stopped wearing it in favor of wrapping my head completely in a Buff and walking south as fast as I could to get away from the little biters. My Permethrin-treated clothes also helped, and added another level of security health wise. My Mom gave me a skin stick from Posh Soap called The Healer, and at the risk of sounding like an ad, it saved my ass. Literally. There were bug bites in places that should never have bug bites.
   Some highlights of the 100 mile for me are camping at Nahmakanta West Beach (pictured above) and watching the sunrise; climbing the old fire tower on the Barren Ledges for insane 360 views; and a few sections of the forest that have no specific name that I can find, but that truly felt magic.
Over 100 miles in eight days, and I'm just getting started. It's said that Katahdin is one of the most physically challenging parts of the trail, and the 100 mile is one of the most logistically difficult parts, and also for me one hell of a mental battle against the endless onslaught of bugs. It is definitely a confidence booster to know that I've already gotten these difficult milestones under my belt.
For now, I'm kicked back and enjoying the food here at Shaw's in Monson, waiting on a supply box in the morning, then headed back out for the next step in my journey. My feet and ankles are definitely happy for the break, but my heart is ready to get back out there.
Until next time…
Affiliate Disclosure
This website contains affiliate links, which means The Trek may receive a percentage of any product or service you purchase using the links in the articles or advertisements. The buyer pays the same price as they would otherwise, and your purchase helps to support The Trek's ongoing goal to serve you quality backpacking advice and information. Thanks for your support!
To learn more, please visit the About This Site page.