Sometimes, You Have To Be Your Own "Trail Magic"
Flip Flop vs. Traditional
I am quickly learning that the journey of a Flip Flop Thru Hiker is vastly different than that of a traditional NOBO from Springer Mountain, GA. There has been NO ONE OUT HERE  in the past 5 days except for one solo section hiker. I literally attacked this poor soul who was abruptly disturbed from their peaceful journey with my chatty conversation; sorry "Birdie" from New York. Seeing a human on trail snapped me out of resorting to talking to backpack, "Daisy Mae," which had become my security blanket wrapped warmly around me.
The Solitude
The shelters in VA are empty with only the signatures of a few hikers that have traversed through during the winter months. There is no "atta girl" as you step off a long hard ascent or knee busting descent with hot coffee, a burger, and lawn chair to sink down into and rest your weary feet. "This isn't like running a marathon, Joanne." There are no crowds with cow bells and hand made signs screaming, "You're almost there! Looking strong!" There is no one … but YOU. It's just YOU."
My Own Trail Magic
Though I am enjoying the temporary solitude and soaking in every mile as an introspective journey, I find myself missing some of the camaraderie of tramily and trail magic. On my hardest day during this section, I crossed a milestone that was my very own "trail magic." Honestly, I've just been hiking until I'm tired everyday and feeling myself running out of gas – and it's working for me. I stumbled upon the quarter way sign. Though I have hiked almost 150 miles towards my 2023 thru hike, I realized I had hiked 1/4 of the Appalachian Trail in my lifetime. It was my own trail magic, and it happened unexpectedly at just the right time; just as trail magic does.
The Weather
There are any number of reasons a thru hiker may choose to flip flop. And for good reason, mine had nothing to do with the weather.  In the past 14 days, I've hiked from 65 and sunny, to 55 mph winds, and 21 with snow and ice. It has been a weather whirlwind, but I feel myself getting stronger every day and rising to any occasion. 
I just keep telling myself, "If anyone is capable of doing really hard things- it is YOU. Be your own trail magic." I'm only beginning, yet every mile is significant. Every mile has its own lesson, and I'm learning. 

Top 10 Favorites of this section Of My Journey
The Lindamood School Shelter: This gem, built in 1894, is now my favorite AT shelter in the southern states.

 

The Long Neck Lair Alpaca Farm and Hiker Hostel in Rural Retreat:  My first stay in a hiker hostel. The owners, Cyndie and Ken, are some of the most kind hearted you'll ever meet.
Fording Lick Creek: Wrapping my leg up to my knee with a plastic bag and duct tape to keep a 2nd degree burn (now healed) bandage dry and clean. It felt like my own celebration of just "making do with what I had"
Walking over the Kimberling Creek Suspension Bridge: I hadn't imagined it to be that large.

 

Pitching my tent at the Crawfish Trail campsite and listening to the barred owls at night
Climbing over several barbed wire fence ladders that seemed to get higher the more northbound I trekked. It was the Appalachian Trail's version of

 an "adventure race," accept you have to do it with your backpack on!

 

Seeing a group of 25 high-school spring breakers struggle up to Knot Maul shelter to pile in for the night; smiles, frowns, running, dragging behind, cut knees from falling, carrying extra things that wouldn't fit in their backpacks (like gallons of water and oversized sleeping bags), but they were having the time of their lives. It made me smile inside to hear their laughter and banter.

 

Eating 4 large gluten free pancakes smothered with butter and maple syrup on the morning of the snow and ice storm

 

Hiking in the snow atop Sugar Run Mountain: it was magical to only hear the sounds of ice melting gazing at the view above Angels Rest.
Crossing the New River Bridge and feeling like a vagabond strolling along the highway with my backpack on.
I'm having the time of my life out here. It's hard – REALLY hard, but I'm finding I have more strength inside me than I thought possible. The strength to stand alone, the strength to make good sound decisions in critical moments, the strength to continue on after, physically, the hardest 2 weeks of my life.
Lucky Penny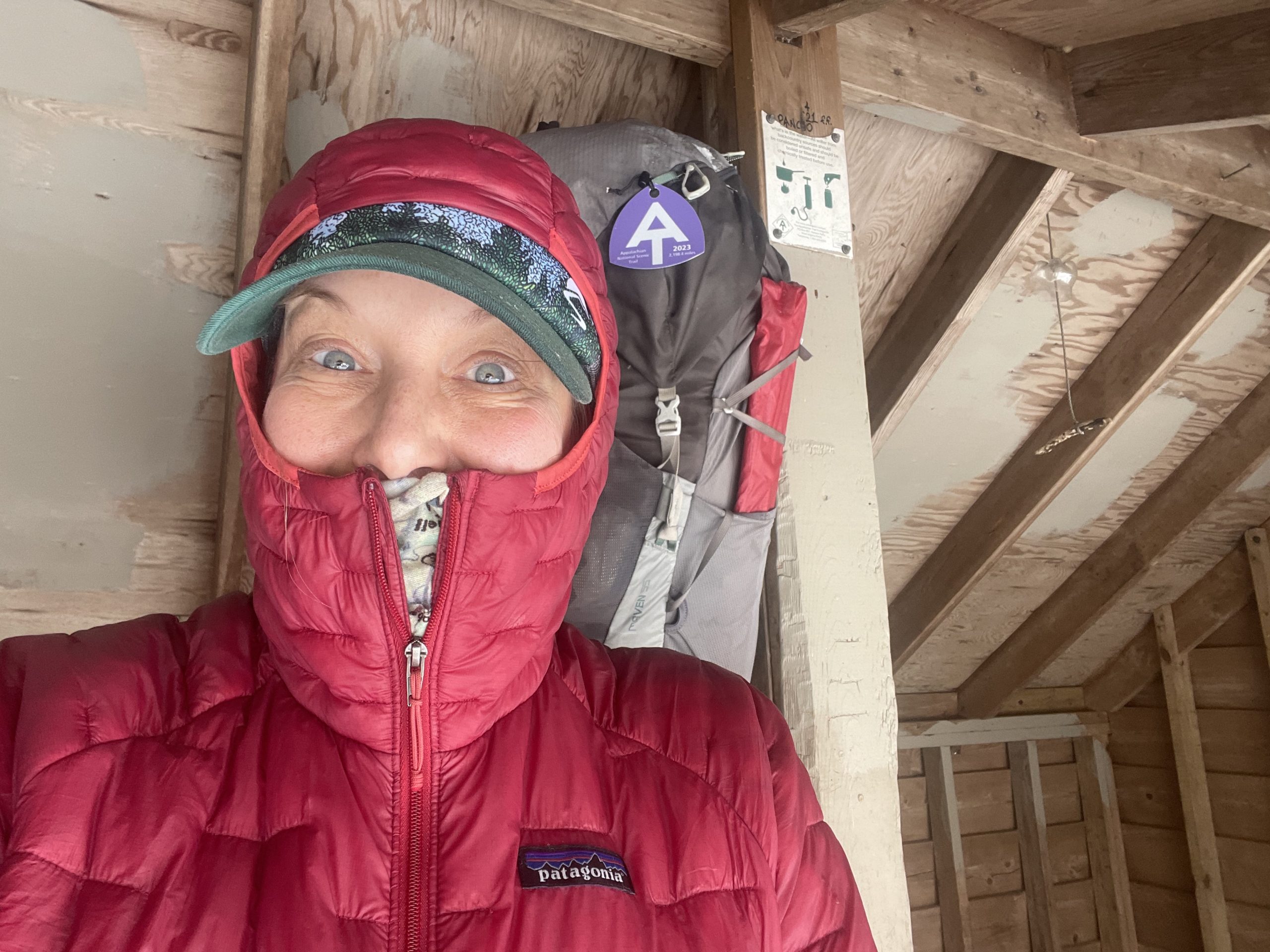 Affiliate Disclosure
This website contains affiliate links, which means The Trek may receive a percentage of any product or service you purchase using the links in the articles or advertisements. The buyer pays the same price as they would otherwise, and your purchase helps to support The Trek's ongoing goal to serve you quality backpacking advice and information. Thanks for your support!
To learn more, please visit the About This Site page.