Finding a SOBO Party on the Trail
After hiking the first half of the trail solo, I enjoyed a more social week on trail after crossing the halfway mark.
Of course, my definition of a "party" might be drastically skewed at this point—small pleasures go a long way. For instance, I bailed on the four-state challenge (44 miles in 24 hours) with astounding conviction by instead paying for my first night in a hotel and posting up with this: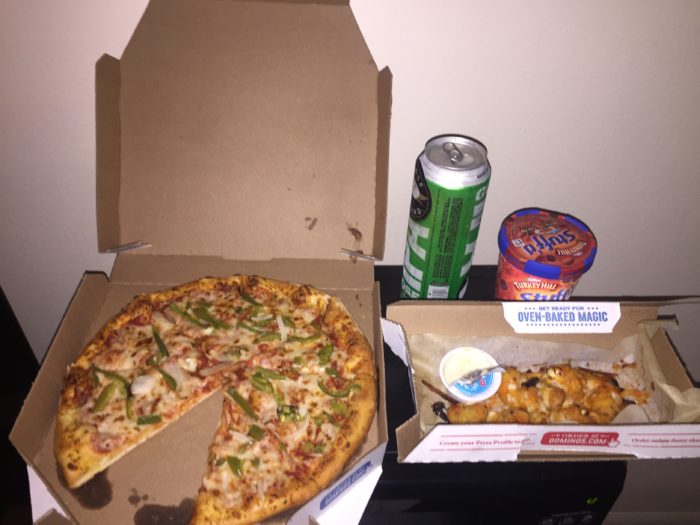 Notice that I ate a piece of the pizza before I mustered the self-control to snap a picture.
OK. So maybe one beer, pizza, and a pint of ice cream alone at a Quality Inn doesn't qualify as social, but I considered it a party.
However, I did recently stumble upon a SOBO bubble. Breezy, Lost-and-Found, Search-and-Rescue, Cool Boi, Tinkerbell, Sincerity, Smalls, Yellow Jacket—everyone is within 20 miles. Wildlife is a few days behind and Sonic and Faye are only about a day ahead. I haven't had any kind of trail family (or tramily) since the 100-Mile Wilderness, and I only met a handful of new SOBOs between Vermont and New Jersey, so this has been a welcome surprise. In addition to thru-hikers, I crossed the halfway point and found some unlikely new friends who helped me celebrate one afternoon.
The trail itself has become much more forgiving as I have traversed Maryland and West Virginia into Virginia. The rocks have given way to softer soil scattered with fallen leaves of all colors. The precipitous drops of Maine and New Hampshire seem a distant memory.
I am currently sitting in a brewery in Front Royal, getting ready to head into Shenandoah this evening. Below are my entries from the last week. Enjoy!
Halfway, Rattlesnakes, and Party Crashing
I reached the halfway point today. Apparently, the official sign moves each year due to changes in the trail: reroutes and additions change the trail length and, consequently, the halfway marker. As a result, the sign is a bit underwhelming.
But I am excited. I feel less emotional than I thought I would. Knowing that you still have another 1,100 miles to go somewhat blunts the elation that you might think would accompany such a milestone.
I came across some day hikers at a shelter (one was kind enough to insist that he take my trash), and they warned me that a hiker coming northbound had encountered a rattlesnake on the trail about a half mile ahead.
Strangely, I hadn't thought of rattlesnakes yet. I also realized that I knew nothing about them. If you get bit, do you just get sick? Or do you have an hour to get injected with an antidote before you die? I knew that the reality is likely somewhere in-between, but with no cell service, I couldn't do any research. As I walked on down the trail, I found myself too terrified to continue listening to my audiobook, lest I miss the sound of a rattle and condemn myself to not only an early end to my thru-hike but also a quick, venom-induced death.
A mile later, I found the exact opposite of a rattlesnake: two grown men walking down the trail with a pack of chocolate cakes (Yodels) stuck with lit birthday candles. I quickly put together that they were walking into a nearby campsite to sing happy birthday and asked if I could sing along, expecting to surprise a ten-year-old girl and her family out camping for the weekend. One guy said, "Absolutely."
To my surprise, I found four guys celebrating two of their 60th birthdays. I walked up, singing my best rendition of happy birthday. We all quieted, and one of the birthday boys (men) looked at me and asked, "Who the **** are you?"
His remark, fortunately for me, was in jest, not actual anger or annoyance. These four men had known each other for almost 40 years, and one of them had thru-hiked the trail southbound in the early 1980s. This spot, apparently, has been their favorite camping spot for decades. They had a picnic table filled with food, surrounded by trees strung with balloons and streamers. They even had Burger King cardboard crowns for everyone to wear. Lastly, and most noticeably, they were all very, very drunk.
They offered me a beer, and knowing that I had only five miles until the shelter, I accepted. The food on the table was up for grabs, they said, and I welcomed the extra calories. At one point, as they were recounting old stories, they passed around a bottle of whiskey. I took a modest swig and then discretely passed without partaking as it came around a second and third time. When I left, they were practically throwing food at me to take on my hike. I promised that I wouldn't take off the crown for the rest of the day in honor of their 60th.
They said they didn't want their pictures posted online, but I snapped one of myself as I hit the trail again.
That's the look of someone who hikes 20 miles a day and just had his first taste of hard alcohol in months. I waddled those last five miles and unsurprisingly, didn't think once about rattlesnakes. Then, I found myself at something more akin to a garden sanctuary than a shelter.
Flower pots, a swinging bench, an immaculately kept privy and sleeping quarters, and a beautiful stream carved out ten feet from the fire pit. Every entry in the logbook said practically the same thing: "Nicest shelter on the trail!" Apparently, the caretaker takes great pride in maintaining Quarry Gap Shelter.
Breezy was there. We lit a fire, cooked our dinners, and, like kings, enjoyed prosciutto-wrapped-cheese-sticks with salt and vinegar flavor almonds, courtesy of the sexagenarian birthday boys.
Four-State-Challenge? Or Not
At some point in their journey, any even mildly masochistic thru-hiker considers trying the four-state challenge—a 44-mile hike that starts in Pennsylvania, crosses into Maryland, traverses Harpers Ferry in West Virginia, and ends just across the state line in Virginia. You wake up at 2 a.m. and hike until 8 p.m., walking the distance of an ultramarathon in-between.
Of course, I wanted to do this, if not just for the bragging rights, then instead for the knowledge that I could, in fact, push my body to that extreme (but mostly for the bragging rights). The problem was that I would be coming off seven days of hiking 20-25 miles per day with no break. And I knew that I would never forgive myself if I got injured while attempting something so unnecessary.
Luckily, my left calf really started to hurt after ten miles, and the decision was made for me. It was my body telling me I needed a break. I promptly hopped off trail at Pen Mar Road and rented a room at a Quality Inn. Domino's delivered so fast that I was still in the shower when my pizza and chicken bites arrived. Coupled with a beer and pint of ice cream, I devoured it, forgetting all about the 44-mile beating I had almost subjected myself to.
Waynesboro
"Hiker-friendly"—a term used to describe the towns that not only accommodate hikers but also have inhabitants who are generally interested in and supportive of our scraggly bunch. My experience of Waynesboro was very hiked-friendly.
I walked into the Brio cafe after checking out of my hotel, ready to spend a few hours updating my blog. Upon entering, a woman asked if I was a thru-hiker and immediately paid for my coffee. Her name was Dawn, and she works on the city planning committee.
After sitting down for five minutes, another woman spilled her full latte all over the floor. Feeling bad, I helped her clean it up. Twenty minutes later, she returned and insisted that I let her buy me breakfast. I told her that it was entirely unnecessary, and that I already had food. Even so, on her way out, she gave me a Starbucks gift card from her wallet, encouraging me to get a coffee somewhere farther down the trail.
An hour later, two women walked in and asked if I was thru-hiking. When I said yes, one of them offered to drive me the five miles back to the trail. She then invited me to sit with her and her friends from church and gave me a delicious muffin from the cafe. All three of them were mothers of two to three children between the ages of one and 11. They shared hilarious stories about their kiddos that had me thinking of my nephews and nieces back home.
Before Rhe drove me back to the trail, I walked up to the register and gave $3, asking the barista to give a cup of coffee to the next person who came in that couldn't afford one. Waynesboro had already been so kind to me—this was the least I could do to pay the town back.
After getting dropped off at the trail, I crossed the Mason Dixon Line.
Goodbye, Pennsylvania! It's been real. All 264 miles. I hiked the first ten miles into Maryland and tented for the night, content to have finished the third longest state on the Appalachian Trail.
Maryland
Although there were only 30 miles left of Maryland, they were jam-packed with history. I stopped off at the Washington Monument.
In the second picture, I am sitting atop the monument, and the bird from the first picture just glides overhead for a while, a mere ten to 20 feet above me. Excitedly, I texted my mother about the bald eagle patriotically circling the monument, only to realize later that it was a broad-winged hawk.
Coming down from the monument, I crossed a number of Civil War monuments, ruins, and even a few battlefields. There were informative plaques and signs that detailed the history of the battles and the pivotal roles they played in the war.
Just as I was heading to the last set of ruins before the shelter–thwack—I smashed my pinky toe on a jagged root. It hurt. I felt a bit stupid that I wasn't paying more attention, but I felt better when I typed "Did I break my…" into Google, and "toe" was one of the top searches.
Toe throbbing, I skipped reading the details of the last few monuments and went straight to camp. And I found new SOBOs. A couple from Boise, Cool Boi and Tinkerbell, along with Smalls from Australia, and Sincerity, who just wrapped up a year of AmeriCorps in Boston. With so many awesome people in one place, we had a huge SOBO party, right there in the shelter.
Just kidding. Everyone was fast asleep by 8:30.
Harpers Ferry
Everyone got up early, excited to spend the day in Harpers Ferry. We hiked in the dark for about an hour, Cool Boi being kind enough to clear the spiderwebs by going first. The Potomac looked beautiful as the fog lifted in the early hours of the morning.
The trail goes right into town, with Civil War ruins scattered throughout the streets along with mock stores lining Main Street. The trail passes right by a church, Jefferson Rock, and a beautiful cemetery.
I went to the ATC visitor center and took my halfway photo to enter into the book. I am SOBO 149 to pass through. 149 is a prime number, which makes me happy. This wouldn't surprise you if you also knew that my wedding date (6.1.19) was chosen because it is an ambigram (it has 180-degree rotational symmetry ?).
After exploring a bit, I spent the morning in a coffee shop with really soft armchairs and the nicest bathroom I've seen on the trail. Then, resupply and back to the trail for another 12 miles.
Hello, Virginia. I've heard so much about you. ?
Affiliate Disclosure
This website contains affiliate links, which means The Trek may receive a percentage of any product or service you purchase using the links in the articles or advertisements. The buyer pays the same price as they would otherwise, and your purchase helps to support The Trek's ongoing goal to serve you quality backpacking advice and information. Thanks for your support!
To learn more, please visit the About This Site page.