Steph's AT Hike Days 5-8: From Woody Gap to Hiawassee, GA
Day Five: Woody Gap to Neel Gap to Tesnatee Gap, 16.4 Miles
I awoke early today in anticipation of going up Blood Mountain. I hired a friendly dude named Bret "Suches" to drive me back up to Woody Gap, where I began my slack pack over up and over Georgia's tallest mountain. The temp was right at 50 degrees, with a thick foggy mist that lasted until noon. 
Slackpacking
Instead of wearing my 30-plus pound pack, I carried a lightweight bag that held only about six pounds in total. I felt so light and nimble without my big pack! I was effectively speed walking the first few miles, and floating up the steep inclines. OK, so I wasn't actually floating, but that's how it felt compared to the heavy load I'd been shouldering the previous four days.
After three hours I arrived at the summit and checked out the old stone shelter located there. Due to the mist, there wasn't a view from the top of Blood Mountain. However, I did manage to see some interesting bugs and rock formations. 
Mom caught a later shuttle, and met me at Neel Gap just after I'd arrived. I was once again united with my big backpack. Sigh. I could definitely get used to slack packing!
A large hiking outfitters, Mountain Crossings, is located adjacent to the AT at Neel Gap. We sat outside the store and lazily ate our lunches, just around the corner from the infamous shoe trees out front, with dozens upon dozens of hiking shoes dangling in the branches above. Rumor has it people who quit the trail here at Neel Gap toss their shoes up in the trees before heading home. I reflected upon how much I'm loving this experience, and glad I don't have to go home yet.
Feeling Good and Hiking On
With the afternoon weather being just perfect for hiking, mom and I went another 5.6 miles to end up at Tesnatee Gap for the night. We tented up there with one hiking couple and one solo hiker. My feet were tired from the extra mileage, but I felt strong today. 
Day Six: Tesnatee Gap to Chattahoochee Gap, 10.5 Miles
Wow! It was so windy last night. Mom and I felt like our tent might just lift off and blow away several times, but we had staked it out well so all was good. When I opened up the tent in the morning, I saw we had just missed turning our tent into a waterbed as well. We didn't get very good sleep, and had to pack up the tent wet. That's always been my least favorite camping/backpacking chore. 
The AT in today's section was less strenuous overall, with the ups and downs being much shorter. We pretty much hugged a ridgeline all afternoon, and decided to stop for the day at Chattahoochee Gap. This spot sits up high above the headwaters of the Chattahoochee River below. It was a very peaceful evening here, and we had the area all to ourselves.
Day Seven: Chattahoochee Gap to Unicoi Gap to Hiawassee, GA, 5.0 Miles
I had my best night of sleep on the trail so far, and I awoke refreshed. Mom and I both felt like we were starting to get our trail legs and so we fairly cruised up and over Blue Mountain to Unicoi Gap. 
A Taste of Trail Magic
At Unicoi Gap, the AT crossed a busy road. We had our first experience with trail magic there, where a woman had set up several chairs for weary hikers to sit in. She had a cooler of cold Coke, granola bars, and the most Little Debbie treats I'd seen in one place. People who set up at gaps and road crossing who provide free food, drinks, and conversation with AT hikers are known as trail angels.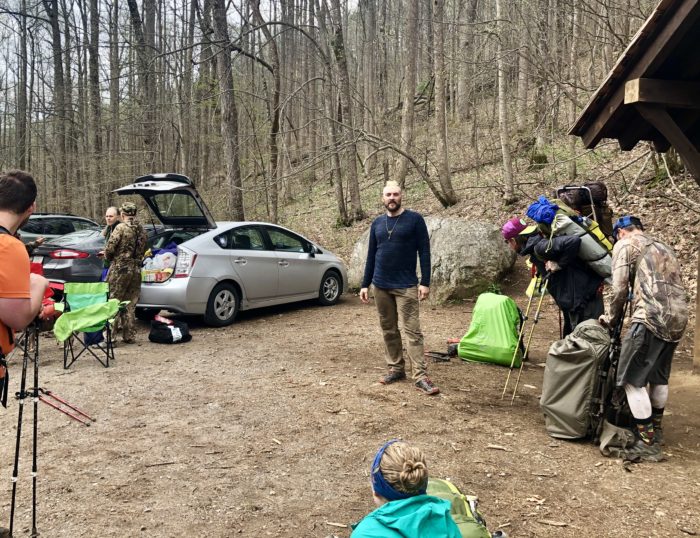 There were a lot of other hikers milling around with us. With the afternoon forecast showing heavy rain and wind moving in, we joined the majority of hikers and planned to go into one of the two nearby towns to shelter indoors for the night. We were able to call a local guy to give us a ride, although a lot folks just hitchhiked into town instead. I also met Miles, a thru-hiking Australian cattle dog. 
Hiawassee, GA
After checking in to our hotel, mom and I headed across the street to Bacchus Beer and Growlers for a tasty beer flight. My fave was the Dirty Girl Blonde ale from Nantahala Brewing. 
My dad arrived later in the evening and met us at the hotel. It was great to see him, but it meant my mom's time on the trail was now complete. Tomorrow they will head back home, and I will start my first week of solo hiking. 
Lasting Memories
I am so glad that my mom decided to join me for the first week. I loved having her with me, and it has been a special experience to share part of this adventure together. She proved that she is one tough cookie! I hope she is inspired to continue hiking. 
Day Eight: Hiawassee, GA, Zero Miles
Due to severe thunderstorms and tornadoes throughout the northern part of Georgia, I took my first zero-mileage day today. This was a wonderful break to rest and recharge, and I spent it watching X-Men movies and procrastinating on doing my laundry. Tomorrow morning I'll head back to the trail at Unicoi Gap, catching an early morning shuttle with three other hikers I've met. 
Extra Stuff!
Trail Names
Many people traveling long-distance trails such as the AT go by a trail name when out hiking. Generally this is a name another hiker gives to you or you earn on the the trail. I was dubbed Smiley this past week, and since it's pretty descriptive of me I'm going with it. My mom earned her trail name Rick Sanchez this week as well. There's a story the goes along with that name, but it's for her to tell. 🙂
Affiliate Disclosure
This website contains affiliate links, which means The Trek may receive a percentage of any product or service you purchase using the links in the articles or advertisements. The buyer pays the same price as they would otherwise, and your purchase helps to support The Trek's ongoing goal to serve you quality backpacking advice and information. Thanks for your support!
To learn more, please visit the About This Site page.