Still a Noob, an Insatiable Hunger and The Next 200 Miles
Novice.  Rook.  Green.  Wet behind the ears.  Freshman.  Bambi.  Amateur hour.  Tenderfoot.
  Noob.
All of these words and phrases would be appropriate trail names for me. 
300 miles in, and I still feel like I am learning how to do this thru-hiking thing.   
I thought we were over-prepared because Bean and I watched too many YouTube videos.   We spent hours reading blogs and articles.  We talked to anyone who had hiking experience.  Silly me.  It didn't matter.  That isn't how this works.  I have quickly learned that for us noobs, there is no substitute for the lessons you will learn while actually thru-hiking.
What could we have possibly learned in 300 miles of hiking?
We learned what a CNOC bag is after using the pouches that come with the Sawyer Squeeze Water Filter.  From day one you will learn how important to make your chores clean and easy.  No one wants to clean pots and no one wants to be wet.  There is nothing quite like getting sprayed with dirty water while pushing water through the filter.  Yeah, the Sawyer Squeeze dirty water bottles are terrible.  How did we not know what a CNOC bag is?
We learn every day that we need to stick to our packing and unpacking routines.  Trust me. You don't want to leave valuable pieces of gear behind like a cell phone in your shuttle driver's car.  And then when she knows that she has it, she makes you dance to get it back.  Yep, she has the footage.  Thank you for turning right back around, Miss Janet.
We have learned that you need to pay attention to the weather.  It can and will change on you without much warning.   Rain is going to be a part of our thru-hike.  It's going to be a part of your thru-hike.  It will be a part of literally everyone who attempts to thru-hike the AT forever.  We now know to avoid the high winds that sometimes come with a strong storm.  We found that out the hard way at Wesser Bald Shelter when a live tree had a large upper portion come crashing down, and narrowly miss our tent.  Scary.  We now try and stay in a shelter whenever there are winds above 25mph.
I have learned that being warm in 20-degree temperatures is easy to do when you have a 15-degree sleeping bag, a sleeping bag liner, and a snoring Australian cattle dog lying next to you.  The problem with the cold is waking up and moving around in it, or trying to use your numb fingers at all.  Have you tried to break down a tent or use a lighter with cold fingers?  I WILL eat this protein bar in the meantime, but what I really want is some hot Idahoan mashed potatoes.   Scratch that.  Actually, what I REALLY want is a hot breakfast from Joe's Cafe in Sterling, Va.  Can someone please bring that to us?
We have also learned that when you need to take a zero day, take a zero day.   Our middle-aged bodies need that time to recover our aching muscles and joints.   Brandee and I don't have ultra-light gear.  On top of that, we are also carrying Beo's gear and backup food which makes our packs weigh more than most.  All this means we need days off.  We also need to recover by eating more food.  And then some more food.  Where is the nearest Five Guys?  There I go again…
I have learned that you don't have to do what everyone else is doing.  Bean kept trying to tell me this, but depending on who you ask, I either didn't hear her, or I ignored her.  Nevertheless, I am no longer trying to hike to everyone else's goals.  We hike what we can handle, and we are good with that.   We want to be done with the trail by the end of August and we only have to average 12 to 13 miles a day to make that happen.   We can do that at our own pace with plenty of breaks, taking the time to snap too many pictures, and talking to all of the knowledgeable hikers and Trail Angels out here.  We just need to cut down on zero days!
Speaking of talking to other hikers, I have learned that I should try to talk to everyone and really listen to what they have to say.   Without a doubt, I have learned the most from talking to other hikers during our adventure.  You just need to know when to chat with other hikers; after dinner.  Trying to talk to hikers while they are eating is a "do so at your own risk" endeavor.
In the past, I have lived up to my trail name of "Let's Go" and won't take the time and chat with other people.  Not anymore.  I have taken a cue from Bean and learned to talk to everyone.  Not only does everyone have a story, but they also have experiences that I don't have.   If you want to lessen the learning curve, chat everyone up.  Especially those hikers who have already done this incredibly difficult achievement!  Want to know about the next section of trail?  Ask someone.   Want to know if the Asian buffet in Franklin is worth it?  Ask someone.  By the way, it is.  Need to know which hostels aren't your cup of tea?  Ask someone who has stayed at that hostel and listen to them.  I SHOULD have learned this a long time ago.
Growing up, my parents used to tell me and my brothers that you need to learn something new every day.  It originally seemed like some old saying parents would say to their kids when they leave the house.  Little did we know they would test this request by making it a topic of conversation every night at the dinner table.   They would ask me and my, "Wet behind the ears" brothers what we learned that day.  Depending on whether we were enjoying the meal our Mother cooked for us that night, you would get wildly varying answers.  Pizza for dinner?  You would get incredibly detailed answers.  Steamed cabbage for dinner that night?  Those answers would be succinct.  I hated steamed cabbage.
Now?  I could give my parents something new I learned every single night,  regardless if my Mother made cabbage.  Did I say I hated cabbage?  Speaking of food, I want some.  I want all of it.  Including all of the cabbage, I hid under the empty baked potato when I was a kid.  If I continue to talk about food, I will not be able to focus.  Obviously, Hiker Hunger is here.  But, I digress.
In a way, those conversations we had at the dinner table should have taught me that listening to what others have to say is incredibly important.  My parents were learning by listening.  Brilliant. Silly Noob.
I was a Noob then and I am proud to say that I am a Noob now. I am a Noob with over 300 miles of hiking on his boots and I am learning more and more every day.  Just like I did years ago with my parents and my brothers, I sit with other hikers talking about what we ALL learned.
The highlights and lowlights of miles 101 to 350
So far, here are my most memorable moments, good and bad, in no particular order:
1 – Missing fifty miles for the right reasons!  So the reason why this section is about miles 101 to 350 is that we had to do what was best for our family.  When Brandee and I had Beo picked up in Stecoah by Craig, owner of Cabin in the Woods (he shuttled him to Rippling Waters Kennel), we did so knowing we had 8 days to get through the Smokies.  Dogs aren't allowed in the Smokey Mountains, and we made plans before we started this adventure.  What we couldn't plan for is the change in weather.  Our first 4 days in the Smokies were better than we could have imagined.  The weather was great, but the hiking was HARD!!!  Then it became what everyone said it would be.  We decided to take a night to recover from the beat down and escape the incoming inclement weather.  Of course, that night we took turned into two.  When we eventually did try to head back out, the trail was frozen and Brandee was hurting.  We ultimately decided to skip the Smokey Mountains after Newfound Gap to be safe.  We also didn't want Beo to be kenneled any longer.  It wasn't an easy decision.  We did the right thing and decided to leave our tramily and miss out on the last 30 miles.
Two days later we returned to the trail at Standing Bear Farm and had the weather turn harsh again.  My hands were frozen, and Beo was shivering.  We needed to get off the trail quickly.  We luckily caught a shuttle from Max Patch Rd and headed to Laughing Heart Hostel.  It was there that we decided that we would skip from Max Patch Rd to Hot Springs to be safe and to save some time.
We now have fifty miles to make up. This is why this section of this blog goes to Mile 350, even though we missed fifty miles.  It is tough to accept, but we made the decisions based on the needs of our hike.  Brandee and I have vowed to come back and finish those miles after Katahdin.
2 – Franklin, NC was the perfect place to zero!  Our tramily of Couch to Trail, Lane "Hide", Bean, Beo, and I decided to stop in Franklin, NC to Zero.  We needed to find a hostel to stay at.  After going through the FarOut app, I found a newer hostel called "All in the Tramily" owned by a married couple.  The husband (Slim Jim) and wife (One More) have an amazing place.   They truly made it a family experience, which all of us loved.  Slim Jim and One More have thru-hiking and more importantly life experience that they are more than gracious enough to share with us.   Immediately after being picked up by Slim Jim, we felt welcomed.  The home is clean with all of the necessities of a zero-day.  With it being in Franklin, you also have access to an outfitter, a Walmart, and a good variety of restaurants.  Not that you need to worry too much about the restaurants.  One More had a continental breakfast put out for us both mornings we were there, and cooked an amazing pasta bake on our second night.  Delicious!  We were sufficiently full when we excused ourselves from the table.  Since our stay, Slim Jim has gone out of his way to check up on us and answer any questions I might have.  We have stayed in touch over the last 200 miles and I feel as if Bean and I have friends for life.  I highly recommend your tramily to stay there as well.
3 – The hostel doesn't make the stay, the tramily does.  5 days after leaving Franklin, our tramily found ourselves having to get off trail for a storm coming in.  We decided to get picked up by Lonnie from Wolf Creek Hostel in Stecoah.  Wolf Creek Hostel is Lonnie's old family home, and he now runs a hostel out of it.  The house is unassuming but had everything we needed to have a great time, including each other.  By that time, our tramily had changed.  Gone was Hide, who decided to move on and quicken their pace.  Now we were hiking with a thru-hiker by the name of "Turtle", and another who we were leapfrogging on the trail from the beginning, "Spear".  We were lucky enough to get Wolf Creek Hostel all to ourselves.  Turtle made breakfast the next morning.  Bean made her famous sauce later that day.  Fooooood.  Spear played music with the hostel guitar.  We had an amazing time in Stecoah.  It was made harder because…
4 – Beo heads to the kennel.  As I highlighted before, we had to send Beo to a kennel while we hiked the Smokies.  I felt terrible.  I will admit I got a little emotional.  Just a little.  Letting your dog go for any amount of time is hard, and this was our first time doing so.  Beo has been an amazing hiking companion and we didn't want to disrupt our flow.  His personality fits right in with Bean and me.  We feel as if he is having the time of his life, and we didn't want to stress him out.  Lucky for us, Craig and the folks over at Rippling Waters Kennel treated him like a king.  Even though we had to lose out on mileage, it was made easier by getting him back in Gatlinburg.  Speaking of Gatlinburg, I recommend that you visit Five Guys twice.  We only went once and I still regret it.
5 – So damn cold.  Ridiculously cold.  20 degrees in DC feels different than 20 degrees in the mountains.  In DC I am wearing enough layers to keep me warm during a winter squall.  On the AT I have three, maybe four layers and a will to walk hard enough to stay warm, but not sweat.   It's a skill I have not mastered.  Yet.  
6-  Oh, the views.  Siler Bald.  Wayah Bald.  Wesser Bald.  Fontana Dam. Thunderhead Mountain.   Clingmans Dome.  Lover's Leap Rock.  Each waypoint view seemingly strives to outdo the next.  The hard work that we put in during the first 100 miles has made us stronger and more capable to handle the rigors of the next 200.  Do you know what you get when you work hard on the AT?  Amazing views.  And cheeseburgers in Town.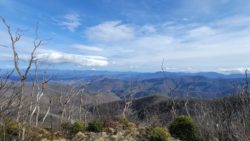 Our adventure continues.
Biggest Lesson Learned
It hasn't gone as we scripted it, but that is because you can't write this story beforehand. The decisions that you made yesterday were made before you met that day hiker today.  Listen to them.  If they have cheeseburgers, eat the burgers first and then listen. You won't regret it.
Affiliate Disclosure
This website contains affiliate links, which means The Trek may receive a percentage of any product or service you purchase using the links in the articles or advertisements. The buyer pays the same price as they would otherwise, and your purchase helps to support The Trek's ongoing goal to serve you quality backpacking advice and information. Thanks for your support!
To learn more, please visit the About This Site page.