Story Time with Stubbs: Hiking a Marathon
One of my most memorable days would be the day my husband and I, later followed by our hiking buddy at the time Hollywood, pulled off our first big hiking day. We hiked a 26.2 mile day (exact marathon mileage), from Groundhog Creek Shelter all the way into Hot Springs, NC. At that point, the most I had ever hiked was 16.3 miles (oh yes, those decimal points count!), and we were hiking an average of 11.7 miles per day with 4 zeros already under our belts. We were just getting our hiker legs and one bad evening led to the decision to cover all the miles necessary to get into town.
April 22nd 2016 – The Decision:
We had stayed the previous night at Davenport Gap Shelter which is the last shelter in the Smoky's (the weird one down the hill with the fence surrounding it). We woke up a bit cranky since someone had left sunflower seeds in their pack overnight which was hung up over ours. My husband had acquired a hole in his pack and rain pants because of it, and mine was now full of chewed up, empty shells (thanks mice)! We had a box to pick up from Standing Bear Farm, so we made a pit stop at Green Corner Road.
When there's beer, there's me doing a whole lot of "not hiking," so there was a minor delay after arriving at Standing Bear where we enjoyed some brewskies with some other hiker buddies, and even more so when the sky started dumping rain. The monsoon eventually turned to a drizzle, so we utilized this window to cover the 7 miles to Groundhog Creek Shelter. A few miles in, the rain started dumping again, but we were relieved to approach the shelter sign stating that we should be able to dry off about a quarter of a mile down the hill.
The shelter was crazy full and looked like a meat locker with all the bags, jackets, and various other gear dangling from the ceiling to dry. Sopping wet, we set up our tent doing our best not to get the inside drenched, running back and forth, up and down the hill to the shelter to grab our gear. We were so tired, wet, and frustrated that we skipped dinner, and bundled up in our sleeping bags in the buff to try to warm up. This was short lived when we noticed minor flooding in our tent followed by a cracking noise from above us. A hiker named Caveman started yelling in his thick Brooklyn-accent, "There's a widow maker dangling from the tree!" and that he was going to try and knock it down. My husband investigated, and discovered it wasn't directly above us, and that Caveman decided to end his mission on removing it, so we went back to our sleeping struggle. Then and there, we decided that we would wake up early and make our best attempt to get somewhere dry in the morning.
"In three words I can sum up everything I've learned about life. It goes on." – Robert Frost
April 23rd 2016 – Marathon Day:
It was 5 am and we did our best to pack up our soggy gear quickly and quietly. We felt damp, tired, and broken. We had previously read on social media about how beautiful Max Patch Summit was, only to arrive to a thick fog. It was so thick that you couldn't see 3 yards in front of you, and it felt like walking on a different planet.
Our spirits were soon lifted when we approached a group of people surrounding a fire with their dogs prancing about happily. We asked if we could hang out by their fire to warm up and dry some of our clothes. They asked if we were hungry and if we wanted some French press coffee. We thought it was all just a horrible, horrible joke, but shortly came out of our daze to realize we stumbled upon some of the best trail magic that we would ever experience! Trail magic is always best during the worst weather, during the worst days, and in the most random of locations; these guys executed all three of those for us! Apparently they were previous thru hikers who decided to spend a few days spreading the love through coffee, alcohol, snacks, and casseroles! We were insanely grateful and hung out with them over the next hour, chatting, grubbing, and warming up before forcing ourselves away to press on.
We hiked on to Walnut Mountain Shelter where we would take another break around noon, this time for a couple hours. As we were there, we chatting with a few women who were day hiking, a father and son who were hiking a section, and two older gentlemen who were SOBOing the trail after taking a brief hiatus over the winter. We were also thrilled to be reunited with our buddy Hollywood, and he was wishing he didn't after we broke the news to him that we decided to commit to pushing another 13.1 miles into Hot Springs.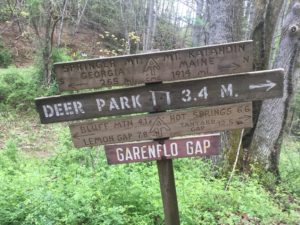 It was a little before 8 pm and getting dark when we saw the lights of Hot Springs in the distance. Our feet hurt, and I was getting hangry and craving a beer like never before, but our target was in sight! We hobbled down the hill into town, needing our headlamps for the last mile of the woods. We were tired, but determined to celebrate our achievements by making it to the Spring Creek Tavern.
Nothing says reward like cold beer and hot food! What was even more glorious was that our first couple round of drinks were covered by a vacationer we chatted with from our home state of Maryland! Free beer tastes amazingly better! The wildfires had most of the hostels, inns and cabins booked up, so we got ourselves nice and comfortable as only hiker trash can, and cowboy camped on the loading dock behind the Dollar General.
The next few days followed with the usual hiker errands (drying our sopping wet gear, finding a shower, cleaning our clothes & resupplying), waiting for the wildfires to be controlled (which never did happen while we were there), many more trips to the tavern, coming to the rescue to a biker having heart attack by the cabins (which fortunately turned out to just be a panic attack), ordering a new lightweight sleeping bag from the outfitter, and uncovering the most amazing town discovery possibly in AT hiker history, a dumpster full of ice cold beer (expired, but still flavorful)!
"Even if happiness forgets us for a little bit, never completely forget about it." – Jacques Prevert
Affiliate Disclosure
This website contains affiliate links, which means The Trek may receive a percentage of any product or service you purchase using the links in the articles or advertisements. The buyer pays the same price as they would otherwise, and your purchase helps to support The Trek's ongoing goal to serve you quality backpacking advice and information. Thanks for your support!
To learn more, please visit the About This Site page.