To Stove, or Not to Stove? That Is the Question.
There is a long-debated conversation between thru-hikers: Do you carry a stove? On one side, you get warm food, more food choices… on the other is added weight, and the more complex dinners/extra coordination needed. Is there a right answer? No, just like there isn't a correct way to hike you own hike. Having started with a stove (and since sending it home) here are my thoughts on the topic.
Pro Stove
–There are lots of yummy options you can make when carrying a stove. You're able to carry a larger variety of food and rehydrate food more easily than just with cold water.
–A warm meal on a cool evening just feels nice. It feels nice in your tummy. It feels nice in your hands as you're holding the bowl you're eating out of. It feels nice to be envied by the stove-less hikers who just want to be eating your dinner.
–You're getting more water in your system without having to drink it. (Sounds silly, but if you're trying to drink four liters a day, and three liters of that tastes like water and one liter  is tasting like whatever drink mix you get it's a nice break up to get a half liter from your dinner.)
–Stoves don't have to be heavy. I've learned that convenience is heavy. There are many different setups you can use–some can weigh as little as just a few ounces. Others can add up to pounds. Just depends what you're interested in.
–Mac 'n cheese. Enough said.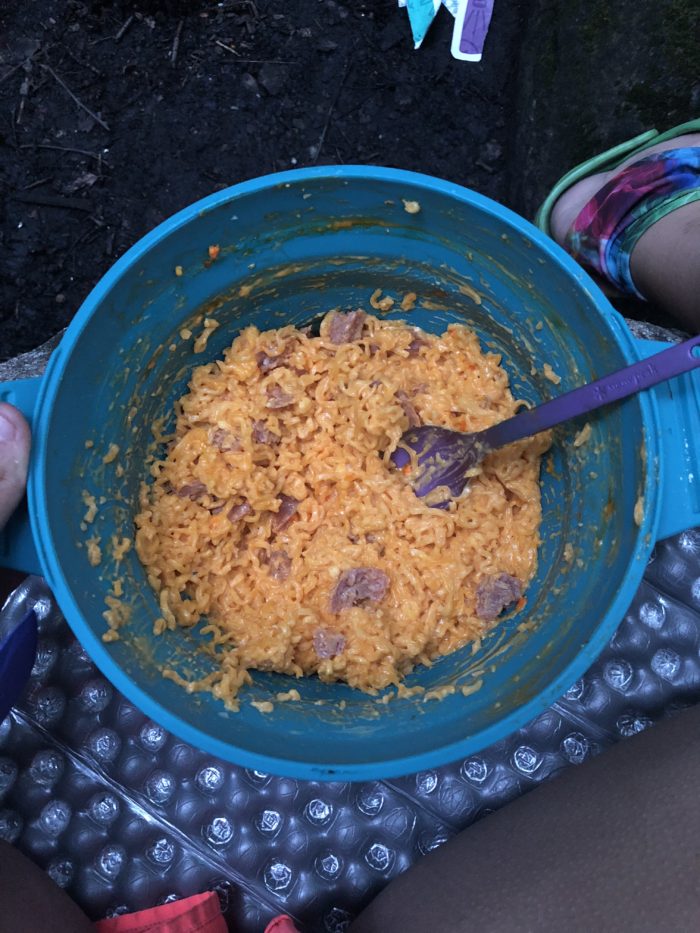 Pro Stoveless
–Ultralight backpacking. A stove is just one more thing that's unnecessary to carry.
–You can eat dinner anywhere you want. No need to find a flat spot that isn't too windy to effectively cook.
–You can eat dinner in one-fourth of the time if you're not cooking. Those stove-carrying hikers are still cooking as a stove-ess hiker is crawling into their sleeping bag.
–At least for the AT, the proximity to towns makes it easy to carry perishable goods. (Cheese, meat, etc.) You can get a few days supply, which realistically isn't going to spoil and by the time you run out you're knocking on the next town's door. So much diversity at your fingertips. 
–There is no cleanup of the pot. This is most hiker's most dreaded mealtime activity. Cleaning up. It's hard to get burned food off the bottom of your cook pot and then have to carry it out as LNT. It's a hassle to deal with after dinner time–especially if the sun isn't out anymore. Now you're breaking out the headlamps and hearing scary could-be bear noises while you think about the other hikers already asleep in their bags..
Our Experience
We started with a stove and that was great. Dinner was an exciting meal because it was warm and so easy to get a good amount of calories and protein. Alex and I both had our respective chores for mealtime and it was familiar to how we lived pre-AT. Our initial stove removal was actually just bouncing it through the Whites to avoid carrying the weight. We were fully intent on picking it up at the other side when we first shipped it. After going eight days through the Whites and having a good experience stoveless, we decided to just send it home. As of now, we're thinking about bringing it back when the weather cools down. Besides, with meals like the picture below from the huts, who would really miss their stove? 
Follow along for daily updates on Instagram here.
Affiliate Disclosure
This website contains affiliate links, which means The Trek may receive a percentage of any product or service you purchase using the links in the articles or advertisements. The buyer pays the same price as they would otherwise, and your purchase helps to support The Trek's ongoing goal to serve you quality backpacking advice and information. Thanks for your support!
To learn more, please visit the About This Site page.