Success at Mt. Success & A Fresh Start
I started my thru-hike on June 3, 2022 after five years of aspiring to hike from watching YouTube videos of 2010 era thru-hikers. With no experience, I started taking small backpacking trips in college.
Early on my aspirations were to enjoy time in nature, physically challenge myself, and strengthen my relationship with my fiance and thru-hiking partner, Ian. As I hiked, those goals and my ideas about thru-hiking changed.
If you'd like to skip the overview of 2022, skip down to Mt. Success
2022 Hiking Overview
West Virginia
Leaving Ohio, we drove to Caledonia State Park outside of Fayetteville, PA to drop off the car. A friend picked up Ian, his dad, and me to start our hike from Harper's Ferry PA. We ate at 'Down the Rabbit Hole', got our photo at The Appalachian Trail Conservatory, picked up hangtags, and set off down the hill to the bridge into Maryland.
Maryland
We started the trail listening to The Hobbit making our way up to Ed Garvey shelter for a short first day meeting an inspirational blind hiker and a nice fellow named Mad Hatter. Day 2 we were greeted with our first instance of trail magic at a road crossing past Rocky Run shelter where we met August, on his way to complete his third AT thru hike.
By day three, I'd switch to socks and sandals as my blisters made wearing hiking shoes too painful for the remainder of Maryland and early Pennsylvania. Maryland is also where I stepped over a copperhead without noticing, struggled over the boulders up & down Raven Rock, and hiked in the rain for the first time.
The first 50 miles were a huge accomplishment and I would never believed that hiking 100 miles a week would be the norm later on.
When we got back to Fayetteville, I knew there was something about the experience of hiking I didn't understand at the time but it pushed me to keep going I was also grateful for my first nero day, motel room, laundromat, and pizza.
Pennsylvania
We spent the remainder of June in Pennsylvania. Some misty weather but nothing too rainy. It felt odd passing the halfway point of the trail as we had just started. Sometimes, it was hard to focus on our own hike, seeing people who came up from Georgia outpacing us, so we rarely saw the same people multiple times. Some notable places & events from Pennsylvania:
Fuller Lake for free showers
Green Mountain General store for lunch
The Rock Maze on the hottest day so far
Sitting at the Gazebo near the pond in Boiling Springs for lunch
Duncannon (Goodies Restaurant & the hostel under a pastor's house which was appreciated during a severe storm)
Hiking along lots of Mountain Laurel & seeing two Timber Rattlesnakes
Hamburg (World's biggest Cabela's & a Walmart)
Staying with The Blue Mountain Girl in New Tripoli, PA
Hiking on to Palmerton with Norovirus, staying at Bert's Hiker Hostel, returning to Palmerton a day hike out as Ian got Lyme disease
New Jersey
275 miles in! Pennsylvania's rocks and both of us getting sick slowed us down much more than we were expecting. On the Fourth of July, we stayed at a backpacker Campsite outside Delaware Water Gap (Spam burger, anyone?).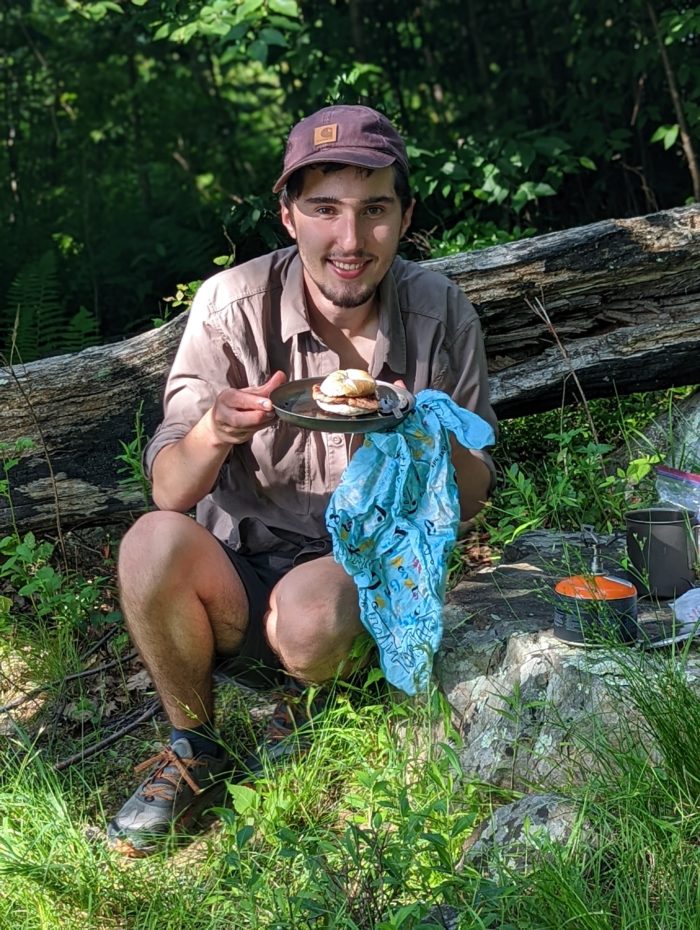 We got up early to see the sunrise at Sunrise Point and got off trail at the Deckertown turnpike for a zero with family living in the area. It's always a little difficult to get back on trail after a zero, but was worth it as we had our first few black bear sightings!
Not knowing it would be an important spot to me in late September. Here's us getting ice cream during our hike and when we returned for a day hike & got engaged.
New York
The best place to stay in a town was the Warwick Drive-In movie theater! At this point in the summer, it was getting hotter and drier. We were lucky to find a side trail to an ice cream shop with a spigot for water as there was a few times we got to dry water sources.
The best place to stay out of town was Canopus lake where we spent the day swimming and and eating. The campsite wasn't too bad and was a short walk from a running water bathroom!
The best food in New York is a hard one, we were spoiled by all the delis near the trail. There was also a food truck serving boba and an opportunity for a break at a native plant garden center.
Connecticut
Connecticut wasn't the most welcoming state as it poured rain the whole first day. We also hit the worst part of the heatwave with temperatures in the high 90s during the day. We stopped in in Kent and Salisbury for resupplies, just trying to stay cool and hydrated.

Massachusetts
Our first zero day since New Jersey, we stayed in Great Barrington. We spent a day swimming at the rec center, enjoying the free community dinner, and when the rain came, decided on a double zero. The amount of mushrooms in Massachusetts was amazing and I took many photos. We were finally up to pace with fellow hikers at this point and began to build relationships after seeing the same people for days in a row. We found a hiker snack stand, got great pancakes at Goose Pond cabin, stopped by The Cookie Lady house, stayed the night at Father Tom's campsite, and reached a quarter of the way done with the trail at Mt. Greylock.

Vermont
With some heat and less water sources, the terrain was mostly smooth sailing up until Vermont. Vermont wasn't unmanageable, it was just where the terrain picked up in The Green Mountains. I was able to push through the larger uphills with the promise of views at fire towers. We stopped in Manchester Center and had another pool day followed by getting our first glimpse of The Whites in the distance from a ski slope.

The first time hiking got scary was Mt. Killington. While we thought we both were drinking enough water, Ian had severe heat exhaustion symptoms and we had to get over the mountain to get into town. I went up to the peak of Mt. Killington to check if the chair lift was open (of course it wasn't), slipped on some steep rocks coming down, and broke a trekking pole. We were fortunate to get a hitch into Rutland and stayed at The Yellow Deli for a few days.
Leaving town, we departed the shared hike with The Long Trail and neared New Hampshire. A roadside shop near Barnard, VT offered us cooked corn on the cob as a snack while we filled up our packs with more fresh snacks. In Norwich, VT we waited well over an hour for a hitch 4 miles down the road to a hostel where I had new trekking poles waiting. Thankfully, the woman who picked us up was willing to wait for me to run in for my package and drove us to the VT/NH border. As I'm going to graduate school in New England, I'm planning on returning for more hiking in The Green Mountains and The Long Trail.
New Hampshire
I've loved making this post, reviewing my hike, you can see as I went along, my hike got bigger at every state border. We had to zero at Dartmouth College to enjoy the dining hall a little longer! We had some more rain in New Hampshire, which was good as dry as it had bit. However, the rain slowed us down and resulted in some late mornings getting out of the tent.
The nights were also getting colder as we hiked higher into more conifers. We spend a night in the cabin on Smarts Mountain with a dozen of us hikers crammed into the small cabin to avoid the cold. We were jenga-ed in across the floor with people hanging above in hammock. We all sang happy birthday to Spiderman and ate breakfast in the fire tower in the morning. We hiked over Mt. Cube to The Green House Restaurant, for dinner and a camp spot. Before starting the Whites, we stopped at Hikers Welcome Hostel for a quick resupply.

Welcome to The Whites!
I had been a bit apprehensive of The Whites, but the climb up Mt. Moosilauke felt no worse than Mt. Greylock. The next morning and hike down Moosilauke showed how unprepared I really was. Remembering how I fell on Mt. Killington, I faced even steeper and slicker rock taking 2 hours to make it the mile downhill. Reaching the parking lot, shaking, I was grateful for the trail magic and hoped that what I had just experienced was the worst of The Whites. I felt a bit better hiking over Mt. Kinsman and we took two days off in town at The Old Colony Ski Lodge (highly recommend!) while I prepared myself for the rest of The Whites.
The double zero was worth it to wait for a beautiful day to hike over Franconia Ridge. While I thought Moosilauke was bad, the hike down from the Mt. Garfield campsite was the worst. Instead of hiking next to the waterfall, we were hiking down the waterfall. August 26th was one of the most difficult days of my hike, between that terrifying morning descent and getting caught above treeline at Mt. Twin as a thunderstorm rolled in. We ended the day at a campsite near Zealand hut at made the next day a short day just to the road near the Highland center. Still shaken up from the 26th, I slowed my pace and doubted my belonging on the trail. We were grateful to get the two thru hiker spots in Mizpah Hut with an delicious homemade dinner.
Knowing another storm was arriving in a day, we decided to complete the entire Presidential Traverse section in one day. We set out a little after 6am to make our way to Lake of the Clouds Hut for breakfast. The foggy alpine environment was unlike anything I have seen before. Since day 1, Mt. Washington had always loomed in the distance as a dangerous hike. I hoped I'd be able to do it when I got there but was also concerned that I wouldn't make it. In other words, Mt. Washington held the same status for me as Katahdin.
The Accomplishment
I didn't know we reached the peak until I saw the edge of a building. Knowing I made it up to Mt. Washington was the biggest accomplishment of the trail for me. I'd continue on to reach the Maine border, but Mt. Washington has stuck in my mind ever since. I can't describe what it felt like to reach that sign, when the clouds cleared out and we got a view down the mountain, and the unexpectedly serene hike through The Presidential Traverse.
It was still a time crunch getting through the traverse before sundown. As we summited Mt. Madison I was scared, not knowing which way was down as the summit was scattered with cairns and natural rock piles. Ian directed me over the boulder field downhill as the sun got lower. We found a small campsite just as it was getting dark, spending the night chatting with another hiker who we directed to our spot.
After a zero in Gorham, we headed back out nearing Maine, but my confidence and strength for tackling difficult terrain didn't come back. We had to have the conversation.
Mt. Success
We did it. We hiked nearly 900 miles and only a few miles from the Maine border. I made the most difficult decision of my hike here and reviewed my goals of thru hiking.
1. Make it to Maine
And I did! I made the plan on Mt. Success to push on to cross the border into Maine then backtrack to Gorham to get off trail. It was a tearful night, calling my family, letting them know I made it to Maine but I'd be heading home sooner than expected.
I had to put my safety first. I wasn't confident in the terrain of The Whites. Without Ian there to guide me, I'd probably be someone injured out there pressing my SOS button.
I had to swallow my pride and caution other thru hikers never put your goals of completing the trail over safety. Thru hiking will always have some element of danger. If you are confident and capable of the terrain, great, but I didn't want to risk the safety of others in the likely event I get injured taking timid steps and being fearful of each day of hiking.
2. Build Social Skills
Thank you to all of you, on trail and in town. The Appalachian Trail has such a strong, hospitable community.
Thank you to Batman, Robin, Matrix, Sprite, Willow, Turtle, Hare, Soapy Joe, Mamma Gecko, Crooked Foot, Stone Legs, The Dawn, Lucy, Tripper, Fruit Ninja, Bear Slayer, Gumbi, Joy, Mountain Doctor, Yellow Jacket, Ledge, Platinum, Pickles, Banquet, Apples, Spiderman, Time Crunch, Jello, Plato, 3PO, Jeopardy, Strider, PI, Scribe, Messenger, Dungeon, Caboose, and all those I didn't include here for your kindness, generosity, and authenticity.
Being introverted and working hard in college, I didn't grow a large social network. The spontaneous nature of hiker relationships make them special.
3. Outdoor Skills
I hiked the Whites! I got more confident in various terrain and weather. Learning where to set up camp, getting water, and hanging food.
4. Mental Fortitude
I put myself in some uncomfortable situations but never gave up. Even at the end, I took a break on Mt. Success! A thru hike is about the journey, not just walking. I may not finish my remaining portion in 365 days. Some say that means I'm not a thru hiker. I say, thru hiking is a personal experience and I know I'm a thru hiker. As I've told many friends and family, I didn't fail to complete the trail. I took a safe, calculated decision to take a hiatus. In this break, I've had time to process my hike, make some money, and improve for 2023.
Hello Georgia!
At the time I'm writing this post, we are two weeks out from starting back up at Springer Mountain. I'm interested to see how the trail will be different, hiking among fresh hikers, different terrain, different towns, and at a different time of year. Good luck 2023 AT hikers, we hope to see you out there!
Affiliate Disclosure
This website contains affiliate links, which means The Trek may receive a percentage of any product or service you purchase using the links in the articles or advertisements. The buyer pays the same price as they would otherwise, and your purchase helps to support The Trek's ongoing goal to serve you quality backpacking advice and information. Thanks for your support!
To learn more, please visit the About This Site page.