Summit Day!
Day 160
We woke up feeling like it was a surreal Christmas morning.  Not only were we excited to reach the southern terminus of the Appalachian Trail but we also enjoyed a cup of hot coffee from the comfort of our sleeping bags while watching our final sunrise on trail. Every action we took was either prefaced or followed by the thought "last time"… "rolling up our sleeping bags for the last time" or "our last time using the privy."
We set out on trail reflecting on where we've been, what we've seen, and our favorite memories.  Before we knew it we saw a sign stating less than a mile to Springer.  We looked at each other with wide eyes and smiles.  Almost there!  A lot of things had to go right for us to get to this spot.  We didn't get hurt, sick, etc. The flip flopper Maui said it most accurately back in Maine, "if everything goes right for you and me, we'll see each other again".  Everything went right for us and it's finally our summit day.
Just over 5 months ago, we set off from Mount Katahdin in Maine, and we reached the summit of Springer Mountain in Georgia a little before 10:30AM on December 2nd to find the most beautiful rock on trail with a bronze plaque commemorating the southern terminus.  We passed by the final white blaze and trekked into the history books.  It is a bit surreal to be here.  It's an incredible accomplishment that didn't quite set in at the summit.  What does this mean?
A family of thru-hikers (mom, dad and two school aged kids) that we've been a few days behind (been seeing their signature in the shelter logbooks) was also there having reached the summit a few minutes earlier and heading back down to the parking lot near the summit. It was remarkable seeing the young kids who were able to complete this journey.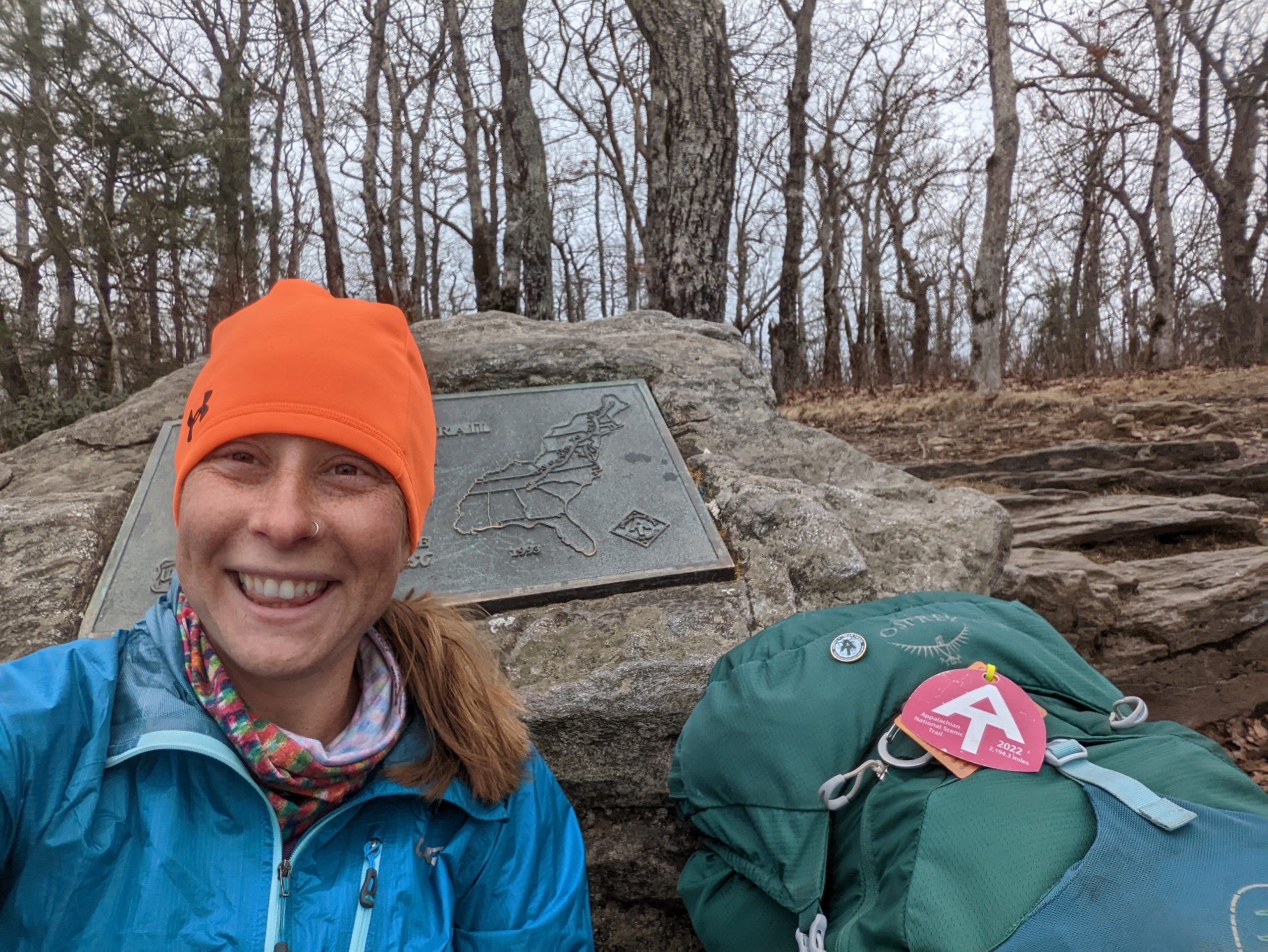 Being "done" is a strange feeling with lots of mixed emotions.  We are looking forward to the comforts of what we've been calling "forever town" but we will miss life on trail.  It's already hitting us hard. We longer need to worry about weather, mice, resupply, etc. We have had thousands of great memories that will never fade. We are so happy we took the time to take the pictures and document as much as we could.
We finished our thru-hike with a mini photoshoot at the summit of Springer.  It was nice to have the summit to ourselves, even if it isn't the most scenic.  The NOBOs 100% have the best summit when they finish on Katahdin. Their ending (our beginning) is definitely more emotional and physically demanding.
The bitter winds had us moving on from Springer. Our thoughts were all over the place. It's going to take some time to adjust as we reflect on this monumental achievement.
We continued down the approach trail, 8.8 miles to Amicalola Falls State Park.  To future SOBOs, we strongly encourage you to finish at the falls instead of getting picked up at the Springer Mountain parking lot.  The falls are stunning and give you a few more easy hiking hours on trail to process the end of this epic journey. We passed through the arch but the feeling of accomplishment still hasn't quite set in.
We walked up to the Amicalola Falls Lodge where we will be staying the night. The lodge is very nice and we recommend staying even if you are just looking for a vacation. The views from the lodge of the surrounding mountains are beautiful. It was strange knowing we're not sleeping on trail. This isn't just a night in town, this is the end.
There weren't many food options for dinner except the AYCE dinner buffet at the lodge…don't have to twist our arms… We had a great night eating, drinking and reminiscing on the past months. We enjoyed the amazing views from our room and went to sleep in a comfy bed.
We have enjoyed documenting our time on the Appalachian Trail.  We have also been overwhelmed by the support we have received.  Thank you to everyone who contributed in the success of our hike,  whether it was trail magic or simply words of encouragement.  We have appreciated it.  Tomorrow is a new day and we already have some more adventures planned!
Affiliate Disclosure
This website contains affiliate links, which means The Trek may receive a percentage of any product or service you purchase using the links in the articles or advertisements. The buyer pays the same price as they would otherwise, and your purchase helps to support The Trek's ongoing goal to serve you quality backpacking advice and information. Thanks for your support!
To learn more, please visit the About This Site page.