Tee's Appalachian Trail Gear List!
It is just killing me to see many of my hiker friends and family already out on the Trail this year! To ease my antsy, I have detailed my Appalachian Trail gear list for your viewing pleasure!
Who are your wearing!?
Mostly L.L.Bean. Not only do I get that sweet, sweet employee discount, but they have a great satisfaction guarantee so I don't feel completely screwed if an item unexpectedly fails, and they have also come out with some really surprisingly great technical clothing in recent years.
And when it gets cold…

Fleece Hat, Gloves, and Rainbow Scarf
Outdoor Research Puffy a lady sold me last year on the PCT for $30! (Maroon)
Base layer pants (Black)
Not Pictured:
Base Layer Top (Dark Blue)
Sports Bra
Rain Skirt and Inner Pack Liner made out of compactor trash bags
Osprey Pack Cover with Draw String
TBird was a rolling stone. Wherever she laid her pack was her home…
Not Pictured:
Alright, I know what you're thinking: My god, Tee, a pillow? A dope sleeping pad? You're an experienced enough hiker to know how to save weight by sacrificing comfort! Use rocks as a pillow and spiders for a sleeping pad!
Not this time, folks. For 500 miles on my first thru attempt on the AT, I used NO sleeping pad. Brr and owww. On the PCT, I just had the Thermarest Z-Lite sleeping pad when my UL Klymit Inertia (6oz) broke (twice). Looking back, I really paid for it during the day. So, I have enough bad ass cred from those experiences I think. I'm gonna be a trail princess this time around.
So hungry… so thirsty…
MSR Canister Fuel
Titanium Spork
Mini Bic lighter
CRKT Knife for cuttin' sausages
JetBoil CrunchIt – so I can recycle and not be a burden on hiker boxes with my empty fuel canisters!
I have a lots of experience with various types of water treatment systems, including steripens, the Sawyer Mini, pump filters, iodine – but that's a whole different blarticle. This is what I'm going with this year. Easy and effective.
But what if you need to poop?
Hairbrush (Not that big one, though)
Toilet Paper
Emergency Blanket
Ben's Bug Spray
Dermatone Sunscreen (crucial)
Q-Tips (luxurious)
Tweezer and Nail Clippers
Blister tape
Extra hair ties
Disposable razors
Lip balm
Mini toothbrush and tooth paste
Mini 2-in-1 Shampoo and Conditioner
The unspeakable
Vitamin I, but also Vitamin Naproxen (plus other meds)
Let's relinquish our electronics and head for the woods! Except these: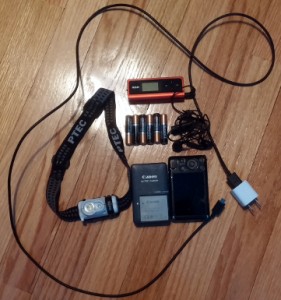 LG2 CellPhone in Otter Box (Took the photo with it – it survived the PCT!! Amazing.)
Headlamp
Phone and Camera chargers
Canon Powershot (Also survived the PCT, but not without injury)
RCA MP3 player and ear buds (weighs nothing)
Extra AAA batteries for the MP3 player (which takes 1) and headlamp (which takes 2)
More! There's always more! How the hell do I carry all this stuff…
Guide Book pages (Compilation of my own creation)
Camp shoes (flip flops)
Line and hook
Bug net
Journal and ball point pen
Other stuff that I am forgetting
How does it stack up?
Well! I added up the weights of all the items and supposedly my base weight will come in around 15 pounds this year, even with all the luxuries I am adding. I guess I can afford to after getting rid of all the crap I usually carry.
Also, I have become an expert packer. Instead of putting everything neatly into its own little compression sacks, which takes for-freaking-ever by the way, I now just toss items like my sleeping bag into a trash bag and cram it into the bottom of my pack. This way, it forms a nice and even cushion instead of a big, oddly shaped lump at the bottom of my pack. Same thing with my tent and clothes. I find things pack down a lot more evenly, making my pack a lot smaller and balanced in weight.
I hope you've enjoyed inspecting my gear. Now, can I get it on the Trail already!?!?
Affiliate Disclosure
This website contains affiliate links, which means The Trek may receive a percentage of any product or service you purchase using the links in the articles or advertisements. The buyer pays the same price as they would otherwise, and your purchase helps to support The Trek's ongoing goal to serve you quality backpacking advice and information. Thanks for your support!
To learn more, please visit the About This Site page.
Comments
3
sounds great.. I start NOBO 4/20 this yr..cant wait! seperate stuff sacks dont work well with the Granite Gear pack.. I have the same pack and found it best just to do what you do and stuff it all in the pack..although i do have a zpacks cuben fiber waterproof pack liner.. I found if i put everything in stuff sacks it was very uncomfortable on my back with lumps and stuff poking around.. did you try the granite gear airbeam back support upgrade for the crown? it is awesome..so comfy and lighter than the stock back frame support and it allows you to carry more weight..I was concerned about durability being a ait pad and all but after using it I feel confident it will hold up.. cheers J.

Whaaaaaat! I did not know about any such upgrade for the Crown! I think I'm getting addicted to luxury and comfort the same way some people do to being as UL as possible… I am very tempted to buy and try that. Thanks for the comment. 🙂 Hope to meet you out there!