That Doesn't Look Quite Right (Left)
4 Aug 2017
Mileage
AT NOBO Miles – 454 miles
AT SOBO Miles – 298.3 miles
AT Total Miles – 752.3 miles
% Complete – 34.3%
Today's Miles – 6.9 miles
Time – 3.0 hrs
Speed – 2.30 mph
# States Completed – 4
Start: Trident Col Campsite
Stop: Gorham NH (White River Jct VT)
It WAS supposed to be an easy day into town for a much needed Nero & Zero. But…
After getting my normal early start, I headed to town at 6am.
With only a 6.2 mile trek, I didn't want to rush. While the Rattle River Hostel knew I'd be an early check-in, I didn't want to arrive too early. With a 10k into town, I slow rolled my hiking taking it slow, very slow, and easy.
At 6:15am, on the first hill out of Trident Col Campsite, I made a step up about 12 inches and…
BOOM
I fell forward, looked down and saw this…
Yeah, that didn't look quite right!
I immediately removed my wedding ring because I didn't want to have to have it cut off. I then did the "you can fix this" and pulled on my finger!
Even after pulling on it 3 times, I couldn't get it back in place. So my easy day into town just turned into a quick hike to find an Emergency Room.
My next thought was "I need to splint this thing!". But I wasn't sure I could get my pack back on and secured if I took it off. It was 6.2 miles and I needed to make haste. A loose fitting pack would surely hinder my progress. Also, I wasn't sure what the upcoming terrain would be throwing at me so I wanted my pack secure. Therefore…I hiked on with my finger just hanging out there.
I still needed to use my trekking poles so the left one was held between my thumb and index finger. It only really hurt when the pole slipped on a rock or I really needed to grab the handle. This was going to be a rough run into town.
When I finally made it to the Rattle River Hostel, Erik (the owner) was so helpful and quickly arranged me a ride to the local ER. Tracy (girlfriend of Odie from HikerYearbook.com) was my driver. At the hospital, it was interesting the ER staff was asking Tracy about "other hikers" she'd dropped off there in the past!
Sounds like the Hiker Community is helping keep this hospital in business and Rattle River Hostel is the Ambulance.
Emergency Room #1
With it being a small hospital, I was quickly attended to. My attending was Dr. Kossayda and my RN was Aaron. Both of these guys were very helpful throughout my visit. In fact, they spent the next 5+ hours trying to work my follow on care!
This is Aaron my RN. Great guy and very very helpful.
Check out this x-ray film…

After a few shots to do a nerve block, the doctor went to work.
He spent about 15 minutes trying to get the finger back in place to no avail. He did mention that "sometimes" the ligaments get in the way and then it requires surgery to fix a dislocation!
That's NOT what I wanted to hear. And little did I know, that statement would mean a long long day without food or drink because of a potential surgery.
With no success in fixing my finger, the ER duo went on the hunt for an Ortho specialist. However, time and again everyone would work against them. There were no Ortho doctors in the immediate area. They were even in consultation with Darthmouth-Hitchcock Hospital about 2 hours away.
The Darthmouth-Hitchcock hand specialist said I needed to be seen soon…so even though I considered just catching a flight back to Missouri and having my doctor deal with this on Monday, it became a no go since I needed care sooner rather than later.
Finally, they found someone at Memorial Hospital in North Conway, NH. They arranged with the doc that if the ER couldn't get it reset in two tries, the Ortho doc would come in.
Great…it looked like I would get repaired!
Transportation
Now the big question was…
"How do I get to North Conway NH?"
I mean I'm an AT Thru Hiker. I don't have wheels to drive a few towns over. So I began the process of finding a rental car. Luckily for me, Gorham NH has an Enterprise Rental car agency in town. After a call, Mark could "Pick me up", but it'd be a few hours since he was a One Man Show and was delivering other customer's rental cars. So…I waited!
During the wait, I decided the North Conway was probably NOT the best solution for care and made a decision to head in the opposite direction towards the BIG hospital of Darthmouth-Hitchcock especially if this needed surgery.
Emergency Room #2
Also, a VA hospital was very near Darthmouth-Hitchcock and this ER would be my second ER of the day. After a 2+ hour drive to White River Jct, VERMONT, I checked in at the VA. They didn't have any hand specialists, but the surgeons on call thought it would be better to send me on to Darthmouth-Hitchcock since they had already been in consultation on the matter.
After a few hours of waiting with no action, I was transferred/referred over.
It was around 7:30pm by now and still no food since 5:30am. I was getting HANGRY!
However, if surgery was still a consideration, no food was the best solution. During the 2 hour drive over, the hand and finger were beginning to let me know it hurt!
Emergency Room #3
I made it to my THIRD ER for the day.
It was getting late on a Friday night and the place was already quite busy. I realized I could be here awhile and maybe even into Saturday morning. However, at least now I had an ice bag to reduce some of the swelling. Now it was just a waiting game.
Around 9:30pm, they finally called me back. Dr Zelones, the hand specialist, took a look. He thought he'd try a nerve block and if that didn't work he'd do a little incision. I was good with that…let's just get this finger back in place.
After a few injections, Dr Zelones quickly manipulated the joint and got the finger back in place. Then it was just a quick x-ray to verify…
…and a splint before sending me on my way.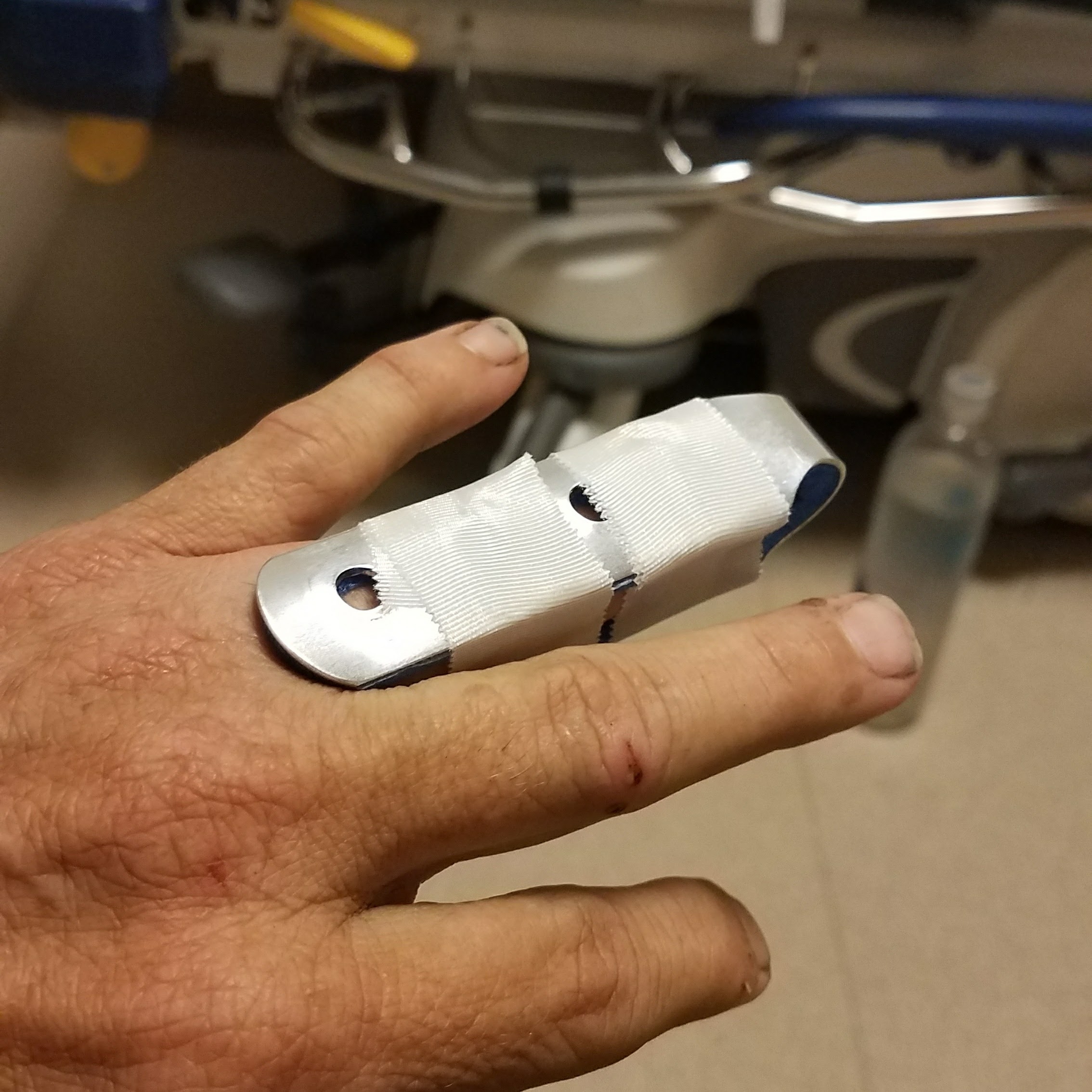 Food & Lodging
By now, it was 10:30pm and I need food and a place to stay.
I found a Super 8 that wasn't that SUPER a few miles away, but it was a bed. And after my daughter mentioned Taco Bell, I was on the hunt. However, TB closed at 10pm, so MickyDs would have to do. Two Big Macs, fries and a chocolate shake were what this hungry Hiker needed.
Then it was off to bed… it's been a long long day…good night!
Up-n-Ready
Flip GA to VA
Flop ME to VA
"On the road to Damascus"
bit.ly/Up-n-Ready
bit.ly/Hike4AFEV
Affiliate Disclosure
This website contains affiliate links, which means The Trek may receive a percentage of any product or service you purchase using the links in the articles or advertisements. The buyer pays the same price as they would otherwise, and your purchase helps to support The Trek's ongoing goal to serve you quality backpacking advice and information. Thanks for your support!
To learn more, please visit the About This Site page.