The 100 Mile Wilderness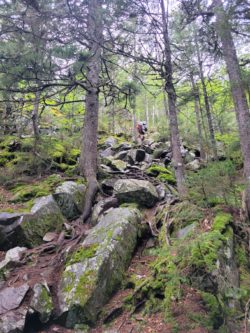 Just saying the name of this section of the Appalachian Trail can be intimidating. The challenge is 100 miles of straight hiking with no hostel or hotel stops, no resupply and no showers or laundry and most notably – no phone charging! Just kidding, the most worrisome thing is being isolated in a wilderness area, far from help should some become necessary.
Let me start by assuaging some of these fears. The 100 mile wilderness is crisscrossed by unpaved roads that provide access to the area for logging, recreation and rescue. That is not to say that some parts of the trail are not miles away from these access points, but to reassure you that services are available at times. In fact I would highly recommend setting up a food drop through one of the hostels in Millinocket (SOBO) or Monson (NOBO). This will allow you to carry less food, purge your trash, recharge your phone (by using a borrowed charger and putting your charger into the bucket your resupply is in), and arrange a little treat like a beer or soda that can be consumed when you pick up your resupply! The cost for this service through Shaw's hostel or The Appalachian Trail Lodge is $35. Well worth it in my opinion.
Also, NOBOs listen up, it will probably take you longer to hike this 100 miles then you think. I know, you have been doing twenties and plan to get through it in 4 or 5 days. Maybe you can. I have met people who did this. I think they would agree that it was not easy, involved some very long days and took all the fun out of what I found to be my favorite part of the trail. It could also put you in danger. The southern half of the wilderness is very challenging terrain. The trail is extremely steep in places (hand climbing), filled with wet, slippery rock slabs and wet slippery roots.
I hiked 17 and 18 mile days until I got to the Chairback Mountains area. At that point my milage shrank to 10 miles a day. All told I was in the Wilderness for nine days. In the end I purposefully chose to do a half day so I could camp at a wonderful site that I didn't want to pass up. I was also pretty worn out by then and happy to take a break. Listen to your body, pack enough food for at least one and better yet, two unplanned days, and enjoy the gift of these remote woods!
The silence in the wilderness was unbroken except for the occasional bird or squirrel. I hardly ever heard even passing aircraft. The nights when the moon has yet to rise will give you an amazing star show – if you don't have a bladder alarm, set one on your phone, get out of your tent and just look up. Everyone will tell you to camp at Antlers Campsite – and you should. But also be on the lookout for the perfect lakeside stealth sites. I found one on the north end of Rainbow Pond next to a huge rock. Perfectly flat, pine needle covered tent site with a view of the sunset over the lake through the trees. All alone. Perfect.
I hiked for three days completely solo. I passed a few NOBOs who often looked stressed and rushed past, determined to get to The Mountain and not seeing The Moment. This is when I really accepted my flip flop as a good decision for me. I felt all the stress related to milage just fall away. I could really enjoy my hike now that I no longer had a deadline.

At Antlers I crossed paths again with Phoenix Rising whom I had last seen at a Hostel in southern Virginia. He and I hiked together through the remaining wilderness miles and his company made the hard parts softer. We took time for meditation in front of Little Wilson Falls, he made hilarious 'play by play' commentary while video taping my river crossings and we generally just enjoyed having a hiking companion to share the miles with.
The 100 Mike Wilderness is my favorite section of the AT so far.  Maine was wonderful overall – great people, hostels and towns. I got engaged to my husband 34 years ago in Maine on Molasses Pond under the northern lights. This has been my first time back since then. I will not wait nearly as long for my next visit.
Affiliate Disclosure
This website contains affiliate links, which means The Trek may receive a percentage of any product or service you purchase using the links in the articles or advertisements. The buyer pays the same price as they would otherwise, and your purchase helps to support The Trek's ongoing goal to serve you quality backpacking advice and information. Thanks for your support!
To learn more, please visit the About This Site page.