The Appalachian Trail State by State Overview: Highlights, Hiker Tips, Maps, and More
Those who have hiked the Appalachian Trail agree: there's simply no other trail like it in the world. It may not be the longest footpath of them all, nor the most exposed, but there's something magical about it that keeps hikers coming back for more.
Perhaps it's the amazing trail community, or maybe it's the frequent burger-laden town trips. Maybe it's the mystique associated with one of the world's oldest and most storied long trails. But whatever it is, there's no denying that the Appalachian Trail captures the imaginations of tens of thousands of hikers each year.
Each of the AT's 14 states holds its own unique charms and challenges.  Whether you're scoping out your next section hike or laying plans for a full-blown thru-hike, let this overview be your one-stop guide to all 2,200 (ish) miles of the Appalachian Trail.
Jump to a State
Georgia
The AT in Georgia is 79 miles long, starting at Springer Mountain outside Dahlonega, and stretching to the North Carolina border right before Bly Gap.
Terrain
Long, sweeping climbs to get your hiker legs under you. The trail is wide and smooth, and mostly well-graded… with a few butt-kicker climbs that will feel especially tough for NOBOs just getting their trail legs under them.
Highlights
You know this one.
Mile 28: Blood Mountain
A landmark climb that might feel decent on the way up and brutal on the knees on the way down. This is the first major climb for NOBO hikers.
Mile 31: Mountain Crossings
You will be glad to see this full-service outfitter and hostel after your descent from Blood Mountain. Home of the famous shakedowns and the first place NOBOs come to for warmth and accommodations. Located right on the trail at Neel Gap.
Mile 35: Wolf Laurel Top
One of the best places to camp and catch a sunrise. Take a break from shelter life and pitch a tent up here.
Mile 52: Helen
Many hikers hit Hiawassee as their first trail town, but for those looking to jump off a little earlier, Helen is a charming stop. Helendorf River Inn has a solid thru-hiker rate with quality accommodations. Bodensee offers superb German food, and there are plenty of unique shops and places to eat. Resupply at Betty's Country Store.
Mile 58: Tray Mountain Shelter
The views from the campsite are incredible, and it's worth the .2 off-trail hike to get there.
Mile 69: Hiawassee
Enjoy one of your first (of many) AYCE buffets in Hiawassee, plus a good resupply, and a stay at the hiker-friendly Budget Inn. This is an easy hitch from Dicks Creek Gap, plus many places offer shuttles. Daniel's Steak House and Georgia Country Kitchen will fix that newfound hiker hunger.
Mile 73: Plumorchard Gap Shelter
The last shelter before the North Carolina border is spacious, scenic clearing off the trail, and the first place many NOBO hikers start to feel settled into the thru-hiker life.
Hike the Georgia AT in 90 seconds
Video: Josh Johnson
Straight from the thru-hikers
An underrated state that will put you in the right mindset for your thru hike, plus huge crowds of (NOBO) thru-hikers – Justin Jay
An enjoyable, interesting take on Freshman Year. I remember it being some of the hardest trail due not having my legs and the really quite shocking realization that walking the AT and going for a fun hike were two different things and that the difference between them is vast and treacherous – Rhys Hora
The landscape was easy and well-manicured compared to much of the rest of the trail. Also, we were SOBOs and hiking in not peak season, but everyone was extremely friendly and accommodating. – Ashley Michael
Why are there no switchbacks? Lots of water, many off-trail shelters/campsites, and so much trail magic…. plus Sassafrass kicked my ass. – Shutterbug
Must read: Georgia's Best Day Hikes on the Appalachian Trail​
Georgia Dispatches
Even More
All mileages taken from The 2018 AT Northbound Guide, by David "AWOL" Miller
North Carolina / Tennessee
After leaving Georgia at Bly Gap (mile 78), the Appalachian Trail climbs and descends through North Carolina for 96 miles, hits the Tennessee state line at Doe Knob (mile 174), then spends the next 292 miles crisscrossing between the two states. The AT follows this state line until reaching Virginia at mile 466.
Terrain
The climbs become more significant through North Carolina and Tennessee, but many are designed with switchbacks to ease the pain. Hikers will get above 6,000 feet through the Smokies, meaning early spring NOBOs will likely experience seriously cold conditions in this rugged, scenic national park.
Highlights
Mile 78: That Tree at Bly Gap
Gnarled, yet dignified. Like many a thru-hiker.
Mile 136: The NOC
The Nantahala Outdoor Center is a gear resupply haven. After a long descent, this outdoors center welcomes hikers with food, a well-stocked outfitter, lodging options, and a place to print your Smokies permit.
Mile 167-237: Great Smoky Mountain National Park
The "Smokies" are one of the first big milestones for NOBO hikers, and hiking through this splendid national park will be an experience not soon forgotten. This section stays between 4,000-6,000 feet, so hikers should be prepared for potentially rough weather in the early spring. Dogs are not allowed, and permits are required.
Mile 195: Silers Bald
Snap a picture at this prime Smokies photo opp. The open summit sits at 5,600 feet.
Mile 200: Clingmans Dome
 At 6,644 feet, this is the highest spot on the AT. The tower offers an incredible vantage point to gaze back on the Smokies.
Mile 207: Gatlinburg, TN
Hitch a ride from Newfound Gap to this quirky town. Gatlinburg is home to a mind-boggling array of tourist attractions, restaurants, and other oddities. This is also a solid resupply for the middle of the Smokies.
Mile 255: Max Patch Bald
Iconic, photogenic bald summit with 360-degree views
Mile 274: Hot Springs, NC
This is the first trail town that the Appalachian Trail actually passes through. It is a welcome respite after the Smokies, filled with quaint stores, hearty diners, and friendly faces.
Mile 274: Smoky Mountain Diner, Hot Springs NC
Easily one of the best restaurants along the Appalachian Trail, a hungry hiker won't forget their meal at this classic diner in Hot Springs. Grab the Hungry Hiker burger or a breakfast skillet. Maybe both.
Mile 274: Laughing Heart Hostel, Hot Springs NC
Located right on the main drag of Hot Springs, Laughing Heart was built specifically to accommodate thru-hikers. The building has three bathrooms, kitchen access, wifi, and a plethora of board games.
Mile 326: Big Bald
A high-elevation, bare summit sitting at over 5,500 feet.
Mile 356: Beauty Spot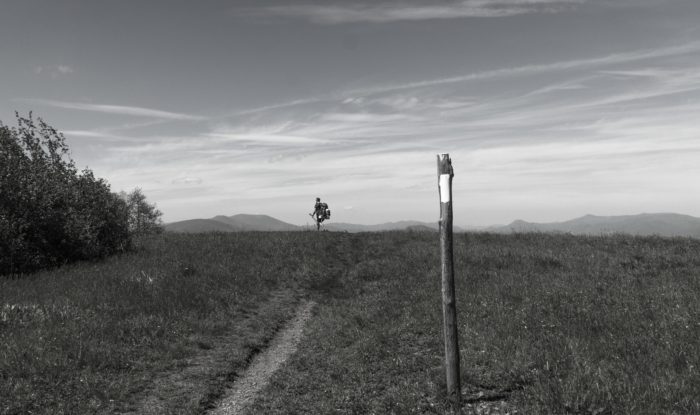 Famous, photogenic clearing with incredible views. A nearby parking lot makes this a popular day-hike destination.
Mile 375-380: Roan Highlands
Voted one of the best sections of the entire Appalachian Trail, the Roan Highlands are the highlight of the southern half of the AT. Rolling climbs, open views, and the most above-treeline time AT hikers get until reaching New Hampshire.
Mile 387: Overmountain Shelter
It's worth the short off-trail walk to check out this large red barn, one of the best-known shelters along the AT. Hikers can no longer enter the barn itself due to structural instability, but camping is still allowed in the surrounding fields.
Mile 421: Laurel Falls
Another popular day hike, Laurel Falls is a 55-foot cascading waterfall just a short jaunt off the AT.
Mile 380: Roan High Knob Shelter
Sitting at 6,186 feet, Roan High Knob Shelter is the highest shelter on the Appalachian Trail
Straight from the thru-hikers
Big and beautiful bald mountains paired with views of seemingly endless mountains. –Colleen Goldhorn
I gauged which state I was sleeping in by whether or not the shelter had a privy. NC is decidedly less wild than TN, but TN had the better trail magic.  It's much more scenic than Georgia! –Snapple
Scenic trails punctuated by increasingly difficult climbs, higher peaks, and more expansive vistas. Numerous fire towers highlight the section and the trail towns are all top-notch. Well-maintained trails, steeper climbs than Georgia. –Leapfrog

NC/TN Dispatches
Additional NC/TN Info
All mileages taken from The 2018 AT Northbound Guide, by David "AWOL" Miller
Virginia
At over 550 trail miles, Virginia is the longest state on the Appalachian Trail. Hikers reach the state line at mile 466, three miles before Damascus, and most will be in Virginia for a month before reaching the West Virginia border at mile 1,007. For hikers who have become accustomed to checking off state lines as milestones in their journey, Virginia can be somewhat of a buzzkill. The Virginia Blues are less attributed to the state, and more where many hikers land in their relationship to the trail. The honeymoon phase is over, but NOBO hikers have well over 1,000 miles left in their journey. It can be a lag time, but keep a good attitude and enjoy all this state has to offer. But if you change your mind-set from crossing state lines to just enjoying the varied landscape and dozens of landmarks, this state is unforgettable.
Terrain
Well, it's not flat. Virginia's terrain can be broken up by region, and it varies from one end to the other. Southern Virginia is challenging, characterized by long, steep climbs and descents over ridgelines. Shenandoah National Park is one of the most gentle, rolling sections of trail, and northern Virginia is filled with farmland and rolling hills.
Highlights
Mile 469: Damascus
Known for its hiker-friendly atmosphere, the AT passes right through this charming hub. Home to the legendary hiker festival of Trail Days, during which hikers either aim for Damascus or try to get as far away as possible.
Mile 469: Mt. Rogers Outfitters
Friendly local outfitter with full-service goods, including food, fuel, and gear
Mile 469: Woodchuck Hostel
Voted one of the 2016 best hostels on the Appalachian Trail, Woodchuck is dog-friendly, runs a daily shuttle to the grocery store, and has all the amenities a dirty hiker could want.
Mile 500-504: Grayson Highlands
Grayson Highlands State Park is best known for the friendly wild ponies that roam freely within its boundaries. Lucky hikers will get close encounters with these little horses and perhaps a foal or two.
Mile 542: Settlers Museum
This open-air museum is set on 67 acres, and the AT passes right next to the one-room Lindamood School from the late 1800s.
Mile 569: Chestnut Knob Shelter
This fully enclosed stone shelter will protect from the wind while being a prime location to view sunset and sunrise.
Mile 611: Dismal Falls
Take a lunch break at this peaceful cascading waterfall. This is a popular location for local day hikers.
Mile 678: Keffer Oak
The second-largest tree on the Appalachian Trail, second only to the Dover Oak. The Keffer Oak is 20 feet around and 300 feet tall.
Mile 701: Dragon's Tooth
Rocky monolith just a short side trail from the AT. Intrepid hikers can climb to the top and look out over the valley.
Mile 703: Four Pines Hostel
Voted one of AT hikers' favorite hostels two years in a row, this donation-based hostel is just over a quarter-mile from the Newport Road crossing, in a retrofitted three-bay brick garage with bunks and showers.
Mile 709: Homeplace Restaurant
Voted one of the best restaurants on the AT, this restaurant serves homemade meals family-style. Heaping platters won't let a hiker leave hungry at this Catawba staple.
Mile 713: McAfee Knob
One of the most iconic spots on the Appalachian Trail, this rock feature stretches out over the valley and is the  most photographed spot on the entire trail
Mile 718: Tinker Cliffs
Amazing views abound during this half-mile stretch along the edge of the cliffs. This is the third leg in the "Triple Crown" of views from this section of Virginia, preceded by Dragon's Tooth and McAfee Knob.
Mile 785: James River Footbridge
The longest footbridge on the AT. Some hikers choose to jump from the bridge into the James River as a classic AT bucket-list challenge
Mile 824: Spy Rock
One of the best campsites in Virginia, scattered with trees and close to incredible panoramic views for an epic sunset and sunrise.
Mile 828: The Priest
A challenging ascent in the Three Ridges Wilderness. This climb brings hikers to over 4,000 feet, followed by a 3,000-foot descent to the Tye River Suspension Bridge.
Mile 863: Rockfish Gap -> Waynesboro
Just a few miles off-trail, Waynesboro is home to Stanimal's Hostel and Ming's, a wildly popular AYCE Chinese food buffet.
Mile 863: Rockfish Gap Outfitter
Full-service outfitter located between Rockfish Gap on the AT and Waynesboro.
Mile 864-967: Shenandoah National Park
Hikers enjoy mellow terrain with numerous crossings of Skyline Drive. You won't have to carry much food through this section if you plan to stop at Waysides where you'll find burgers, hot meals, and the famous blackberry milkshakes. Be bear aware through here. The bears are accustomed to hikers and might be looking for a snack from your food bag. Some hikers choose to aquablaze through this section.
Mile 970: Front Royal
A larger town full of restaurants, resupply options, and a natural-foods store. Hiker-friendly PaveMint restaurant has all the large-portion options a hiker could want.
1004: Bears Den Hostel
Camping and bunk options, operated by the amazing Potomac Appalachian Trail Club (PATC). They sell a selection of food (including ice cream) and the stone lodge is a real stunner.
Mile 995-1008: Virginia Roller Coaster
13.5 miles of intense ascents and descents. This section is not to be underestimated, but hikers will appreciate the welcome reprieve of the Blackburn Trail Center afterward.
Mile 1012: Blackburn Trail Center
This beautiful establishment is also run by the PATC and is a low-cost place to stay for weary hikers finishing the Roller Coaster. Run seasonally by caretakers, they occasionally serve a donation-based dinner, and hikers can camp on the lovely center grounds.
See Virginia for Yourself
Video: Ashley Hill
Straight from the Thru-Hikers
Virginia has amazing sunsets and sunrises if you are willing to catch them. The state offers rolling hills and some challenging climbs. -Ashley (Savage)
Long as balls, but slightly easier than what NOBOs have become accustomed to. Were I to do it again, I'd absolutely road walk Skyline Drive. The Shennies are great, and I'd looked forward to them for weeks, but by the time I got there all I wanted to do was get through and take a zero or two with my friends in Front Royal. Also, the road is flatter and has better views. Hitting the 500-mile marker (written in pony poop) was a turning point for me. I stopped thinking about the difficulty of the trail, life off-trail, and the miles left to hike and just kinda got into the swing of things. Less Virginia Blues and more Virginia Change of Perspective. -Rhys Hora
It is not flat, but it is unbelievably gorgeous. The rolling hills and green acres of old farmlands are almost too idyllic to be real. –Jessica "Ruby Cosmo"
It really is as long as everyone says. You have to divide it up into separates "states" to stay sane. We were SOBO, and did 1) Shenandoah, 2) Rockfish Gap to Pearisburg, and 3) Pearisburg to Damascus. -Keckeley "Scrunchie" Habel 
 Virginia Dispatches
Additional Info
Thanks to Ashley (Savage), Rhys Hora, Jessica "Ruby Cosmo,"Keckeley "Scrunchie" Habel, "Turtle Traxx," and "Soggy" for their input 
West Virginia
Of the 14 Appalachian Trail states, West Virginia is the shortest by far. Considering that there are only four (!!) miles of trail through the entire state, there's an incredible amount of AT mythos packed into this tiny stretch of trail. West Virginia is home to the scenic trail town Harpers Ferry, the symbolic midpoint of the Appalachian Trail. It's also part of the fabled "Four State Challenge," in which hikers attempt to walk from northern Virginia to southern Pennsylvania in a single day.
After a long slog through the 550-mile behemoth that is Virginia, northbound thru-hikers can experience near-instant gratification with the quick completion of West Virginia. Take time to savor this lovely little section, because it will be over before you know it.
Terrain
After a 1.5-mile descent from the ridge at Loudon Heights, you'll cross the Shenandoah River and enter Harpers Ferry. The remaining 2.5 miles in the state are mostly flat as you make your way through town. The Potomac River on the other side of town marks the West Virginia-Maryland border.
Highlights
Mile 1023.1: Loudon Heights
After hugging the state line for about 15 miles, the AT finally crosses into West Virginia at Loudon Heights. That makes it an ideal place to start (or end) the Four State Challenge, in which hikers attempt to set foot in Virginia, West Virginia, Maryland, and Pennsylvania in a single day. Starting on the VA side of the border at Loudon Heights, it's 43 miles north on the AT to reach the Mason-Dixon Line and complete the challenge.
Incidentally, Loudon Heights is also where the AT starts coming down from the ridge on its final descent into Harper's Ferry. That means weary hikers can finally celebrate that "it's all downhill from here" to town.
1024.9: Side Trail to ATC
Many thru-hikers leave the AT at this point to visit the Appalachian Trail Center 0.2 miles away. This is the symbolic halfway point of the AT, after all. Who doesn't want that iconic halfway point photo in front of the ATC? From here, you can return to the AT or take to the streets and explore Harpers Ferry proper. Between the Harpers Ferry National Historic Park and the town's beautiful landscaping and architecture, there's plenty to see and do. If you go this route, you can easily rejoin the AT at the Byron Memorial Bridge further north (and there's a very good chance you'll be able to snag burgers and beer along the way). There's also an Amtrak station on the south side of town from which adventuresome hikertrash can catch a train to nearby Washington, D.C.
1025.3: Jefferson Rock
Thomas Jefferson is said to have stood at this impressive shale formation in 1873 and took in the sight of the Shenandoah and Potomac rivers. The world is very different today, but the same majestic view of the confluence of these two great waterways still greets hikers today.
West Virginia Dispatches
Additional Info
All milages taken from The 2019 AT Northbound Guide by David "AWOL" Miller
Maryland
There's a reason Maryland is one of the most popular states among Appalachian Trail section hikers. It's just 40 miles in length, making it ideal for weekend warriors; the terrain isn't crushing; and it's conveniently close to bustling Washington, D.C.
For thru-hikers, meanwhile, the Maryland Appalachian Trail is something of a calm before the rock-strewn shit storm known as Pennsylvania. With the symbolic halfway point (Harpers Ferry) in the rearview and the actual halfway point fast approaching, it's a time for many to reflect and take stock of their hikes. It's also a chance for NOBOs to see some new faces as flip-floppers get their start from Harpers Ferry.
Featuring several state parks and a number of killer views, thru-hikers and weekend warriors alike will love this fun-sized section.
Terrain and Considerations
A few rough patches and steep climbs notwithstanding, the terrain of the Maryland Appalachian Trail is mostly rolling and gentle. Most seasoned hikers make good time in the Old Line State, while it makes a great proving ground for newer backpackers just cutting their teeth.
Tenting in Maryland is only allowed at official campsites and shelters.
Highlights
Mile 1025.8-1028.4: C&O Canal Trail
This historic canal towpath has been converted to a crushed stone hiking and biking trail. The full trail runs 185 miles from D.C. to Cumberland, MD (where it meets the Great Allegheny Passage rail-trail that continues on to Pittsburgh) and is popular with bikepackers.  AT hikers get to sample the C&O's charms for 2.5 all-too-brief miles when the two trails merge just north of Harpers Ferry.
Be sure to look out for ripe pawpaw fruit alongside the towpath if you're hiking in September or early October. Seriously. If you haven't had the pleasure of tasting pawpaw before, you really should: it's like an epic cross between a mango and a banana.
Your lungs and quads can rest easy in this section, because the towpath boasts a pleasantly flat profile. That said, bear in mind that miles of stomping on hard-packed stone can still fatigue your joints.
Mile 1029.7: Weverton Cliffs
After a robust mile-long climb up from the canal towpath, you'll come to a short spur trail to Weverton Cliffs. The cliffs are popular with day hikers, and it's easy to understand why. From a broad rock shelf (ideal lunch/snack/nap spot, by the way) you'll get a stunning view of the river valley below. If you have good timing, you might even see a train chugging along the tracks down by the river. This and Annapolis Rocks (see below) are easily the best views on the entire Maryland Appalachian Trail.
Mile 1035.5: Gathland State Park and War Correspondents Monument
Gathland State Park is home to the War Correspondents Memorial, which is dedicated to journalists killed during war. It was built by Civil War correspondent George Alfred Townsend in 1896 and dedicated by him to fellow journalists killed during war. Also on site is the ruin of an unused mausoleum built for Townsend.
Mile 1042.7: Dahlgren Backpack Campground
Dahlgren Backpack Campground is… kind of just a cinder block building in the middle of a field of grass? But it's significant to hikers because that cinder block building houses a bathroom with shower stalls—including hot water. There is no fee to use this facility.
Mile 1044.6: Washington Monument State Park
Everyone knows about THE Washington Monument, but did you know about the other Washington Monument in Maryland? Finished in 1827, this monument was actually completed decades earlier than the famous one in D.C., which was built in 1855. There's a lookout platform atop the monument that affords a 360-degree view, and there's interesting signage along the trail detailing the timeline of Washington's life.
Mile 1050: Annapolis Rocks
Not only is the view from Annapolis Rocks absolutely gorgeous, but it also gets bonus points because there's a jutting outcrop that almost looks like a mini McAfee Knob. Major sunset potential here.
Mile 1066.1: Penn Mar Park
Penn Mar… Pennsylvania-Maryland… get it? Penn Mar Park is just a quarter-mile south of the state boundary. It's a great place to use the bathroom, fill your water and wash up if you're not going into Waynesboro, PA. The park boasts a beautiful west-facing view that makes for epic sunsets, too.
Mile 1066.4: Mason Dixon Line
Just north of Penn Mar Park, you'll cross the Mason Dixon Line. Another state checked off the list, and also one of the most historically significant geographic borders in the United States.
Maryland Dispatches
Related
All mileages taken from The 2019 AT Northbound Guide, by David "AWOL" Miller
Feature image via Scott Edwards
Pennsylvania
Pennsylvania—somewhat affectionately known as "Rocksylvania" amongst AT hikers—represents 229 miles of the Appalachian Trail.  The state falls at the midpoint of the Appalachian Trail, beginning at NOBO mile 1,066 at the Mason-Dixon Line and continuing on a flat-ish, rocky-ish path to the New Jersey border at NOBO mile 1,295.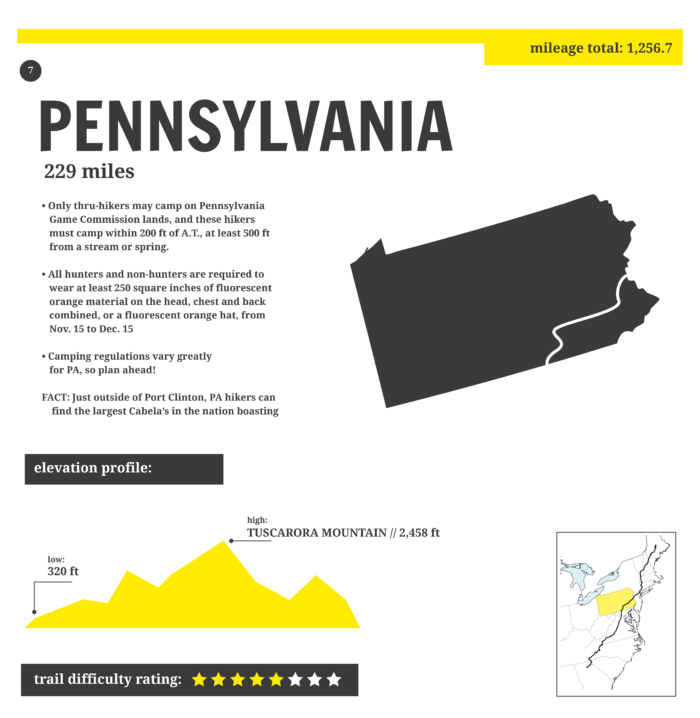 What to Expect on the Appalachian Trail Through Pennsylvania
Being home to the midpoint means the state's legendary rock fields have NOBOs and SOBOs fearing the foot bruising, rolled ankles, and miles of staring at your feet with each careful step. Sure, Pennsylvania has that, but the state overall isn't that bad—in fact, the southern half is downright lovely. It's really just the northern half of the state with the rock fields, and the terrain is so flat and low that hikers can crush huge miles start to finish.
The southern half of Pennsylvania is some of the easiest hiking on the entire Appalachian Trail, and the local trail club (PATC) is one of the most active on the trail. The shelters are beautiful and well maintained, the trail towns are friendly and conveniently located (several right on the trail), and the restaurants are inexpensive. It gets exhausting watching every step in the northern half of the state, but even that isn't as bad as people make it out to be.
Terrain
Flat and low. Elevation ranges from 200 feet to 2,000 feet, and the steep climbs are few and far between. You'll hike through rolling fields, well-graded wooded trail, and under blazing hot power line breaks in the hillside. Cruiser terrain and mild climbs define the first half of Pennsylvania.
In the northern half, the rocks really come into play. Narrow ridgelines are indistinguishable under rocks ranging from baseball-sized rollers threatening your ankles' well-being, to boulders requiring nearly technical climbing moves to maneuver over. And it's not all rock hopping. Many of the rocks are loose and unstable, requiring attention to each step that becomes exhausting after full days. Foot bruising and shoe shredding is real… but don't despair. This is just one 150-ish mile section of a very long trail, and it too will pass.
Water, Camping, and Resupply
Water: Most SOBOs and NOBOs hit Pennsylvania in the dead of summer, and there are a few sections where water can be scarce. It's likely going to be hot as balls, so carry plenty of water and stay up to date on seasonal sources. Additionally, many of the water sources through Pennsylvania are down steep, rocky side trails.
Camping: Easy. Shelters are plentiful and well maintained, and the camping sites have plenty of space for tents. State parks abound and have tent sites and facilities, but will incur a camping fee.
Resupply: Again, easy. No need to send drop boxes, and you walk right through trail towns like Boiling Springs, Duncannon, and Delaware Water Gap. Hikers can make big miles through here, and won't need to carry as much food. Hamburg has a massive Cabela's that is worth a stop just to see the epic taxidermy.
Appalachian Trail Pennsylvania Highlights
Mile 1,066: Maryland / Pennsylvania Border
Right at Pen Mar County Park and home to the Mason Dixon Line. Yogi'ing is easy here, but there is no camping.
Mile 1,084: Caledonia State Park
Pennsylvania has a plethora of charming state parks right off the trail. Caledonia State Park has vending machines, a snack bar (seasonal), and a pool. Camping costs $35 per site, so you're better off moving on up the trail.
Mile 1,096: Official Appalachian Trail Midpoint
This marker changes every year, and sits at 1,096 for 2019.
Mile 1,104: Pine Grove Furnace State Park
Home to the famous Half-Gallon Challenge, the AT Museum, and a well-stocked general store. There are grills in the picnic area, and it's a friendly place to spend the afternoon.
Mile 1,123: Boiling Springs (Trail Town)
One of the nicest towns on the entire trail, and the AT goes right through. The ATC Regional Office is on the trail on the way into town, and the food, lodging, and overall vibe of this town make it hard to leave. Expect ducks splashing in the seven-acre Children's Lake, quaint brick buildings, and townwide barbecues and outdoor events throughout the summer.
Mile 1,149: Duncannon (Trail Town)
Even if you don't stay in Duncannon, you need to at least walk into the trail-famous Doyle and snap a photo. Duncannon has inexpensive food and ice cream, and it's another town the trail goes right through.
Mile 1,159: Table Rock
The sunrise and sunset view, expansive camping space, and 360-degree vistas make this spot totally worth packing water up to. It's a bit of a climb to get up there, and it is a dry campsite, but again… worth it.
Mile 1,219: Port Clinton (Trail Town)
Port Clinton is worth a stop to stock up at the Peanut Shop, an old-fashioned candy store. Feeling brave? Someone should do a full resupply here and tell us if it's possible.
Mile 1,259: Superfund Trailhead / Lehigh Gap (pictured above)
This 900-foot, seemingly vertical rock scramble out of Palmerton takes hikers by surprise after a relatively flat 200 miles. There is a blue-blazed detour for those who want to avoid the rock scramble, but for hikers looking to use all four limbs to gain the ridge, it's actually pretty fun.
Mile 1,295: Delaware Water Gap (Trail Town)
There is no water, and this isn't in Delaware, but the town has some of the best pie on trail, as well as a pay-what-you-can church hostel. This is also right before the New Jersey border, so say goodbye to Pennsylvania, but be aware that the rocks don't totally end just because you crossed the state line.
Dispatches from Pennsylvania
More Backpacking Trails in Pennsylvania
New Jersey
It turns out that New Jersey isn't all traffic jams and industrial vistas—who knew? For 72 action-packed miles, the Appalachian Trail traverses the idyllic western region of the state from Delaware Water Gap, Pennsylvania, to Lakeside, New Jersey. From glacial lakes to charming pastoral vistas, there's plenty to look forward to in this compact section.
Terrain
There are few notable climbs or descents in New Jersey. In fact, the southern half of the section comprises one continuous ridge walk along the spine of Kittatinny Ridge. This is fairly mild hiking, although the notorious rocky tread of Northern Pennsylvania persists along the ridge. However, the rocks do finally abate after High Point State Park at the northern end of the ridge. Here, the trail descends from Kittatinny and largely remains below 1,000 feet in elevation for the remainder of New Jersey. The northernmost 30 miles of this section hug the border with New York closely, passing frequently through low-lying marshes and grasslands.
Appalachian Trail New Jersey Highlights
Miles 1,295.7-1,323.8: Kittatinny Ridge
From Delaware Water Gap north, you can swing your legs a bit for 45 view-laden miles along Kittatinny Ridge. Look for telltale signs of glaciation everywhere on this traverse, from glacial tarns to scour marks in the exposed bedrock. The rocky nature of this stretch can make for tired feet at the end of the day, but the hike itself isn't strenuous. What's more, the rocks aren't quite as jagged as the ones in "Painsylvania".
Mile 1,301.5: Sunfish Pond
Dip your feet and bask on the sunny shores of Sunfish Pond at mile 1,301. Besides just being gorgeous, Sunfish has the honor of being the southernmost glacial lake on the AT, and the first one northbound thru-hikers encounter on their trek to Maine.
Mile 1,307.4 Mohican Outdoor Center
Follow a 0.4-mile spur trail to this lodge operated by the Appalachian Mountain Club. The retreat is located on glacial Catfish Lake and offers lodging, food, and boat rentals for hikers in need of a semi-luxurious side trip.
Mile 1,308.3: Catfish Lookout Tower
Who doesn't love a good fire tower? In the midst of your Kittatinny traverse, you'll encounter the Catfish Lookout Tower. Be sure to climb the steps for vertiginous 360-degree views of the surrounding ridges and valleys. What's more, you can take a well-deserved break afterward at the picnic table near the base of the tower.
Mile 1,323.8: Culver Gap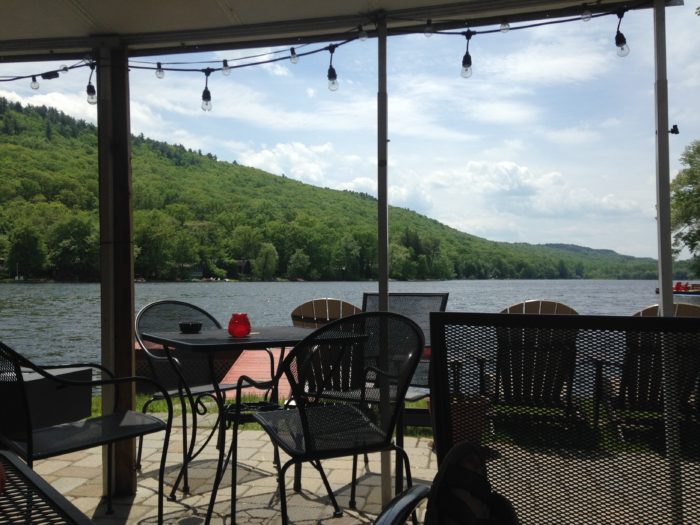 A brief descent into Culver Gap and the town of Branchville breaks up the long traverse of Kittatinny Ridge. Stop in at Gyp's Tavern for an ice-cold lakeside beer and a snack before returning to your majestic ridge walk.
Mile 1,329.2: Sunrise Mountain Pavilion
A popular destination for local day hikers, the top of Sunrise Mountain features breathtaking views, juicy wild blueberries, and a high alpine feel (even though it's just 1,600 feet above sea level). A CCC-built stone pavilion makes for a great lunch spot atop the mountain. Sunrise lives up to its name with majestic easterly views, but you'll have to hike in from farther afield if you want to catch daybreak: camping isn't allowed at the pavilion, and the Sunrise Mountain parking lot doesn't open until 8 a.m.
Mile 1,339.1: High Point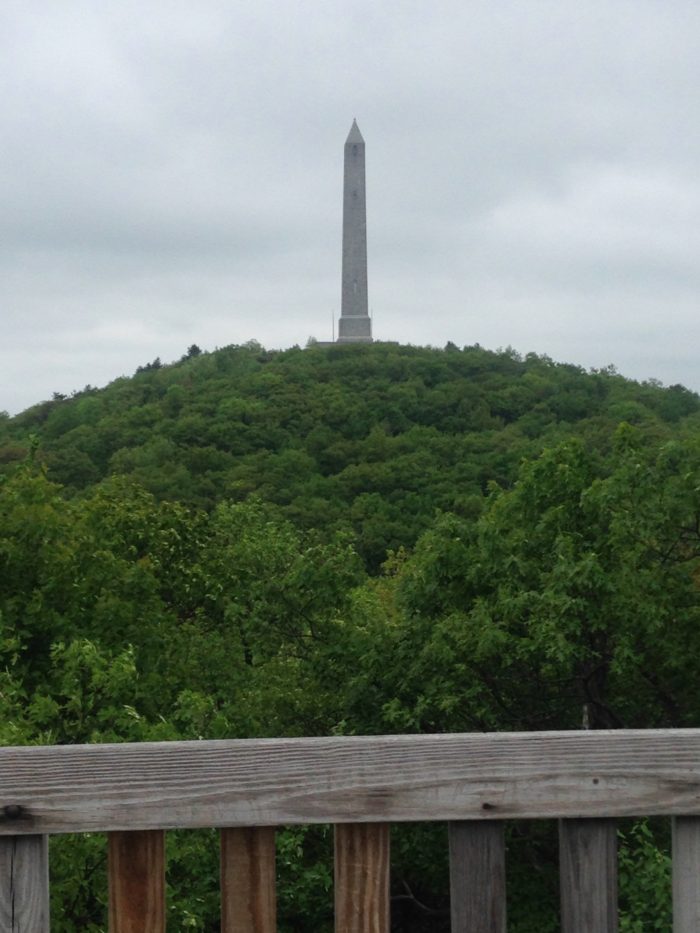 Soaring to the heavens at over 1,700 feet elevation, the wooden lookout tower you'll scramble up at mile 1,339 isn't actually the true high point of the state. That's marked by the stone obelisk you'll see from the viewing platform, some 1,804 feet above sea level. There's a 0.3-mile spur trail to the obelisk just north of the wooden lookout.
Mile 1,349.7: Wallkill Reserve
The trail follows the Wallkill National Wildlife Refuge's Liberty Loop for approximately two miles, touring a small section of the reserve's 5,100 acres of protected land. Keen-eyed hikers can spot bog turtles, salamanders, and hundreds of species of birds (including bald and golden eagles) in this pristine wetland.
Mile 1,357.1: Pochuck Creek Bridge and Boardwalk
Cross a suspension bridge over Pochuck Creek and traipse through nearly a mile of surrounding marshland via a picturesque boardwalk. Like the Wallkill reserve farther south, these wetlands are a prime location to view birds and other wildlife.
New Jersey Dispatches
All mileages taken from The 2019 AT Northbound Guide, by David "AWOL" Miller
New York
After 70 miles of gentle ridge walking in New Jersey, the AT gets tougher in New York. It enters the state near the town of Lakeside, New Jersey (mile 1,368), and exits into Connecticut 87 boulder-strewn miles later (mile 1,465). Challenges aside, there's still plenty to look forward to in this section. Harriman, Bear Mountain, and Fahnestock State Parks provide ample views and scenery along the way. Meanwhile, iconic trail milestones like the Lemon Squeezer and the Bear Mountain Bridge will boost your trail cred. To top it all off, trailside delis abound throughout New York—meaning comfort food is never too far away in this difficult but rewarding state.
Terrain
Less than half a mile north of the border with New Jersey lies Prospect Rock, the highest point on the AT in New York at 1,433 feet. The trail mostly oscillates between 600 and 1,000 feet in elevation throughout the state, but don't let these unassuming numbers fool you. New York is characterized by short, severe climbs and descents, as well as rock scrambles that many northbound thru-hikers view as preparation for New Hampshire's formidable Whites. For instance, one memorable stretch in the southernmost part of the state packs a big punch with tough scrambles and endless boulders that, in true New England fashion, require an unreasonable amount of effort to overcome.
Appalachian Trail New York Highlights
Mile 1,373.8: Bellvale Farms Creamery
Take in charming views of rural New York while you enjoy delicious frozen treats at this picturesque creamery on top of Mount Peter near Warwick.
Mile 1,388: Lemon Squeezer
You'll need to take off your pack and fast for at least three days in order to shimmy your way through this famously narrow stone fissure. Just kidding about that last part—it's really not that bad. However, if the thought of the Lemon Squeezer makes you nervous, never fear: there's an alternate route that bypasses the tight squeeze.
Mile 1,402.8: Bear Mountain Summit
It's not the highest peak in the state, but Bear Mountain affords some of the best views around—including a glimpse of the New York City skyline on clear days. Climb to the top of Perkins Memorial Tower to get the best vantage point. Large swaths of smooth, exposed bedrock give the summit of Bear Mountain an especially cool vibe—just be ready for the climb/descent on the northern side of the mountain, which is steep and involves lots of stone steps.
Mile 1,405.1: Inexplicable Zoo
Yes, somehow there is a zoo on the northern side of Bear Mountain, and the AT goes right through it. The zoo features bears, reptiles, and other local wildlife, with interpretive signage to match. The bear enclosure also marks the lowest elevation on the entire Appalachian Trail at just 177 feet above sea level.
Mile 1,405.6: Bear Mountain Bridge
Walking over the Hudson River on this hulking suspension bridge also entails crossing from the mid-Atlantic to the New England section of the trail. The section from Delaware Water Gap to this bridge also holds historic significance as the first section of the AT to be completed in 1923.
Mile 1,411.4: Appalachian Market
The Appalachian Market is one of the many trailside delis that will fill up both your belly and your heart as you traverse New York. This one's located right on the trail where it crosses US 9 and NY 403, and it offers limited resupply options in addition to fabulous hot food. The giant breakfast subs here may be part of the reason the Appalachian Market ranks among thru-hikers' favorite eateries on the trail (or maybe it's the random TV in the bathroom).
Mile 1,412: Graymoor Spiritual Life Center
The Graymoor Spiritual Life Center is a monastery that generously allows hikers to camp for free in the picnic shelter on their ball field. Come on, when else are you going to get to camp at a monastery? Do it for the experience. The monastery is about 0.4 miles off-trail on Franciscan Way.
Mile 1,430.8: RPH Shelter
It's hard to describe Ralph's Peak Hiker Cabin as a shelter, really. It's uniquely comfortable, complete with four real walls, windows, a door, and furniture. Plus, you can get pizza delivered there. What's not to like?
Mile 1,443.1: Dover Oak
On the north side of West Dover Road lies the Dover Oak, the largest oak tree on the entire Appalachian Trail. With a girth of over 20 feet, this old-growth giant is likely over 300 years old. As a side note, West Dover Road is also an access point for the towns of Pawling and Wingdale, both of which offer train service to New York City.
Mile 1,450.7: Appalachian Trail Railroad Station
Speaking of train service to New York City, did you know that there's literally a Harlem Line train station located right on the trail? The train runs on a very limited schedule, but if you can get the timing just right, you'll be able to step straight from the trail onto a train to the big city.
New York Dispatches
All mileages taken from The 2019 AT Northbound Guide, by David "AWOL" Miller
Connecticut
Connecticut is among the shortest sections of the Appalachian Trail. It stretches just 50.1 miles from Hoyt Road on the New York border (mile 1,457.6) to Bear Mountain at the Massachusetts state line (1,507.7). Don't let its size fool you, though: from tough, rocky scrambles to meandering river walks, the Constitution State offers up stunning diversity, beautiful scenery, and challenging terrain throughout.
Terrain
Connecticut may feel a lot like New York, but it's technically the gateway to New England and thus to an entirely new geographic region of the country. This state is characterized by intense, rocky climbs interspersed with long miles of luxuriously easy walking. The trail breaks 2,000 feet elevation for the first time since Pennsylvania, though most points in this section are between 400 and 1,200 feet elevation. You'll spend most of your time in the green tunnel, but will occasionally pop out of the trees to appreciate stunning panoramas of the rolling green countryside all around. Check out the highlight reel below to learn about these photo-worthy destinations and more.
Appalachian Trail Connecticut Highlights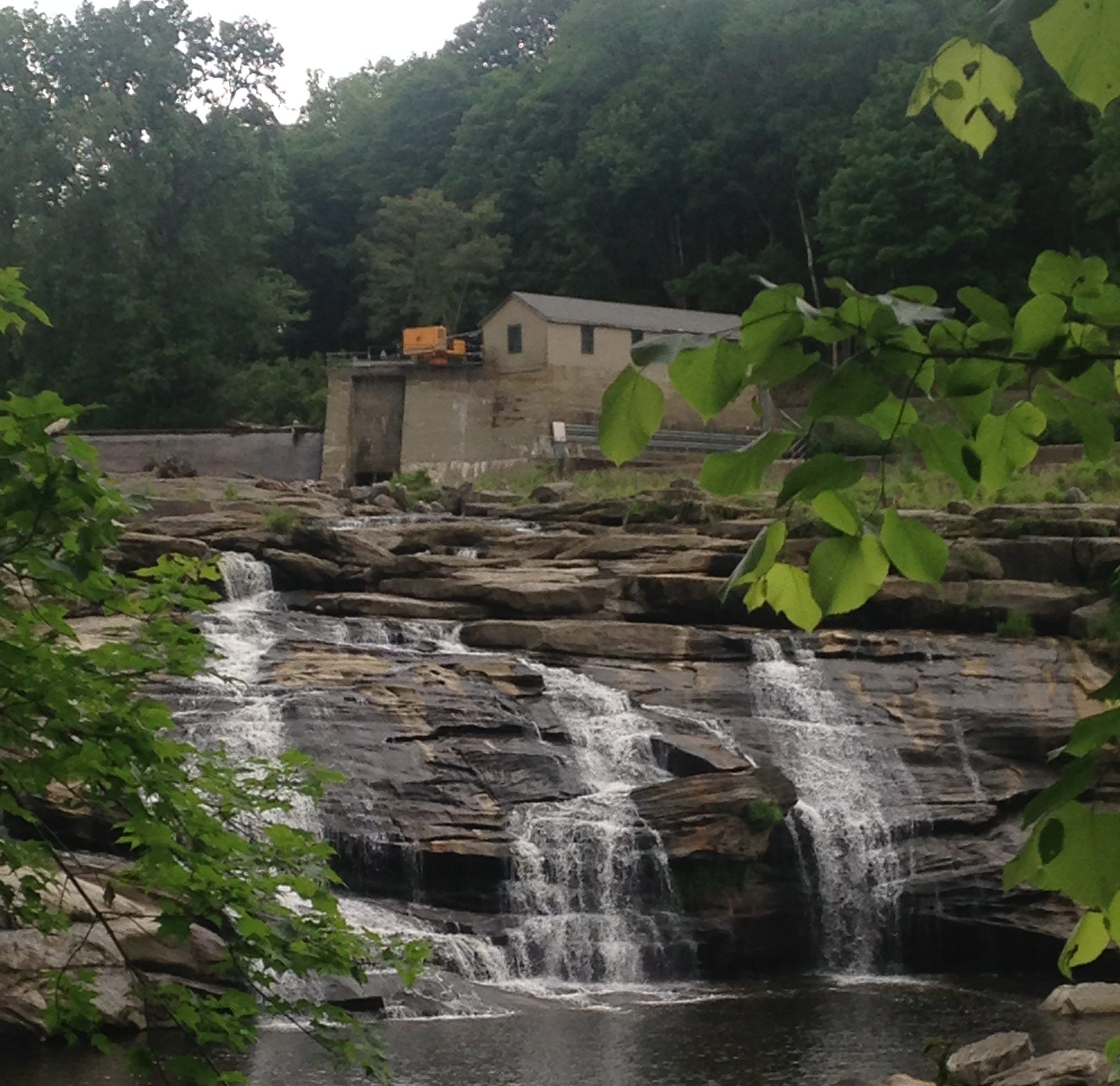 1,472.9: St. Johns Ledges
The steep, rocky north face of Saint Johns Ledges is reminiscent of Dragon's Tooth back in Virginia and of the rugged peaks of northern New England still to come. Take some time to appreciate the nice views from the ledges before you tackle the painstaking descent. Take your time coming down, as there are plenty of knee-wrenching and ankle-breaking opportunities strewn among the giant boulders. Once you reach the bottom, you'll find yourself along the banks of the Housatonic River. Here you will be rewarded for all your hard work with nearly five miles of deliciously easy and pleasant strolling with frequent river views.
1,485.3: Tight squeeze just north of Sharon
If you loved New York's Lemon Squeezer, this will be your chance to relive the magic all over again. But although this narrow stone crevice is reminiscent of everyone's favorite tight squeeze, it's not quite as narrow. You probably won't need to take your pack off, and there's no bypass route to get around it.
1,494.4: Amesville Bridge and Great Falls of the Housatonic
After 2.5 easy miles along the banks of the Housatonic, you'll finally cross the river on a picturesque red bridge. On the far side, you'll find the Great Falls of the Housatonic River at mile 1,494.8 (pictured above). These cascades make for a peaceful setting to stop and take a break. It's even possible to walk out into the middle of the falls on exposed bedrock shelves.
1,497.5: Rand's View
Just when you think the green tunnel has no end, the trail emerges from the trees into a beautiful meadow. From here you'll enjoy views of hills, fields, and mountains that stretch to the far horizon. Northbounders ought to study those mild-looking mountains on the horizon, as they'll be hiking through them in a few days' time. Spoiler alert: they're not as gentle as they appear at a distance.
1,500: The 1,500-mile mark, of course!
There are a lot of miles on the Appalachian Trail—2,192, to be exact—so it's a big deal to reach the 1,500-mile mark. Look for an AT-style stick sign somewhere in the area to commemorate this nice, round number.
1,501.4: Salisbury
Now that you've finally made it to New England, why not stop off in a proper New England small town to appreciate the culture of the region? Complete with maple tree-lined streets, general stores, and stately historic architecture, this friendly town is well worth a visit.
1,504.1: Lions Head
As you approach the Massachusetts border, follow the white blazes up a short scramble to Lions Head. This magnificent rocky overlook features panoramic vistas of Salisbury's Twin Lakes and Massachusetts just beyond.
1,507: Bear Mountain
Finish Connecticut with a bang by conquering the tallest summit in the state. At 2,316 feet, the summit of Bear Mountain isn't technically the highest point in the state, just the highest peak. Still, Bear Mountain is not only the last climb you'll face in Connecticut but also one of the most memorable. A steep, lung-burning ascent to the summit will be rewarded with epic views from atop a stone observation tower. You'll then face a challenging descent into Massachusetts that involves large boulders and a decent amount of steep slab walking. Congratulate yourself when you reach the bottom. You just finished Connecticut.
Connecticut Dispatches
All mileages taken from The 2019 AT Northbound Guide, by David "AWOL" Miller
Massachusetts
Hold on to your hats, folks, because you're about to embark on a wild ride known as the Massachusetts Appalachian Trail. After hundreds of rolling mid-Atlantic miles, the longer views and higher elevations of the Berkshires make the Bay State feel memorably different. This gem of a section begins (or ends) on the rocky slopes of Bear Mountain at the Connecticut border. For 91 miles, you'll traverse rugged peaks and soothing seas of conifers, explore charming New England towns and dip in cool swimming holes. What's not to like?
Terrain
It's fitting that Massachusetts begins on the slopes of Bear Mountain—after all, it's a bear of a state. Compared to the mid-Atlantic and Connecticut, climbs in Massachusetts are generally longer and better graded. That said, this state still has its share of abrupt ups and downs. Mount Everett in the southern part of the state poses a challenge due to its steepness and rockiness, while Mount Greylock up north is formidable mainly because of its size.
Hikers will contend with plenty of elevation change and rocky tread throughout the section. There is one notably mild stretch between Lee and Dalton, about 15 miles long. Take everything you read here with a grain of salt, of course; there's no way to know what sections you'll find hard or easy on a given day.
Appalachian Trail Massachusetts Highlights
Mile 1,508.3: Sages Ravine
Just past the Connecticut border, a stream tumbles into a shallow bedrock gully via a series of cascades and deep pools. This is Sages Ravine, and we think it's pretty epic. The ravine's cooling waters beckon to prospective swimmers, while the music of the cascades reverberates gently off slick stone. It's a perfect spot to eat lunch and rest sore knees after descending Bear Mountain. The AT hugs the stream bank for about 0.3 miles, giving you plenty of time to soak in its majesty.
Mile 1,511.9: Mount Race
As you climb Mount Race, the rich soil and resplendent forest of the lower elevations give way to naked bedrock and low, shrubby vegetation. You'll be able to take in a veritable ocean of trees, ponds, and pastures on this vertiginous 0.6-mile ridge walk.
Mile 1,513.7: Mount Everett
After rocketing steeply down the north face of Mount Race, the AT immediately begins climbing again, this time to the summit of Mount Everett. The steep, unrelenting slab walk to the top of Everett is the only calf workout you'll ever need. For those wondering what New Hampshire's White Mountains are like, this hike is a decent indicator. At the top, you'll be able to enjoy pretty Berkshire views and explore the foundation of an old fire tower that once stood on the summit.
Mile 1,521.0: Last Battle of Shays' Rebellion
In 1786 and 1787, disgruntled Massachusetts citizens mounted an uprising against the fledgling US government's taxation policies. The rebellion led to the Constitutional Convention and ultimately to the birth of our current Constitution. The AT passes through the site of this historic rebellion's final battle, and a stone marker alongside the trail commemorates it.
Mile 1,522.8: Great Barrington
Great Barrington is larger and more developed than your average trail town. It features a bustling downtown area with a multitude of dining and lodging options, along with some of the friendliest townsfolk you'll ever meet.
Mile 1,542.4: Jerusalem Road Farm Stand
An idyllic farm stand bedecked with a large AT symbol greets hikers emerging from the woods near Tyringham, MA. The stand isn't manned, but if it's unlocked you can leave money in an honor box in exchange for snacks, drinks, and farm-fresh goodies. In lieu of a logbook, the owners provide chalk so that hikers can sign their names on the shack's interior walls.
Mile 1,550.5: Upper Goose Pond Cabin
If you're willing to make a half-mile detour off trail, Upper Goose Pond Cabin will reward you generously. The picturesque red cabin features a dock for swimming and canoes that are free for hikers to use. If you're lucky, you may even be the beneficiary of one of the caretaker's fabled pancake breakfasts.
Mile 1,571.1: Dalton and Pittsfield
After some 15 miles of relatively flat walking, the white blazes will lead you directly down the main street of one Dalton, Massachusetts. Dalton is the epitome of a charming New England town, replete with pizzerias and ice cream parlors. For hikers looking for an adventurous side trip, the nearby town of Pittsfield has an Amtrak station with service to Boston.
Mile 1,588.1: Mount Greylock
Mount Greylock is the highest peak in Massachusetts at 3,491 feet above sea level. The climb isn't overwhelmingly steep, but it is long—eight miles from base to summit (northbound). The wide, grassy summit is an ideal spot for picnics, naps, and epic photoshoots. What's more, you can see five states from the top of the stone veterans memorial tower that adorns the summit. Camping atop Greylock is prohibited, but the Bascom Lodge at the summit does offer private rooms and bunks.
Massachusetts Dispatches
All mileages taken from The 2019 AT Northbound Guide, by David "AWOL" Miller
Vermont
As the Appalachian Trail moves north through New England, the sections get steadily longer—and so do the climbs. Stretching 150 miles between Massachusetts and New Hampshire, Vermont beckons with maple syrup, charming ski slopes, and a mysterious (if not downright suspicious) lack of rocks in the trail. Big mountains like Stratton, Bromley, and Killington offer up dramatic views, but for the most part, the trail sticks to the green tunnel. Starting at the Massachusetts border, the AT joins forces with Vermont's famed Long Trail for 105 miles, introducing AT adventurers to a different flavor of thru-hiker. The injection of Long Trail culture and a healthy dose of AT lore make this state stand out from the crowd.
Terrain and Trail Conditions
Vermont has its share of big climbs (and plenty of smaller ups and downs) but the terrain in this state is generally more rolling than that of the states on either side. Big climbs like Stratton and Killington are manageable enough to get your heart pumping without crushing your soul. Many northbound hikers see Vermont's smooth, spongy trail as a welcome respite from the abrupt terrain and rocks of the mid-Atlantic and the southern New England states. Savor it while you can, because trail conditions in New Hampshire will not be as forgiving.
When planning a hike in Vermont, timing is everything. For instance, Vermont is best avoided from Mother's Day to Father's Day, when the dreaded black fly reigns supreme. April and May are also known as mud season in these parts, as spring snowmelt turns the trail into a gloopy mess. Some early season thru-hikers tackle the trail under these conditions each year, but it's not recommended—for your well-being or that of the trail.
 Appalachian Trail Vermont Highlights
Mile 1,623.2: Glastenbury Mountain Lookout
One of Vermont's few remaining fire towers, Glastenbury Mountain is considered one of the state's premier fire tower hikes. For northbound hikers, this is the first of several phenomenal lookout towers you'll encounter in this section.
Mile 1,639.2: Stratton Mountain
You'll work hard to reach the top of this noteworthy climb—but trust us, it will all be worth it. The views from the historic fire tower up top—listed on the National Register of Historic Places—are to die for. Indeed, AT champion Benton Mackaye was so inspired by the beauty of this peak that it caused him to dream up a continuous footpath through the Appalachian Mountains. That makes Stratton Mountain the intellectual birthplace of the Appalachian Trail.
The cozy-looking cabin just south of the peak may tempt you, but don't get your hopes up: it's for the exclusive use of Green Mountain Club caretakers. However, a break from the elements is just a 0.8-mile spur trail and subsequent gondola ride away at Stratton Mountain Resort. With lodging and extensive dining options available, this stop is well worth it (just check that the gondola is operating first).
Mile 1,655.9: Bromley Mountain
Enjoy pretty views from the ski slopes of Bromley Mountain. Tenting and campfires are prohibited at the summit, but hikers are allowed to sleep inside the ski warming hut.
Mile 1,685.2: Clarendon Gorge
Hikers planning to hitch to town from VT 103 must first contend with the raging rapids of Clarendon Gorge. Fortunately, a picturesque suspension bridge makes crossing this rocky ravine a snap. It's not every day that you get to admire the majestic Mill River from an adult bouncy bridge, so cherish the experience.
Miles 1,685.3, 1,696.7, 1,703: Rutland
The bustling town of Rutland is a popular destination for AT and Long Trail hikers. Lodging, dining, resupply, and entertainment options abound in this classic trail town. The controversial Twelve Tribes community operates a well-known restaurant and hostel in town called the Yellow Deli. Whether or not you stay there, it's worth at least poking your head inside the restaurant to appreciate its unique interior.
Mile 1,692: 500 Miles to Katahdin
Alpine summits and deli-laden town stops are undoubtedly great, but there's more to the AT than views and food. Take time to celebrate the simple joy of long-distance hiking at the fateful "Katahdin: 500 miles" sign on the southern side of the mountain. Whether you're southbound or northbound, thru-hiking or section hiking, there's something undeniably magical about this spot.
Mile 1,696.7: Killington Peak
A spur trail behind Cooper Lodge Shelter leads a quarter of a mile to Killington Peak. Here you'll find beautiful views, a lodge and restaurant, and gondola service to the town of Killington. From the bottom of the mountain, bus service to the town of Rutland is also available. Views and food aren't the only excitement, either.
Mile 1,704: Maine Junction
After rubbing elbows with Long Trail thru-hikers for over 100 miles, the two trails finally diverge at Maine Junction. The area is well signed, so the difference between the two footpaths should be apparent. Still, it would be wise to pay attention at this junction, lest you accidentally end up on the wrong route.
Mile 1,704.9: Inn at Long Trail
Looking to treat yo self? Hike 0.5 miles east on the Sherburne Pass Trail to reach the Inn at Long Trail, a charming lodge with attached dining options.
Mile 1,708.4: Thundering Brook Falls
Take in all 125 feet of Thundering Brook Falls from a wooden observation platform just off the trail. This destination is popular with day hikers, so be prepared for crowds when the weather's nice.
Mile 1,720.4: The Lookout
The owners of this private cabin generously allow respectful AT hikers to sleep inside when they themselves aren't using it. Unlike most AT shelters, this one is fully enclosed on all sides. It features a working door (!!), windows, and a second-story loft. There's even an observation deck on the roof that commands an impressive 360-degree Green Mountain panorama.
Vermont Dispatches
More From This Series
All mileages taken from The 2019 AT Northbound Guide, by David "AWOL" Miller
New Hampshire
Somewhere in the vast green forest of New Hampshire, the Appalachian Trail steals across a small stream called Oliverian Brook, which snakes through a notch of the same name. This place is significant, and not just because it's hard to get across the creek without getting your feet wet. Oliverian Notch is the symbolic boundary line between two divergent worlds.
To the south lie some 1,800 miles of the kind of wooded, hilly terrain that any East Coast hiker will be familiar with. It's beautiful, dramatic, and doesn't always get the credit it deserves. North of this notch, the trail becomes something altogether different.
Just north, Mount Moosilauke stands sentinel between familiar Appalachian terrain and the rugged crags of New Hampshire's infamous White Mountains. In the Whites, the weather is wild, the going is tough, and the traverses are truly epic. Northbound hikers like to say that 20% of the miles and 80% of the effort still lie ahead.
While New Hampshire might be one of the toughest sections of the trail, it also ranks among hikers' favorites. This unforgettable section inspires equal measures of fear and fondness in the hearts of Type II fun-lovers everywhere.
Terrain and Trail Conditions
This hike isn't for the faint of heart: do not underestimate the trials and perils of these mountains. Among the obstacles you'll contend with are rocky tread and steep, steep, steep terrain. Did we mention that it can be steep? Oftentimes, you'll need to stow your trekking poles in order to free your hands for precarious scrambles. It's common for the trail to lead right to the base of a literal cliff that hikers must scale in order to keep following the white blazes, which resume their normal course some 15 feet above as though this is all entirely normal. Progress in these parts is slow, and seasoned thru-hikers can find their daily mileage cut nearly in half.
On top of the challenging terrain, hikers in the White Mountains need to be prepared for all sorts of weather. Conditions can change on a dime from hot sun to cold wind and hail. Snow is possible at any time of year. Even in summer, you should be equipped to deal with cold and high winds. At the same time, be prepared for heat and sun exposure on the section's many exposed traverses. Sunburn can be a real issue in this area—timberline occurs around 4,500 feet in the Whites, and you'll spend plenty of time above it.
Camping Regulations
Dispersed camping is allowed in most places in the Whites, with limitations. Camping is prohibited above treeline; within a quarter-mile of roads, huts, campsites, or streams; and within 200 feet of any trail. Be sure to carry cash, because most campsites in the area are pay-to-stay. Thru-hiker passes are available for purchase at any AMC campsite for $10 (this also covers your camp fee for the night). These passes ought to pay for themselves quickly in the form of 50% discounts on all subsequent stays at AMC campsites for the next two weeks, as well as free and discounted treats from hut cafeterias and discounted merchandise.
Unless you're comfortable planning your hike well in advance, it would be unwise to count on the huts for accommodation. Reservations are virtually impossible to get during the busy tourist season and are quite expensive. All AMC huts allow at least two thru-hikers to sleep on their floor each night in exchange for a few hours of work around the facility. Lakes of the Clouds Hut has four work-for-stay slots per night, plus six paid bunks in The Dungeon. These work-for-stay arrangements are popular with thru-hikers and are a great way to experience hut culture. They're available each afternoon on a first-come, first-served basis.
Appalachian Trail New Hampshire Highlights
1,749.9: Hanover
Hanover welcomes thru-hikers to New Hampshire with quintessential trail town hospitality. Trail angels keep an extensive list among themselves that details the contact information of townspeople willing to help hikers. The bakery and pizzeria downtown offer thru-hikers a free baked good and a free slice, respectively, and bars and eateries abound in this college town. Be sure to get your picture at the Vermont-New Hampshire state line on the bridge over the Connecticut River. Possible town activities include touring Dartmouth's stately campus and eating your weight in bread at Molly's Restaurant & Bar. If your wallet's feeling a little too fat, pick up a highbrow resupply at the Hanover Co-Op on the north end of town. You can also get a bus to or from Boston via Dartmouth Coach.
1,773.1-2: Smarts Mountain
When the subject of New Hampshire comes up, we all love to wax eloquent about the White Mountains. But we'd be remiss in not talking about the 40 lower elevation miles of New Hampshire between Hanover and Moosilauke, which have their own share of technical challenges and triumphant summits. Smarts Mountain, with its scenic fire tower and rocky outcrops, holds its own in the highlight reel next to the more famous peaks of the Whites.
1,798.8: Mount Moosilauke
Mount Moosilauke is the southern gateway to the Whites. The south side of Moosilauke is longer but more gradual than the steep and slippery north side. Therefore, many northbound hikers choose to go southbound over Moosilauke. This saves their lungs from a longer climb and their knees from a steeper descent. Hiker's Welcome Hostel in Glencliff does a brisk business in facilitating this short-term flip.
Up top, hikers will break treeline and enjoy 360-degree views across New Hampshire, New York, and Vermont. Giant cairns mark the way to the summit and are big enough to remain visible even in fog and heavy snowpack. The wind can be brutal up on the bald summit of Moosilauke, but fortunately, the ruins of an old inn stand at the top and make an excellent windbreak.
1,815.9: Lonesome Lake Hut
All the huts in the Whites are amazing, but Lonesome Lake Hut is the very first one a northbound hiker will encounter, so it gets a special shout-out. Also, the eponymous Lonesome Lake itself is a great swimming hole, so, you know. There's that.
The Appalachian Mountain Club operates numerous huts in the White Mountains (the Randolph Mountain Club has a few, too). They're charming to look at, can offer a welcome break from inclement and dangerous weather, and, importantly, they're full of food. If you're lucky, you may get some discounted goodies or a plate of free leftovers that staff will otherwise have to pack out as garbage. If you get a chance, give a shout-out to the friendly "croo" members who keep the huts up and running.
1,824.3: Franconia Ridge
This two-mile traverse above treeline follows the narrow spine of Franconia Ridge from Little Haystack Mountain over Mount Lincoln and finally Mount Lafayette. The trail winds away along the sharp ridgeline like a ribbon, with the mountain sloping steeply away on either side. Be prepared to get your blood pumping on this tough but memorable stretch. It's all worth it: Franconia Ridge is widely considered to be one of the premier hikes in the White Mountains.
1,846.3-1,872.6: Presidential Traverse
If you thought two miles above treeline at Franconia Ridge was a lot, wait until you encounter the Presidential Traverse. From Crawford Notch, you'll summit Mount Pierce and then climb above treeline on the slopes of Mount Eisenhower. You'll remain above treeline for more than 10 miles until you've gotten past boulder-strewn Mount Madison, crossing five additional Presidential peaks along the way. The extended trek above treeline affords stunning views in every direction and feels otherworldly. That being said, the exposure can also make the traverse very dangerous in inclement weather.
Since camping above timberline is prohibited, some hikers break up the traverse by staying at Lakes of the Clouds Hut at mile 1,857.6. Four work-for-stay slots are available to thru-hikers. An additional six hikers can bunk in the hut's dank emergency shelter (The Dungeon) for $10 per head.
1,859.1: Mount Washington
Mount Washington is the crown jewel of the Presidential Traverse. Standing 6,288 feet above sea level, it's the highest peak in the Whites and the second-highest on the AT. At the summit, triumphant hikers mingle with tourists freshly unloaded from cars, buses, and cog rail cars. The high level of accessibility at the summit means it can be very crowded. That means that during tourist season, an early arrival may be advisable (especially if you want your picture next to the summit sign). Just north of the summit at mile 1,859.5, you'll cross the tracks of the cog rail. If you're lucky, you might see one of the old-timey locomotives laboring up to the summit or clattering its way down to the base.
Adding to the excitement, the weather on top of Mount Washington can be notoriously horrible. It quite literally boasts itself as "home of the world's worst weather," so if conditions are bad, don't hesitate to turn back and tackle the mountain another day.
1,872.6: Pinkham Notch Breakfast
What better way to end (or begin!) a Presidential Traverse than with an all-you-can-eat breakfast at Joe Dodge Lodge? The answer is: there is no better way. The awe-inspiring traverse might fill up your heart and soul, but the lodge stands ready to fill your belly, too (between 6:30 and 9 a.m.). Private rooms and bunks are available at the notch. You can also hitch into the town of Gorham for even more treats and lodging operations. The AMC operates Joe Dodge and the adjoining Pinkham Notch Visitors Center.
New Hampshire Dispatches
All mileages taken from The 2019 AT Northbound Guide, by David "AWOL" Miller
Maine
Two hundred and eighty-two miles of adventure are sandwiched between New Hampshire's Mount Success and Katahdin, the revered Northern Terminus of the Appalachian Trail. Many hikers consider Maine to be the AT's crown jewel, and it's easy to see why. Sparkling lakes; vista-laden summits and traverses; and prominent AT landmarks beckon hikers to the state. For most thru-hikers, it is either the climactic end or the tumultuous beginning to a life-changing trek. For section hikers, it's an epic journey all in itself. Are you considering taking on all or part of the Appalachian Trail? Read on to discover why this section should be your Maine squeeze (see what we did there?).
Terrain
Maine is a state of extremes in every sense, including the terrain. Overall, this section is considered among the most difficult on the entire trail, and much of your time will be spent struggling up and down steep, slippery slopes, through alpine bogs, and across fast-flowing streams. The state is even home to Mahoosuc Notch, which is widely billed as the hardest mile on the Appalachian Trail. Yet there are some sections, like the Great Carrying Place and Baxter State Park, that make for remarkably easy walking.
The northern half of the section is generally considered flatter and less challenging than the southern half. However, rocks, roots, and environmental conditions can throw up roadblocks for unsuspecting hikers on even the most level stretches of trail.
Pro tip: for the best conditions possible, tackle this section in late summer. Streams will be lower and insect populations ought to be down, making for safer and more pleasant walking.
Maine Appalachian Trail Highlights
1,916.7-1,917.8: Mahoosuc Notch
Mahoosuc Notch is widely considered the hardest mile on the Appalachian Trail, but it's also beloved by many hikers. Budget plenty of time to navigate this formidable obstacle. Mahoosuc Notch is a jumble of giant rocks with impassably steep valley walls rearing on either side. The only way forward is to pick your way over, under, and across the great pile of van-sized boulders until you regain solid ground a mile later. Pay close attention to your footing in this section. There's no good time or place to get an injury, but remote and rugged Mahoosuc Notch would be a distinctly bad place to get hurt.
Fortunately, camping is available just south and north of the notch (Full Goose Shelter and Bull Branch Campsite, respectively). Many hikers camp right before the notch so they can tackle it with fresh legs in the morning. Others take on the challenge at the end of a long day of hiking and are grateful for the chance to collapse in camp on the other side. Once Mahoosuc Notch has been successfully navigated, northbound hikers will immediately tackle the challenging, slippery slope of Mahoosuc Arm (1,919.3).
1,928.8: Baldpate East Peak
Aptly named Baldpate features spectacular views from a barren, round-headed summit. You'll catch your first view of East Peak from its sister, Baldpate West, just a mile south on the AT. There's a tricky ladder on the way down into the col between the two peaks, and then a steep, exposed climb up the slick bedrock slopes of East Peak. Up top, your lactic acid-inducing efforts will be rewarded by 360-degree awe-inspiring views.
1,977.3-1,980.9: The Saddlebacks
Get ready to get down and dirty with some serious rock scrambling as you traverse Saddleback, The Horn, and Saddleback Junior. This is fun, technical hiking at its best, with plenty of time spent above treeline and abundant views in every direction.
2,009.4-2,017.4: The Bigelows
The smooth terrain on the north side of the Bigelow Range promises a respite from Maine's usual crushing difficulty—but you have to get over the Bigelows first. The exposed spine of Bigelow Mountain will take you across several formidable peaks. These include South Horn, Bigelow West Peak, Avery Peak, and Little Bigelow.
2,026.2: Great Carrying Place Portage Trail
This 13-mile orange-blazed trail follows the footsteps of Colonel Benedict Arnold on his failed 1775 march on Quebec. The AT briefly joins up with this trail between Middle and West Carry Pond. Even if you're not a history buff, you'll still love this stretch for the picturesque and eminently swimmable carry ponds.
2,040.4: Kennebec River Ferry
The Appalachian Trail might be a footpath, but in at least one small section, the officially sanctioned mode of travel is not on foot—it's by boat. The wide, swift, and unpredictable Kennebec River is dangerous to ford. Therefore, the Maine Appalachian Trail Conservancy operates a ferry in order to see trail users safely to the other side. The ferry can only take two passengers at a time and has limited operating hours, so plan to arrive early in the day if possible. This will reduce your chances of getting caught in a bottleneck. Once across, make sure to stop in at the Caratunk House Hiker B&B on the north bank of the Kennebec for a celebratory pulled pork sandwich and milkshake.
2,077.5: Monson, Maine
Monson marks the southern end of the remote 100-Mile Wilderness, so nearly all hikers stop here to rest and refuel. If you need food, lodging, gear, resupply, or shuttle service, Shaw's Hiker Hostel is the place for you. The friendly folks at Shaw's even offer food drops in the 100-Mile Wilderness. This is a major boon for weight-conscious hikers contemplating a lengthy food carry. If you're in need of information about the 100-Mile Wilderness, Baxter State Park, the Kennebec, etc., it's also worth checking out the AT Visitor Center. The staff keeps a voluntary registry of northbound thru-hikers' planned summit dates. This is useful information if you're planning ahead for your own summit.
2,077.5-2,176.6: 100-Mile Wilderness
Few segments of the Appalachian Trail are as well known as the 100-Mile Wilderness. With no public road crossings between Monson and Abol Bridge, this section feels truly remote. The Wilderness is not as physically challenging as Southern Maine, but don't underestimate it. Chairback Mountain and Whitecap in the southern half of this stretch are formidable. Even in the deceptively flat-looking northern half, rocks and roots can pose a challenge in this would-be easy stretch. Frequent crossings of major streams represent yet another obstacle.
Pro tip: there is one 10-mile stretch surrounding Jo Mary Road that's pretty phenomenally easy, so look forward to that.
2,119.2: Whitecap Mountain
For a northbound hiker, Whitecap is the last big climb on the Appalachian Trail before Katahdin itself. Speaking of Katahdin, the north side of Whitecap is the first mountain from which you'll be able to catch a glimpse of that fabled peak.
2,170.9: Rainbow Ledges
After strolling along the shores of beautiful Rainbow Lake, you'll climb briefly to reach rocky Rainbow Ledges. There you'll catch another, considerably closer view of Katahdin. After all, you're just a few miles from Abol Bridge, the end of the 100-Mile Wilderness, and the boundary of Baxter State Park. Wild blueberries are abundant on Rainbow Ledges in late summer.
2,177.4-2,192: Baxter State Park and Katahdin
Baxter State Park was donated to the state of Maine by erstwhile Governor Percival Baxter, and park staff has worked to maintain the land as a perpetual wilderness ever since. Lush forests and glittering streams grace the senses on an easy nine-mile stroll to Katahdin Stream Campground. From there, the ascent to Baxter Peak begins, and the trail becomes exponentially steeper with each passing mile. The Hunt Trail is the official white-blazed approach to Baxter Peak. Some hikers opt to take the Abol Trail (steeper, shorter, and less trafficked) or the Knife Edge (epic, death-defying traverse) instead. No matter how you approach the summit, it will involve big elevation changes, technical rock scrambling, and a good amount of exertion, so make sure you're prepared.
Maine Dispatches
All mileages taken from The 2019 AT Northbound Guide, by David "AWOL" Miller
Affiliate Disclosure
This website contains affiliate links, which means The Trek may receive a percentage of any product or service you purchase using the links in the articles or advertisements. The buyer pays the same price as they would otherwise, and your purchase helps to support The Trek's ongoing goal to serve you quality backpacking advice and information. Thanks for your support!
To learn more, please visit the About This Site page.