The Curious Case of the Missing Hiker (Days 10-13, Hiawassee GA to Franklin NC)
What a great couple of days! So many accomplishments – We crossed our first state border into NC, and we crossed the 100 mile mark! Most importantly I am feeling healthy and loving this hike.
Before I get into new updates, here's a quick recap of the night in Hiawassee:
–  I ate a one pound burger with bacon and cheese for lunch. It was glorious.
– Kodak earned a new trail name – Crusher
– We drank fancy beer and hung out on the stoop of the Budget Inn with New Hampshire Bob, he is officially my favorite person I've met on trail
– Seltzer and Nilla caught up to us! They surprised us at the Budget Inn, and they are zeroing at Top of Georgia. If all goes according to plan we will all meet up again in Franklin.
– I slept on the floor of the hotel rather than on the bed, which looked gross
– I drank my first ever bottle of Muscle Milk. It was awful. Also the label pretty clearly states there is no milk in that bottle, so I'm pretty sure they should put "milk" in quotes.
And now you're all caught up! On to the new updates.
Day 10
Start: Dick's Creek Gap / Hiawassee GA 
Finish: Muskrat Creek Shelter
AT Miles Hiked Today: 11.8
Overall AT Miles Hiked: 81.4
Miles To Go Until Katahdin: 2,107.7
We had a super lazy morning. I woke up before the other guys and walked over to the Georgia Mountain restaurant to grab myself an omelette. I miss eggs so much.
We hopped on the 11:00 shuttle back to Dick's Creek Gap, and after a stomach-turning ascent up windy mountain roads, we started our day.
Up, up, up we climbed! Today was the day of elevation. Dick's Creek Gap is at 2,650, and we climbed all the way to 4,650 via several up and down peaks. But, we had fresh legs, the weather was gorgeous, and the trail was smooth heading up the mountain.
Spring was finally in the air today. Green grasses were poking up through the leaves to both sides of the trail. Salamanders and centipedes covered the trail, so I had to watch where I stepped. I'm really excited to see spring bloom along the trail as I continue North.
We all knew our first state line was coming late in the day, so we flew up the mountains and kept looking up hopefully to see if the sign was there. Then, all of a sudden, there it was! Our first state checked off! See ya, Georgia!
Just ahead on the trail we found the famous twisted tree.
The uphills continued to crush us in NC. Come on NC, you're supposed to be easier than GA!
Now, on to the missing hiker…
At the first shelter we passed, there were about 20 men in what appeared to be search and rescue uniforms. Cool, I thought, they're doing search and rescue training out here today.
Then about 30 minutes later we saw a helicopter buzzing back and forth overhead, very obviously looking for someone. This continued for about 4 hours throughout the afternoon.
Hikers we passed told different stories. "A girl is missing." "An old man is missing." A thru hiker was airlifted out." Eventually, a few miles in from the border, we saw an ATV where no ATV should be. (The AT is a footpath only – no motorized vehicles or horses allowed.)
The ATV was on the side of an extreme incline. The picture doesn't do it justice, but I can't see how you could get an ATV there, it would almost certainly flip over.
A few minutes later I passed a guy who had just called 911. "There's a silver alert on the trail for a man with Alzheimer's" he said, "I think he drove an ATV onto the trail, got lost, and wandered off. I think that's his ATV!"
There were obvious tread marks all over the trail at this point. What was going on? This was getting weird.
We cruised into the shelter at 6:30, exhausted after completing close to 12 miles. We pretty much climbed right into bed. But I couldn't stop thinking of the old man who wandered off. Where was he?
Day 11
Start: Muskrat Creek Shelter 
Finish: Carter Gap Shelter
AT Miles Hiked Today: 12.5
Overall AT Miles Hiked: 93.9
Miles To Go Until Katahdin: 2,095.2
My body is starting to figure out the new normal: I'm going to beat the crap out of myself for 8 hours a day while I walk up and down mountains with 30 pounds on my back, but in exchange, I'll go to bed at 7pm and get 10+ hours of sleep. Seems like a fair trade, right?
Today the terrain was relatively level and not too rocky for most of the day, so when we left camp at 9am, we really opened up the throttle, and ended up with our longest day yet, 12.5 miles.
We did hit a bit of a roadblock a few miles in, as a huge tree was cutting off the trail.
A mile or so later we passed a group of trail maintainers already coming to clear the way. You guys rock! Thanks for your hard work keeping the trail looking great!
We saw a lot more green today than on any other day. The AT is known as the green tunnel, and today we saw it come alive!
We eventually came to a big uphill which brought us to the top of Standing Indian Mountain, which at 5,479 feet is the highest elevation we have achieved on the trail. No views though, as the day was clouded over.
A few miles farther brings us to Beech Gap, for part two of our Missing Hiker series…
I was out in front of the group, so I decided to sit and wait for the others to catch up. As I'm eating my snacks, I see there's a tent set up in a group of trees, but there's nobody around. Weird, I thought, maybe they're off getting water. But I waited for around 15 minutes and no one came back. 
Then, a big group rolled in from a side trail, with a bloodhound.
"What's up, guys?" I greeted the group as they came closer.
"Have you seen an elderly gentleman? Clean shaven, hair in a ponytail?" One man asked me.
"No sir, but I've heard of the silver alert." I responded. "Have they found him yet?"
The search and rescue guy shook his head slowly. "No, but this here is an abandoned tent. We think it's his."
So, the bloodhound was brought up to track the missing man! This was about to get really interesting.
If this was a movie, I would have joined the search and rescue team as we airlifted the lost hiker to safety after a thrilling adventure in the mountains. Unfortunately this is not a movie, and I'm a thru hiker, so while I hovered for a little while longer I eventually had to move on towards the campsite. Crusher stayed behind for a longer break though, and apparently the search and rescue team soon got a radio call saying they found the man safe and sound! So, a happy ending to the story!
We rolled into Carter Gap shelter around 3:30. The last section we were definitely hiking over 3mph, the terrain was super flat and our legs were feeling great. Hopefully this is the start of my hiker legs! I was in bed by 7. The plan is to do somewhere around 10 miles tomorrow to leave us with a short day into Franklin on Friday.
Day 12
Start: Carter Gap Shelter 
Finish: Rock Gap Shelter
AT Miles Hiked Today: 12.1
Overall AT Miles Hiked: 106.0
Miles To Go Until Katahdin: 2,083.1
We crossed 100 miles on trail today! Huge accomplishment, I'm so happy to still be out here on this adventure.
I awoke to rain around 3am, and several people fumbling around in the dark trying to quickly put on their rain flies. Even when the evening is beautiful, assume it will rain at some point in the night!
We got out of camp around 9 and had very easy hiking for the morning. Flip flopped back and forth with Food Truck and Sparkles for the morning. Caught some great views as we were hiking at a pretty high elevation.
The real fun started once we hit Albert Mountain, which was about 800 feet of gain, in a very short distance! Climbing hand over foot, trekking poles all but forgotten, we were rewarded for the climb with fantastic views atop the fire tower, and the official 100 mile mark!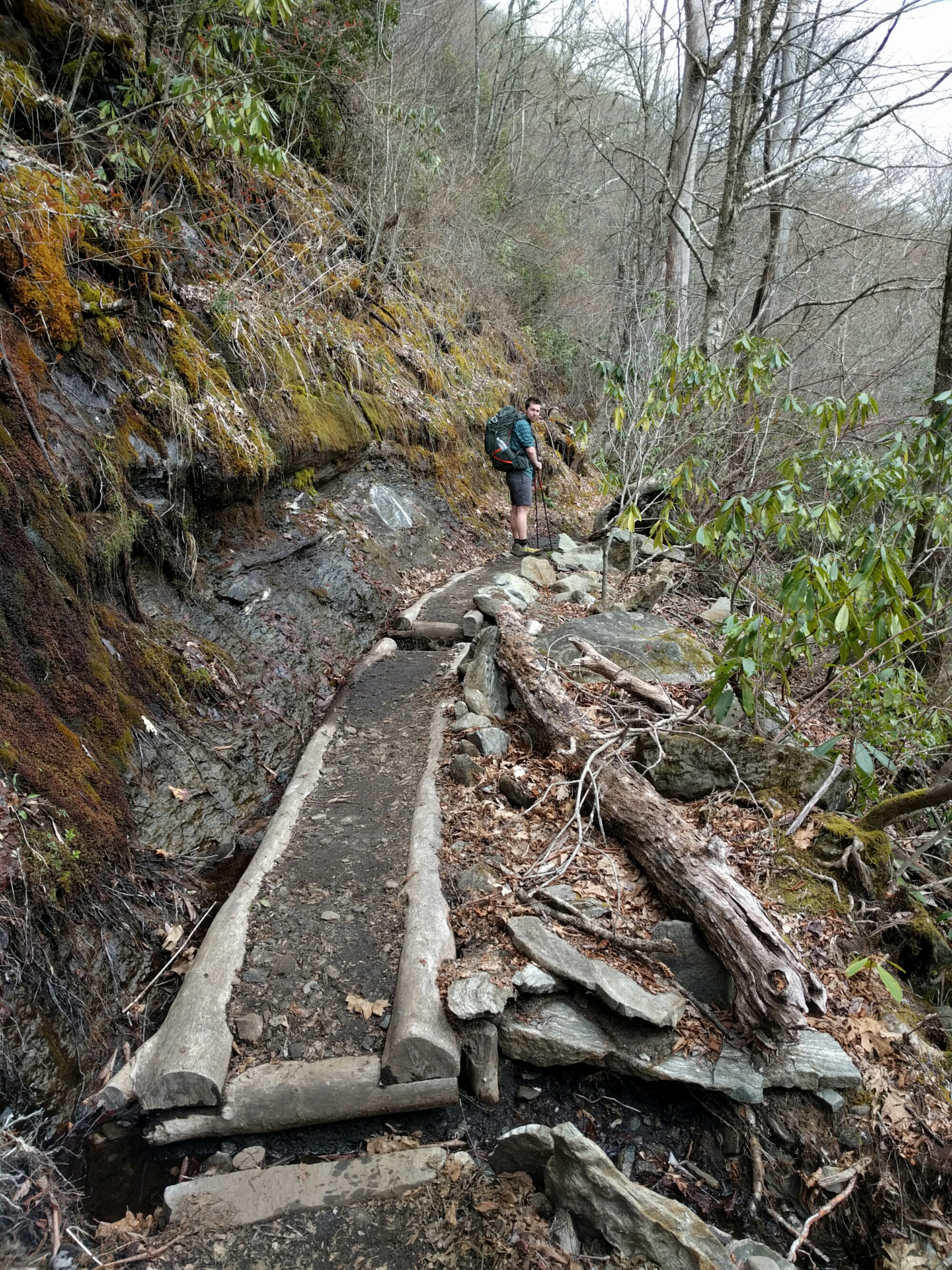 We cruised along the remainder of the afternoon without incident. Nice warm weather today. At the shelter New Hampshire Bob caught up to us after doing close to 20 miles on the day, that guy is blowing us out of the water when it comes to miles. Food truck and Sparkles also showed up. This is the shelter where a giant tree fell over and crushed the shelter a few months back, but it looks like they've partially repaired it.
Good crowd as we ate dinner and hung out near the shelter. Crusher helped a guy from Canada call home for his wife's birthday. It took over an hour but we finally figured out how to dial out of the country!
In the tent before 7 to decompress and rest. I'm feeling great aside from a bit of pain in my right ankle. Hoping the nero and zero fix that up for me.
Looking forward to a nero into Franklin tomorrow. I'm hiking with a great group right now and couldn't be happier. Seltzer and Nilla are supposed to catch us on Saturday as well.
Word on the street is there's to be a hiker party at the Lazy Hiker brewery tomorrow night. Rock on!
Day 13
Start: Rock Gap Shelter
Finish: Winding Stair Gap / Franklin NC
AT Miles Hiked Today: 3.8
Overall AT Miles Hiked: 109.8
Miles To Go Until Katahdin: 2,079.3
I woke up at 4:30am and couldn't get back to sleep. (Guess that's what happens when you go to bed at 7pm!) At one point in the night I shifted and some of the air came out of my sleeping bag, and I finally smelled myself. Man, that hits you in the face like Mike Tyson! I reek, it's time for a shower.
We packed up camp before sunrise and headed towards Winding Stair Gap. Ron Haven runs a free shuttle that picks up there at 9:30, and we wanted to get into a room in town to clean up!
We caught a gorgeous sunrise as we were hiking along the first ridge line.
It was a busy parking area! We got to see Taylor and her dog Blue for the first time in a few days. New Hampshire Bob, Food Truck, and Sparkles all beat us to the lot.
On the shuttle into town we met Baltimore Jack, the legend of the AT. He manages the hostel here in town and gave us an overview of what's to come. To summarize, he said not to get cocky – the next stretch of trail is about to kick our butts!
And now, here I am, at the Budget Inn, which is significantly nicer than the Hiawassee Budget Inn. I ate a double patty bacon burger for lunch, then took a quesadilla to go and ate that as soon as I got back to the hotel. We have a beautiful day ahead of us filled with nothing but eating, drinking, and resting.
I'm so happy to be out here. So happy to be with the group I'm hiking with. Done with a hundred miles, here's to two thousand more! Cheers!
-Slice
Affiliate Disclosure
This website contains affiliate links, which means The Trek may receive a percentage of any product or service you purchase using the links in the articles or advertisements. The buyer pays the same price as they would otherwise, and your purchase helps to support The Trek's ongoing goal to serve you quality backpacking advice and information. Thanks for your support!
To learn more, please visit the About This Site page.