The Different Faces of Flexibility in my Journey
Stay committed to your decisions, but stay flexible in your approach. (Tony Robins)
The past week on the trail has demonstrated the need for flexibility in several ways.
Three definitions of flexibility, according to Oxford:
1. The quality of bending easily without breaking.
2. The ability to be easily modified.
3. Willingness to change or compromise.
Most definitely, I have needed to be physically flexible to simply crawl in and out of my low bug net tent attached inside my tarp. This is especially true on windy nights when I pitch the tarp very low to keep it from rattling so much in the gusts.
And climbing up large boulders or trying to get up flat inclined slabs of stone (the worst, in my opinion) holding onto roots and tree trunks beside the trail certainly call for flexibility. Hurray for my Pilates and yoga!
How does definition 2 apply to life on the trail? I would say, in a negative way, most definitely the terrain, support systems along the way (lean tos and proximity to roads and towns) and the weather. They are uncompromising. If it's steep, it's steep, and not going to change. If a storm is on the way, there's not a thing you can do to change that.
And the third, willingness to change or compromise? That's completely up to the hiker.
The measure of intelligence is the ability to change. (Albert Einstein)
I always write and post my blog when I have a zero day with cell service at my disposal and the time to do it. Why then so soon since the last one? Read on and you'll find the reason, hopefully demonstrating I have some sense of flexibility, hence perhaps at least a bit of intelligence?
After a great zero in Rangeley, I started my next hiking day with a 9 mile shuttle to the trail courtesy of another guest at the motel.
It was a nice day out, but I had 6 miles of uphill to do right off the bat to Saddleback Mountain, 2500 feet of incline. There were several huge slabs of smooth stone I had to climb up and one rebar ladder which used to intimidate me but I now realize really helps you get up and over those slabs.
I came to many bog bridges, one of which had 24 links of logs, which give hikers a somewhat dry and secure passage over potentially deep mud and bogs.
Volunteer trail crews often do the backbreaking labor of also hauling big stones to the trail to form a path over sections prone to deep mud. One of these chains consisted of 73 stones. Thank you, work crew.
This what it looks like when you think, "Oh, that mud doesn't look very deep!"
This morning, I would have cover over 2 miles above tree line, so there were numerous warnings to not attempt this crossing if there were storms storms approaching. There were only cold, strong winds, which when striking my windbreaker, made it sound like a hurricane.
The cairns really helped lead me down the trail on this difficult day. I sometimes find them to be stone art.
I was a little nervous about this mountaintop, but then a young man, an experienced thru hiker of the AT in the past, dressed only in running shorts and a tshirt, cavorted past me and joined me a bit, which I found reassuring. If he could be jogging along so happily, then things must be OK up there, despite the 30 mile an hour winds. And on he went, leaving me feeling more secure.
Then down and up again to the Horn, the next mountain, and then the same to the third, Saddleback Junior, each showing some of the nasty rockiness characterized by Maine trails.
After nearly 11 difficult miles, I came to my shelter, Poplar Ridge Lean To, and pitched my tarp in a tiny site, tucked down among low pine trees, which helped block some of the wind.
Because temperatures were predicted to get down to nearly 40° plus the windchill factor, I went to bed with every piece of clothing on that I had, except for one bandana: wool sports bra, short sleeved tshirt, long sleeved tshirt with hood up, hiking shirt, lightweight down jacket, windbreaker with hood up, rain jacket with hood up, undies, light wool long johns, dirty hiking pants, rain kilt, 3 pairs of socks, buff (neck gaiter), gloves, eye mask and cloth face mask (thereby keeping all my face warm). I really feel the cold when sleeping outdoors, and this all worked well. I had a decent sleep that night.
So the mountain, wind and temperature were inflexible, but I had the ability to chose the best location for my tarp, pitch it low instead higher off the ground as I usually do, and choose to wear every stitch of clothing I had, even though very dirty.
The next day, the last day in July, was much less windy, a beautiful sunny Saturday with lots of hikers out. The trail continued to be tough, surprising many newcomer day hikers. I also crossed paths with many SOBOs (Southbounders), who intend to hike the whole 2193 mile trail in one season, beginning at the northernmost point, the mountain Katahdin in Maine. Because of remaining snow, no one is allowed to summit Katahdin till mid-July, hence the late start. They're getting the hardest parts done first, that's for sure.
My lunch was by a stream, where I was joined by another hiker, with a lovely, natural centerpiece between us of a pile of moose droppings. I've seen a lot of such deposits, but haven't seen the actual actual animals on the trail as of yet.
And it's funny how you happen upon people with whom you have a link. I chatted a bit with two men having their lunch beside the trail, and when I said I was from Cincinnati, we figured out that he had worked for the same company as my husband for many years and we knew some of the same people.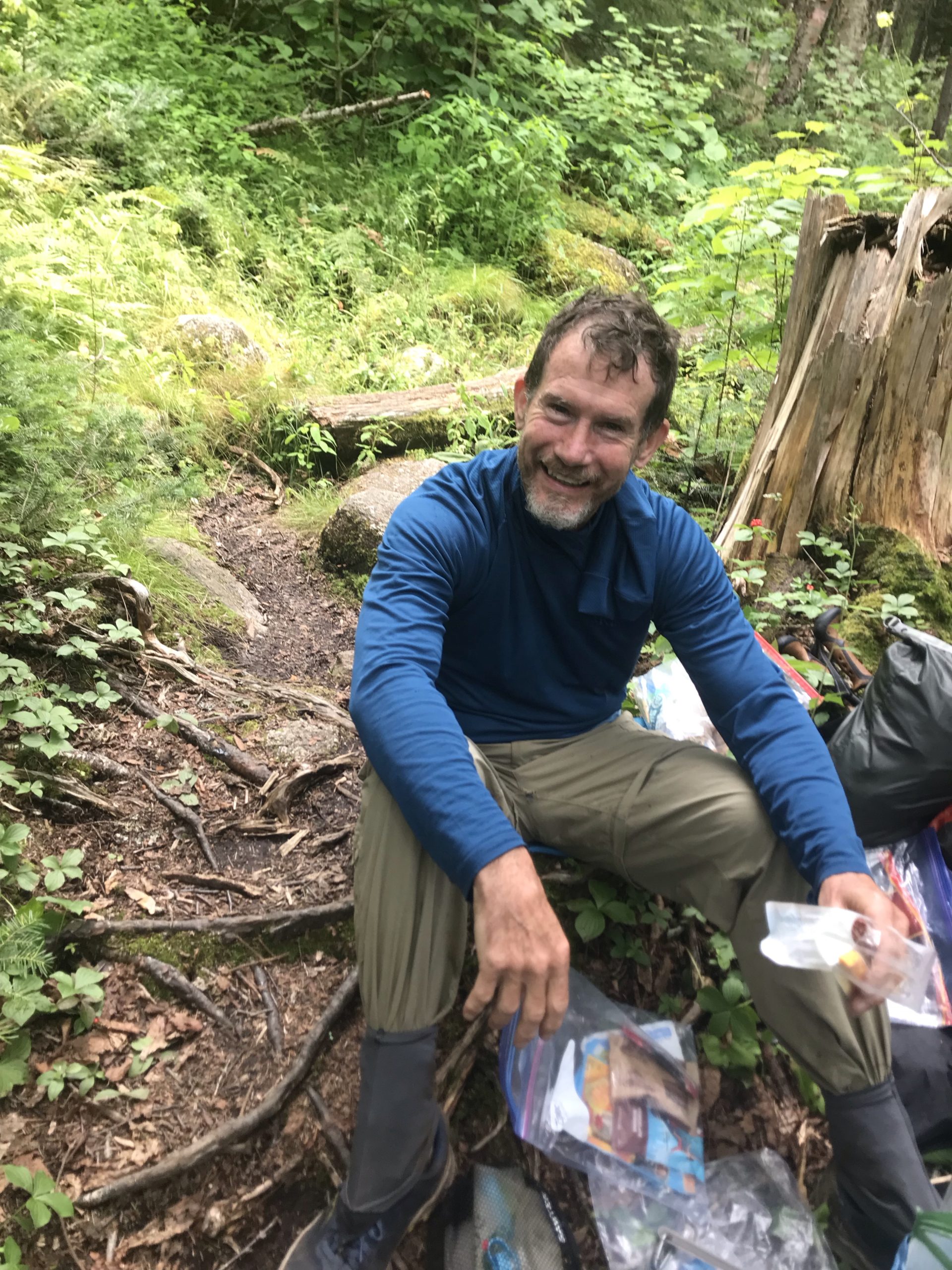 You'd never know this if you didn't choose to make conversation with others, another reason I can't cover many miles in a day when hiking, but it sure makes it more fun and interesting.
Despite conversations and several rest breaks, I arrived at my planned lean to before 3 o'clock, which was way too early to set up camp. I usually aim for 4:30-5:00, to get in miles but beat the crowd so I can find a spot for my tarp. So I continued on and came to a spot I had read about beside a stream 3 miles further, where I found a tiny little spot in the woods near a stream and just steps from the trail (not actually recommended, but it's all I had as an option due to dense undergrowth). 11 miles had been covered, so I was satisfied.
To make room for my tarp, again pitched low because of wind, I had to work around two little pine trees, one which distorted one corner of my tent on the outside and another which spent the night with me inside. The trees weren't flexible in their location, but I was able to work with them. 
I do love how close to nature I feel when in my tarp, as opposed to an all enclosed tent.
I was asleep by 8:30, dreamt of royalty (Queen Elizabeth and Michelle Obama),  and actually managed to get on the trail by 6:45 the next morning because of two more mountains to cross and a shuttle to catch by 4:30. 
I was concerned about the next two peaks, South and North Crocker, due to warnings of one fearful hiker, but they actually proved to not be nearly as bad as what I've already done this year. Well, there was one big field of boulders that I had to go up, but you don't have to climb every rock. Just follow the AT and get the job done.
In fact, I kept waiting for these mountains to surprise me with some nasty footing or super steep, rocky downhills, but very little of that happened. The last few miles were actually smooth dirt for the most part, a gentle decline. Now, THIS was hiking!
I made it to the parking lot an hour and a half before the shuttle was due to arrive, so I quickly asked a woman about to drive away if she was going in the direction of my hostel. Turned out she was, so I jumped in with her family and two dogs (lots of dog rides!) and had a nice ten happy minute ride with them.
And what a darling hostel! The hostel of Maine used to be a very high priced bed-and-breakfast but a young couple has turned it into a more affordable place with bunk and private rooms and is doing a brisk business, with beautiful furnishings and many services, including shuttles to and from various trailheads. 
I chose to get a bunk in one of the communal rooms instead of a private room, in order to meet other people.
Like many other hostels, this place carries a basic stock of the easy, caloric foods hikers like for restocking their packs. Available for eating on premises is a freezer full of pizzas and a freezer of Ben and Jerry's. I pass on all of this.
I enjoyed spending time with other hikers, some of whom you instantly connect with. I had met this woman, "Free Fall," on my first day this year, both of us shown here in our lovely "loaner clothes" the hostel provides hikers while their laundry is being done.
I had intended to hike two more days after a night here and then be shuttled back for a zero day, but weather predictions for thunderstorms the next day (today) made me be flexible about my schedule. I decided to stay a second night right now, even though it has just been 3 days of hiking since my last zero. I'll then head on for 7 more days to my next zero at the town of Monson, where Shorttimer and his 2 friends will join me. Happily, there will be one night in a bed at another hostel along the way, a good break in the camping.
While here, I had a nice clean floor on which to do my yoga, and was able to book a massage therapist who came directly to the hostel. What a great break for my shoulders, which think they have to carry the full weight of my pack, but in fact, they share that burden with my hip belt. I was very grateful she was available at last notice.
And that's how it's going for now. Roll with the punches, and make the best decisions you can at the moment. I enjoyed my rest day. and am now ready for some beautiful weather back on the trail, as I tackle my final two major mountain challenges, except, of course, for the mighty Katahdin at the end.
I found this mileage marker left in the trail by some celebratory hiker. I've now done 2000 of the 2193 miles of the AT. Two years ago, I never would have thought it'd ever happen. So happy to be here!




Affiliate Disclosure
This website contains affiliate links, which means The Trek may receive a percentage of any product or service you purchase using the links in the articles or advertisements. The buyer pays the same price as they would otherwise, and your purchase helps to support The Trek's ongoing goal to serve you quality backpacking advice and information. Thanks for your support!
To learn more, please visit the About This Site page.
Comments
10
I like your tarp and bug tent arrangement. I got a lightweight tent from REI that is essentially a tarp plus bug netting.
Steve / pearwood

Thanks, Steve! I really enjoy the combination. I made them 4 years ago from a kit by Ray Jardine (ray way.com). No condensation buildup and a real connection with nature.

Thanks for reading my blog and your comment.

So glad you're doing well Ruth! Beautiful photos and fantastic writing as always. Thanks for keeping us posted, we are all rooting for you.

Thank you so much, Myra! Thank you for leading me in all the Pilates that helps keep me in shape to do this stuff.

Love following your journey! Thanks for writing such a great blog! I showed my girls these pics…. Hoping to plant the idea early and maybe one day take them on a long walk:) May your journey continue to be amazing!

I really appreciate it that this is being shared with impressionable young ones. Living in the Colorado Rockies just 2 years in grade school gave me a deep love of the mountains. I'll be sure to keep the posts G rated! 🙂

A welcome reminder to stay flexible in what can sometimes be an inflexible world. Your posts and your journey continue to inspire me and have me planning to eat more plant-based and get on the bike more often. Trek on.

I am also following Jon, especially this weekend.

Thrilled to see you are thriving again and attaining your goal with flexibility. We love "going with you" on another adventure. Julia

I'm so glad you are feeling so good. You are amazing❤️❤️❤️

I lost the link for a (long) while, so I'm happy to be catching up on your amazing adventure!