The End of the Trail
It has been nearly two months now since I at last stood atop Mount Katahdin and posed triumphantly for the summit photo I had dreamed of for years. Every day it becomes increasingly surreal to think that for five months and five days I had walked, run, skipped, tripped, shuffled, hobbled, and crawled my way through the Appalachian mountains; through blood, sweat and tears; through countless tiny moments of self realization; and that suddenly in an instant it was all over.*
Before I ever set foot on Springer Mountain in Georgia, I gave much thought to the trail's end and I always expected that I would meet it with a great deal of sadness. But on August 14, 2017 there were no tears. Nor were there any profound thoughts. No heart wrenching goodbyes. None of what I had always imagined came to pass. Instead I felt only a vague sense of disbelief and tremendous glee over the thought of not having to hike anymore.
Don't get me wrong, the Appalachian Trail was unquestionably the time of my life, but I had been experiencing a torturous level of physical pain and exhaustion ever since we crossed the Mason-Dixon Line. After we skipped those 260 miles and slowed down it became tolerable, but the spring that had accompanied most of the steps I took through the South never returned until, perhaps, the final day when I literally ran up Katahdin so as not to miss Chelsea at the summit (long story). It turns out that there is such a thing as too much exercise and, while I suspect that threshold is different for everyone, I had been blazing past mine on a near daily basis for almost half a year. While still on trail I eventually had to stop listening to my body because all it ever seemed to say to me was "Jessica, you fucking bitch." Mental fatigue started to creep in and by the time Kayleen joined us for our final month, I hated hiking. Just hated it (sorry Kayleen).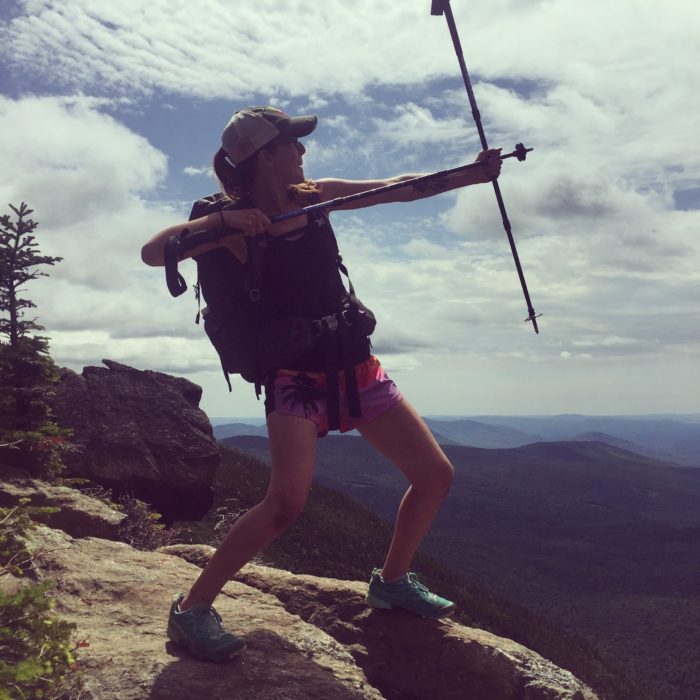 For the first month I was home, I found my default answer to the frequent inquiry of "how was your hike?" to be simply that "it was amazing but very hard" and that I was "happy to be home." I had surprisingly little to say, and whereas I had assumed I would constantly reminisce about my time in the woods, I instead had to keep reminding myself that it had ever happened at all. I still had my aching feet and swollen legs and ravenous appetite and a pile of gear worth a small fortune that was now worn and rancid beyond hope, sure. But it was like waking up in Kansas and only doubting that Oz was a dream because you don't know how else you would have ended up wearing ruby slippers.
The AT, though certainly the grandest and most challenging, was not my first soul-searching adventure. Far from it. My young adulthood has been charmed and breezy, but it has also been colored by restlessness, aimlessness, and self-doubt. Time and again I have left my home in New Hampshire and lived for a spell somewhere else believing that all I needed was a change of scenery for the vision of my life's path to become clear. And while I've learned that every experience has something worthwhile to teach you, epiphanies are elusive beasts. You certainly cannot expect to find one by simply changing zip codes and even with hard work and determination they are never guaranteed. If this was my first rodeo I would have expected all the answers to be waiting for me at the top of Maine's highest peak, but I knew better. So I said before leaving that I was hiking to challenge myself, to see how tough I was, to meet people, to make new memories with old friends, to be able to say I did it. But deep down I was hoping that this was it. That I would come home strong and confident, finally sure of who I was and what I wanted, once and for all.
As I suspected, that did not happen. And at first I believed that the trail may not have changed me or taught me much at all. Maybe it just reaffirmed that there are kind, generous, inspiring people in the world. I knew that already. Maybe all it proved was that I can tolerate discomfort as long as I know that eventually I'll be able to sit down and have a beer. I had a strong suspicion anyway.
But lately I have started to see that the girl driving my car and wearing my clothes and doing my job is different than the one who left those things behind back in March. She doesn't feel guilt the way she used to. She doesn't doubt that she deserves just as much as anyone to be happy. She has less patience for people and things that bring her down. She has pride. She has self respect. That other girl never did.
I cannot call myself a thru hiker. I skipped a significant portion of the trail and I do not plan to complete it before March 9. I thought this would eat away at me. I thought for a long time that to do anything short of hike past every white blaze would make me a failure. But I do not feel like a failure. I hiked 1,900 miles through 12 states for over five months. It was hard. It was very hard. There were so many times that I felt I couldn't go on, but I did. For the first time in my life, I honestly don't care if anyone is impressed by what I did or not. I'm proud of it. It was good enough for me, and I finally feel like I'm good enough for myself. Perhaps it's not the same as finding all the answers, but it's not nothing.
I can't wait to see what happens in two years when I hike the PCT 😉
* We did have to hike back DOWN Katahdin. Seems no one ever mentions it but the AT does dole out one final cruel punishment before it releases you for good. That pile of rocks is a real beast.
Affiliate Disclosure
This website contains affiliate links, which means The Trek may receive a percentage of any product or service you purchase using the links in the articles or advertisements. The buyer pays the same price as they would otherwise, and your purchase helps to support The Trek's ongoing goal to serve you quality backpacking advice and information. Thanks for your support!
To learn more, please visit the About This Site page.
Comments
8
Terrific, brutally honest article Jess. Take it from an old lady. You did have an epiphany. You now KNOW that you're worthy! What you did and forevever more, what you do, is good enough for you.

You are all who really matters. You did learn. A LOT.

Have a good winter and if you're ever near Indy, come see me! There'll be a beer in the 'fridge! ??

Epiphanies are elusive beasts

I chortled into my coffee on that one.

Bravo.

Beautifully expressed. Thank you for sharing all of this with us.

I loved your honest account of your trip. You long distance hikers are my heros!

Sounds like an epiphany to me.. Congrats on your hike.

Thank you for sharing. Glad to know that success does not require perfection, only progress.

You're a through hiker. You did what you needed to, to become who you are now. You completed the hike you needed to.